Dangerous heat targets Houston this week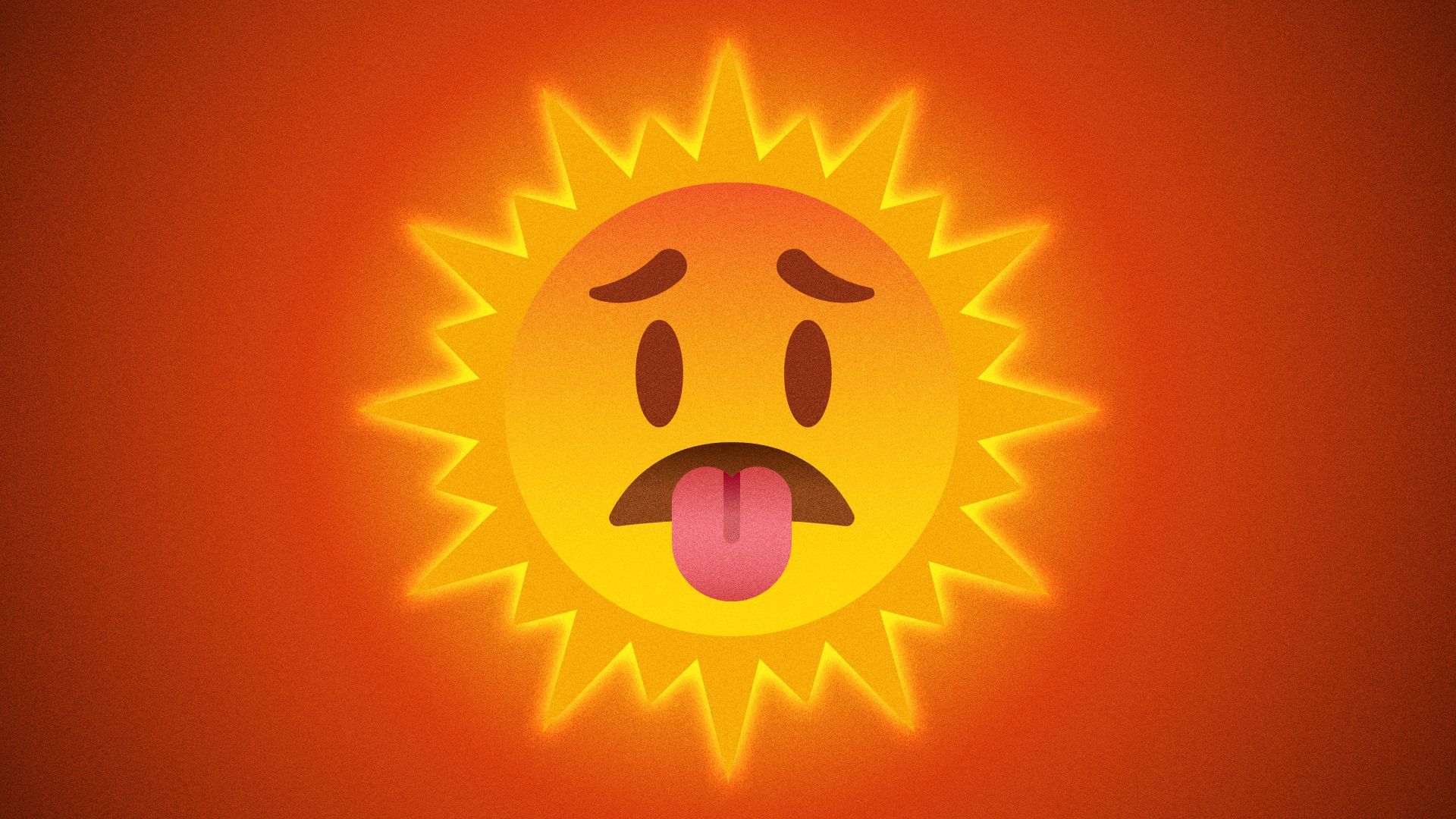 The heat is setting in this week in Houston.
Driving the news: Thursday's high is currently projected to reach 100 degrees, with heat indices (or "feels like" temperatures, when factoring in humidity) near 110 degrees.
High temperatures will likely be north of 100 degrees at least through the weekend, according to National Weather Service meteorologists.
Why it matters: Prolonged heat exposure can cause emergency health situations, namely heat stroke.
What they're saying: "Heat illness tends to happen when the body is unable to regulate its temperature due to overexertion or extended periods of time in high temperatures," Maria Carmenza Mejia, associate professor of family and community medicine at Baylor College of Medicine, said in a statement. "Conditions can range from mild discomfort to life-threatening."
Mejia offered advice on how to detect and combat heat illness.
What happens: Heat cramps and spasms are the first to set in due to dehydration or an imbalance of electrolytes.
These early, mild symptoms can lead to heat exhaustion, where heat syncope can set in, causing fainting or dizziness.
Finally, if untreated, heat exhaustion can turn into heat stroke, where the body struggles to regulate temperature on its own and is sitting above 104 degrees. If this happens, immediate action is required.
What to do: Once heat cramps set in, move to a shaded or air-conditioned area and start hydrating, gently fanning yourself until the conditions subside.
If heat exhaustion is suspected, do the same — but watch out for signs of heat stroke, which include seizures, loss of consciousness and being unable to keep fluids down.
If heat stroke is suspected, Mejia advises to call 911.
To prevent heat illness, if you must be outdoors during the heat, Mejia says to wear light-colored clothing, hydrate and drink electrolytes, and take breaks from physical activity every 15-20 minutes.
Meanwhile, Average summer temperatures increased in Houston by 5.6 degrees between 1970 and 2022, per a new analysis by climate research group Climate Central, Axios' Alex Fitzpatrick and Tory Lysik report.
Average temperatures were 86.6 degrees in 2022, compared to 81 degrees in 1970.
Extreme heat is a serious health risk, leading to both immediate acute effects (such as exhaustion and heat stroke) and longer-term complications due to reduced air quality.
The big picture: Between 1970 and 2022, summer temperatures rose by 2.4 degrees on average across nearly 230 locations — 95% of the locations the group analyzed.
Zoom in: Average temperature increases from 1970 to 2022 were highest in Reno, Nevada (up 11.1 degrees); Boise, Idaho (5.8 degrees); Las Vegas (5.8 degrees); Houston (5.6 degrees); Salt Lake City (5.5 degrees); and El Paso, Texas (5.3 degrees).
Last year was the warmest summer in that timeframe for Salt Lake City, San Antonio and Tampa Bay, Florida.
Of note: Approximately half of the locations analyzed are now reporting at least two more weeks' worth of summer days with above-normal temperatures compared to 1970.
The bottom line: "As carbon pollution traps more heat in Earth's atmosphere, the summer season is warming, summer temperatures are arriving earlier in the year, and risky heat extremes are becoming more frequent," per Climate Central.
More Houston stories
No stories could be found
Get a free daily digest of the most important news in your backyard with Axios Houston.