Pros and cons of the Houston area's best beaches
Let's go to the beach!
Driving the news: With summer fast approaching, we're breaking down our favorite Houston-area beaches with some pros and cons.
Galveston
Pros: Galveston's beaches and the history surrounding the city are enough for more than a day trip.
Plus, attractions like Moody Gardens, Pleasure Pier and The Strand will keep you busy after you've had your fill of sunshine.
Cons: It's crowded, y'all.
Be prepared to pay for parking along the seawall. It's modestly priced at $2 per hour and is only required from 10am to 6pm.
You can also purchase an annual parking pass for $45.
Surfside
Pros: You can park on the beach.
Annual parking passes are $12. You can purchase an annual pass with cash at any entrance or with a credit or debit card from retailers around the beach.
Cons: You can get your car stuck on the beach.
Driving on the beach is a fun excursion, but getting your tires stuck in soft sand is no good (see tips on how to get unstuck below).
Quintana
Pros: Quintana is a gem of a beach with a nearby park and showers, plus RV and camping opportunities.
It's perfect for a weekend getaway.
Cons: Among our picks, it's the farthest away from Houston.
But the drive will be worth it.
Bolivar
Pros: Like Surfside, you can park on this beach as well. And it's free!
It's a great beach tucked away on Bolivar Peninsula, also with a bit of history. Be sure to check out Fort Travis Park on your way out.
Cons: It's a ways away, and your best bet is to take Interstate 10 to Winnie and head south to the peninsula.
Otherwise, you can take Interstate 45 to Galveston and wait in line for the ferry.
The bottom line: Of course, there are more beaches to choose from close to Houston, but these are our favorites.
Beach-going tips for Houstonians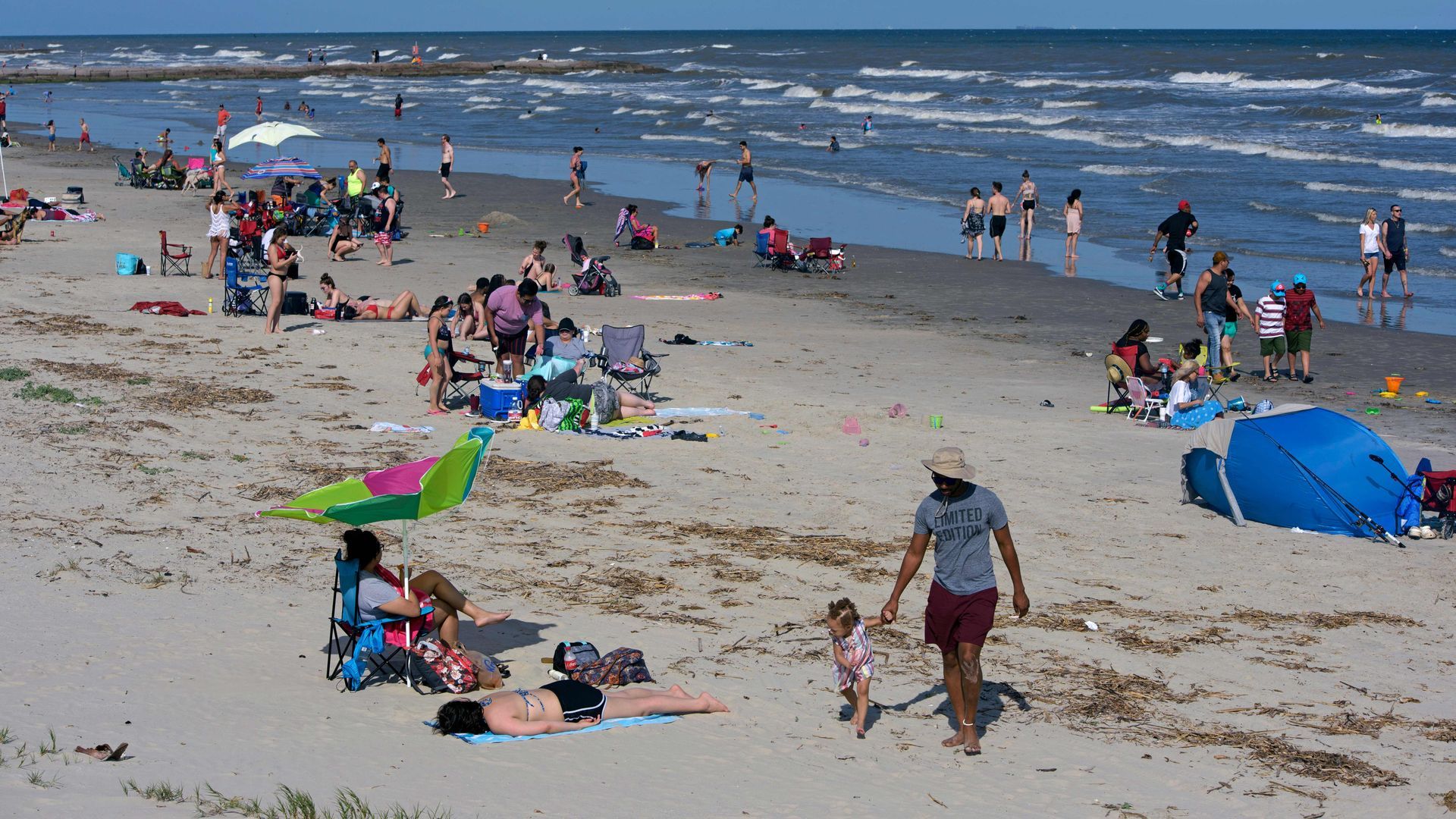 Jay here! I consider myself a seasoned beachgoer and wanted to share a few tips for when you go too.
Why it matters: It's never easy being caught off guard at the beach, whether you forgot an umbrella or — even worse — sunscreen.
What to bring: During the summer months, I keep a go bag handy with all my beach essentials: change of clothes, extra sunscreen and snacks (kind of like a hurricane kit, but more fun-spirited).
Included are: lip balm, a comb, a first aid kit and plastic cups — after all, most beaches don't allow glass containers.
I store it next to my lawn chairs and a canopy tent that I also take with me every time.
When to go: I hate to break it to you, but the earlier you take off, the better.
I typically leave no later than 9am for the trek from Houston to the coast for the best beach spot.
Know before you go: Gulf waters tend to carry trace amounts of fecal matter, and this tool shows you the levels at different spots along the coast. In 2021, most Texas beaches experienced at least one day when it was unsafe to swim because of heightened levels of fecal matter and pathogens, per Newsweek.
Plus, traffic on the way could be hectic, especially on the weekends. Check Houston TranStar before you leave to see if there are any major highway closures or crashes blocking your route.
More Houston stories
No stories could be found
Get a free daily digest of the most important news in your backyard with Axios Houston.