Springtime means more snake sightings in Texas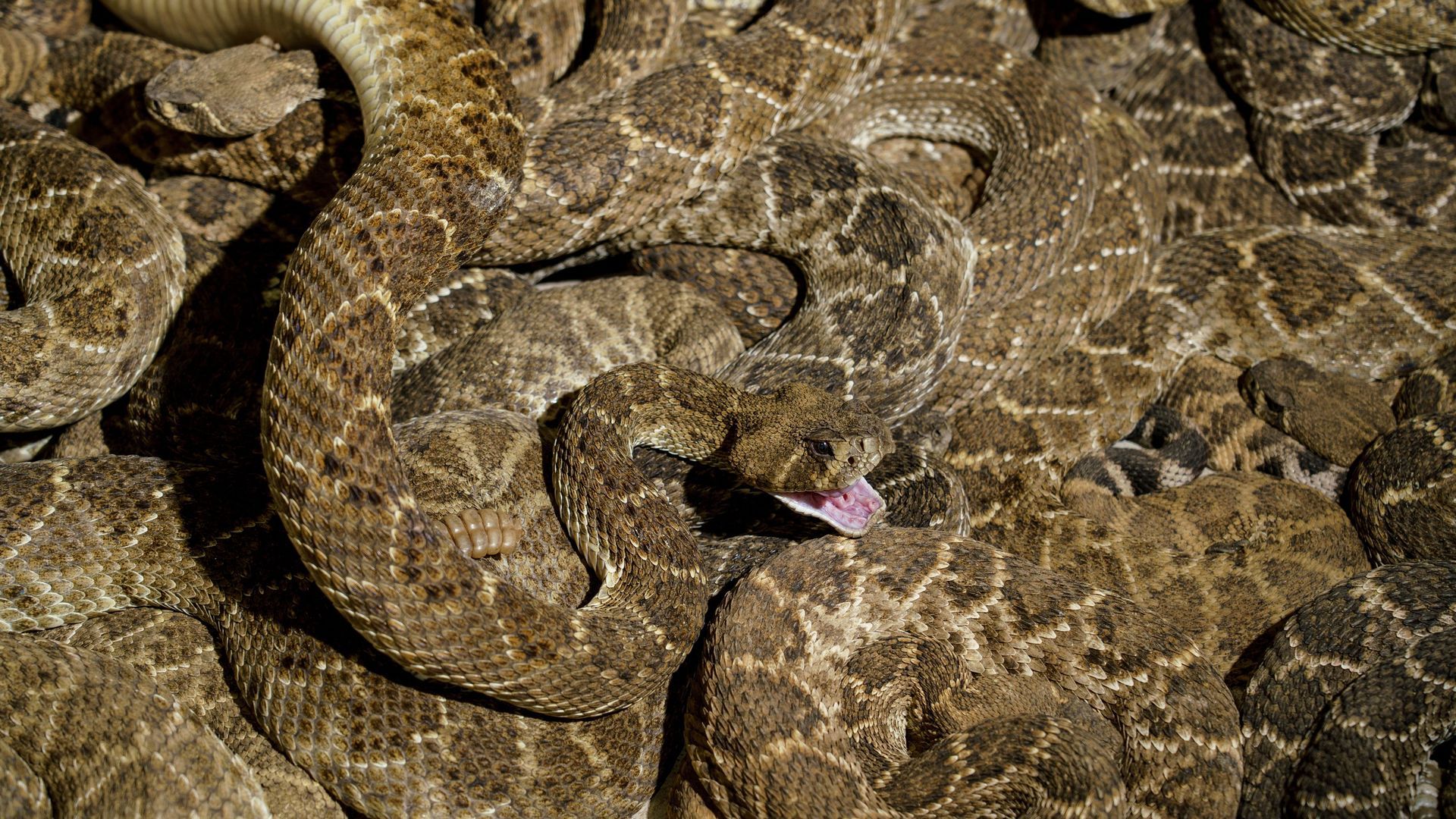 It's (sss)springtime, which means there's a higher chance of spotting a snake slithering around Houston.
Why it matters: About 7,000 to 8,000 people in the U.S. are bitten by a venomous snake each year, resulting in about five deaths, per the Centers for Disease Control and Prevention.
Yes, but: While Texas is home to 105 species and subspecies of snakes, only 15 are potentially dangerous to humans.
Texas Parks and Wildlife Department spokesperson Lerrin Johnson tells Axios it's a "rarity" for people to be harmed by snakes.
Threat level: There are five kinds of common venomous snakes in the Houston area, according to Spencer Greene, director of toxicology and attending emergency physician at HCA Houston Healthcare Kingwood.
Those are the eastern copperhead, the northern cottonmouth, the Texas coral snake, the timber rattlesnake and the western diamondback rattlesnake.
Between the lines: Snakes are not often found near urban areas and inside the 610 Loop, Greene tells Axios.
Most of his snake-bite patients were bitten outside the loop, especially north of the city.
Be smart: Greene advises against approaching snakes and says to avoid walking barefoot or with flip-flops at night.
Keep grass cut short and try to avoid cluttered piles of wood or debris, as snakes try to find places to hide.
Since snakes are most active when seeking prey, Johnson suggests identifying what's attracting rodents to your property if you're seeing more of the reptiles.
Editor's note: This story has been updated to remove U.S. Forest Service guidance on what to do if you get bitten, such as keeping an affected limb below the level of the heart. Some doctors, including Greene, now advise elevating the limb.
More Houston stories
No stories could be found
Get a free daily digest of the most important news in your backyard with Axios Houston.