Review: "Cambodian Rock Band" at the Alley Theatre is a must-see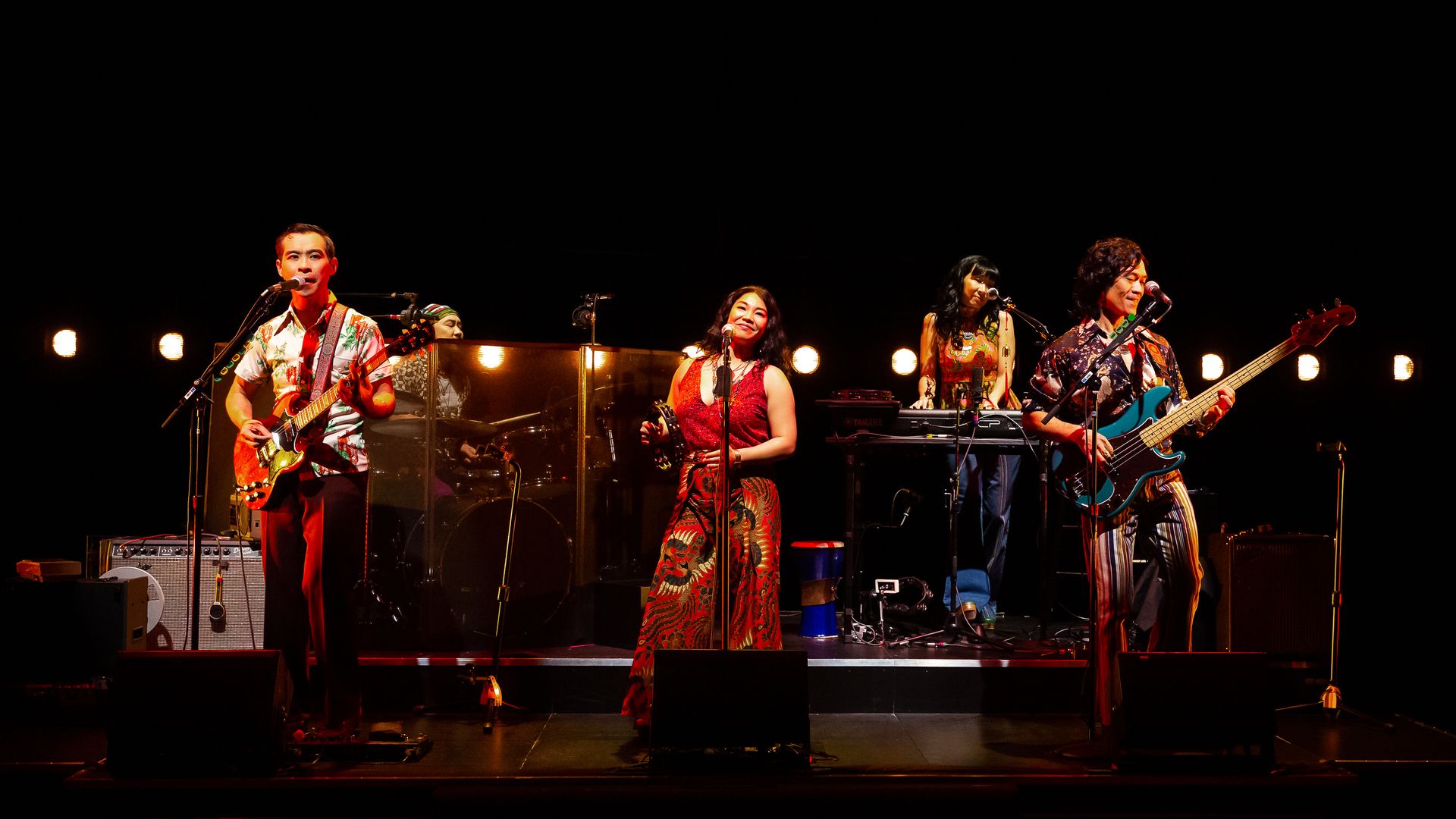 "Cambodian Rock Band" is now on ​​stage at the Alley Theatre — the play's first stop in a five-city tour this year.
Driving the show: The play takes place in two timelines — one follows a musician's journey during the Khmer Rouge regime, and the other follows the musician's daughter's modern-day journey to prosecute one of Cambodia's most infamous war criminals.
Throughout the darkly humorous and gut-wrenching play, a live band — played by the actors — performs Dengue Fever songs, as an homage to Cambodian rock music.
The audience is pulled in to dance along and laugh with a charismatic narrator, who is revealed (early on — small spoiler) as Duch, the aforementioned war criminal.
Be smart: The Cambodian genocide happened under the Khmer Rouge regime, which wiped out nearly a quarter of the country's population in the 1970s.
Duch ran the most notorious Khmer Rouge torture site.
What they're saying: "Lauren Yee's play makes my heart beat faster: first with the hypnotic pulse of Dengue Fever's rock and roll, then with the knowing laughter of a loving father-daughter relationship, and lastly with the deep catharsis of facing the horrors of history in Cambodia," Rob Melrose, the Alley's artistic director, wrote.
In a post-show discussion, the cast said they were honored to share this story and be part of an all-Asian play, which is still rare.
If you go: The show runs through Feb. 12. Tickets start at $26.
My thought bubble: If a show is either enjoyable, has an enthralling storyline, or is produced excellently, I categorize it as time well spent. "Cambodian Rock Band" is all three.
The cast skillfully acted haunting scenes of the genocide and then quickly jumped into giving stellar rock-show performances.
Francis Jue, who plays the Duch narrator character, beautifully embodied a vicious war criminal yet made him charming and captivating.
Joe Noe, who plays the lead, did some of the best physical and emotional acting I've seen.
The bottom line: Go see it — you'll laugh and cry while learning about an important time in history that's often overlooked.
More Houston stories
No stories could be found
Get a free daily digest of the most important news in your backyard with Axios Houston.