What to do about Detroit's neighborhood animals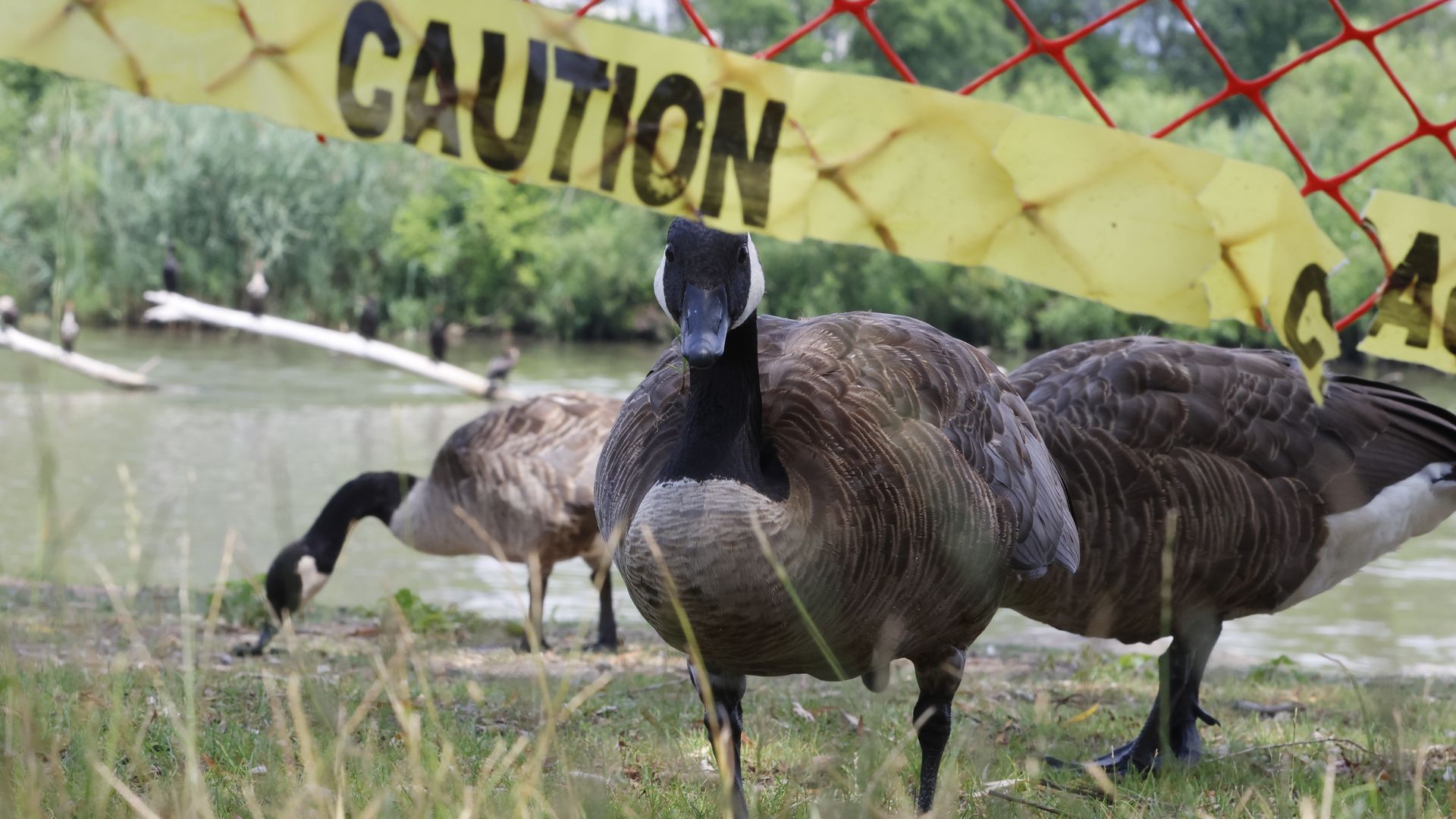 The city says it is inundated with concerns about wildlife causing problems and needs your help.
Why it matters: Officials want Detroiters to fill out a survey disclosing what problems they have with animals in their neighborhoods and what population control options they prefer, per deputy chief operations officer Jessica Parker.
She spoke alongside the state's wildlife managers, the Department of Natural Resources (DNR), at a community meeting Wednesday in Rouge Park.
Let's face it — this is about possibly killing the animals.
Be smart: Detroit parks, especially Rouge and Palmer, have ecosystems of wildlife that are "out of balance" and bleeding into neighborhoods, Jeff Klein of the General Services Department said at the meeting.
There's a lack of natural predators in urban areas to keep wildlife populations in check — especially deer that kill smaller trees, overgraze, destroy gardens and collide with cars, Klein added.
Urban deer have a survival rate of 89% vs. 50% in rural areas, per the DNR.
Deer-car collisions were up 47% in Wayne County between 2016 and 2022.
Meanwhile, geese have poop that harms water quality and makes for unpleasant park experiences.
Migratory geese are dwindling but "resident" geese that stay around, get used to people and cause problems are "skyrocketing," per the DNR's Jared Duquette.
They can live 20 or more years and produce 100 babies in a lifetime.
🦌 For dealing with too many deer, the city's survey asks residents to pick from the following next steps:
Bring in U.S. Department of Agriculture sharpshooters to kill "a reasonable number of deer" and "donate the meat to a food bank."
"Do nothing" and allow the population to continue increasing.
🐦 For geese, the options are:
Egg oiling — dipping eggs in oil to block pores in the shell and asphyxiate the embryos — which is seen as more effective than just destroying eggs. The geese keep nesting with the eggs that won't ever hatch instead of laying another set.
Herding up geese and euthanizing them.
"Do nothing."
Context: The DNR needs "strong justification" to issue permits for federal agencies or contractors to kill overpopulated animals, Duquette said at the meeting.
What's next: The city says it's collecting survey results and deciding what to do from there.
More Detroit stories
No stories could be found
Get a free daily digest of the most important news in your backyard with Axios Detroit.