🌈 When sports and identity converge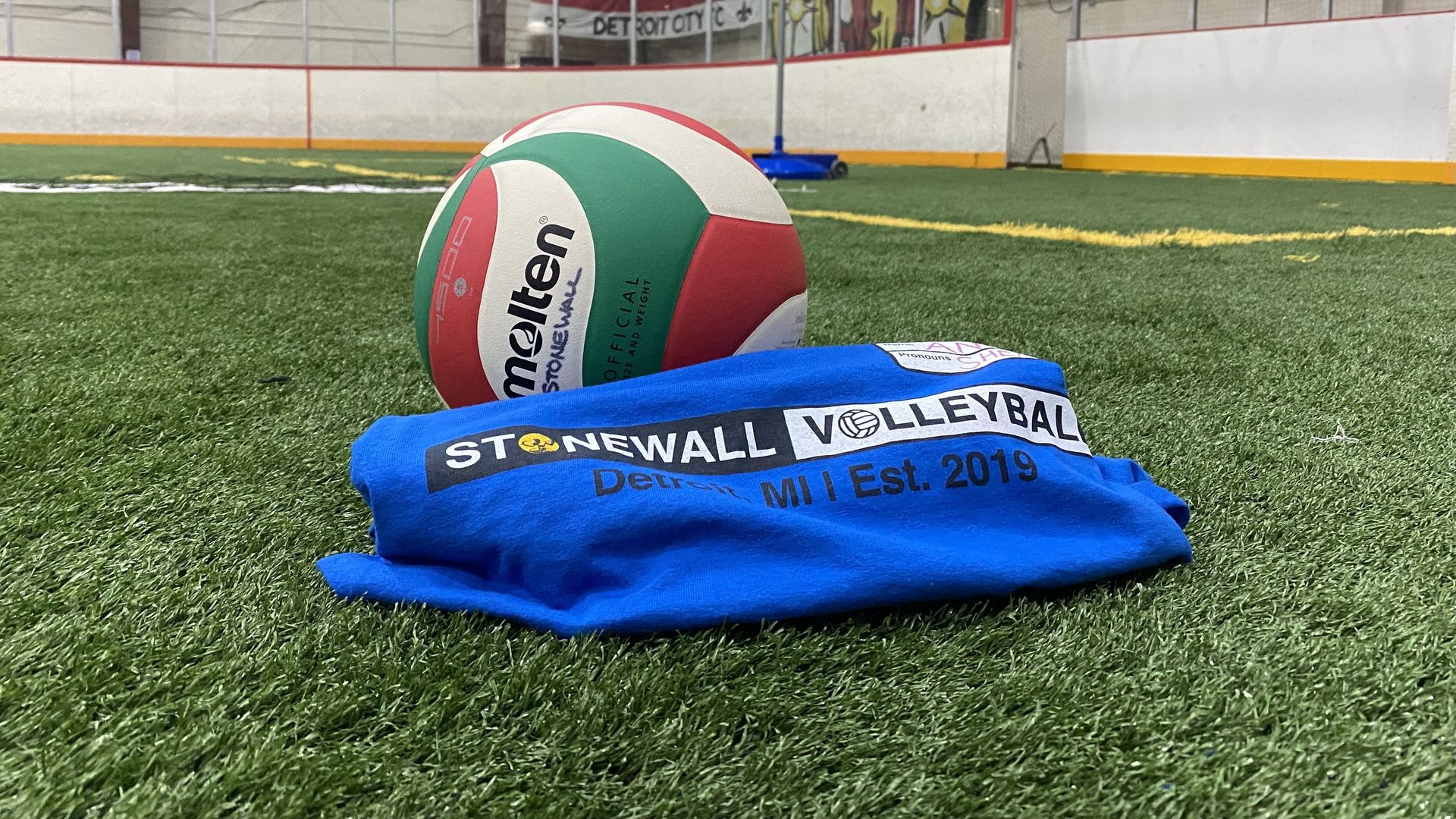 👋 Hey, it's Annalise.
I signed up for an LGBTQ+ kickball league last spring on a whim. I knew no one in it, had no idea what I was getting into and hadn't the slightest idea what it means to "tag up."
Nevertheless, I showed up at Tindal Recreation Center on Seven Mile, grabbed a highlighter-yellow team T-shirt and emblazoned it with my name and pronouns.
Why it matters: With the pandemic and an increasingly online world, our "third spaces" — communal gathering spots that have naught to do with work or home — are disappearing.
I've long found this dispiriting when it comes to LGBTQ+ third spaces, which allow expression and a depth of understanding. Their numbers in Metro Detroit have declined starkly over the decades, and it can be especially hard to find spaces not centered around alcohol.
But even bars are dwindling — just 24 lesbian bars remain in the United States, according to the Lesbian Bar Project. The closest to Detroit is Slammers in Columbus, Ohio.
Between the lines: So despite my inability to understand how to run the bases — thanks knowledgeable teammates for yelling "RUN" or "STAY PUT" — I was drawn to the Detroit chapter of Stonewall Sports, a national queer community nonprofit.
I've stuck with the league for almost a year now, including moving from kickball to indoor volleyball, which I have (slightly) more of a knack for.
The second winter volleyball season starts next week. There's also pickleball, billiards and bowling.
Quick take: I never saw team sports as factoring into my path of self-discovery — I was not a sports kid growing up.
But working with a group of people toward a shared goal is giving me that sense of belonging.
The big picture: Figuring out who you are can be a hell of a journey, whether it comes to sexual/gender orientation or anything else. And when we need some direction, the arrows that point us forward along our paths can come in the most unexpected shapes.
Like the shape of a dusty red kickball, passed from a teammate and caught in my cupped arms while lunging toward first base for a successful out.
Then the shared smiles and high five after high five as we trotted back to the benches.
We never won a game that season, and it hardly mattered.
More Detroit stories
No stories could be found
Get a free daily digest of the most important news in your backyard with Axios Detroit.