Iowa State Fair 2023: We tried the top 10 new foods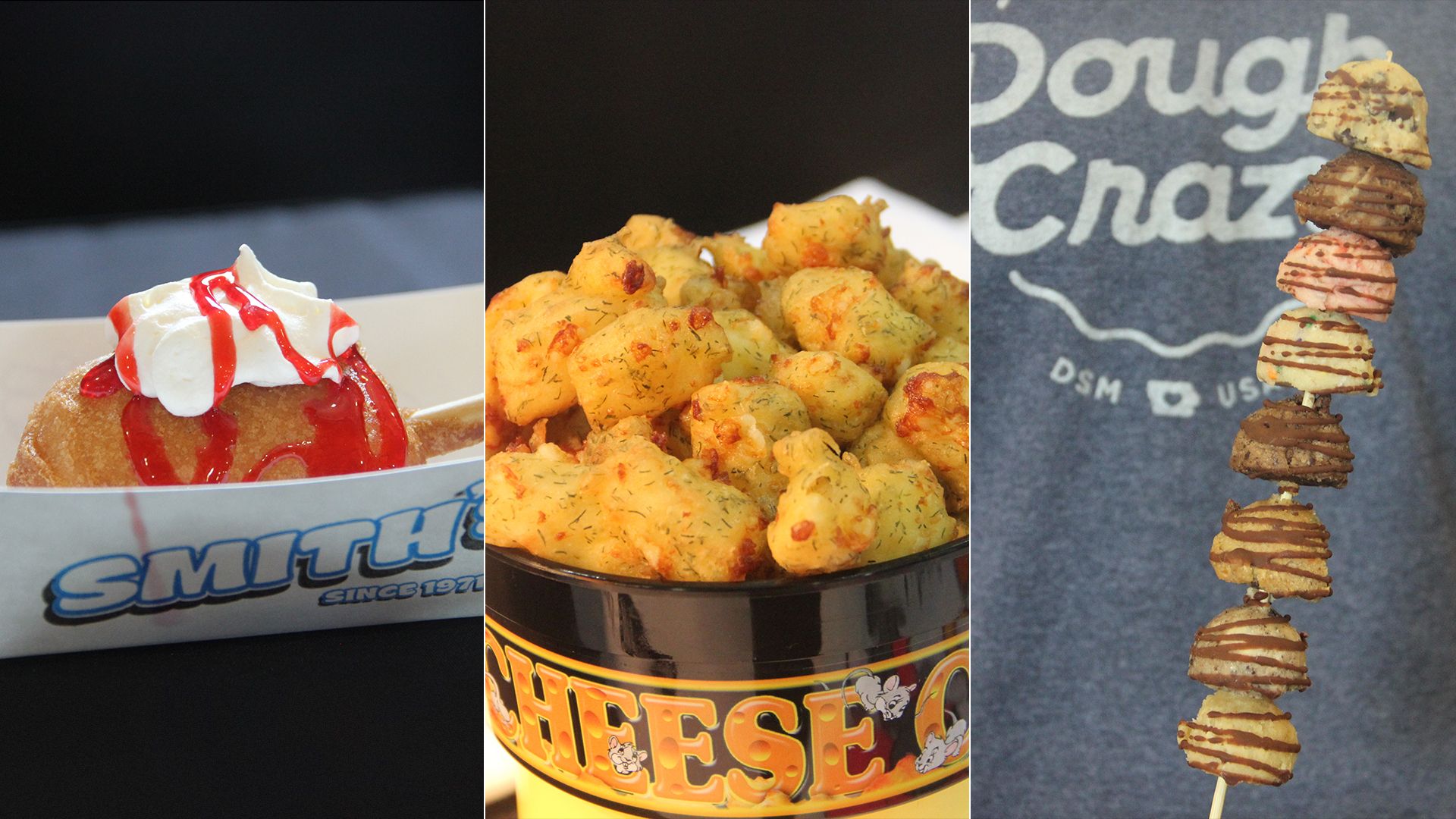 👋 Linh here. I got the big honor of judging the top 10 new Iowa State Fair foods on Tuesday.
Driving the news: There's 64 new foods to try during this year's event from Aug. 10-20.
State of play: Judges gathered at the fairgrounds to sample the food and collectively decided that our top three favorites were the Iowa Twinkie, grinder ball and the deep-fried brisket mac and cheese grilled cheese (say that five times fast.)
I judged each dish on its "fair factor" — does it have a fun twist and make you say, "only at the Iowa State Fair?" — as well as taste.
Here are my very subjective thoughts on some of the new foods:
Iowa Twinkie — Whatcha Smokin' BBQ & Brew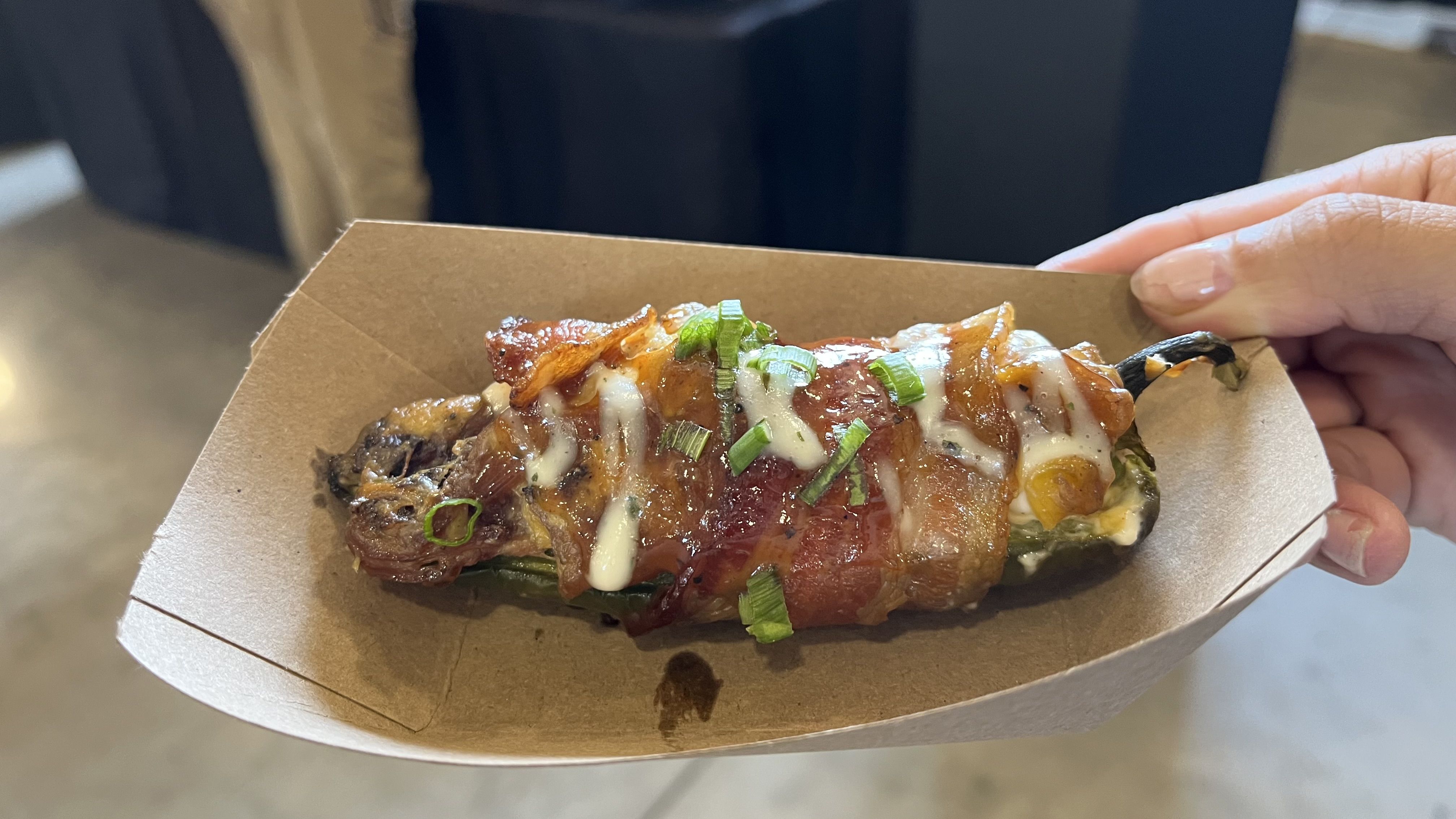 What it is: Based off a "Texas Twinkie," it's a carved-out jalapeño filled with pulled pork, corn and cream cheese that's wrapped in bacon and topped with barbecue sauce ($8).
What I liked: It was filling and between the salty meat, sweet sauce and hint of spice from the pepper, it had a little bit of every flavor.
What could improve: I was missing a "crunch" from the jalapeño and would like some sort of texture difference.
Fair factor: 5/5 — even the name screams fun.
Shrimp poke bowl — Shrimp Shack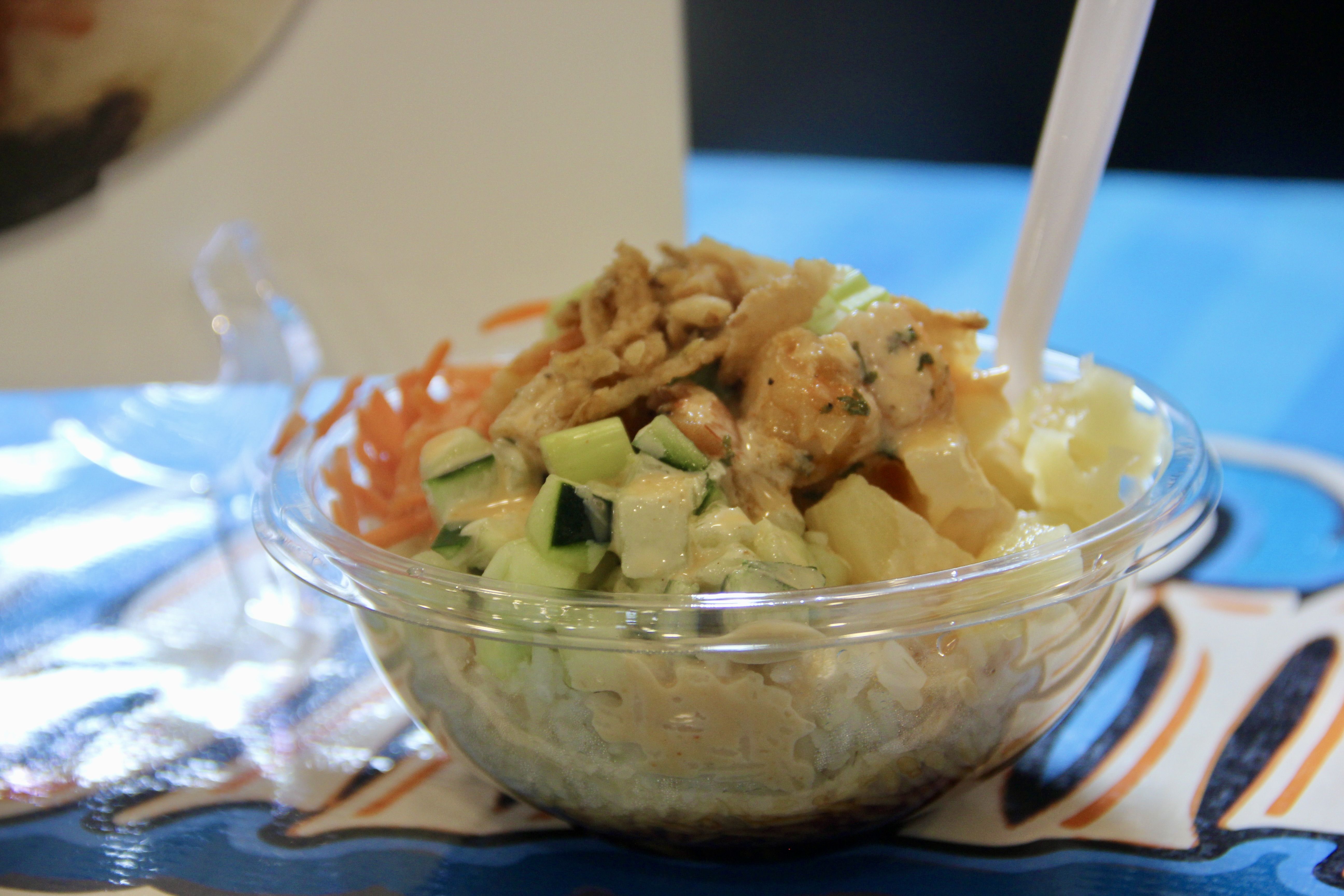 What it is: Rice with "sushi sauce," edamame, pineapple, mayo, carrots, cucumber, shrimp and crispy onion ($12).
What I liked: It was delicious and fresh, with tons of different flavors and veggies.
What could improve: Nothing! I liked the bowl for what it was.
Fair factor: 1/5 — It didn't have an Instagram-able factor, creative twist or "Oh my gosh, did you see that?"
Grinder ball — The Bacon Box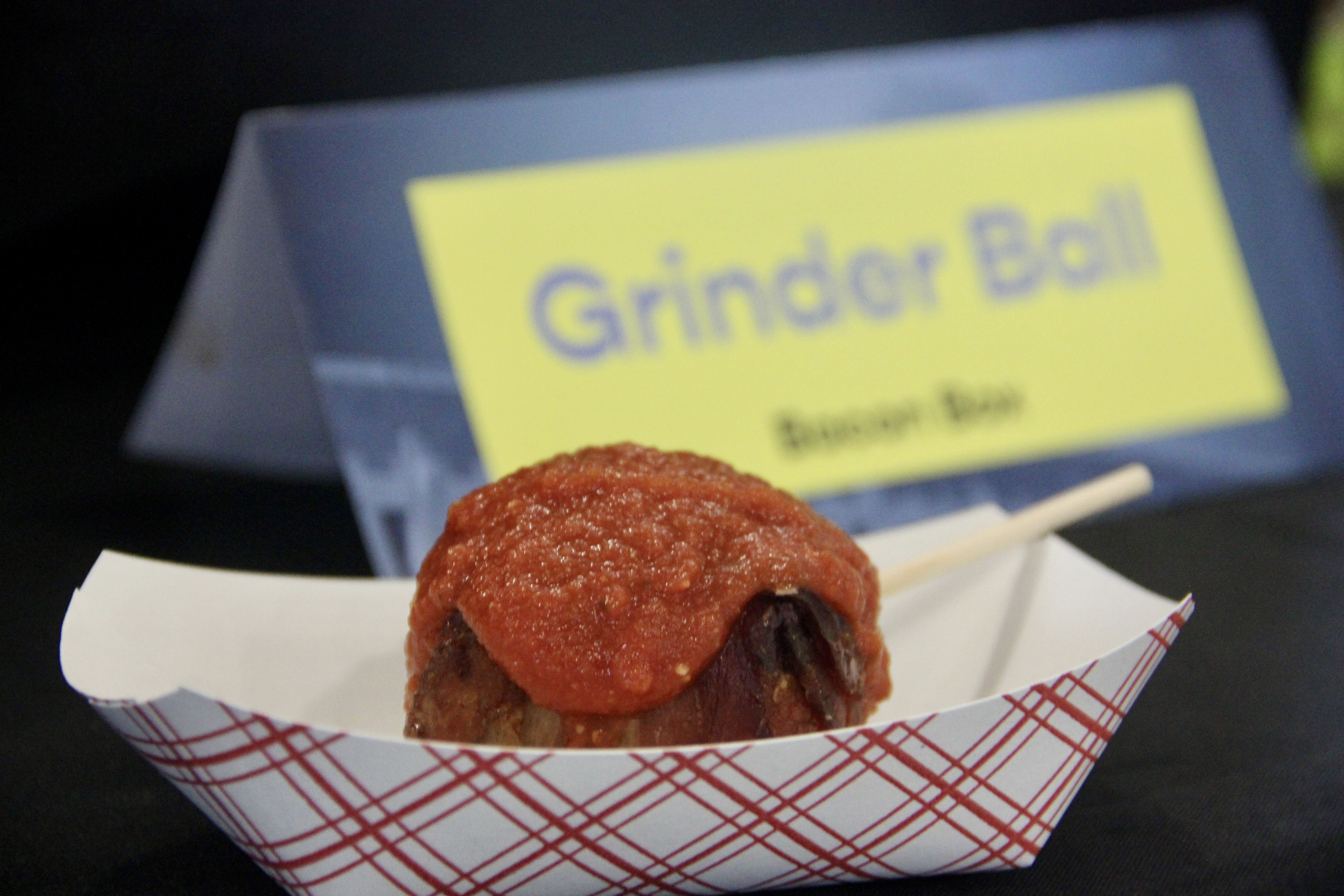 What it is: A gluten-free take on a grinder. The bacon blend is shaped into a ball, stuffed with mozzarella cheese and wrapped in bacon, then smoked and dipped in marinara sauce ($6.50).
What I liked: It's a giant spaghetti meatball!
What could improve: If you're on the keto diet or a big meat fan, this is for you. I admittedly did miss the bread, but I know that goes against the intention of the dish.
Fair factor: 4/5 — a giant hunk of meat indeed screams Iowa State Fair.
Crunchy Cool Ranch Pickle on a Stick — Grater Tater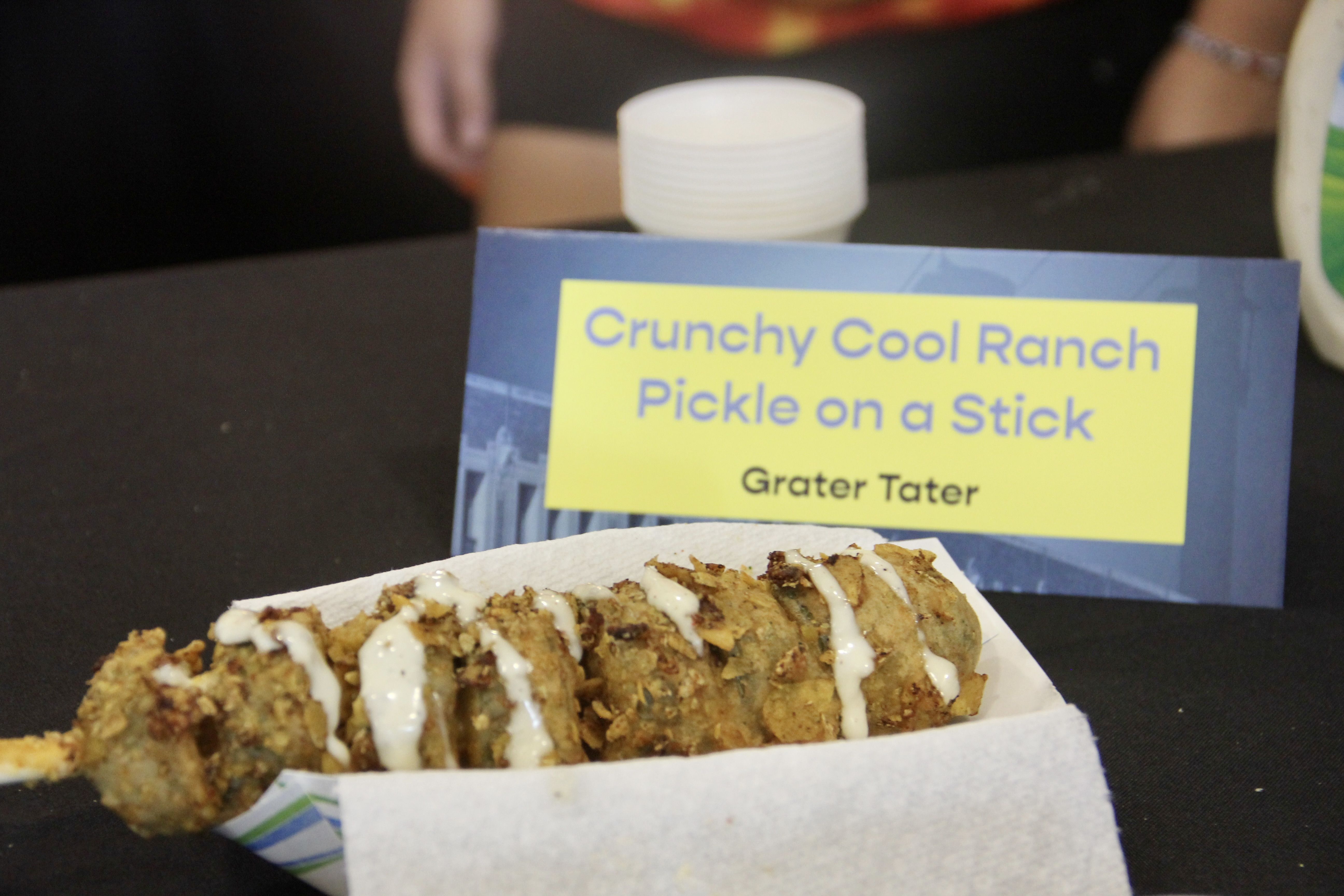 What it is: A pickle rolled in a cool ranch mix, breaded in crumbs of Doritos Cool Ranch and topped with ranch ($6).
What I liked: It's a new twist on the fried pickle on a stick and gives some variety to the classic.
What could improve: It was very salty.
Fair factor: 5/5 — there's few things more American than cool ranch-flavored Doritos.
Deep-Fried Strawberry Shortcake on a Stick — Smith's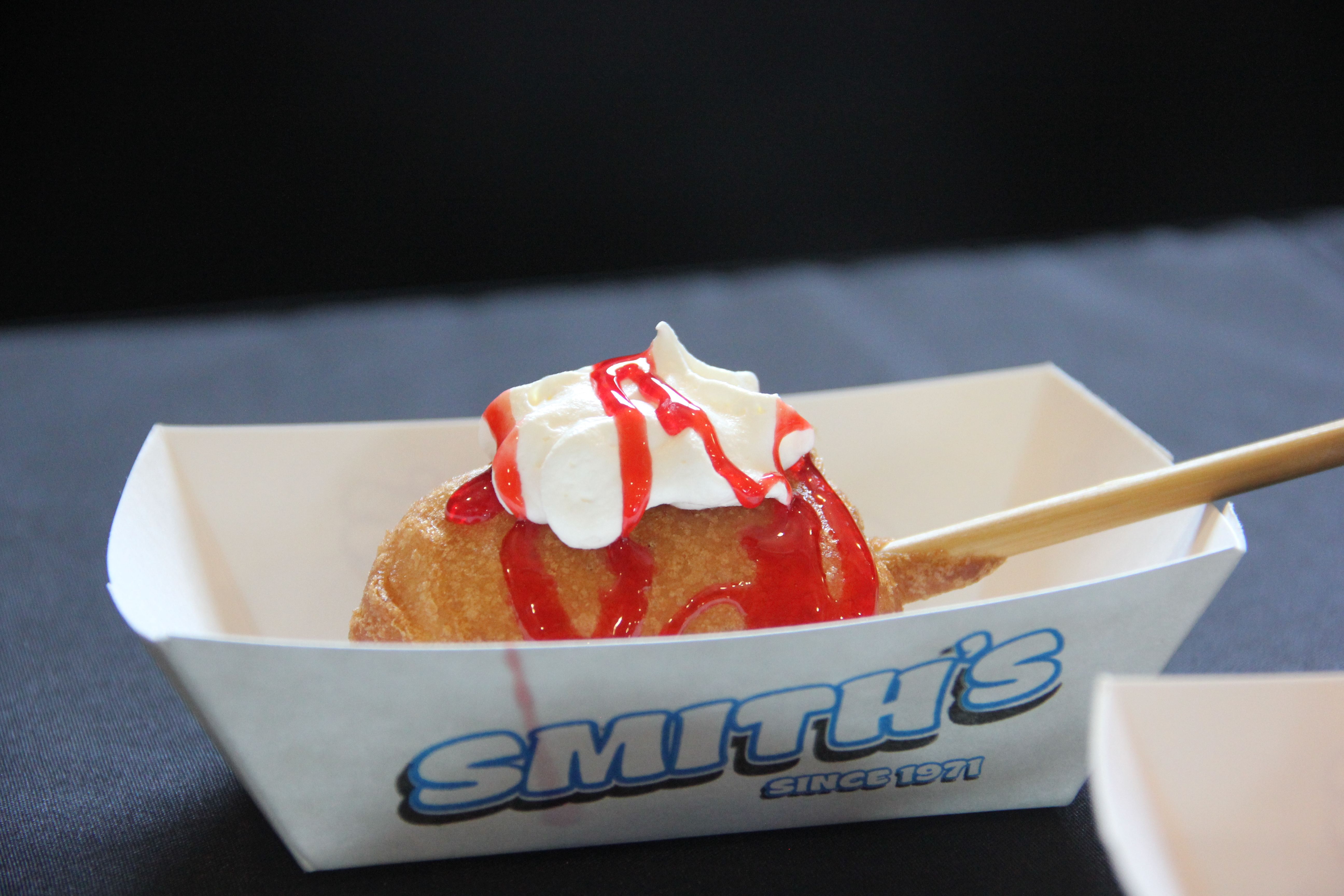 What it is: A strawberry shortcake roll that's battered and fried, then topped with whipped cream and strawberry sauce ($8).
What I liked: Not too sweet and it was crispy on the outside despite whipped cream. It was so delicious!
What could improve: I liked it all!
Fair factor: 3/5 — anything fried on a stick is a win.
Deep-Fried Bacon Brisket Mac-n-Cheese Grilled Cheese — What's Your Cheez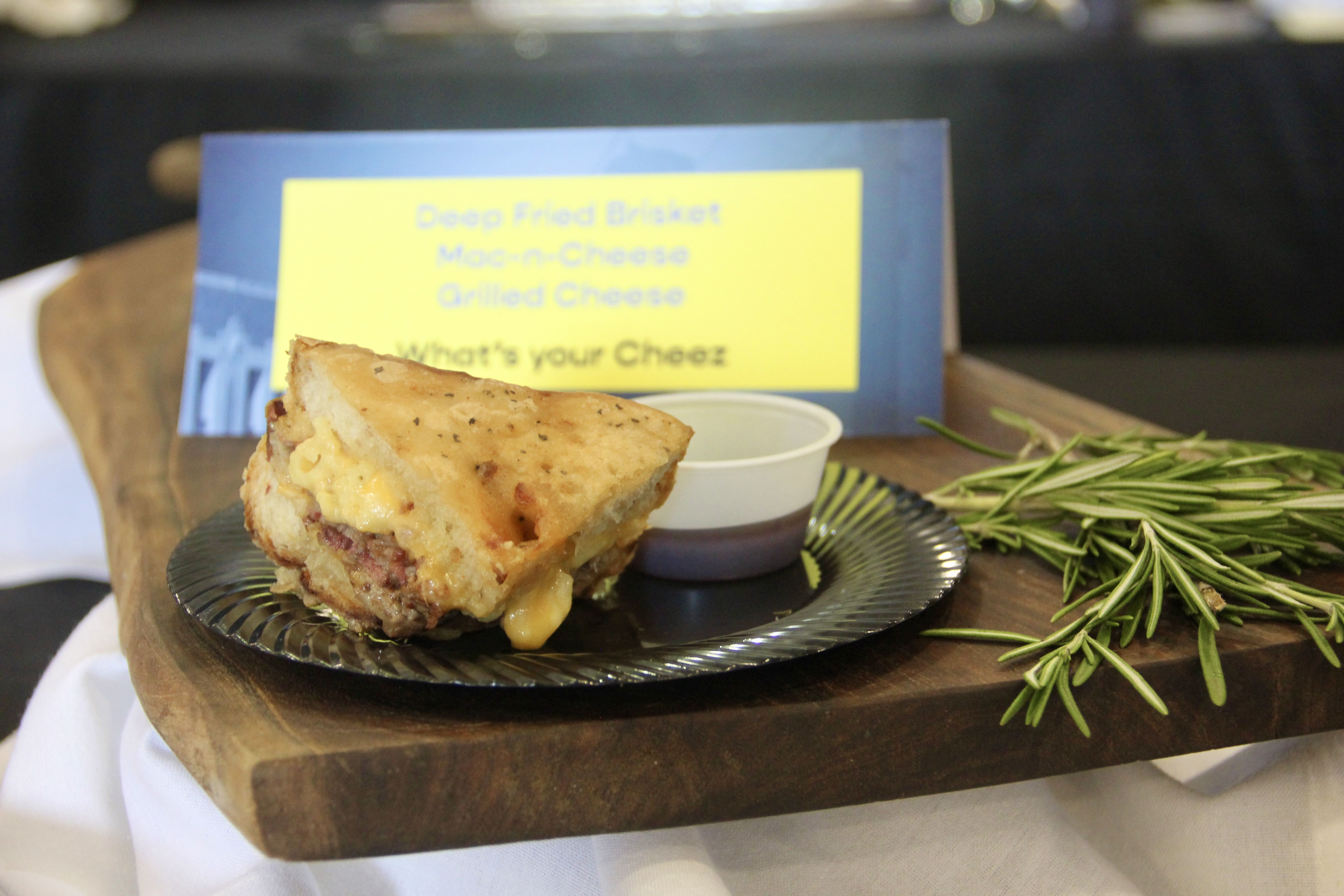 What it is: A grilled cheese sandwich with mac and cheese, brisket, bacon cheddar bread and a raspberry chipotle dipping sauce that's similar to au jus ($12).
What I liked: The bread had a crispy cheddar layer that made the whole sandwich pop. Lots of sweet and savory.
What could improve: This isn't a bad thing, but I was ready for a nap after eating this.
Fair factor: 5/5 — I love any food name that makes me confused about what exactly I'm eating.
Iowa Sweet Corn Sundae — Over the Top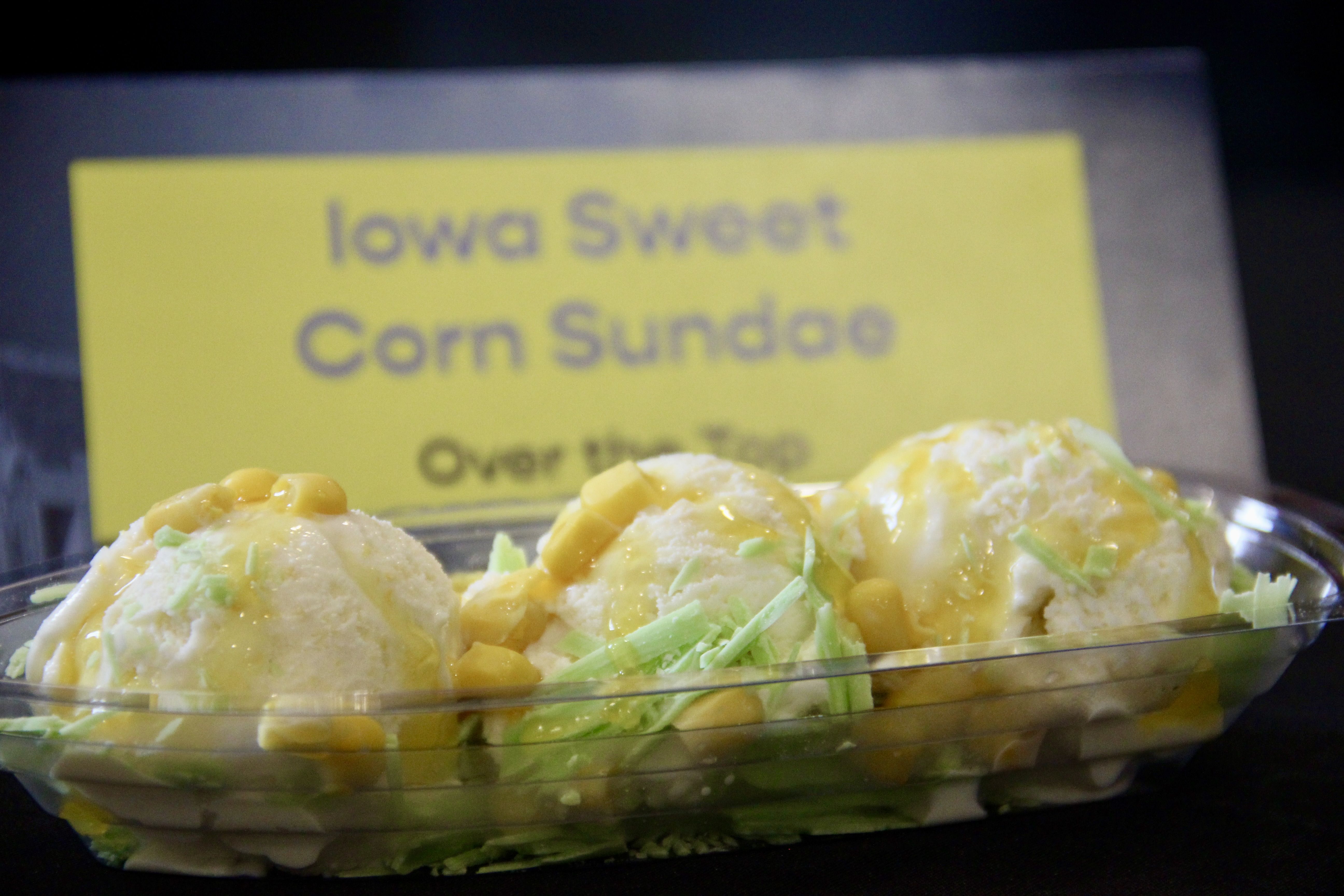 What it is: Iowa sweet corn ice cream garnished with green candy melt and a butterscotch topping and corn kernels ($9).
What I liked: It all tasted good together. Don't be fooled by the corn bits, they added a fun, sweet texture to the ice cream.
What could improve: Corn-flavored ice creams are typically subtle and similar to vanilla. The butterscotch sauce is a nice mix, but I'd love more flavor, like some flakey salt!
Fair factor: 5/5 — it's ice cream shaped like corn.
Dill pickle-flavored cheese curds — Brad & Harry's Cheese Curds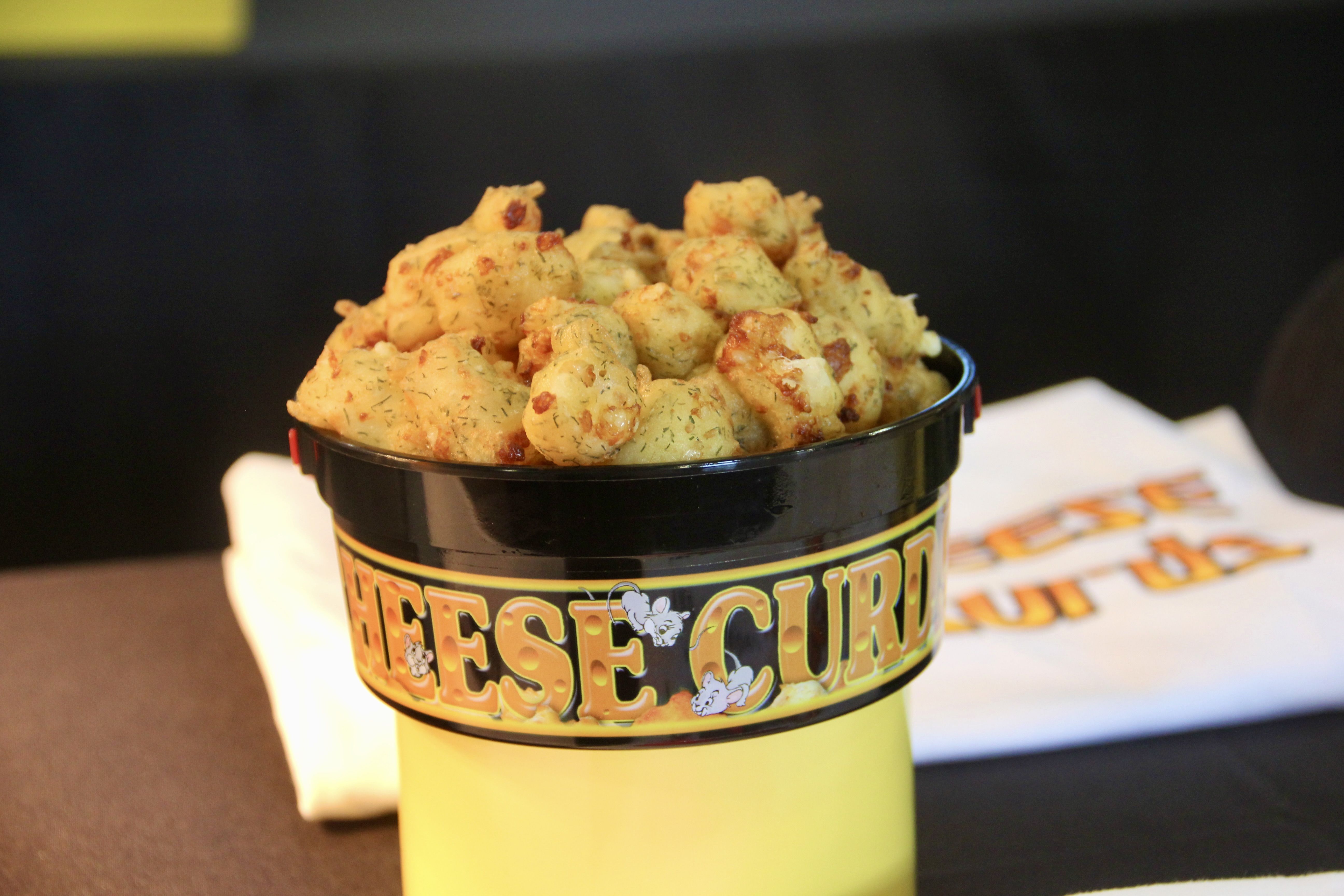 What it is: Ellsworth Creamery dill pickle cheese curds, seasoned with more dill ($9 or $21 for a bucket)
What I liked: A subtle, sour twist to your traditional cheese curd. Nice and crispy with a gooey cheese inside.
What could improve: I would love a fun sauce!
Fair factor: 3/5 — creative twist on a classic.
Dough Crazy Sweet Stick — Dough Crazy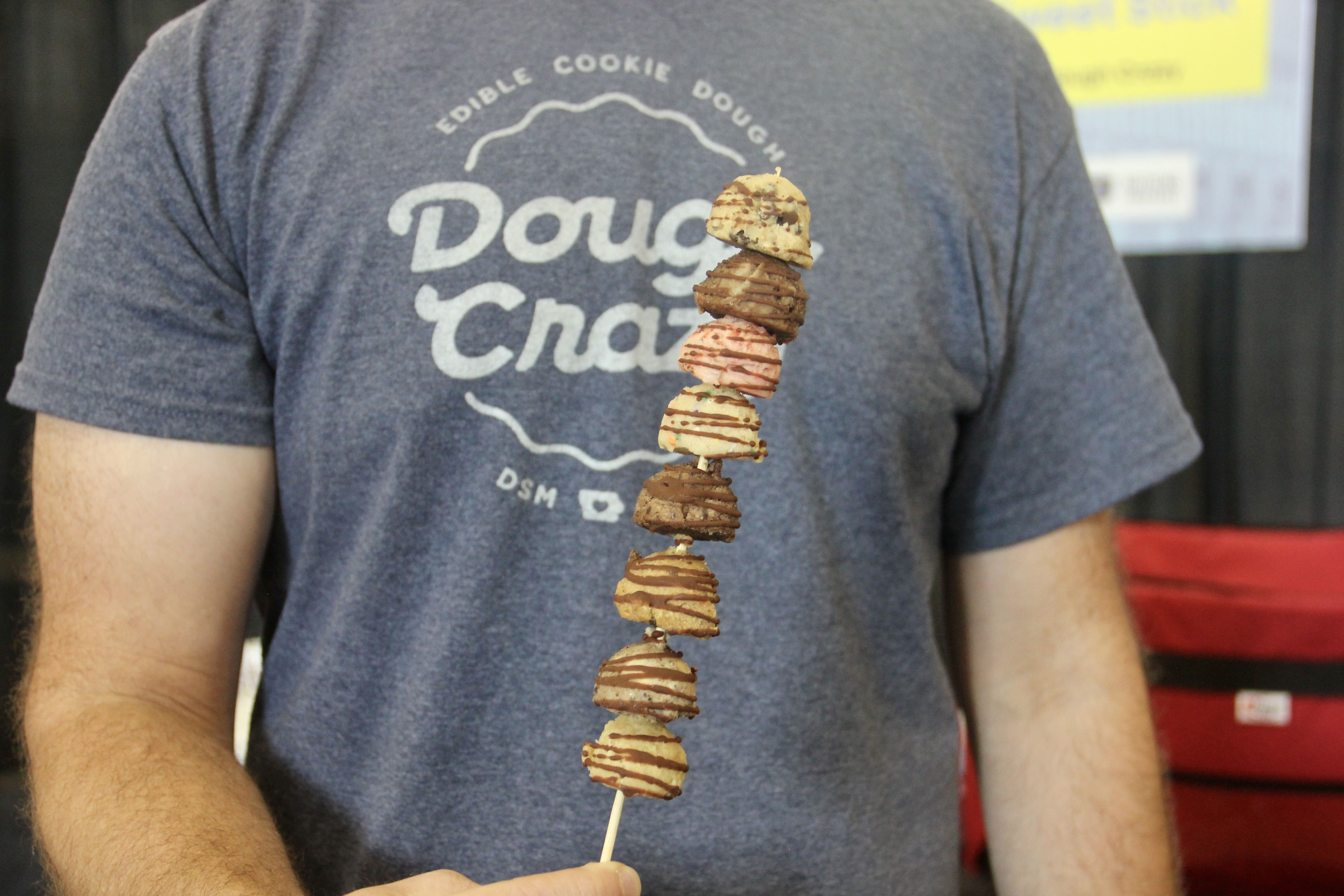 What it is: A stick of edible cookie dough. Flavors include chocolate chip, brookie, cherry chocolate chip, cake batter, brownie batter, monster, cookies and cream and chocolate chip cookie dough without the chocolate chips ($10).
What I liked: I never knew you could eat so many flavors of cookie dough from just one stick.
What could improve: I needed friends at the tasting because this gave me a stomach ache.
Fair factor: 5/5 — someone's going to ask you what you're eating if you walk around with this.
Of note: The one food I didn't get to try was "A-Hootenanny, " an oatmeal raisin cookie ice cream dessert from Iowa Specialty Crop Growers Association.
I tried to eat as fast as I could but still couldn't make it there!
More Des Moines stories
No stories could be found
Get a free daily digest of the most important news in your backyard with Axios Des Moines.