Our favorite Des Moines ramen spots
Put that instant packet away. Des Moines' burgeoning ramen scene offers umami-rich broths that leave you slurping for the last bits.
And these hidden gems don't advertise themselves as ramen joints. Your favorite sushi spot likely offers it, but you'll have to search the corners of the menu.
Below are some of our favorite spots to chew on some noodles and satiate our jammy egg cravings.
Char Siu Pork Ramen — Wasabi Chi ($14)
Slurping this rich, pork broth is the closest I've tasted to the expertly-crafted ramen in Tokyo.
What makes it great:
There's a depth to the cloudy pork broth that's more comforting than your mom's chicken noodle soup. It's slightly salty, but doesn't hide behind excessive seasonings or sauces.
The char siu — aka, braised pork belly — is a delight. Its fatty, soft center and chewy outer edges show the chefs know how to treat the meat without overcooking it.
Plus: A sweet glaze on the meat contrasts well with the broth.
Where to find it: Near Merle Hay Mall — 5418 Douglas Ave, Des Moines; 515-528-8246
Black Garlic Tonkotsu Ramen — Wasabi Ankeny ($15)
My appetite for this ramen is similar to my potato chip cravings. Each bite was so salty, savory and garlicky, I couldn't put my spoon down.
What makes it great:
The broth's toasted, garlic flavor evokes a sprightly zing we know and love, but with an earthy, browned twist we don't often taste. That's thanks to the aged black garlic.
The soft-boiled egg retains its perfect state of in-between, a typically inconsistent feat for restaurants. Gelatinous enough to taste like a runny yolk, but solid enough that it doesn't dissolve.
Where to find it: In Prairie Trail — 1615 SW Main St #100, Ankeny; 515-264-5210
Cha Siu Ramen — Hana Ramen Sushi ($14.50)
After trying several ramen varieties at Hana, the spicy tonkotsu broth topped with pork belly is my favorite by far.
What makes it great:
Chili garlic is all the rage right now and Hana's thick blend is the salty and spicy kick that I desire. The chef plops a dollop of it on the pork broth that you can mix in, but I always ask for extra on the side as well.
The colorful blend of toppings is my favorite here. Chew into bamboo shoots or mushrooms for an earthy taste or scoop up some corn for a sweet crunch. Plus: fish cake slices are a fun pop.
Where to find it: Near Jordan Creek Town Center — 7450 Bridgewood Blvd #205, West Des Moines; 515-222-9998
And just in general — Des Moines Ramen Club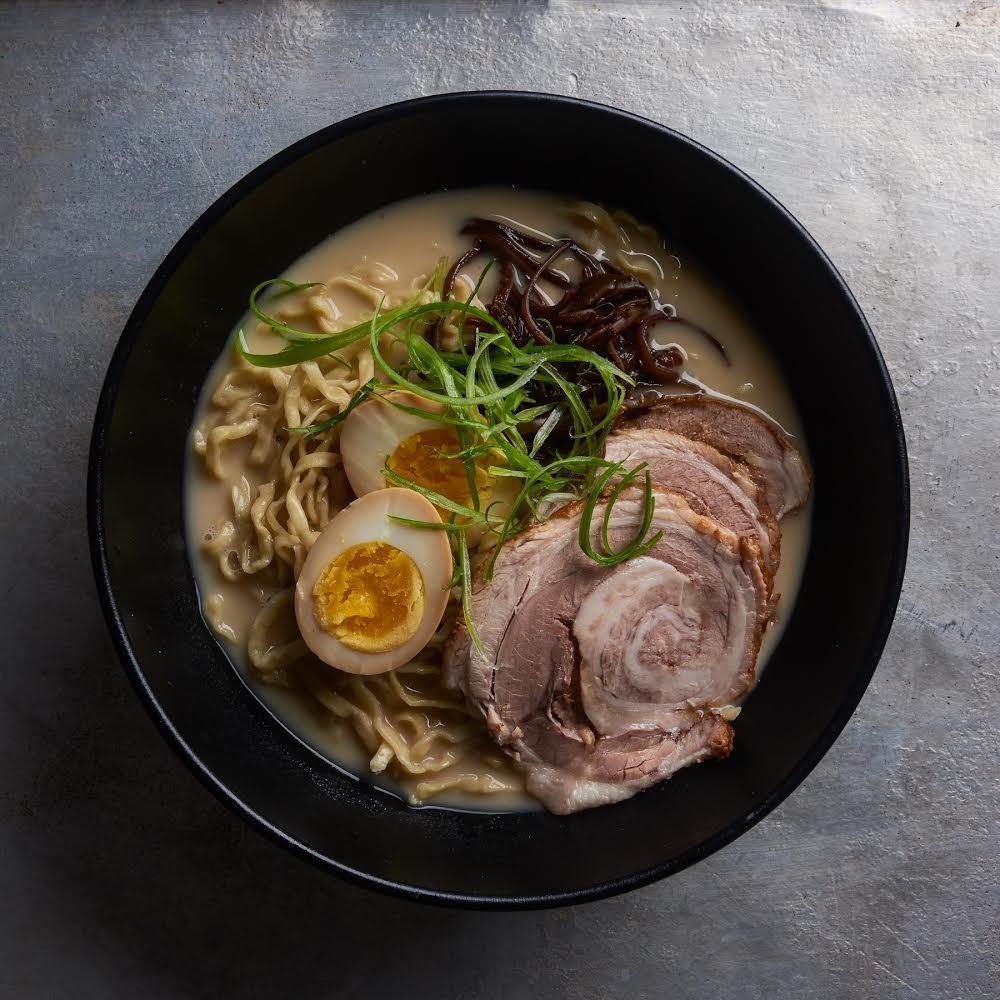 What makes this weekly ramen pop-up stand out is its energizing, creative spirit that pushes its small but mighty staff to think out of the box.
This was my go-to weekly takeout during the pandemic because lord knows we all needed any fun we could get.
What makes it great:
The chewy, handmade noodles here are by far the best in town and I often buy extra to eat in any leftover broth. I've strongly considered buying large portions of them just to save for future meals at home.
Plus, the club has the freedom and levity to produce new monthly creations, ranging from a classic pork tonku to a cheeseburger-inspired soup. Some months are better than others, but that's to be expected with an experimental pop-up like this.
📣 What's your favorite ramen? Let us know at [email protected].
More Des Moines stories
No stories could be found
Get a free daily digest of the most important news in your backyard with Axios Des Moines.