A Des Moines journalist's community-backed resilience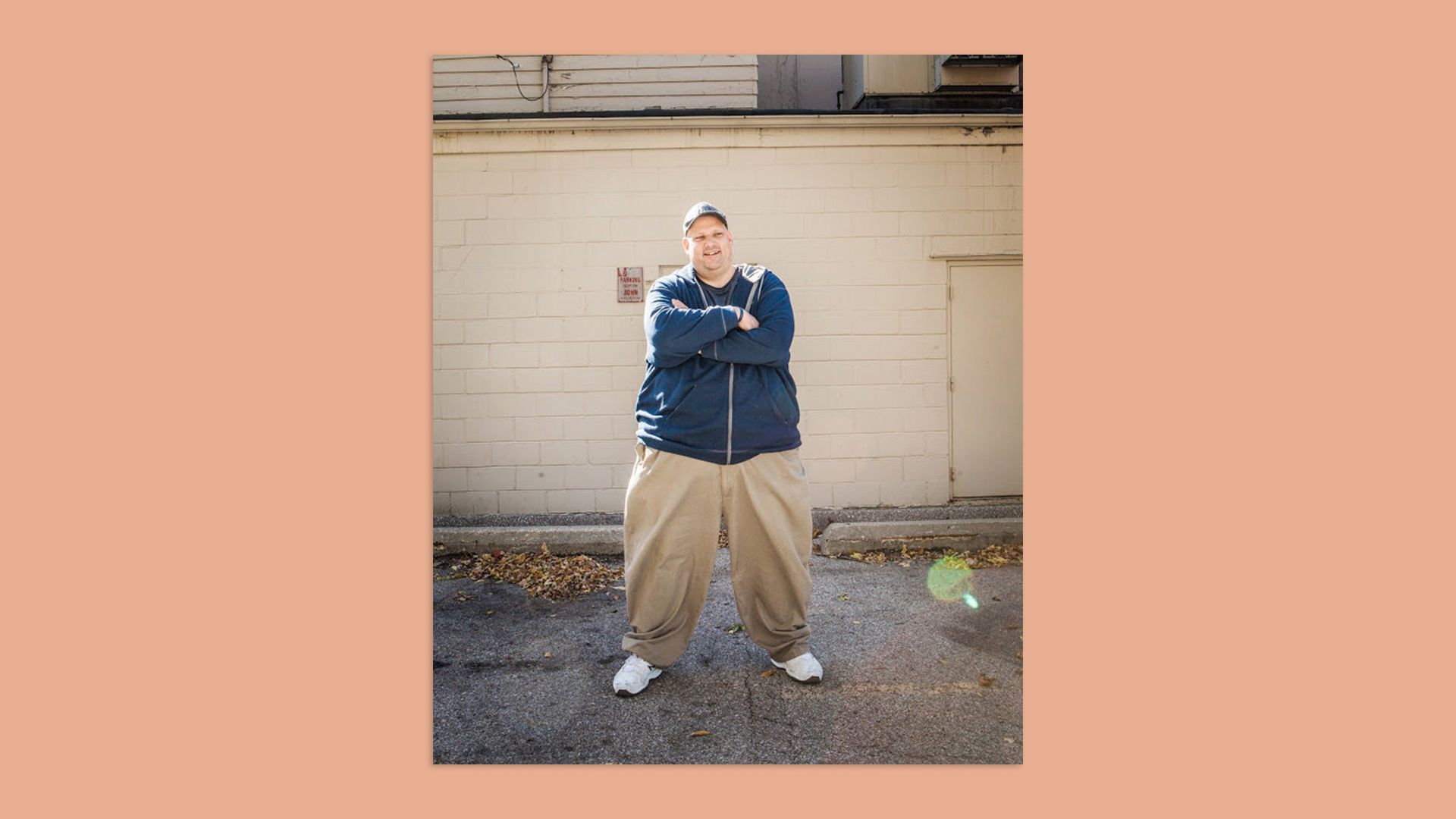 Former Des Moines Register metro columnist Dan Finney, who on occasion wrote about his roller coaster struggles with mental health and living with obesity for the newspaper, is in desperate need of surgery to repair his knee.
He doesn't have the money for a medical deductible required for the procedure, but he's getting help from an unexpected source: a former classmate who decided to take action.
Backstory: A month ago, Finney was walking in his apartment when his knee felt like it "exploded." The injury led to what he said were demoralizing complications.
He needed an MRI, but the maximum bed weight of the machine was 500 pounds. Calls from his doctor to local animal clinics and the zoo to locate a studier one that could be used on humans were unsuccessful.
Medical supply companies in the area didn't have a walker to accommodate him either. He's now using a leg brace and a cane.
What's happening: Urbandale resident and former classmate of Finney's Mary Hoover, who read about his hardship, organized a fundraiser for the required knee procedure deductible (approximately $4K). Friends and readers have donated more than $3,200 toward his surgery so far. Many have also cooked meals to help him get along.
Finney says it's been a powerful and humbling experience.
"So many people have demonstrated to me the value of my humanity. I have no right to spit in their eye and say I give up. I'll figure it out," he said.
State of play: Finney, who's around 580 pounds, told Axios he's had trouble walking and that isolation during the pandemic took a toll on his mental health.
He was laid off from the Register in May of 2020 and has remained mostly unemployed since then.
He's been trying to turn things around for months. He returned to school to work on becoming a journalist instructor or English teacher. His last semester of classroom work at Drake University starts Aug. 30, and he plans to student teach next year.
What's next: Surgery on the ligament tear in his knee is scheduled for Aug. 20.
It'll be cancelled or rescheduled if he's unable to pay the rest of the deductible two days before the surgery, he told Axios.
Finney says he'll continue with his school plans even if he doesn't get the surgery as scheduled.
📝 A note from Jason: I was classmates with Dan at Drake in the 1990s and worked with him for about two decades at the Register. As a reporter, I'm not fundraising or advocating for donations.
But I believe his experience offers a glimpse into some of the issues people living with obesity and depression encounter. And his story serves as an example of resilience, as well as the generosity of our community.
More Des Moines stories
No stories could be found
Get a free daily digest of the most important news in your backyard with Axios Des Moines.