Scoop: Crow Tow's contract controversy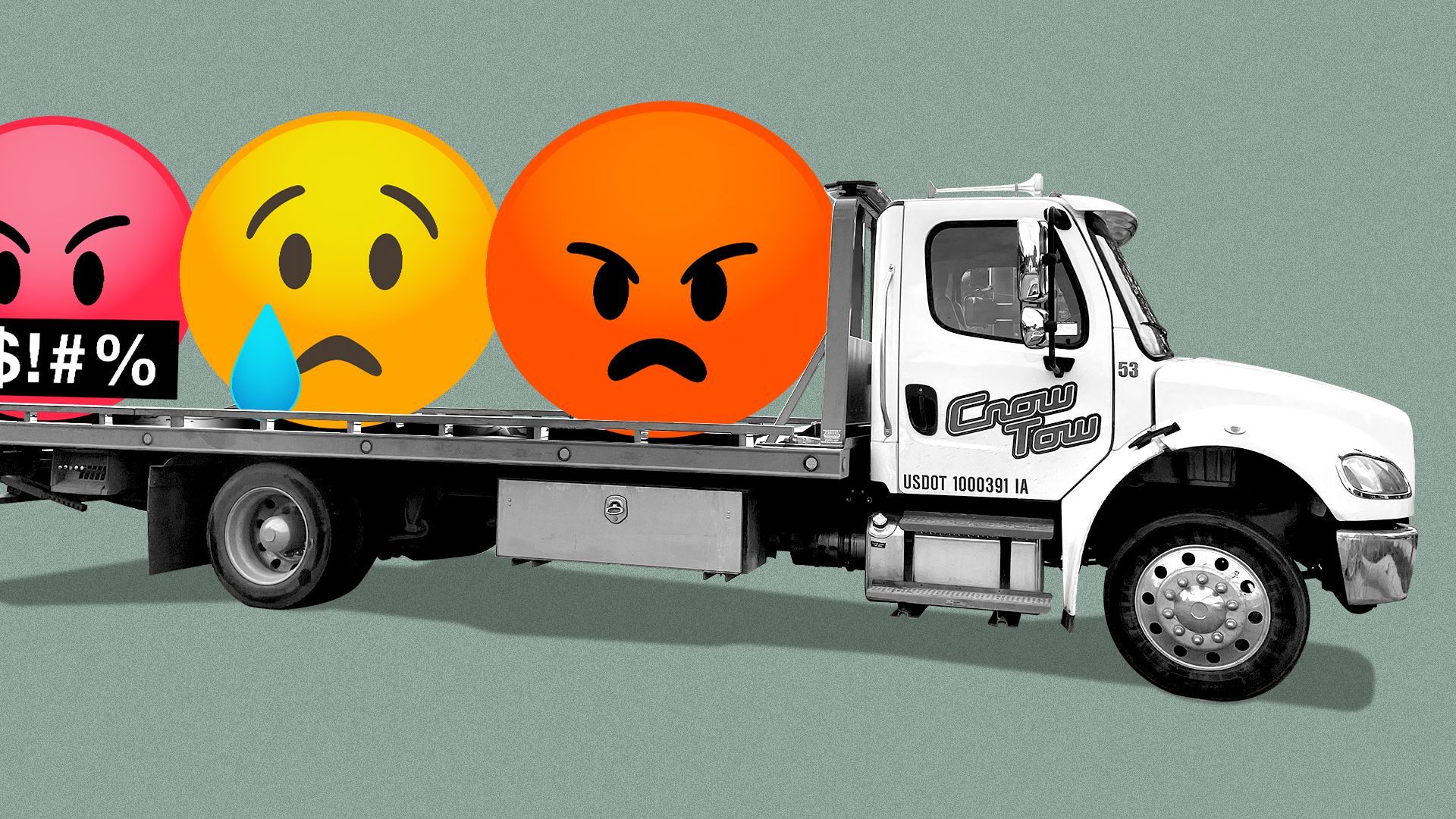 Polk County's towing contract is set to expire June 30, forcing the Board of Supervisors to consider a new agreement that will determine who gets called to scoop up vehicles over the next three years.
The county is still weighing its options, but Crow Tow — a company that's received numerous complaints from residents and local officials alike — sits at the top of its list.
Why it matters: No one likes getting towed, but it happens to the best of us. Retrieving a car and one's possessions inside can be a costly and time-consuming barrier for many residents.
State of play: The county procurement office recommended Crow Tow to the board because of its low bid among four other businesses, supervisor Ryan Ward told Axios' Linh Ta.
The city of Des Moines signed a similar exclusive contract with the company in 2020.
Central Iowa government agencies continue to back the company — even as some of their members complain about its practices.
How it's decided: The procurement office doesn't consider public complaints, bias and opinions in their recommendations, said Ward. That's up to the Board of Supervisors and the sheriff's office.
Ward said his office makes recommendations based on "transparent facts," which include costs to taxpayers.
The crowing about the company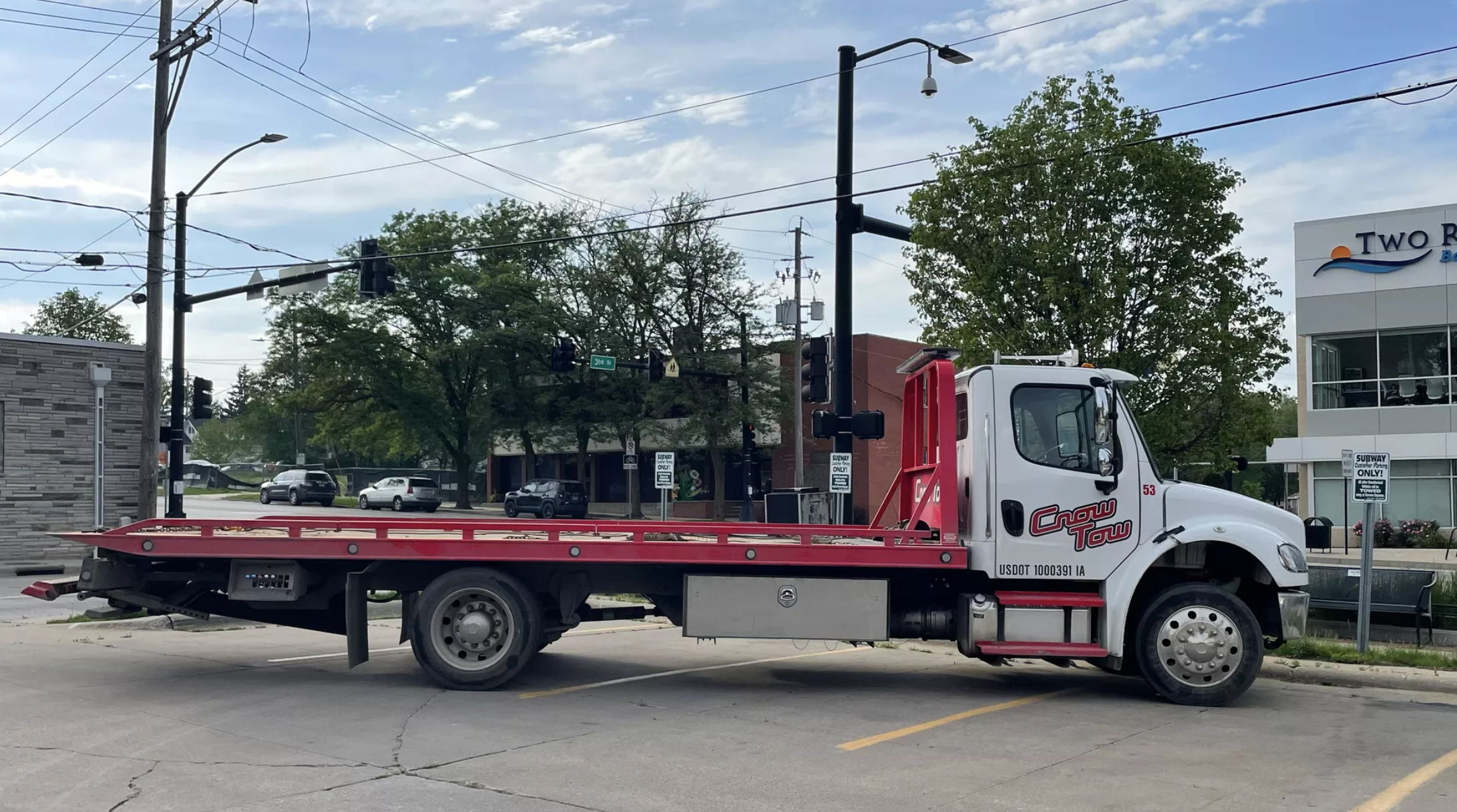 There's no love lost between Crow Tow and some city and county officials — let alone the public.
What they're saying: In emails sent to the Des Moines City Council over the last two years, constituents detailed grievances with the company, ranging from missing items to damaged vehicles to "predatory" practices, like stalking private lots.
Residents' dislike for the company is a local punchline — even prompting this diss track.
And there's a colorful online petition calling on Des Moines to end its contract with Crow Tow.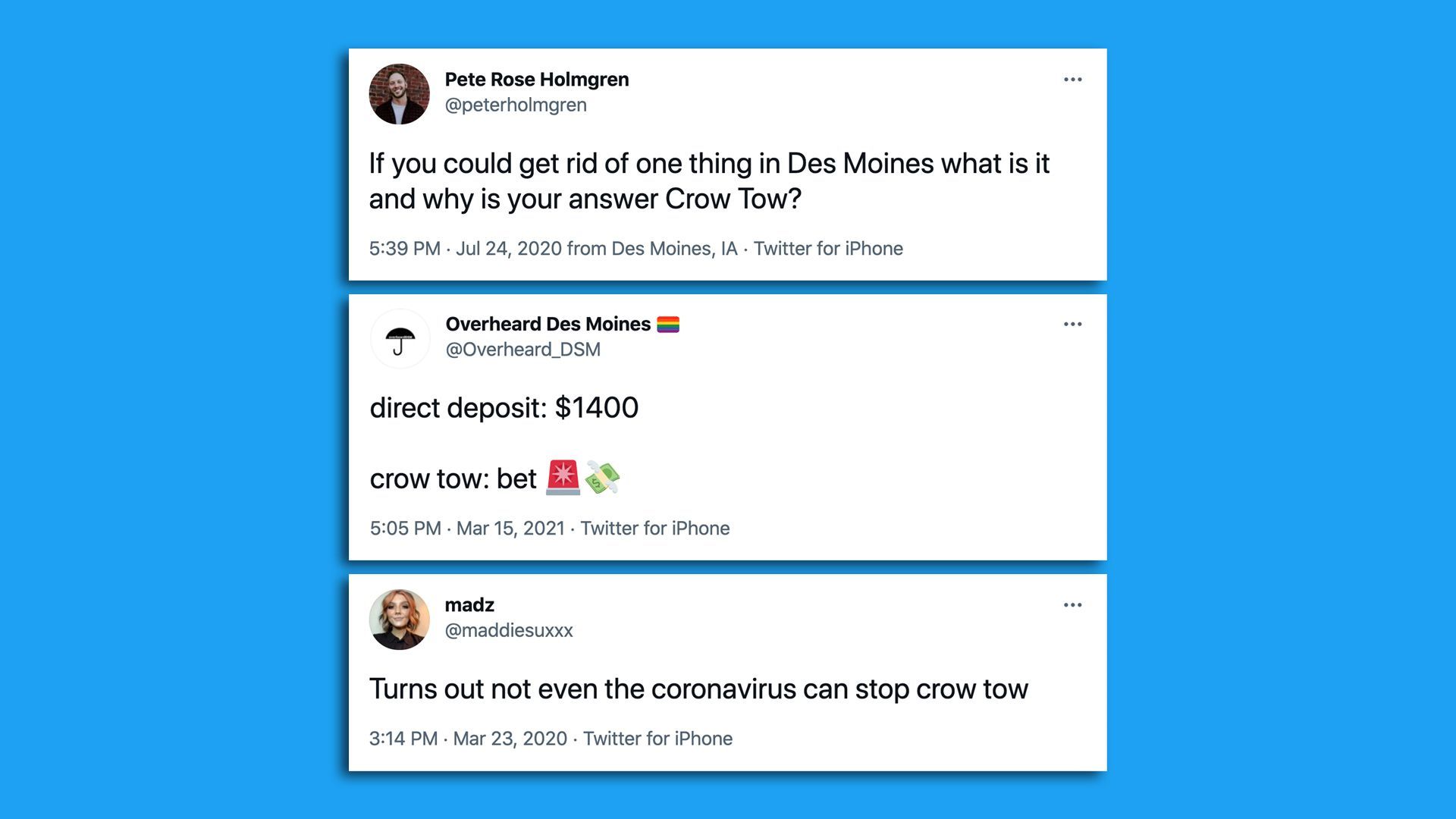 Polk County Supervisor Tom Hockensmith disagrees with the recommendation that Crow Tow should win the bid and said he plans on voting no if it comes up.
In 2020, Hockensmith parked in an alley at the Brownstones to put a delivered package in his daughter's garage. Less than a minute later, he said he saw a Crow Tow truck coming down the alley to get his car. Hockensmith said the driver was aggressive and became borderline "physical."
He wants to see a written commitment from potential tow service providers that promises ethical behavior. After talking with constituents, he said he considers Crow Tow a "predator."
"I think they're terrible," Hockensmith said. "I will never support it."
Even Des Moines police officers raised concerns internally about Crow Tow's practices at accident scenes.
In emails obtained by Axios, a now-retired DMPD officer Eric Moorman told a higher up in 2019 he would "never call Crow Tow," after he said the truck driver declined to bring a 97-year-old man's car to the Gregg Young Buick dealership in Indianola.
In another 2019 email, Moorman said it was "odd" a Crow Tow driver wanted to be paid on the spot by a motorist before delivering a car to a body shop — circumventing the insurance process.
Yes, but: Last year, DMPD chief Dana Wingert recommended that City Council approve Crow Tow's bid, saying his agency had received "minimal complaints."
On the ground at Crow Tow's lot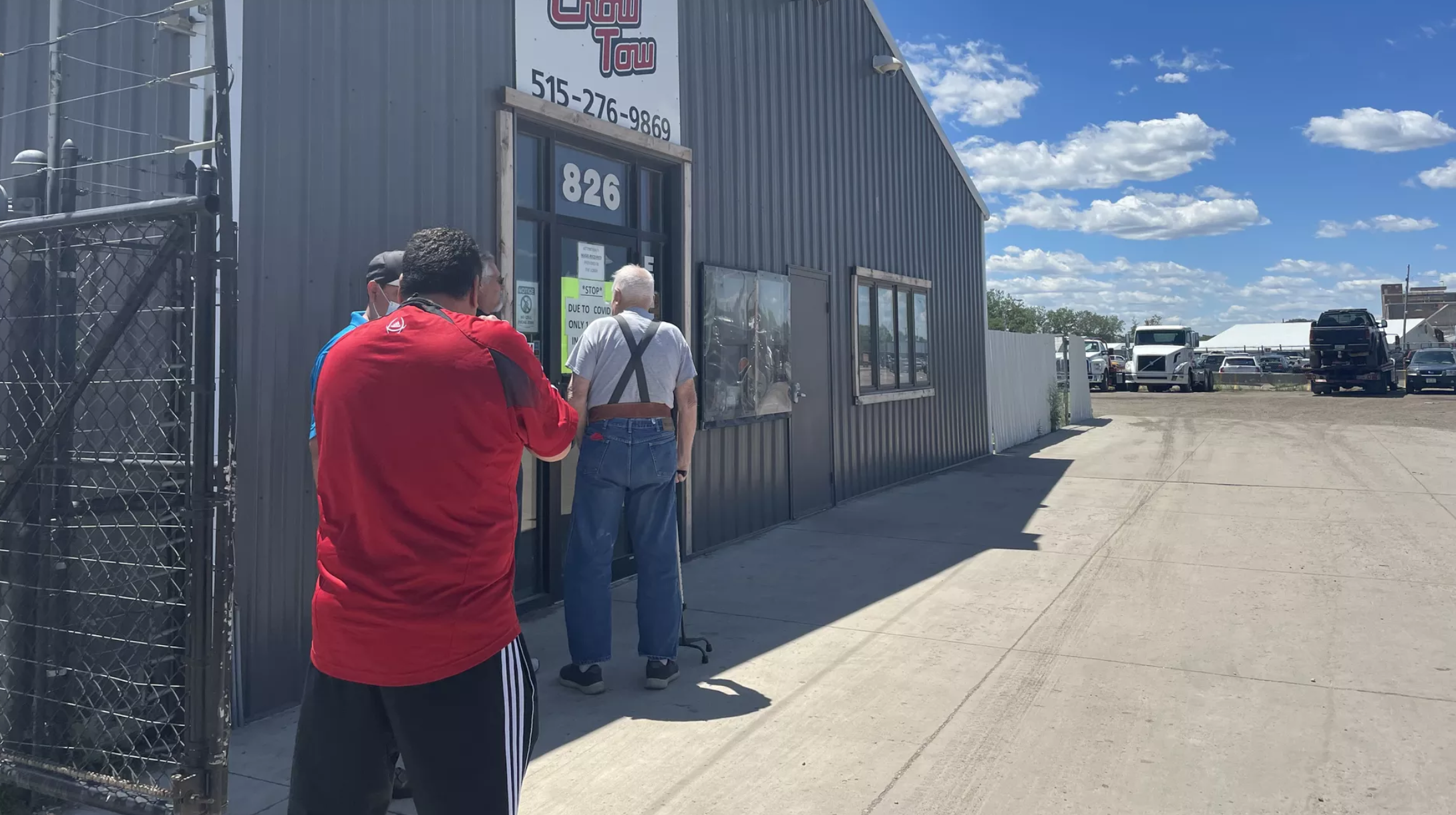 When Linh stopped by Crow Tow, the first thing that greeted her was a line of people outside the door that stated only one person was allowed inside at a time.
The reason: Owner Randy Crow said he's limited entrants because people have been "acting out," both at his store and on social media in recent years.
DMPD was called to the lot at 826 SE 21st St. more than 370 times between 2018 and 2020 — primarily for "disputes," according to records. The callers weren't identified.
The other side: Crow is aware of complaints against his business, but said it's expected when people are angry about "non-consensual" towing.
He said the biggest problems arise from people comfortable behind their keyboards and added that they often have vague claims against his business.
"No one's responsible. No one has detail. It splashes up enough that it becomes fact, and that's not fair," Crow told Linh.
As for the specific issues listed in the anecdotes above, Crow said his driver initially declined to tow a vehicle to Gregg Young because of the dealership's past-due debt.
The dealership said it erroneously received a past-due bill from Crow Tow.
For the driver who asked for an upfront payment, Crow said some body shops will not pay fees or accept a vehicle without hearing from an insurance company first — leaving the tow company empty-handed.
And Crow said he got a call from the Brownstones property manager about four cars illegally parked in the fire lane. A truck arrived 13 minutes later and asked the drivers to move, including Hockensmith.
Zoom out: Iowa laws don't protect against predatory towing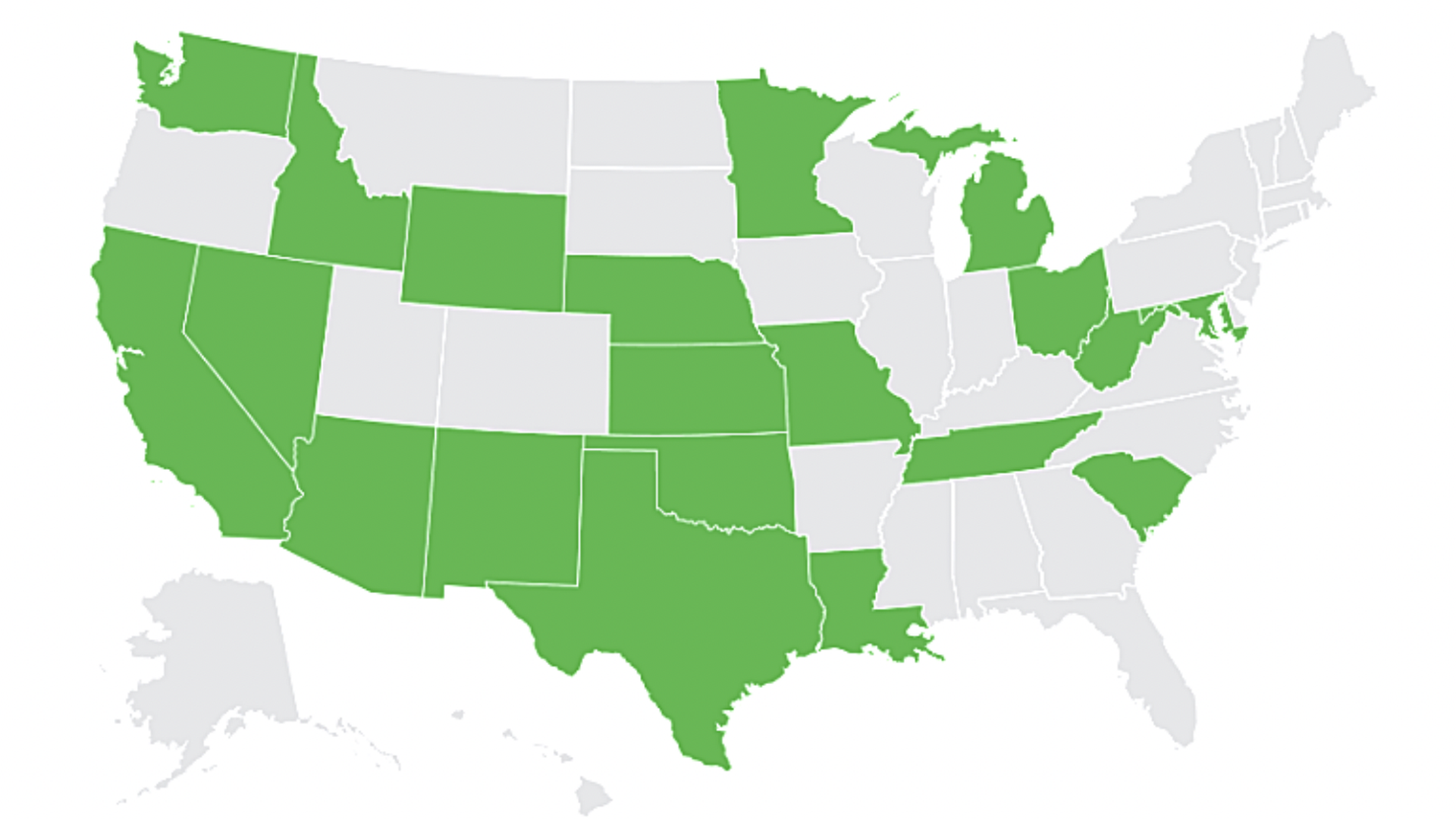 Iowa ranks near the bottom of the U.S. for its lack of laws protecting consumers from predatory towing practices, said Teresa Murray of U.S. Public Interest Research Group.
Why it matters: Consumer protection laws are meant to shield residents from exploitative behavior and set best practices for businesses.
Driving the news: PIRG's report released last month details 14 protections states should enforce to making towing more transparent and less burdensome on vehicle owners.
Out of the recommended laws, Iowa only has two on the books.
Gaps that stand out:
No caps on towing or storage fees, leaving it to municipalities if they want to set rates.
No access to personal belongings inside an impounded car, such as wallets, medications or car seats.
Property owners aren't required to display no parking signs or note a lot is private.
Tow companies aren't required to reimburse for damages to vehicles. (In the last three years, Crow Tow was brought to small claims court eight times for allegedly causing property damage.)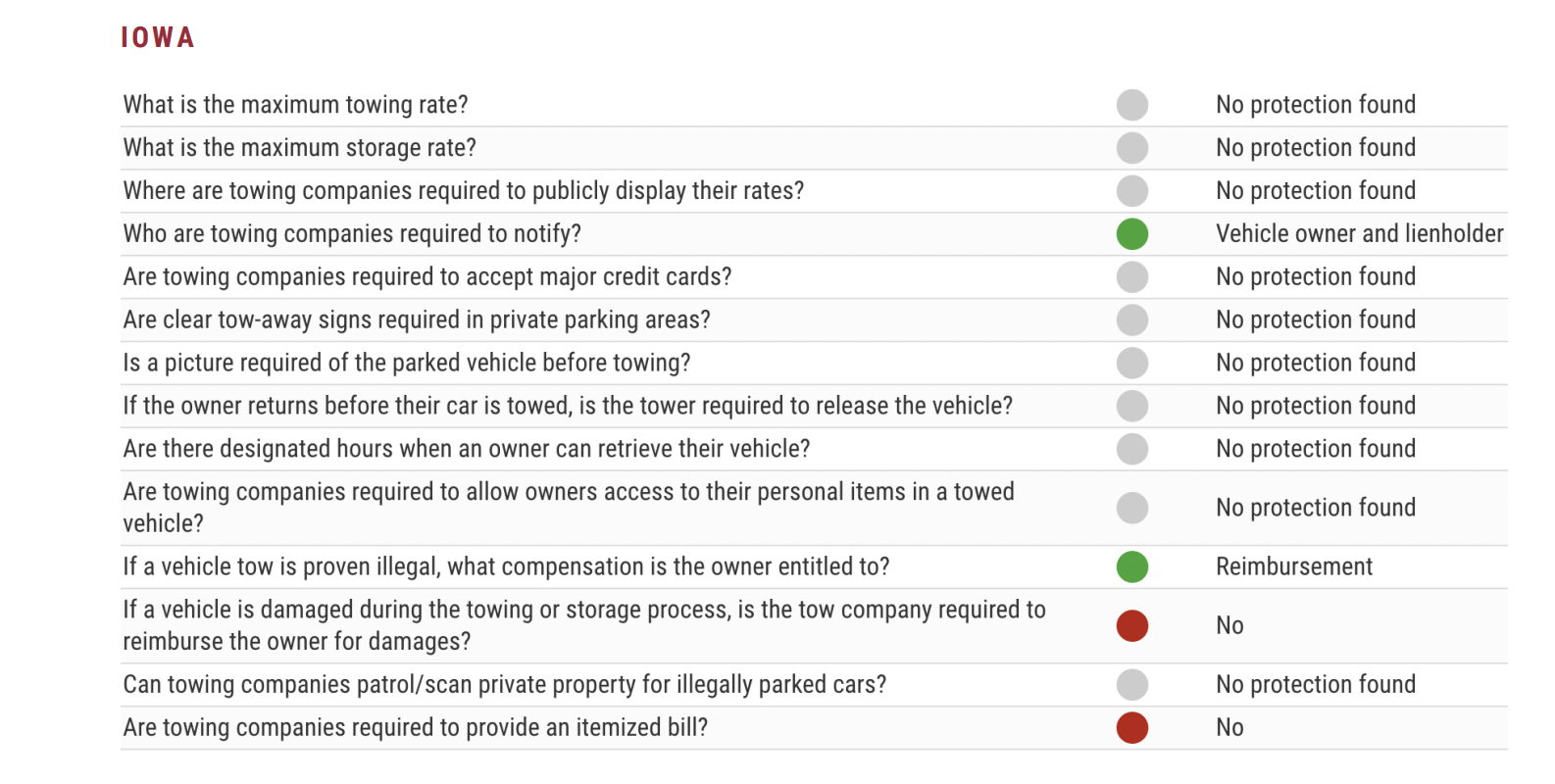 The bottom line: More work can be done at the state and municipal level to create more transparency in towing, and more protections for residents.
"The consumer protection in Iowa just stinks," Murray said.
More Des Moines stories
No stories could be found
Get a free daily digest of the most important news in your backyard with Axios Des Moines.