Updated May 14, 2021 -

News
Axios' favorite places to eat in Des Moines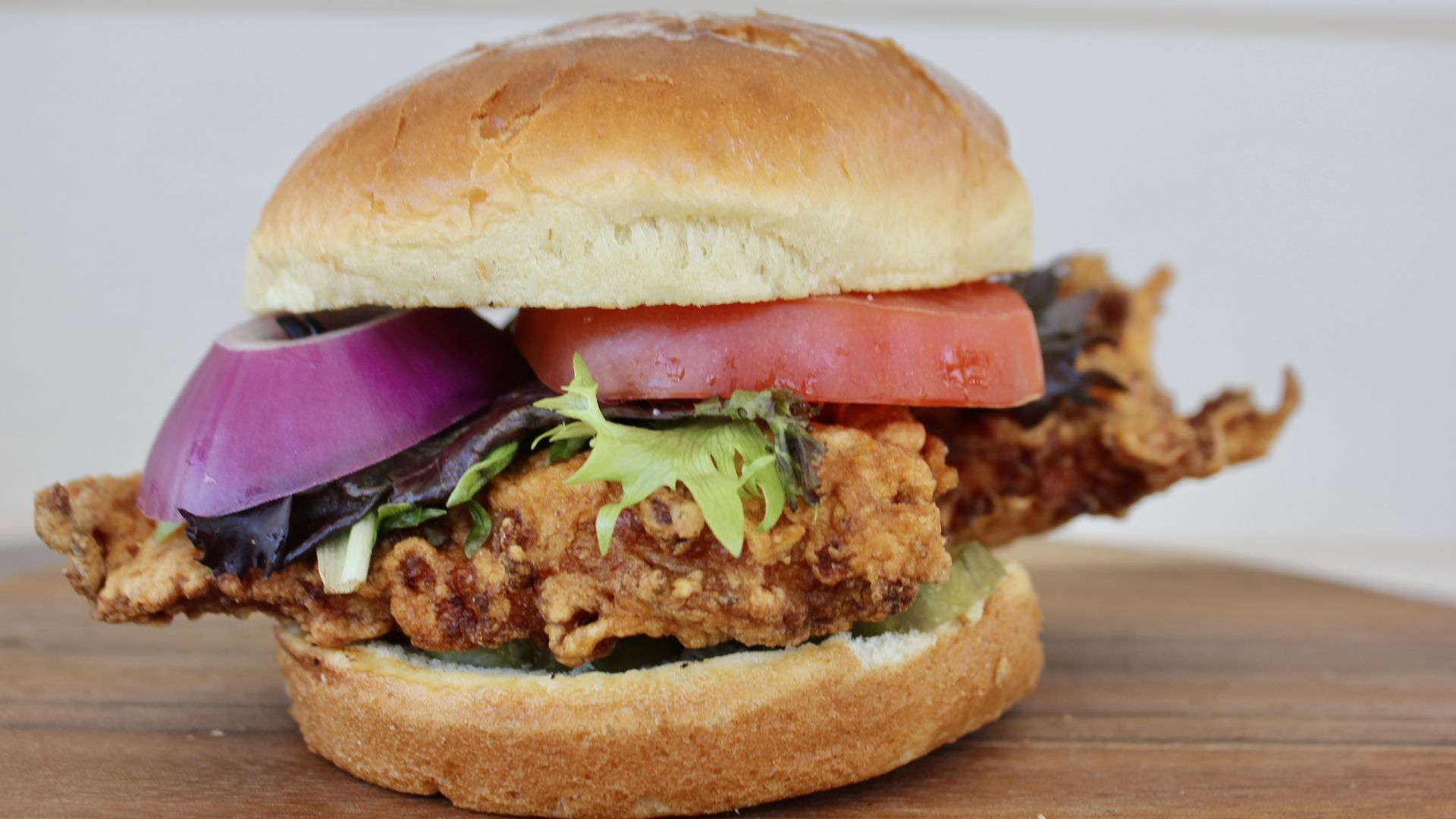 Whether you're a lifelong Des Moines resident or a traveler stopping by, there are culinary treasures to discover across the metro's local restaurants.
The state of play: It's easy to poke fun at the "meat and mashed potatoes" of the Midwest (which, honestly, can be quite tasty) — but, don't discount our town's James Beard award-winning chefs, diverse array of immigrant-owned restaurants and just plain creative creations.
Here's a running list of the foods we've liked:
Starters & appetizers
Charcuterie personifies what I enjoy about going out to eat — the exploration, the communal interactions, and I mean, come on — it's meat and cheese.
Cheese Bar off Ingersoll consistently offers some of the highest quality charcuterie I've eaten in Des Moines and because of their frequent meat and cheese rotation — it's typically never the same.
The staff thoroughly described each item on our "Smorgasbord" ($35), which serves 3-5 people. We were all full from just the board and some wine.
My highlights:
The brie was a perfect milky and tangy base for the mustard and jelly.
Prosciutto from La Quercia was paper-thin, melt-in-your-mouth good.
There were taco-flavored pickles from a Cinco de Mayo event that were a fun talker and actually delicious.
Open: 11am to 9pm, Tues-Sat; 2925 Ingersoll Ave, Des Moines
Asian food
Takoyaki from Hana Ramen Sushi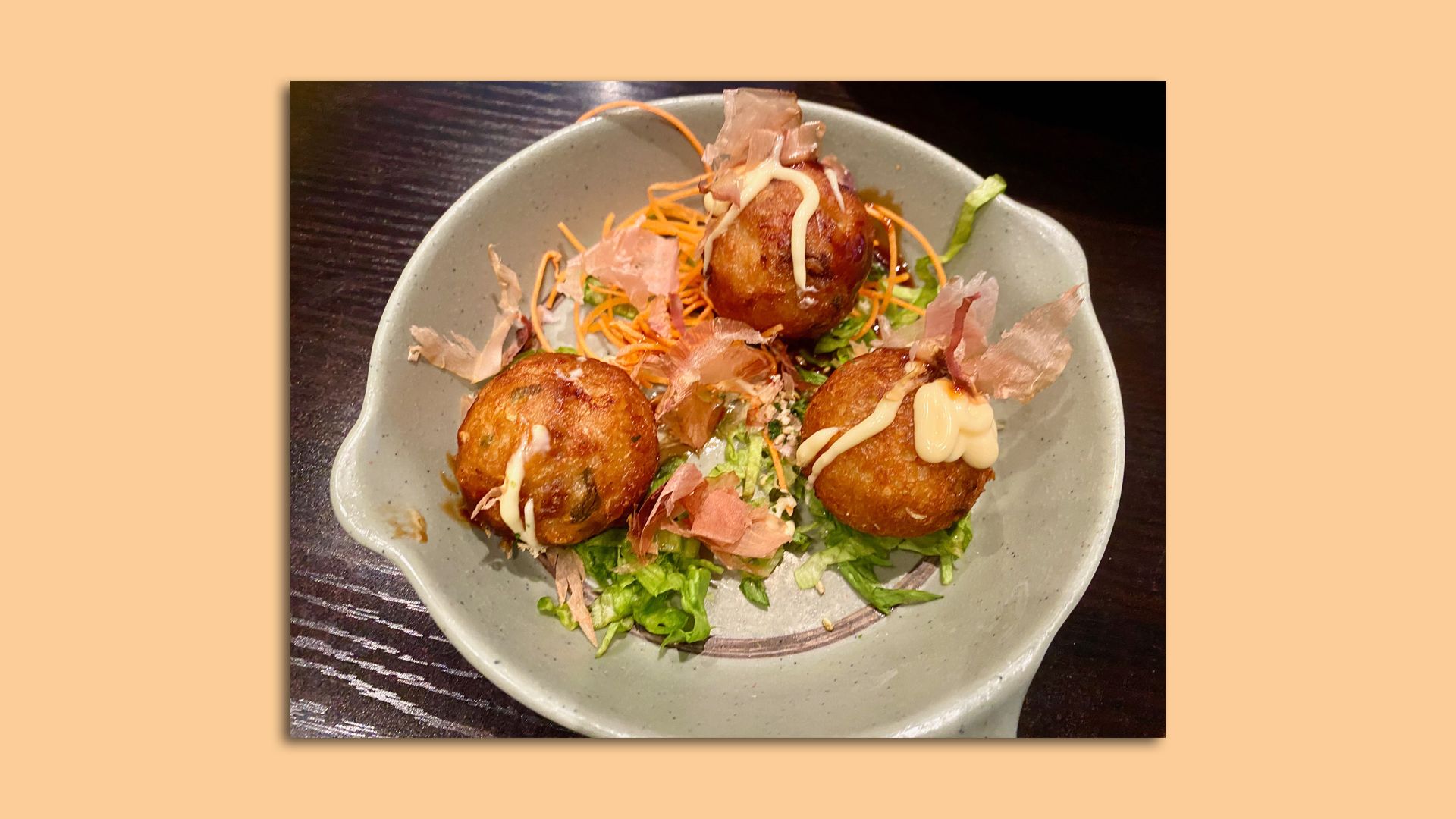 🐙 Takoyaki is a quintessentially fun food to eat and say. The hot, fried dough ball steams in your mouth, while the tiny piece of octopus in the center gives a textural surprise.
For $5.95, you can get three pieces off the Hana Ramen Sushi appetizer menu, topped with smoky bonito flakes and Kewpie mayo, which I feel is superior to any of the U.S. brands.
Open 11-9 every day, 7450 Bridgewood Blvd. #205, West Des Moines.
The snack aisle at C Fresh Market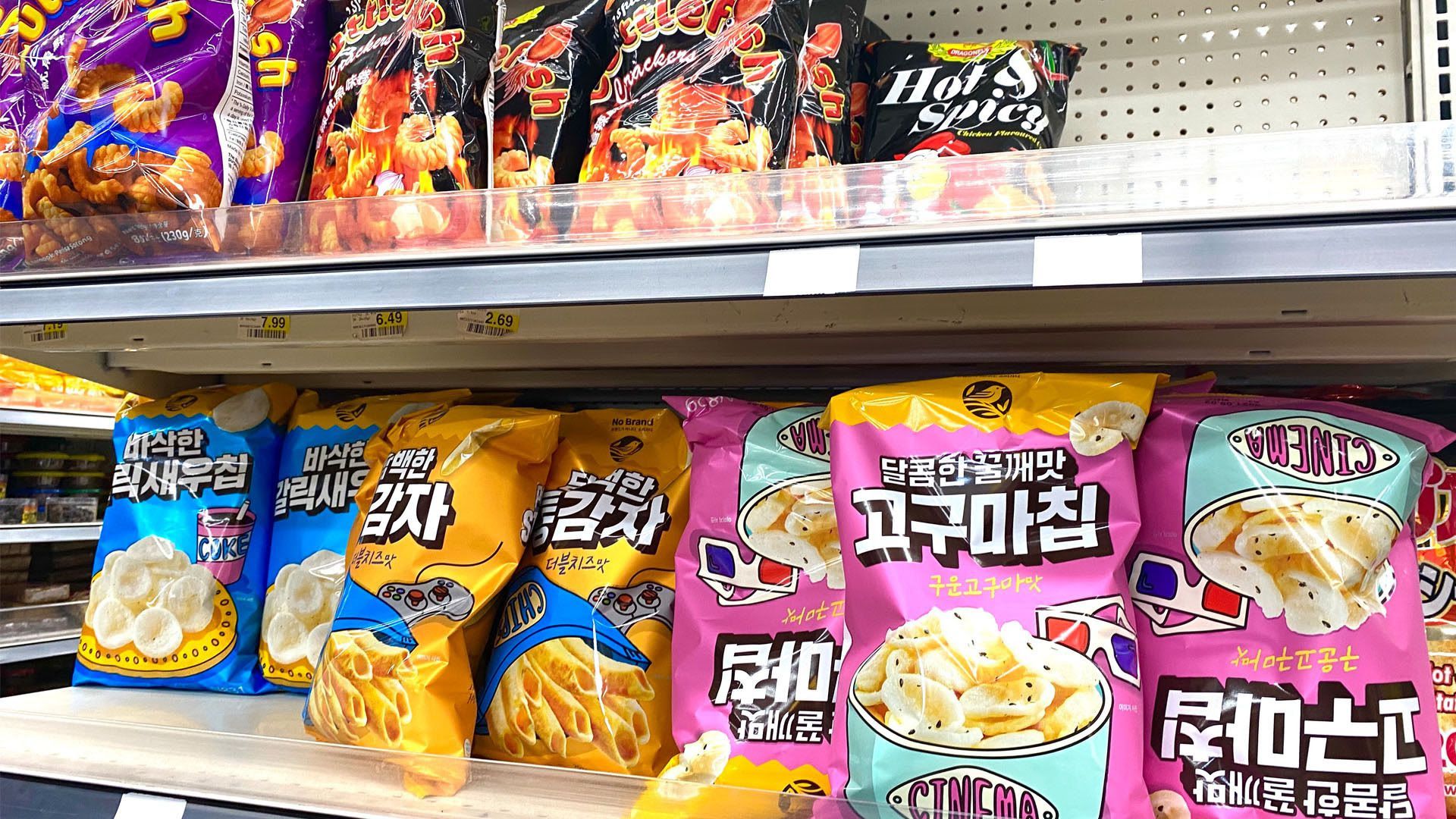 Salted egg chips, soft mochi and crunchy rice snacks line the shelves at Des Moines' largest Asian grocery store.
We recommend a bag of White Rabbit Creamy Candy for $2.79. The popular Chinese sweet is a milky, chewy candy that's similar to taffy.
Open 8-8 every day; 801 University Ave., Des Moines.
Creative dishes
PB&J Fries from Curbin' Cuisine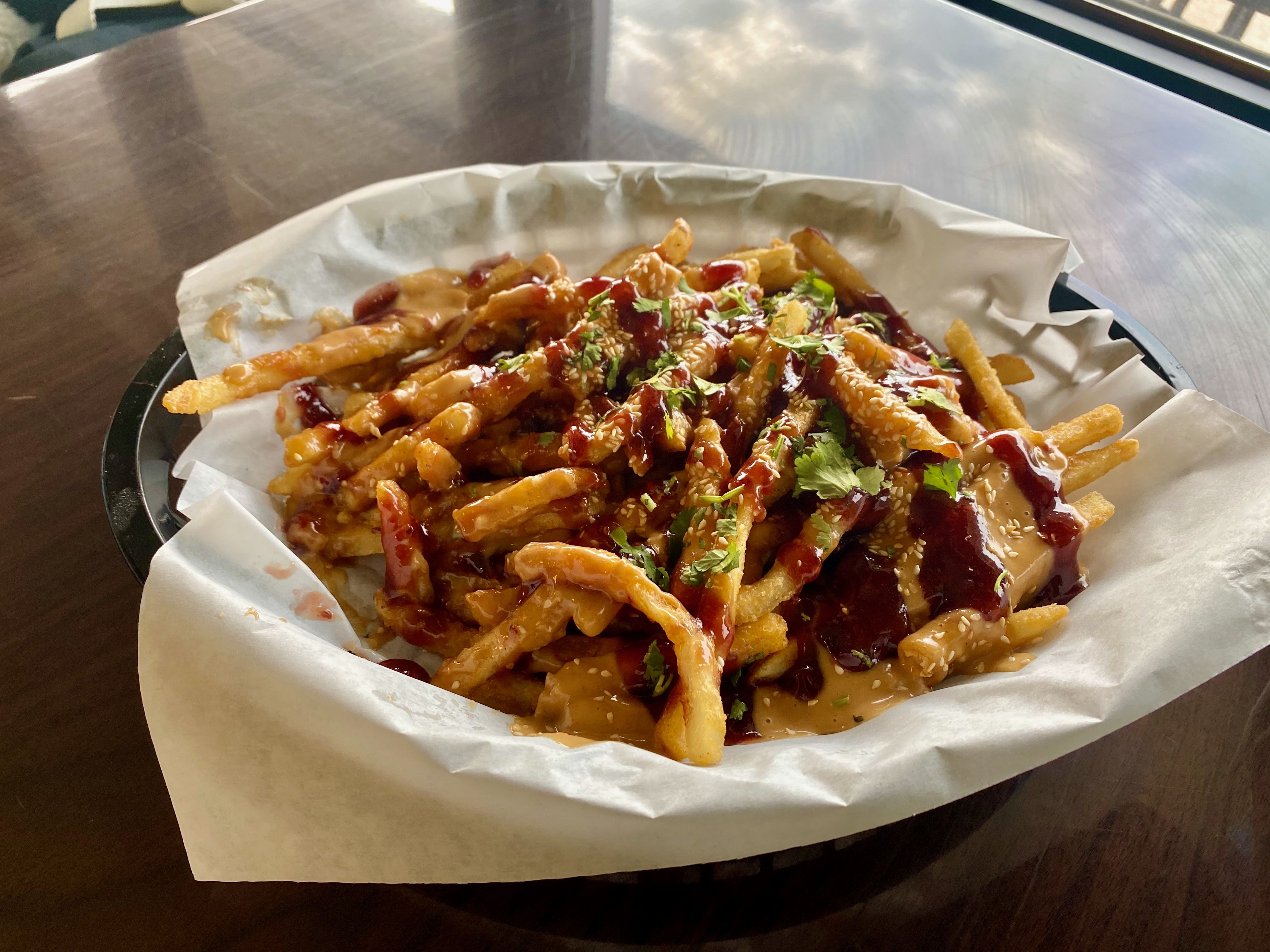 🍟 Step aside, ketchup. This Beaverdale restaurant tops standard-cut fries with a Thai peanut sauce and a raspberry-chipotle jelly.
The savory and sweet flavors blended together for a taste of after-school nostalgia.
💸 For $8.25, you can get a full order, but half-orders are also available.
Open 11:30am to 8pm, Tues-Sat, 2713 Beaver Ave., Des Moines; 515-635-0090
Fried chicken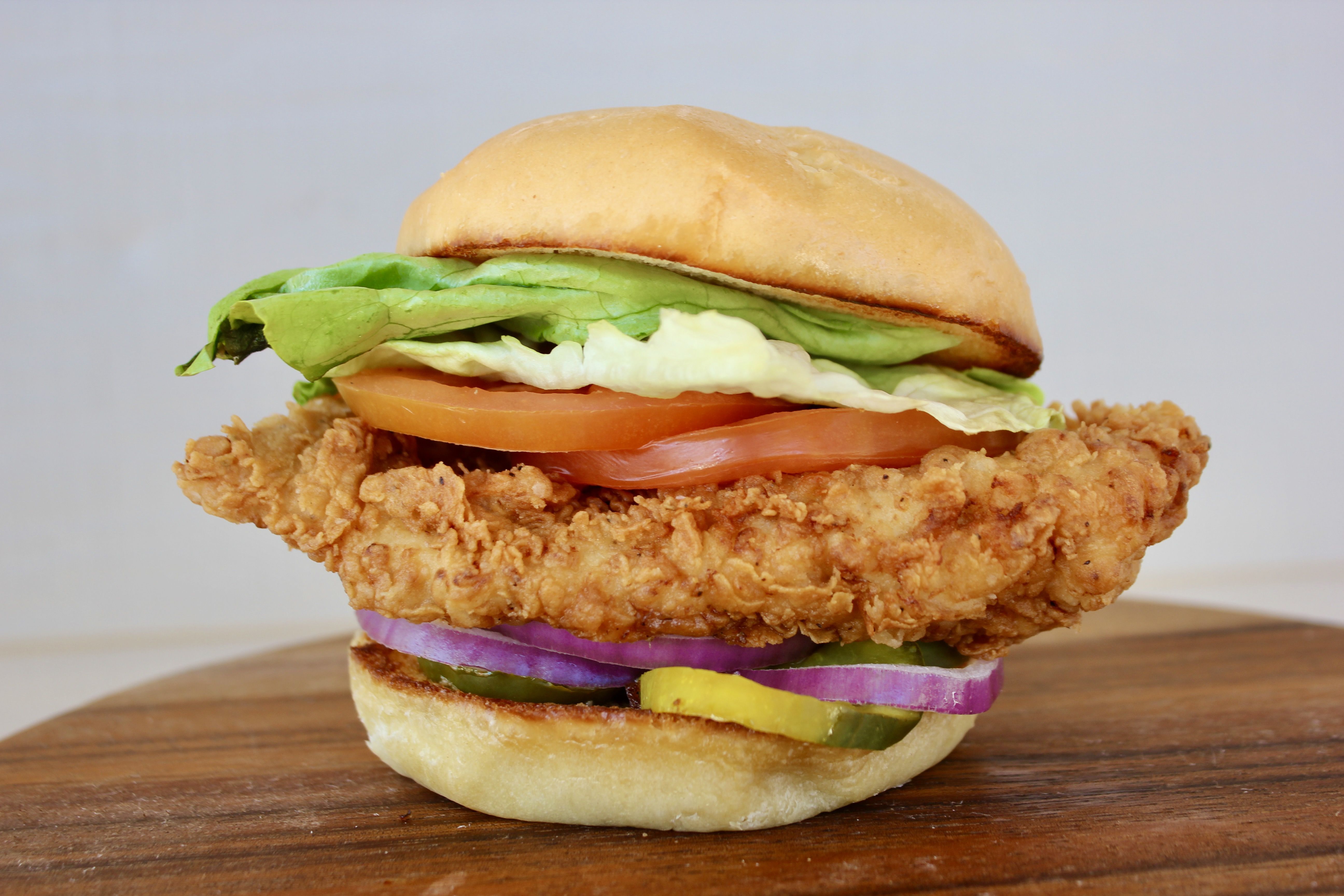 🐔 We narrowed down the 5 best chicken sandwiches across the city, so you don't have to try them all yourself (but you should).
Where you should target: Angry Goldfish, Bubba's, Charlotte's Kitchen, Exile and The Station on Ingersoll.
Check out the full list, with full reviews.
Chicken Tenders
The Chicken's spicy chicken tender basket, aka the "Iowa Hot Chicken" is every bit of poppin' fried chicken you're craving + some fiery burn.
Their strips are hand-breaded and fried to juicy and crackly perfection, while a spicy marinade and seasoning blend gives some heat.
I like to go the extra mile and get it coated in the dry rub for a well-seasoned punch.
Open 11am to 9pm, Sun-Thurs; 11am to 10 pm, Fri-Sat, 4221 South Orilla Rd. West Des Moines, 515-410-2520
Pizza
Potato pizza from Franka's Pizzeria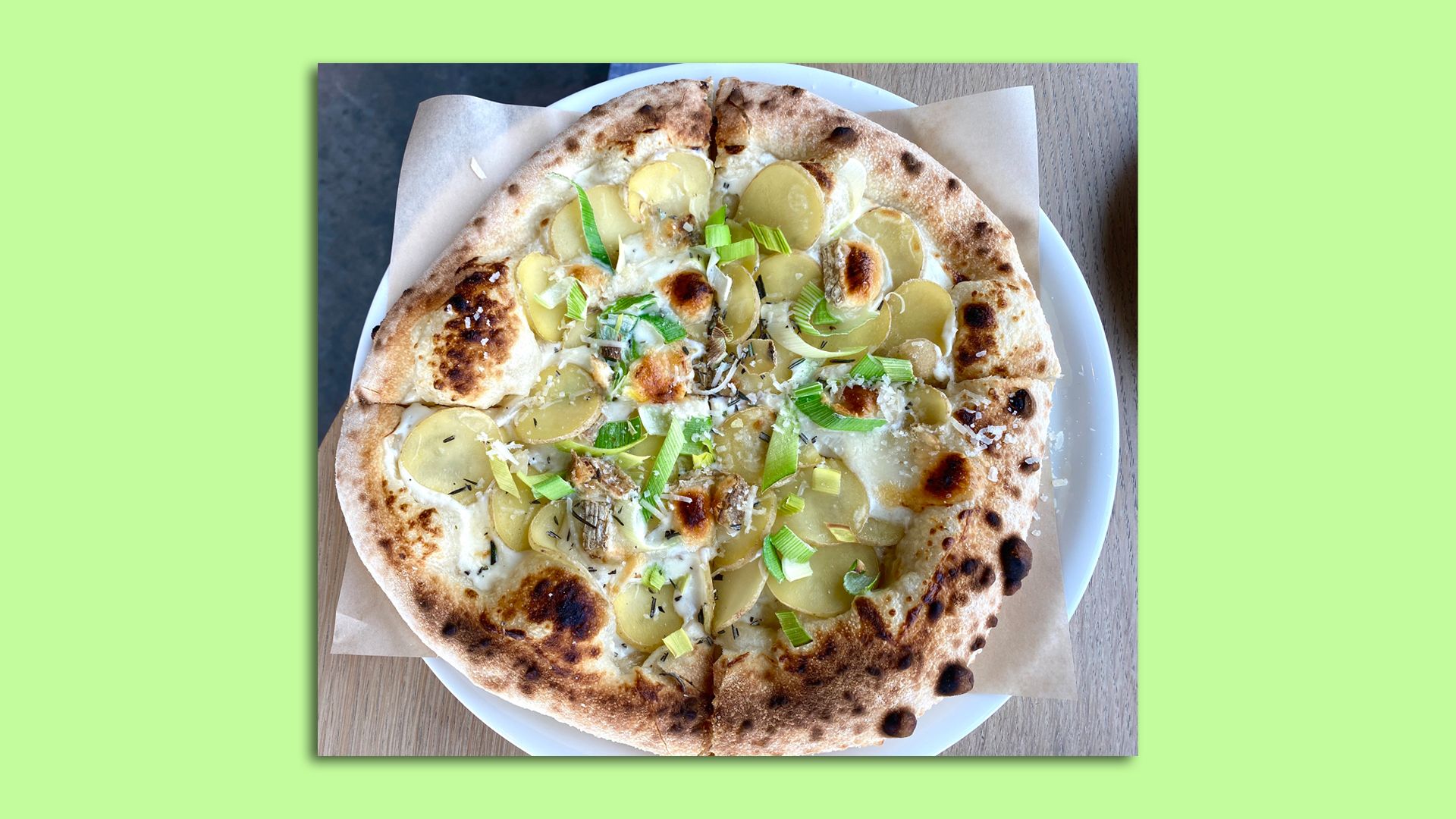 💸 This $17 pizza from Franka Pizzeria excels when it comes to balance. The leek garnish adds a sprightly green pop on top of the slightly tangy taleggio cheese.
Plus: It's a textural delight. The subtle bite of the potatoes meshed well with the creamy white sauce and chewy crust.
Open 10am to 10pm, every day, 111 E. Grand Ave. Suite 101, Des Moines, 515-288-1086.
Dessert
Pink snow bingsu from Ocha Bubble Tea & Dessert Cafe
🍬 This eye-candy from Ocha Bubble Tea & Dessert Cafe is as delicious as it looks.
Linh ordered the pink snow bingsu with gummy bears, Captain Crunch and condensed milk ($7)
It was a super sweet and texturally-amazing combination, especially with the frozen bears. But you can customize your own dessert with boba, jelly, chocolate or fruit if that's more of your taste.
Bingsu is a popular Korean shaved-ice dessert, but don't equate it with the summer treat you get at the ball park. It's much softer than the hard ice + syrup combination. It's not as creamy as ice cream either, but it's super fun to eat either way.
Open: Noon to 8 p.m. everyday; 7216 University Ave., Windsor Heights
Hot Lava Milk Tea from 8 Degrees Ice Cream & Boba
8 Degrees Ice Cream & Boba is my go-to spot if I'm craving bubble tea. And my drink of choice is always the Hot Lava Milk Tea ($4.50).
The cold milk-based tea drink has three different layers to it: Milk foam on top, warm dark sugar syrup and black pearls at the bottom.
It's sweeter than the other menu options and the different layers and temperatures make it a fun drink. My favorite part is the "bubbles," which are fun to chew on and taste especially good from 8 Degrees.
Open: 11:30am to 8:30pm Tues; 11:30am to 9pm Wed; noon to 8:30pm Thurs; 11:30am to 10pm Fri; 11:30am to 9pm Sat; noon to 9pm Sun; 1315 31st St, Des Moines
Keep checking back in! This list will continue to be updated as Linh adds more favorites to her list.
These items first appeared in the Axios Des Moines newsletter, designed to help readers get smarter, faster on the most consequential news unfolding in their own backyard.
More Des Moines stories
No stories could be found
Get a free daily digest of the most important news in your backyard with Axios Des Moines.