GABF events: Where to find the best beer during Denver Beer Week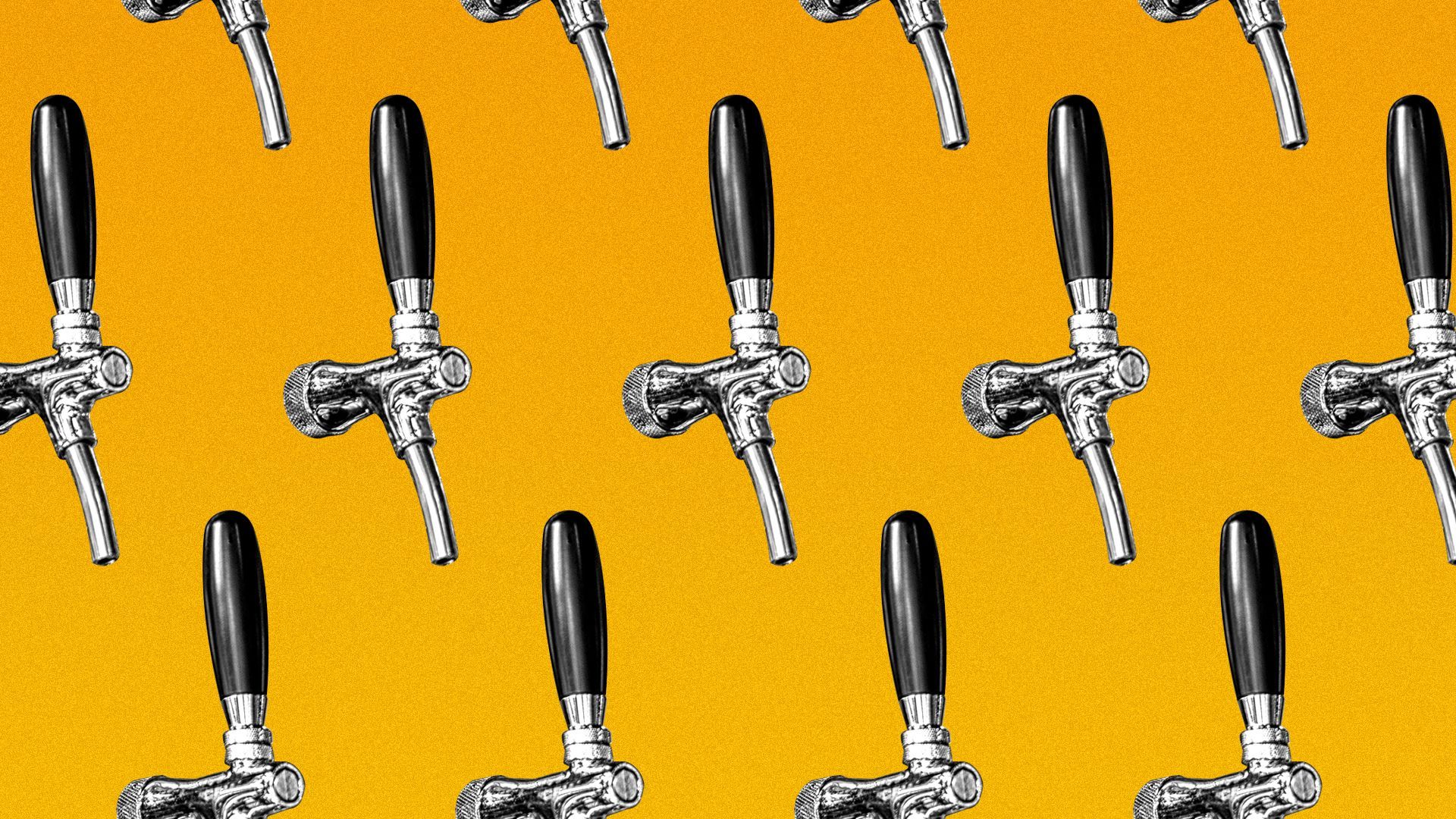 The secret about Denver Beer Week: Some of the best beer is poured on the sidelines of the festival, so you don't need a ticket to partake.
Where to go: Here are our top picks for where to find the nation's top breweries and special sips that don't pour often in Denver.
Wednesday
CSA tap takeover: Hops & Pie on Tennyson Street is a great basecamp for beer week, and they get the party started with beers from Crooked Stave Artisans distributing, including Louisiana's Parish, Vermont's Lawson's Finest Liquids, Iowa's Toppling Goliath and Oregon's Friem. Open at 11am.
River North and Friends: Start GABF week early at the brewery's Blake Street outpost with a 1pm tapping of Golden's Cannonball Creek and dark goodness from River North.
Haze versus Clear: An IPA showdown on the taps at Finn's Manor, a great beer bar in Denver. Try West Coast style against hazy IPAs to see which are the best. Open at 5pm.
West Coast Wednesday: Westbound and Down is hosting the first big party at its Dairy Block location in Denver, featuring West Coast oysters, a DJ and IPAs from California greats Riip, Burgeon and Radiant, as well as Colorado favorites Amalgam, Comrade and Cannonball Creek. Starts at 5pm.
GABF Kick-Off Party: Crooked Stave is hosting a weekend-long celebration at its Denver taproom featuring special tappings of rare beers, vintage bottle pours and tours led by founder Chad Yakobson.
Pre-GABF party and comedy show: Ratio Beerworks will help you make a "charcuterie board necklace" with pretzels, cheese and more to wear to the festival starting at 5pm. Then stay for a free comedy show that starts at 8pm and features a "top secret line-up."
GABF Pre-Game: First Draft Taproom and Kitchen in Denver is hosting a pre-party with a lengthy list of top-notch breweries, including New Mexico's Bow and Arrow, Florida's Tripping Animals, New York's Drowned Lands and Oregon's Wolves and People.
GABF Showcase: Walter's 303 in Lowry is tapping some of the best beers from all-stars like Hill Farmstead, Cellarmaker, Rare Barrel, The Alchemist and many more. Starts at 5pm.
Live Blending session: Denver's Cerebral Brewing and California's Bottle Logic are joining forces to explore the intricacies of blending barrel-aged beers in this interactive session. Tickets required. 6-8pm.
Thursday
Weldwerks and Casey: Two of the best Colorado breweries are taking over the taps at Hops & Pie in Denver with special pours that include Weldwerks' Medianoche All Nuts and Casey's Supreme Clientele.
GABF Weekend: Starting Thursday and running all weekend, Congress Park Taproom will pour limited-release beers from New York's Finback and Other Half, Virginia's The Veil and more.
Lager Party: Starting at 4pm, First Draft Taproom is putting 13 amazing lagers on tap from the likes of cult favorites Lawsons, Maine, Bearded Iris, Live Oak, Von Trapp, Fieldwork and Wayfinder.
State of Craft Beer: Oskar Blues Grill and Brew on Market Street downtown is showcasing a curated draft list of 30 Colorado breweries, starting Thursday. The music venue downstairs is hosting bands Thursday and Friday. Opens at 11am.
Night Brunch: Ratio Beerworks knows what you need after the first night of GABF: brunch. Starting at 8pm, the brewery will serve up Steuben's Brunch and feature a DJ playing vinyl tunes.
2023: A Space Oddity: This GABF after-party (10pm-1:30am) at the Sports Castle on Broadway features an immersive art and an intergalactic dance floor, as well as beer from Modern Times, Creature Comforts, Maui and Melvin.
The proceeds from the event and silent auction will benefit Maui Brewing's Fire Fund.
Friday
Denver Rare Beer Tasting: Now in its 14th year, this is the premier event for hard-to-find and limited-edition beers from the nation's best breweries. More than 60 will pour over four hours (noon-4pm) at the McNichols Civic Center building.
The $200 tickets are partly a fundraiser for prostate cancer and free screenings outside the event are available.
Rare Beer After-party: Finn's Manor opens at 2pm Friday with its own lineup of rare beers from Bagby, De Garde, Beachwood Blendery, Amalgam and Perennial, among many others.
Elite at Hops & Pie: This top distributor puts its kegs on Hops & Pie's taps Friday with beer from Indiana's 3 Floyds, California's AleSmith and Modern Times, and Illinois' Destihl.
CSA & Friends: More out-of-state greats make their debut at First Draft Taproom on Friday, in case you missed them elsewhere. The lineup includes: Texas' Jester King, Oregon's Great Notion and De Garde, Michigan's Old Nation and California's Monkish.
Denver Oktoberfest: The first weekend of Denver's long-running Oktoberfest celebration coincides with GABF. Expect all the typical German fun and Breckenridge Brewery beer.
Saturday
Anti-GABF GABF Club: Cerebral and Cohesion are teaming up to host a mock protest of the crazy beers like IPAs by turning over its Congress Park taps to all lagers — albeit from some of the most hyped breweries, including Ghost Town, King State, Halfway Crooks, Zillacoah and Cloudburst.
No tickets required. Opens at 11am.
Great Mexican Beer Fiesta: Starting at noon and running all day, Cerveceria Colorado and Denver Beer Co. will host a festival of their own, featuring special collaboration beers with Mexican breweries, Lucha Libre wrestling, a DJ, food trucks and vendor market.
The event is free and takes place at the downtown Denver taproom.
Super Sendoff: Jake's Brew Bar in downtown Littleton is the southern metro hub for GABF week with special tappings all week long.
On Saturday, the lineup is the best with greats from across the country, including IPA masters Fort George, sour specialists De Garde and stout kings Mikerphone.
GABF Karaoke Party: Close out GABF weekend with karaoke at Ratio Beerworks in Denver. This is the 7th annual event and features special tappings. Starts at 8pm.
More Denver stories
No stories could be found
Get a free daily digest of the most important news in your backyard with Axios Denver.