What you need to know about solar panels in Denver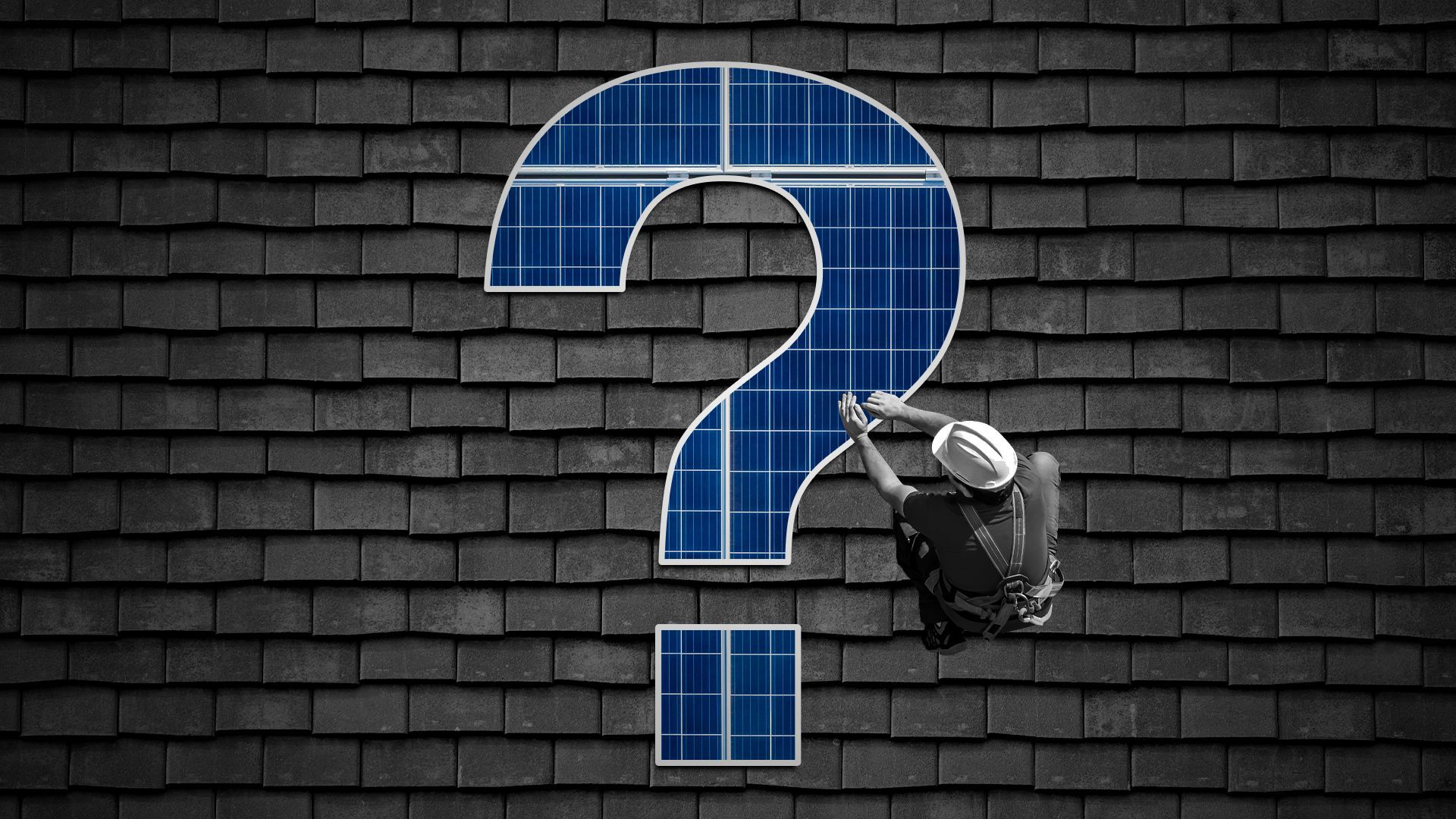 Solar panel adoption is increasingly growing in the U.S., as companies and homeowners embrace the cost savings and environmental benefits.
Why it matters: Solar panels reduce greenhouse gas emissions and can improve air quality. They also lower your energy bill by an average of $1,500 a year.
By the numbers: Residential solar power grew 40% in the U.S. from 2021 to 2022, per the Solar Energy Industries Association.
51% of homeowners in the Mountain West say they have either given serious thought to installing or already installed solar panels, according to a 2022 Pew Research Center report.
Between the lines: Tax credits and health are also among the top reasons homeowners consider solar, per Pew.
Zoom in: Here's what you need to know about installing solar panels in Colorado, according to Tanner Simeon-Cox, Colorado program director for Solar United Neighbors.
The nonprofit provides education around solar and organizes co-ops.
How it works: People sign up to join a group, Solar United Neighbors requests quotes, and the group selects the best deal.
1. How do you know if your roof is right for solar panels?
South-facing roofs are the most ideal; east- and west-facing are OK; and north-facing roofs typically won't work for solar, Simeon-Cox says.
As long as you don't have excessive shade and have around 200 square feet of roof space, you should be a good candidate for solar.
Of note: If your roof needs repairs or replacing in the next five to 10 years, Simeon-Cox recommends updating it before installing solar panels. Taking them off and putting them back on are additional costs.
2. Do you have to own your home to get panels?
Yes, you typically need to own your home to install panels, Simeon-Cox says. But in Denver, there are options for renters, too.
Renters can look into community solar gardens, which are created in public spaces. Community solar subscribers get a credit on their bill every month, Simeon-Cox says.
3. What's the general price range?
Solar runs around $3.25 a watt in Denver, Simeon-Cox says. Homeowners can expect to spend around $22,000 for solar panels.
In Denver, low-income homeowners can apply for an $8,000 rebate. There will be 24 spots in 2023. Find more info here.
There's also a federal tax credit that provides up to 30% of the project cost.
4. What happens when the sun's not shining?
Your solar panels won't run in the dark, but typically they produce more energy than you need during the day, especially in the summer.
That excess energy goes back to the grid, and you'll get credits on your energy bill for that contribution.
5. How long do solar panels last?
You can expect your panels to last about 25 years, Simeon-Cox says. At that point, efficiency and output might slow — both signs it might be time to replace your panels.
6. How can I find an installer?
See which installers have serviced Solar United Neighbors co-ops in the past.
Do a quick search and get quotes on EnergySage. They help homeowners find quotes from multiple installers.
Read reviews on SolarReviews. It has a list of installers along with customer reviews.
Check out NABCEP's directory.
Talk to friends and neighbors who've gone solar.
7. Will solar panels work in the snow?
Production will drop if there's snow on your panels. But they're designed to shed snow pretty quickly, Simeon-Cox says.
Pro tip: Ask your installer about snow guards.
Yes, but: Solar energy production does decrease significantly in the winter for mountain communities.
Go deeper: Here are tips on how to avoid solar scams
More Denver stories
No stories could be found
Get a free daily digest of the most important news in your backyard with Axios Denver.