What Denver students are saying about violence in schools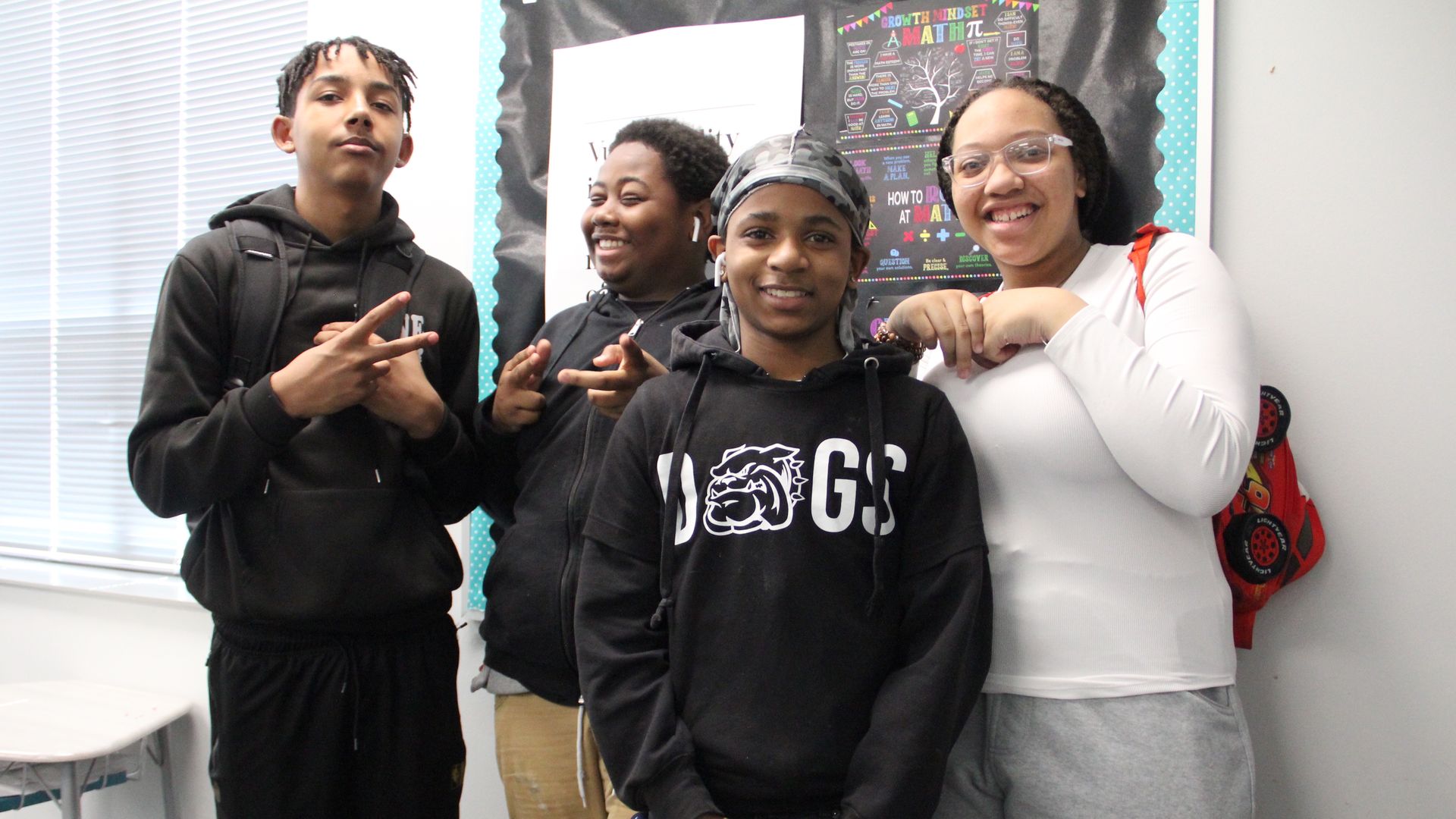 It's a thought that runs through 14-year-old Ja'sah Banks' mind when the eighth grader is inside his school in northeast Denver.
"I just don't want to be a part of a list of deaths in a mass shooting," Banks told Axios Denver during a recent interview.
Driving the news: Kids as young as 13 say the threat of gun violence at their schools lingers in the back of their minds.
Why it matters: The violence is taking a toll on young people, who already face challenges lingering from the COVID pandemic, including higher levels of stress and anxiety.
By the numbers: Five people aged 13 to 19 have been homicide victims since the start of the year — nearly a third of the 18 homicides in Denver so far this year, according to police.
Last year, 16 homicide victims fell into this age group, up from 14 in both 2021 and 2020.
Zoom in: Axios Denver spoke to four eighth-grade students at DSST: Elevate Northeast Middle School in the city's Montbello neighborhood.
DSST is a science, technology, engineering and math-focused charter school network in Denver and Aurora.
More than 70% of students in the district are students of color, according to DSST communications manager Daniela Di Napoli.
What they're saying: The school is near the Denver Police District 5 station, something Dae Denzmore, 13, says doesn't give her much comfort, since she worries officers are too busy.
Banks said he worries some threats will be treated as a joke — though Denver police have made it clear they take swatting incidents prompting school lockdowns seriously.
Sincere Williams, 13, says he wants the school to step up measures to help students feel safe, including searching students more thoroughly when they're in school.
Between the lines: The students are involved with the Struggle of Love Foundation, a Denver-based organization focused on youth violence prevention.
It's a group Denzmore likens to family, and when they meet during lunchtime to talk, Banks says the meetings serve as a mental health check.
The bottom line: The students tell us they want adults to stop sugarcoating the truth about what's happening in the world, including gun violence.
"You can't say 'People get hurt,' and not give some background on how people get hurt,'" Denzmore tells us.
What's next: The students we spoke to are active in sports, and some are considering summer jobs. Despite saying school can be boring, they aspire to careers in fields like law and engineering.
More Denver stories
No stories could be found
Get a free daily digest of the most important news in your backyard with Axios Denver.