Five Denver City Council seats are up for grabs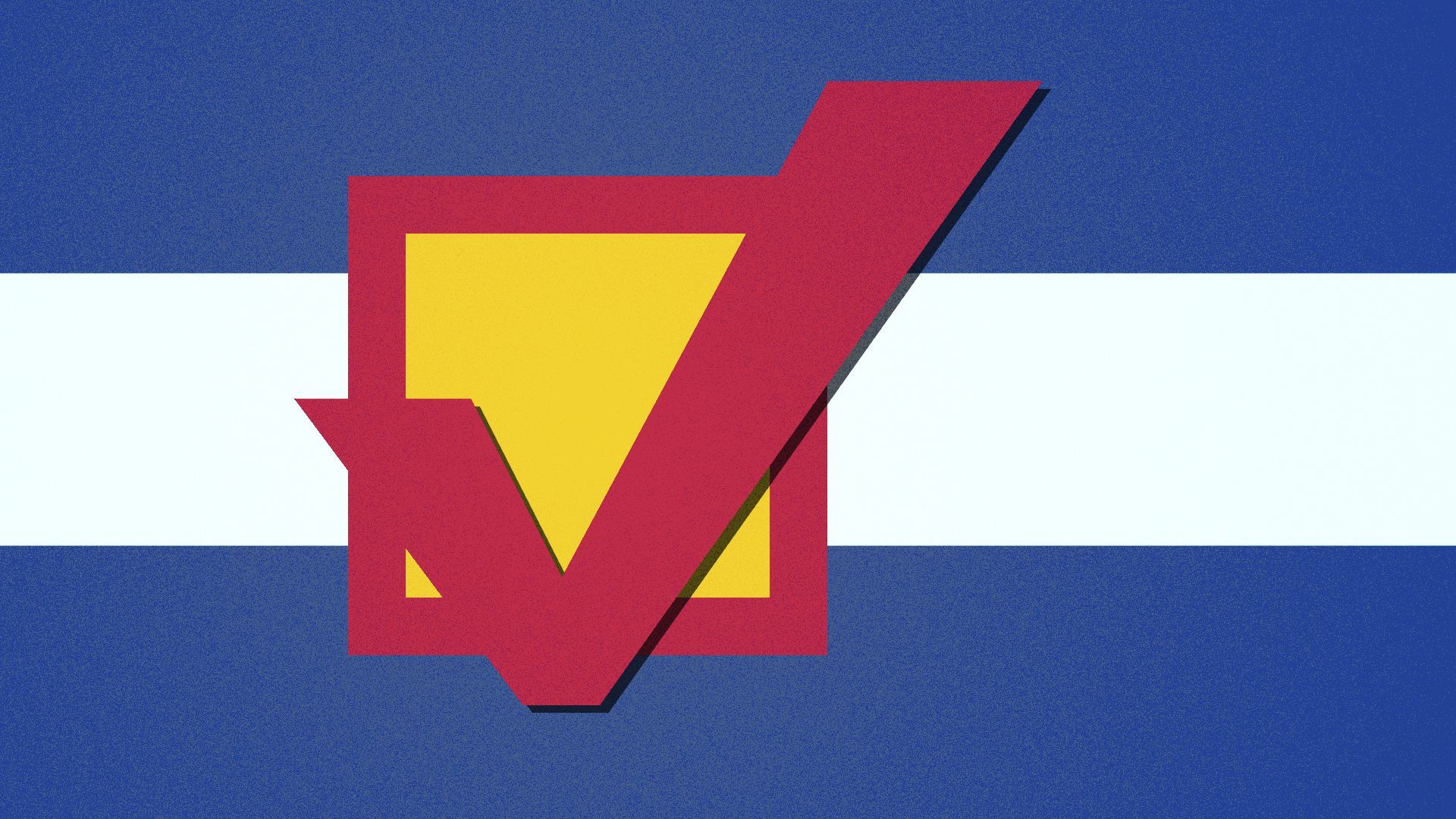 Denver City Council will have at least five new faces this year.
Driving the news: Three council members are termed out and two members decided not to run for reelection this April.
Why it matters: Five new members could shift the way policies are enacted in the largely liberal council.
There are three candidates running for open seats backed by the Denver chapter of the Democratic Socialists of America, which would bring a more progressive swing to the council.
Here are the 23 candidates vying for the open seats.
District 4
This far southeast district includes the Goldsmith, Hampden, Hampden South, Kennedy, Southmoor Park, University Hills, and Wellshire neighborhoods. It's a largely suburban-style area.
Candidates
Romero Campbell is an educational nonprofit executive who wants to pass policies that will help with affordability in the city.
She wants to work with law enforcement to improve safety in her district, wants to protect trails and open spaces, and ensure older adults can age in place.
Romero Campbell is endorsed by current District 4 council member Kendra Black.
A teacher and local advocate, Pigford wants the city to follow a housing-first approach for residents experiencing homelessness and supports expanding the safe outdoor site program and to reduce wait times for people to access behavioral health services.
He wants to establish a tenant's bill of rights to support renters, conduct a city-wide climate audit of all departments, and phase out gas-powered lawn maintenance equipment in the city.
Pigford is endorsed by the Democratic Socialists of America.
District 7
This west-central district includes Athmar Park, Baker, Overland, Platte Park, Rosedale, Ruby Hill, Speer, Washington Park West, and parts of Cap Hill. It's a mixture of some urban and suburban-style neighborhoods.
Candidates
Alvidrez co-owns her family concrete contracting company.
She wants to increase the number of parks and community spaces in the city, tackle the city's housing crisis by expanding down payment assistance programs for first-time home buyers and prioritize using local businesses for city contracts.
Campion is a Colorado Air National Guard member and a software company executive.
He wants to repeal the city's urban camping ban, see more dense housing built near public transit sites, increase the affordable housing requirements mandated by city law and fully staff the police department.
An affordable housing advocate and former president of YIMBY Denver, Estroff wants to end exclusionary zoning policies, and change the construction and remodeling approval process to make it less cumbersome so affordable housing can be built faster.
He also supports policies that will help more people get into electric cars and emphasizes public transportation.
May's background is in software development and product management, and he says his Christian faith will inform his approach to legislating.
He wants to focus on crime by reviewing laws and potentially eliminating ones that make it harder for police to do their jobs.
He wants to address the housing crisis in Denver by lowering property taxes, changing the city's permitting process, and partnering with nonprofit organizations to help provide personal finance education for the public.
A former city council member in Casper, Wyoming, Padgett works for a news site covering Wyoming.
He wants police to have improved training to avoid misuse of force, and to expand access to mental health, drug treatment and job training services for people to help them avoid becoming homeless.
District 8
This northeast district includes Central Park, East Colfax and Northeast Park Hill, with parts of North Park Hill, Montbello and South Park Hill. It features some of the more affluent neighborhoods in Denver, but also includes working-class neighborhoods in East Colfax and Northeast Park Hill.
Drum works in fundraising at the Jewish Community Center in Denver.
He opposes the plan to develop the Park Hill Golf Course, wants to expand the city's transportation and infrastructure department and wants to help unhoused people by supporting shelter programs, job placement, and mental health services.
An attorney, Lewis wants to help more people stay in Denver by creating vouchers for gas, groceries and utilities for residents, and supports rent control as another way to keep people housed.
Lewis is a former Regional Transportation District representative for Denver.
She wants to provide more access to nutritional food options, improve air quality, and ensure people know about recreational center options.
Lewis is endorsed by the Democratic Socialists of America.
Revare most recently worked for an educational nonprofit.
He plans to convene a community cabinet and call on his staff to regularly volunteer. He wants to expand the city's summer youth employment program and create protected bike lanes and improve sidewalks so people can move around more safely.
Steward is a small business owner who says community engagement will be among his biggest priorities.
He told Denverite he wants to focus on affordable housing, mental health awareness, and transportation and crime.
Twarogowski is the executive director of the Federal Boulevard Business Improvement District.
She wants to ensure housing options for all city residents, protect and create more green spaces and focus on how the city's zoning laws are impacting people's ability to stay in certain neighborhoods.
At-large
There are two at-large seats representing the entire city.
Candidates
A labor organizer, Chan wants to focus on making the city greener by providing more free public transit, making housing more accessible, and expanding alternatives to police responses.
Diaz currently works at the Office of Children's Affairs in Denver.
He wants to increase homeownership opportunities and improve traffic safety by creating a bond package to improve the city's infrastructure.
Currently a state representative for Denver, Gonzales-Gutierrez wants to continue her work providing money for affordable housing and eviction defense, and is a worker's rights advocate who wants to support small businesses.
She wants to increase behavioral health services and access to treatment for people to help reduce crime.
A prosecutor, Hoffman supports the city's hot-spot policing program but also expanding co-responding programs like STAR.
He wants to provide transitional housing and wraparound service for unhoused people, and supports creating bus rapid transit corridors and dedicated bike lanes.
Jenkins is a social justice advocate from Montbello.
She supports providing more behavioral health services and wants to adopt "no waste" efforts to improve food access. She also supports older adults by ensuring they have access to housing, social engagement and physical activities.
Leiker is a senior director of development at the University of Colorado, and former president of Capitol Hill United Neighborhoods.
His top priorities include providing more housing through zoning changes, improved urban design, and establishing more transit-oriented development.
He wants to use a data-driven approach to addressing homelessness, including identifying every unhoused person to figure out their circumstances and provide support.
A civil rights and labor attorney, Parady wants to establish a tenant's bill of rights, allow more duplexes, triplexes and ADUs, and lobby the state to lift its ban on rent stabilization.
She supports a housing-first approach to help the unhoused and wants to provide more incentives to help people switch to greener alternatives like e-bikes and solar power.
Parady is endorsed by the Democratic Socialists of America.
Tate is a former state legislator and current attorney.
He wants to expand housing options by providing more incentives for developers, work with Denver Public Schools to convert vacant buildings into safe shelters, and reimagine public safety by pushing for a more diverse workforce. He favors preserving the Park Hill Golf Course as an open space.
Walker has been a member of various boards and committees in the city, including serving on the Regional Transportation District board of directors.
Walker wants to provide better transportation options, supports eliminating single-unit zone districts in the city, and wants to work regionally to help people find good housing options.
Zimmerman owns a consulting firm for nonprofits.
He wants to use unused or underused city-owned properties to provide transitional housing for people experiencing homelessness, and expand the city's safe outdoor spaces and tiny home villages.
He also wants to recruit more Denver sheriffs to help at city jails and see the city purchase and distribute gun locks.
Editor's note: This story has been corrected to show Travis Leiker is a former president of Capitol Hill United Neighborhoods, not current.
More Denver stories
No stories could be found
Get a free daily digest of the most important news in your backyard with Axios Denver.