Zanesville's exotic animal massacre, 10 years later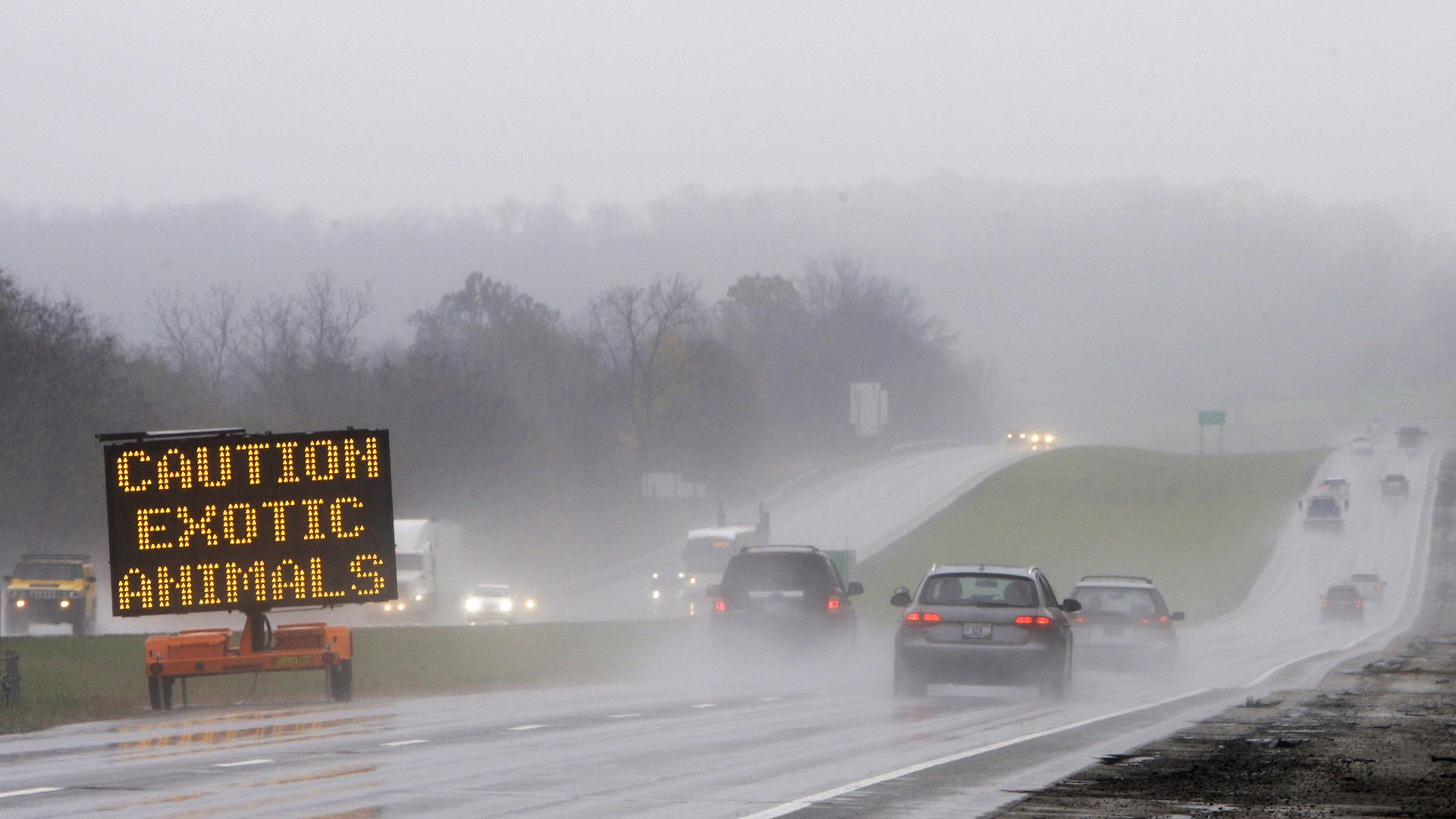 Fifty exotic animals were on the loose. Their owner was dead. Muskingum County deputies gunned down tigers, lions and bears in rainy fields about 55 miles east of Columbus, a senseless tragedy that stunned the world.
What happened: 10 years ago today, exotic animal collector Terry Thompson set 50 animals loose before fatally shooting himself on his 73-acre farm west of Zanesville.
Why it matters: The chaos in Zanesville was a catalyst for Ohio's exotic animal ownership laws that went into full effect in 2014. The legislation has successfully reduced the number of dangerous animals in Ohio and ensured those remaining receive proper care.
The 2011 threat level: Fearing the loose animals would attack humans, and with sunset approaching, law enforcement intervened.
Deputies killed 49: 18 Bengal tigers, 17 lions, six black bears, three cougars, two grizzly bears, two wolves and a baboon.
One monkey was never found. It's assumed a big cat ate it.
Six surviving animals initially went to the Columbus Zoo and Aquarium.
Flashback: The extent of the carnage became apparent the next morning, when first responders lined up the carcasses on the muddy countryside.
"It was the worst thing I've ever seen in my life, animals or humans. Period," Tim Harrison, a retired police officer and director of the nonprofit Outreach for Animals, who drove from near Dayton to help that night, tells Axios.
"The smells, the sights, everybody with tears in their eyes. I couldn't sleep for two weeks. I couldn't stop thinking, 'This could've been stopped.' "
What they're saying: "The thing that caught me is how many times the sheriff's deputies apologized to me for killing the animals," Dan Beetem, director of animal management at The Wilds, the zoo's conservation park east of Zanesville, tells Axios.
"They did exactly what they needed to do. Those guys got put in a terrible position and saved the day."
Tranquilizers weren't an option because unlike in movies, they don't take effect immediately, must be tailored to an animal's size and aren't guaranteed to work, Beetem said.
The bottom line: No humans were harmed, which many credit to Muskingum County sheriff Matt Lutz's quick response and order to shoot.
Ohio's exotic animal laws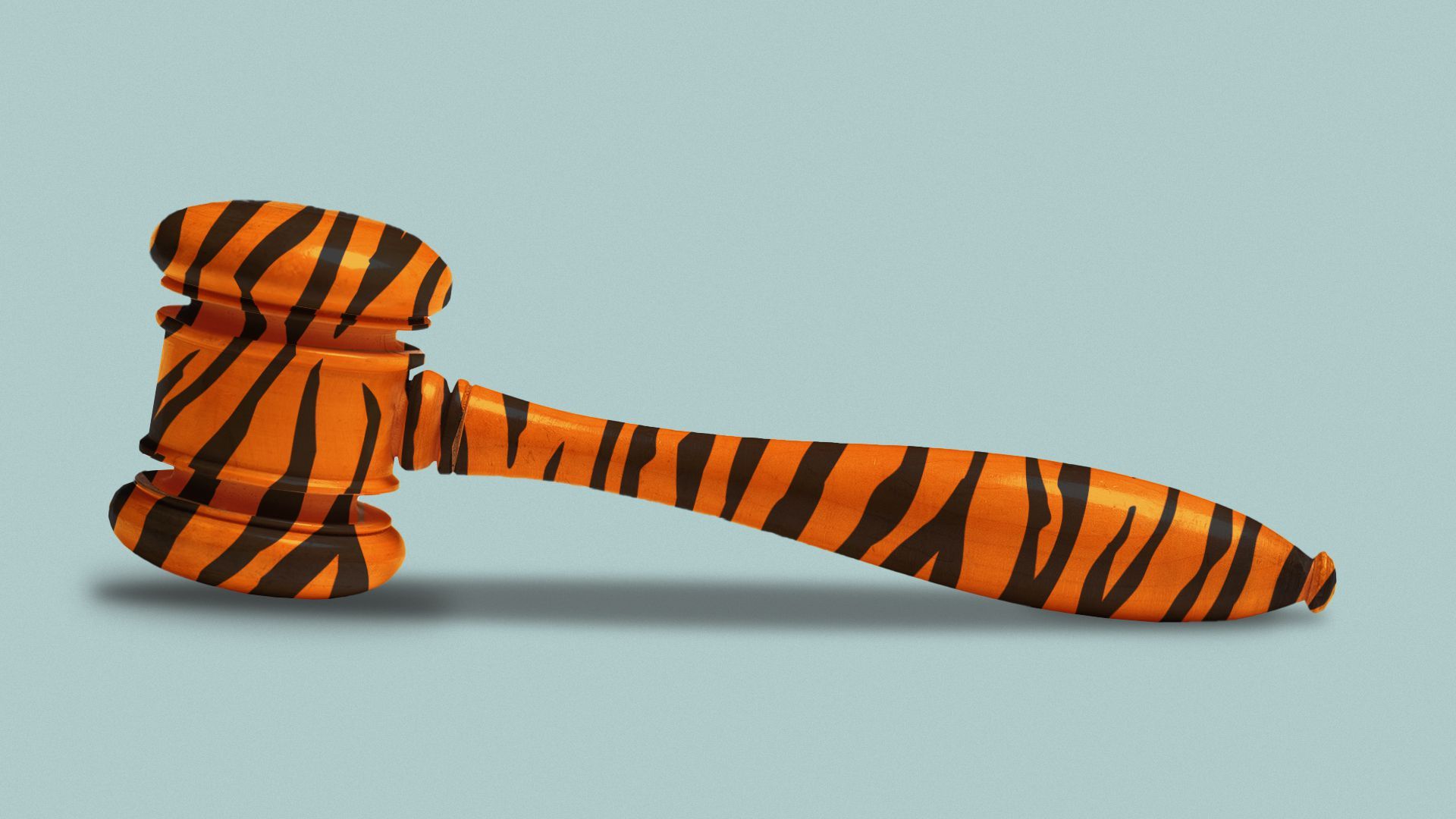 While Zanesville's story shocked the world, many in Ohio say warning signs had been there for years.
Authorities had responded to numerous complaints about Thompson's property.
But owning exotic animals wasn't illegal in 2011. At that time, nothing prevented Ohioans from keeping tigers caged in their backyard or alligators in their basement.
State of play: Since Ohio's exotic animal laws took full effect Jan. 1, 2014, the state now prohibits dozens of species from private ownership.
The laws grandfathered in owners who agreed to certain animal care standards, bought insurance, paid fees and obtained permits.
What they're saying: The consensus is these laws have been a success. Many point to Ohio's regulations as a model for exotic animal legislation across the country.
"Without a doubt, they're based on the principle of public safety," Dennis Summers, the Ohio Department of Agriculture's interim state veterinarian, tells Axios.
Yes, but: Now the animals are other states' problems. While some owners put their animals into accredited sanctuaries when the laws took effect, others likely just moved to states with more lax regulations.
🐊 Later, gators: About 270 animals have passed through the state's temporary holding facility for seized animals in Reynoldsburg and more than half have been alligators, Summers said.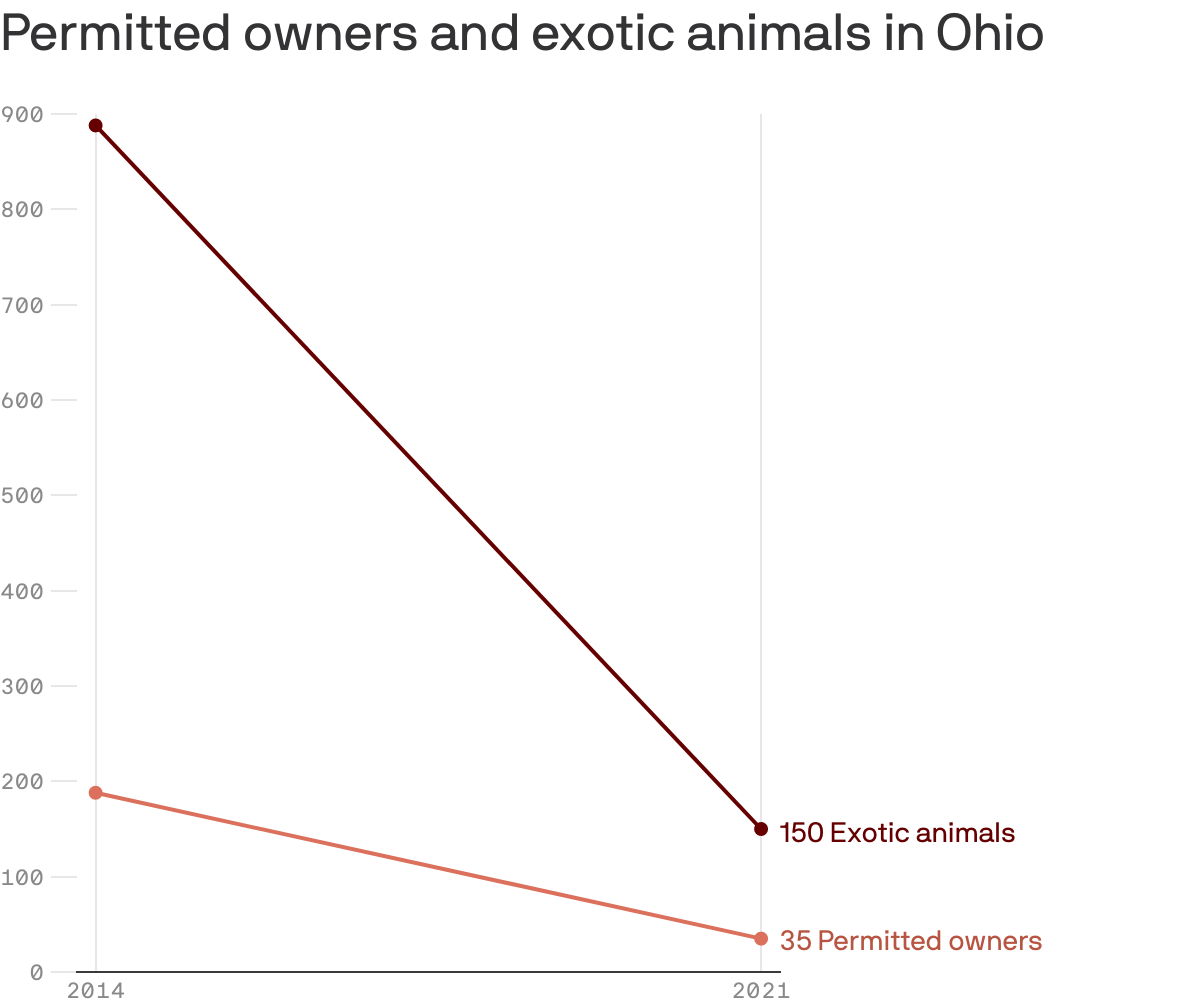 Though statewide numbers are declining, a handful of exotic animals remain in central Ohio, according to agriculture department records obtained by Axios.
That includes a Java macaque monkey living in Grove City, registered to the address of a pet grooming business.
A cougar and eight gibbons are registered to owners in Johnstown and Blacklick, respectively. Both advertise themselves as sanctuaries but are not registered as rescue facilities with the state.
A reticulated python, the world's largest snake — growing 10 to 20 feet long and weighing up to 200 pounds — lived in a southwest Columbus apartment until its owner moved to Chillicothe in 2021.
Meanwhile, the state responded to just six cases of unregistered exotic animals in 2020.
Two local incidents involved alligators found in Grandview Heights and Groveport, which police and medics discovered when responding to emergency calls.
The intrigue: Not all the regulations put in place after Zanesville have stayed put.
Flashback: The reform bill created a Dangerous Wild Animal Response Team in all 88 counties to prepare for any future escapes, along with state boards to review the plans and suggest more improvements to animal laws.
Yes, but: Interest in the response teams quickly faded. Lawmakers came to view them as unnecessary with animal permit and inspection rules in place.
Driving the news: A state law eliminated all the dangerous animal boards in 2018.
Tyler's time on an animal emergency response team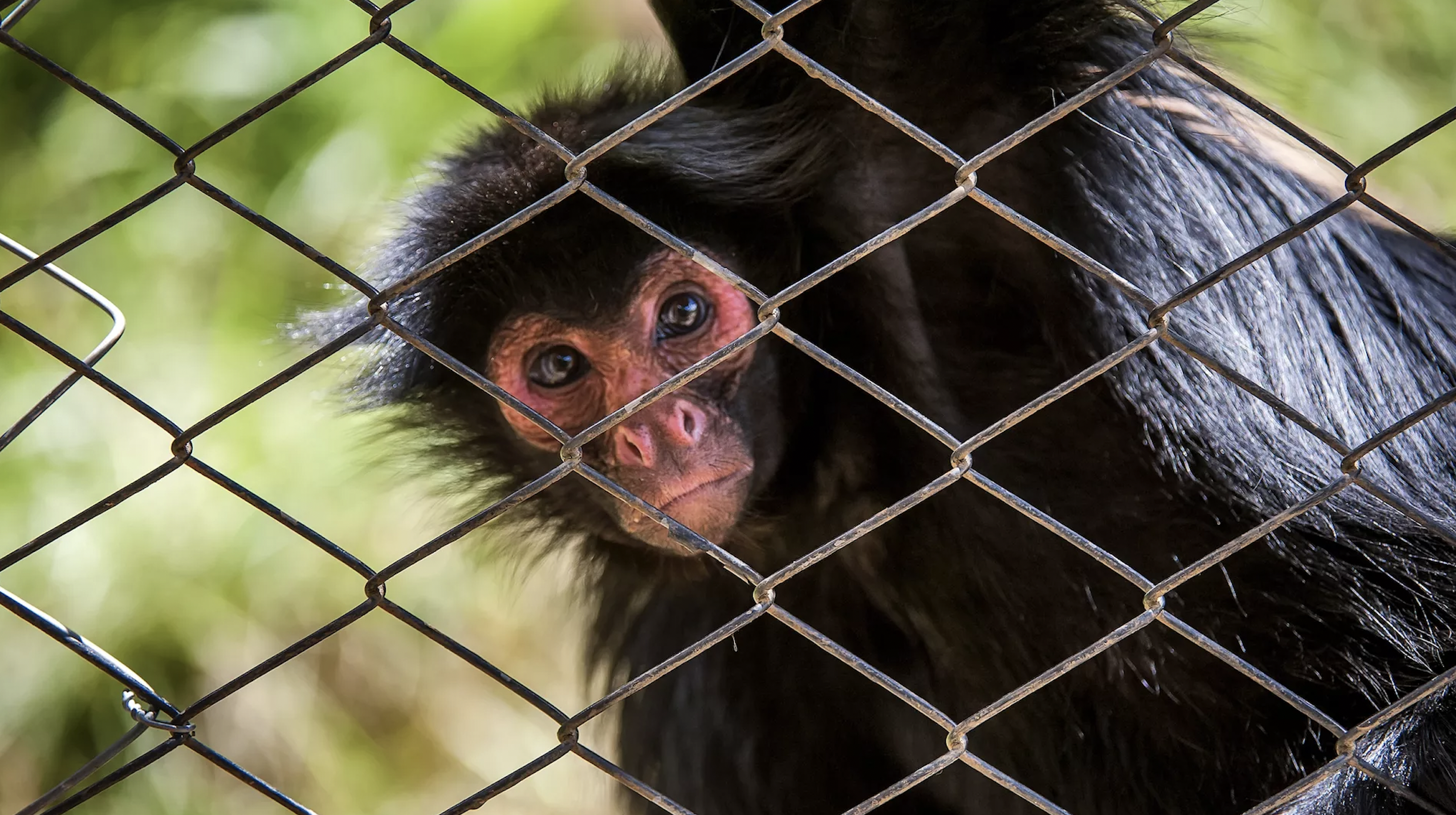 👋 Tyler here. I spent several years on the DWART group in Vinton County as a media representative.
Context: I was joined by county officials, first responders and the owner of the one animal rehabilitation sanctuary in the county, located deep in the southern Ohio woods.
The compound housed many exotic animals, including a tiger named Kayla.
The intrigue: We discussed every possible scenario to develop our safety plan. What if a severe storm destroyed the cages and fences? What if the tiger escaped into the woods?
Nobody counted on me to help neutralize any dangerous animals, thankfully. It was my job to keep the public informed during any theoretical emergency.
Luckily, nothing ever happened. The sanctuary was well-run and very secure.
Each year, DWART members would reauthorize the emergency plan — until our team was disbanded.
💬 My thought bubble: The team was worth the trouble. I don't know if future generations will be as prepared without having specific plans in place.
More Columbus stories
No stories could be found
Get a free daily digest of the most important news in your backyard with Axios Columbus.