Nearby derailments have Cleveland officials on alert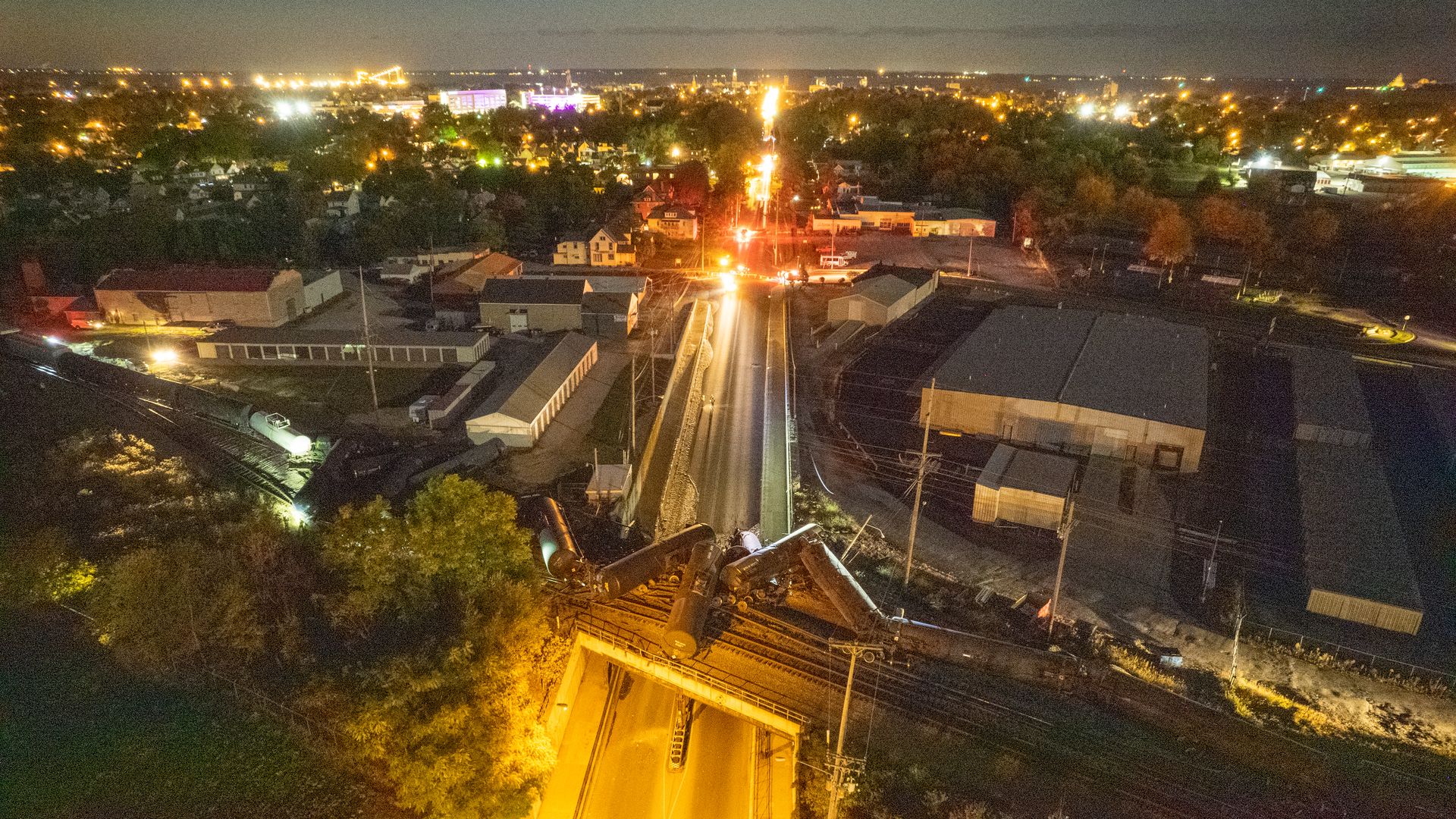 In the wake of the Norfolk Southern derailment in East Palestine — plus an October derailment in Sandusky that received far less coverage — Cleveland officials are turning their attention to the risk of a similar accident here.
Why it matters: Our city is laced with tracks on which trains travel daily, many carrying hazardous materials that companies aren't required to disclose to local officials.
Sandusky is only 60 miles west of Cleveland. East Palestine is 90 miles southeast. Many trains that travel through those towns also pass through Cleveland.
Plus: In 2020, Norfolk Southern rerouted additional high-hazard flammable trains (HHFTs) through Cleveland.
What they're saying: "I am concerned that railroads act with a large degree of impunity and that our local first responders are asked to put their bodies on the line to keep us safe," Cleveland councilwoman Jenny Spencer told Axios.
"Citizens deserve to know what is being transported through our communities and what federal, state and local regulations apply."
What happened in Sandusky: On Oct. 8, roughly 20 cars derailed, with two crashing down to an underpass on Columbus Avenue, Sandusky's main north-south thoroughfare.
20,000 gallons of liquid paraffin wax, used to make candles, spilled onto the road and surrounding area.
Between the lines: No one died or was injured in the wreck, but the wax flooded the city's storm sewer system and had to be reheated in order to be removed.
Cleanup of the site took several months and caused additional infrastructure damage.
The underpass reopened to one-way vehicular traffic only last week.
"This derailment and road closure have negatively impacted the local businesses that depend on traffic that utilizes that corridor for access to various amenities that Sandusky has to offer," Aaron Klein, Sandusky's director of public works, told Axios.
The big picture: More than 1,000 train derailments occur every year, and federal inspectors have identified 36% more hazardous materials violations in the past five years than in the five years prior.
Zoom in: In 2020, after Norfolk Southern started sending more high-hazard flammable trains through Cleveland, a resident asked the Federal Railroad Administration (FRA) to require Norfolk Southern to steer those trains away from densely populated urban neighborhoods.
But the FRA did not force Norfolk Southern to change its routes.
"While we understand how the sight of this new traffic raises concern, there are no regulations that prohibit or restrict the routing of hazardous materials traffic over their rail network," an FRA official responded in an email shared with Axios. "Nor do the regulations or hazardous materials transportation laws give FRA the authority to require a railroad to reroute their hazardous materials over their network."
What's next: Cleveland City Council plans to hold a hearing on trains and hazardous materials in the coming weeks.
"More information is needed in order to understand hazardous materials and cargo they may carry," City Council said in a statement. "A derailment here — or anywhere — is a threat to our safety and our environment."
More Cleveland stories
No stories could be found
Get a free daily digest of the most important news in your backyard with Axios Cleveland.