Desert Island Dish with Daiboku's Kris Hammond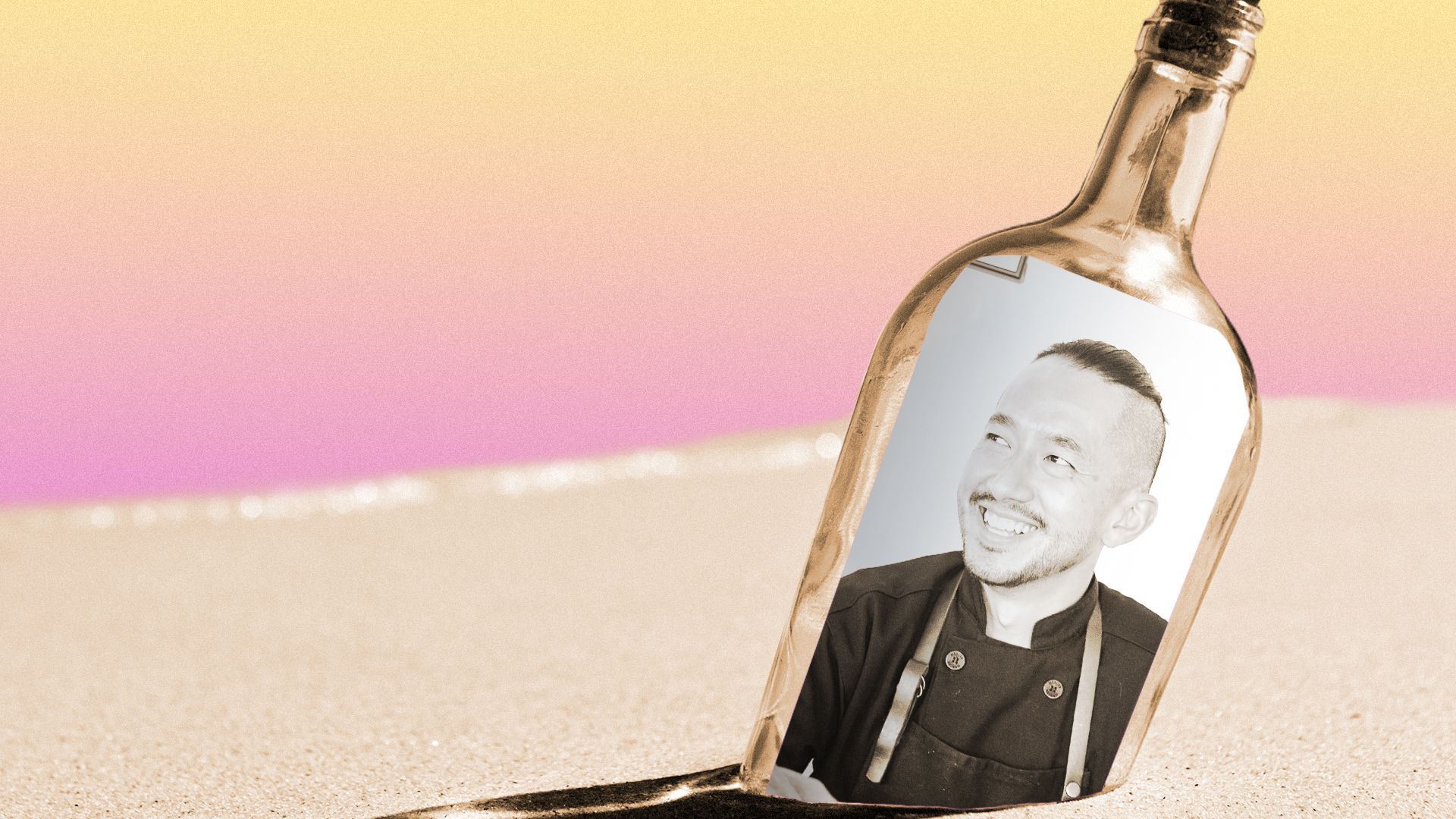 We recently caught up with Kris Hammond, chef at the ramen eatery Daiboku near the UT campus — and the popular Sazan Ramen in North Austin
The backstory: In 2020, after cooking stints in Shanghai, Chicago and Colorado — and with restaurant life suddenly disrupted by COVID —Hammond came to Austin after his wife got a landscape architect job here.
"I read about this ramen shop with a Michelin-starred chef" — Shun Shimora at Sazan — "[and] was immediately intrigued at the prospect of learning about ramen," Hammond tells Axios.
"My mom is Korean, my dad is Japanese and Italian...my parents were very American. We grew up [in a Chicago suburb] eating spaghetti and meatballs, steak and potatoes, macaroni and cheese. But the next day it would be oxtail soup, or fried mackerel — all these Korean dishes. Or shabu-shabu, or mapo tofu. She was an incredible cook."
"Instant ramen was all around our house — with three hungry boys. Ramen was always part of my life. I never thought I'd learn authentic ramen unless I moved to Japan and at 33, I figured that ship had sailed. Of all the places — this guy is here, in Austin. I went to Sazan with my aunt, uncle and their four kids, who live here in Austin. And I thought, 'This is serious.' I spoke to Darrel [Oribello], the general manager/owner, basically, and expressed my desire to learn from this guy. And I haven't looked back."
What's the one dish you'd want with you on a desert island?
Hammond: "Obviously, I would choose ramen. Aside from that, pizza is my favorite food and when it comes to pizza in Austin, Sammataro is my favorite. Not only is chef Isaac [Flores, the chef-owner] a phenomenal person, the pizza is incredible, with quality sauce and ingredients and a perfect, crisp, out of [the] wood-fired ovens. I like the classic pie with pepperoni and a side of the Calabrian chili."
You can bring along a dessert. What's it going to be?
Hammond: "That's great news. I'd love to have dessert on this island. My wife and I went to Birdie's and had an incredible experience. Their soft-serve with olive oil is so simple and so delicious. And on a desert island, you can't ask for more than sweet soft-serve ice cream."
You're also allowed to bring along a drink.
Hammond: "If it's a desert island, it's going to be hot. Mezcal in hot weather is perfect, and La Holly on the East Side makes a drink called Viejo Amigo (verde mezcal, campari, cocchi Americano, orange bitters) that's sultry and classy. It's a great cocktail."
If you go: Daiboku, at 609 West 29th St., is open 11:30am-9pm daily.
More Austin stories
No stories could be found
Get a free daily digest of the most important news in your backyard with Axios Austin.