Leadership at Texas state agencies is largely white men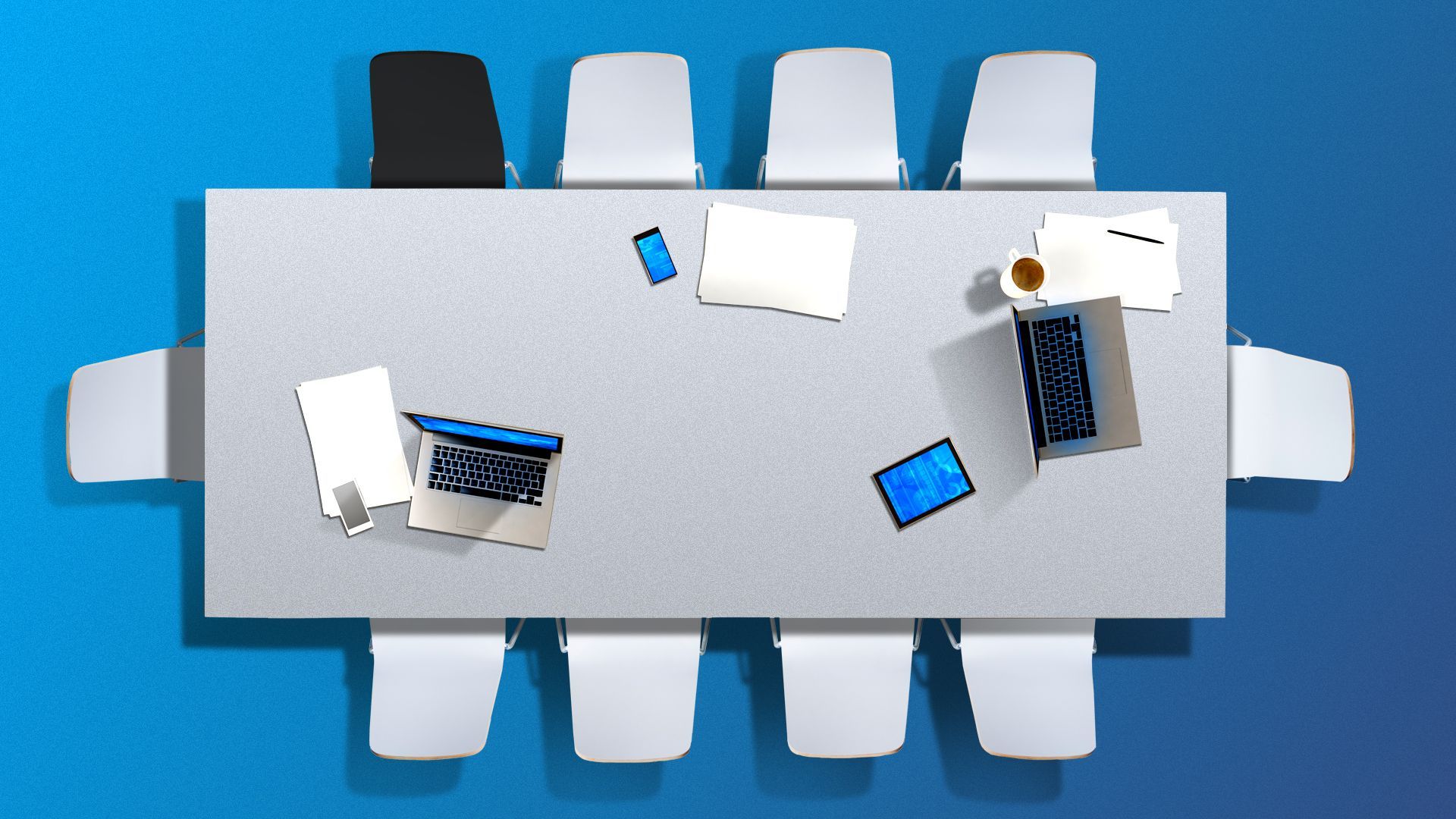 White men dominate leadership positions at state agencies — just as they continue to do in the private sector — an Axios analysis of state salary data found.
Why it matters: The analysis comes after Gov. Greg Abbott ordered state agencies, already stacked at the highest-paid ranks with white men, not to consider race in hiring decisions.
Advocates for diversity and inclusion in hiring say it's a way to level the systemically uneven playing field.
Context: Texas' top public earners, some with salaries reaching into seven figures, are elite coaches, medical doctors or medical school presidents.
How it works: The state comptroller's office keeps separate data on general public employees and those involved with higher education.
By the numbers: 43 of the 50 highest-paid state employees are white, and 39 are men, per the data Axios requested from the state comptroller's office. The employees with the highest annual salary are:
Jase Auby, the chief investment officer of the roughly $179 billion Teacher Retirement System ($650,000)
Michelle Le Beau, chief scientific officer of the Cancer Prevention and Research Institute of Texas ($608,850)
Brian Guthrie, executive director of the TRS ($500,000)
David Veal, a director of investments at the Employees Retirement System of Texas, is the highest-paid person in the category who doesn't identify as white — he is marked as "other" — earning $415,000.
33 of the 50 highest-paid state higher education employees are white, and 46 are men. The people at the top of the list are:
Peter Pisters, president of the University of Texas M.D. Anderson Cancer Center in Houston ($6.73 million)
Daniel Podolsky, president of UT-Southwestern Medical Center ($2.55 million)
Charles Mouton, interim president of the UT Medical Branch-Galveston ($2.4 million)
Other members of the top 10 include UT athletic director Chris Del Conte ($2.22 million), UT head football coach Steve Sarkisian ($2.16 million) and UT women's basketball coach Vic Schaefer ($1.8 million).
The only woman in the top ten highest-paid state higher education employees is Renu Khator, chancellor of the University of Houston System ($2.09 million).
Only three people who identified as nonwhite are in that group: Khator, who is Asian; Mouton, who is Black; and Kourosh Keyhani, whose race is listed as "other." Keyhani is an assistant professor at the University of Texas Health Science Center-Houston and earns $1.99 million.
Of note: The latest figures don't include the salary for new UT head men's basketball coach Rodney Terry.
Between the lines: The Texas Department of Transportation and the Health and Human Services Commission, two of the state's largest agencies, didn't take race into consideration in hiring before Abbott's order, spokespeople at the agency told Axios.
"TxDOT hires and retains employees based on talent and merit," Adam Hammons told Axios.
Of note: Of TxDOT's 10 highest-paid employees, eight are white and two are women.
The big picture: While Abbott's order was directed at all state agencies, public universities, which have long tried to exercise some independence, may have the most at stake.
Top Republican policymakers have already proposed defunding diversity programs at universities.
What we're watching: How a decision by the U.S. Supreme Court on affirmative action — likely to come this June — affects hiring decisions in higher education.
More Austin stories
No stories could be found
Get a free daily digest of the most important news in your backyard with Axios Austin.