Colleges brace for the end of affirmative action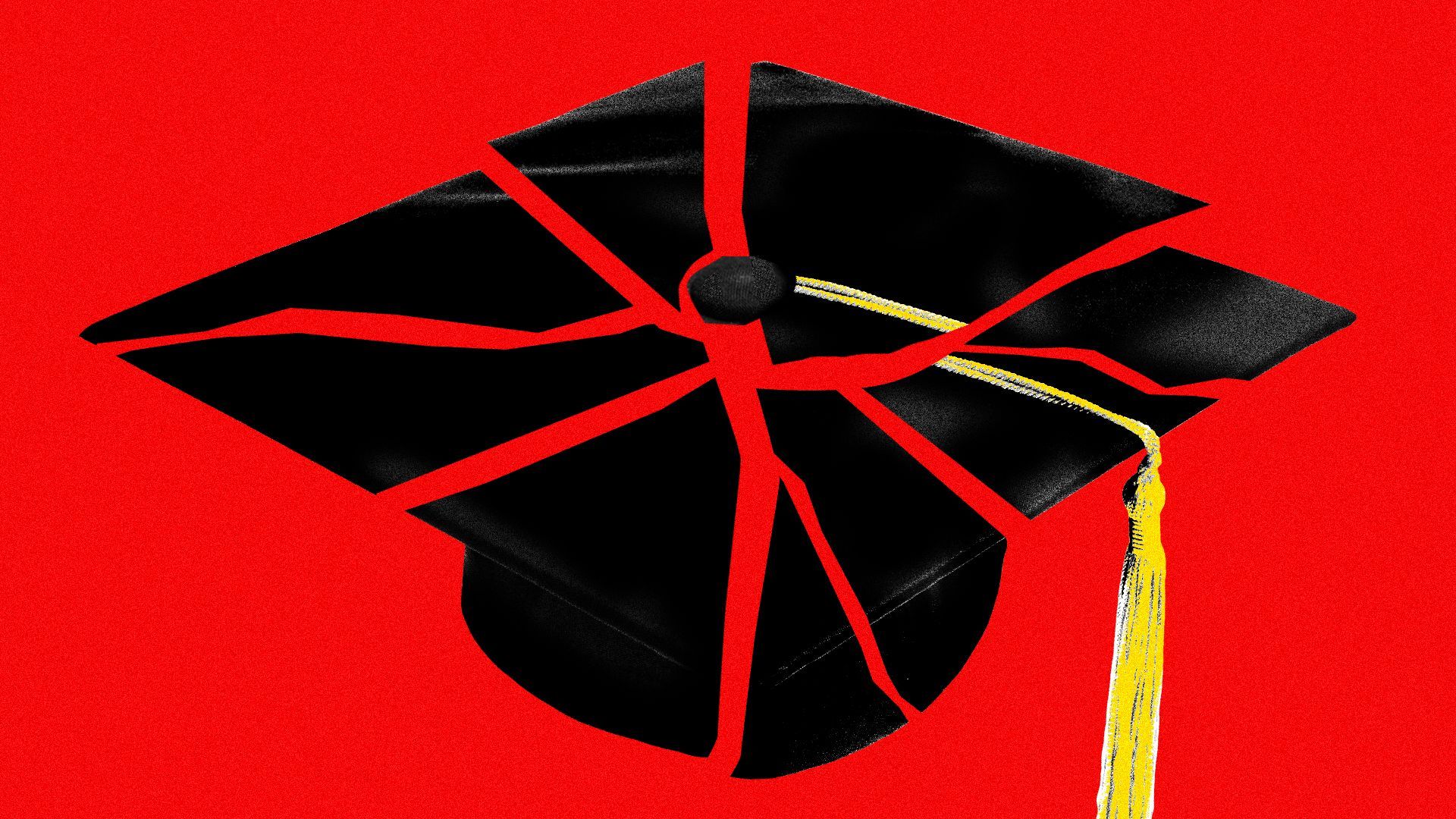 Colleges are reevaluating longstanding hallmarks of the admissions process as they try to figure out how to attract a diverse student body in a world without affirmative action.
Why it matters: The Supreme Court is widely expected to rule later this year that schools can't explicitly consider applicants' race. And trying to achieve the same ends through different means may require colleges to make some dramatic changes.
"Institutions are just going to be scrambling," Julie J. Park, an associate professor in the College of Education at the University of Maryland, told Axios.
Driving the news: Colleges are not publicizing their plans yet, and will have to tailor whatever they do to the specifics of the court's decision. But all available indications from the court suggest that it's past time to start planning for a post-affirmative-action world.
"The ruling itself is pretty unpredictable and so it could be very far reaching or it could be more narrow, it could go in either direction," Park said.
Standardized tests may be on the chopping block if schools can't take students' race into account, Park said.
The pandemic fast-tracked some universities' decision to scrap standardized testing requirements, which have been seen as a barrier to admissions for lower-income students.
"A lot of people are still sort of in a wait-and-see pattern with test-optional policies," Park said.
What they're saying: Vern Granger, the directer of undergraduate admissions at the University of Connecticut, said he is particularly concerned that a ruling eliminating race-conscious admissions could undermine schools' ability to understand important parts of a student's background.
"An applicant's race is so connected to so many aspects of their life and their experiences and the background," Granger said.
"I would worry about that and the impact on our holistic review and getting a full picture of the applicant," he said.
Schools might also refocus their "recruitment efforts on certain areas," or "looking more at the socio-economic background of a student" to still get a full picture of a potential applicant," he said.
State of play: The Supreme Court is expected to rule this summer on challenges to the use of race in the admissions processes at Harvard and the University of North Carolina.
Oral arguments are an imperfect guide to how the court will ultimately rule, but those arguments — and several other tea leaves — seemed to indicate that the conservative Supreme Court is ready to rule against both schools and either end race-conscious admissions altogether or roll them back significantly.
Context: Diversity has suffered at schools that have previously had to abandon affirmative action.
After Michigan banned affirmative action, Black undergraduate enrollment dropped precipitously — from 7% in 2006 to 4% in 2021.
California banned banned racial preferences in admissions in 1996. By the the fall of 2006, there were just 96 Black freshmen at UCLA, per the New York Times.
The bottom line: "We all are just sitting and waiting, and we're all having these internal conversations on our campuses to really think about what is going to be our strategy," Granger said.
"Diversity is so important to the student experience overall at our universities," he said.
Go deeper... Higher education's sea change
Go deeper