I-35 expansion divides Austin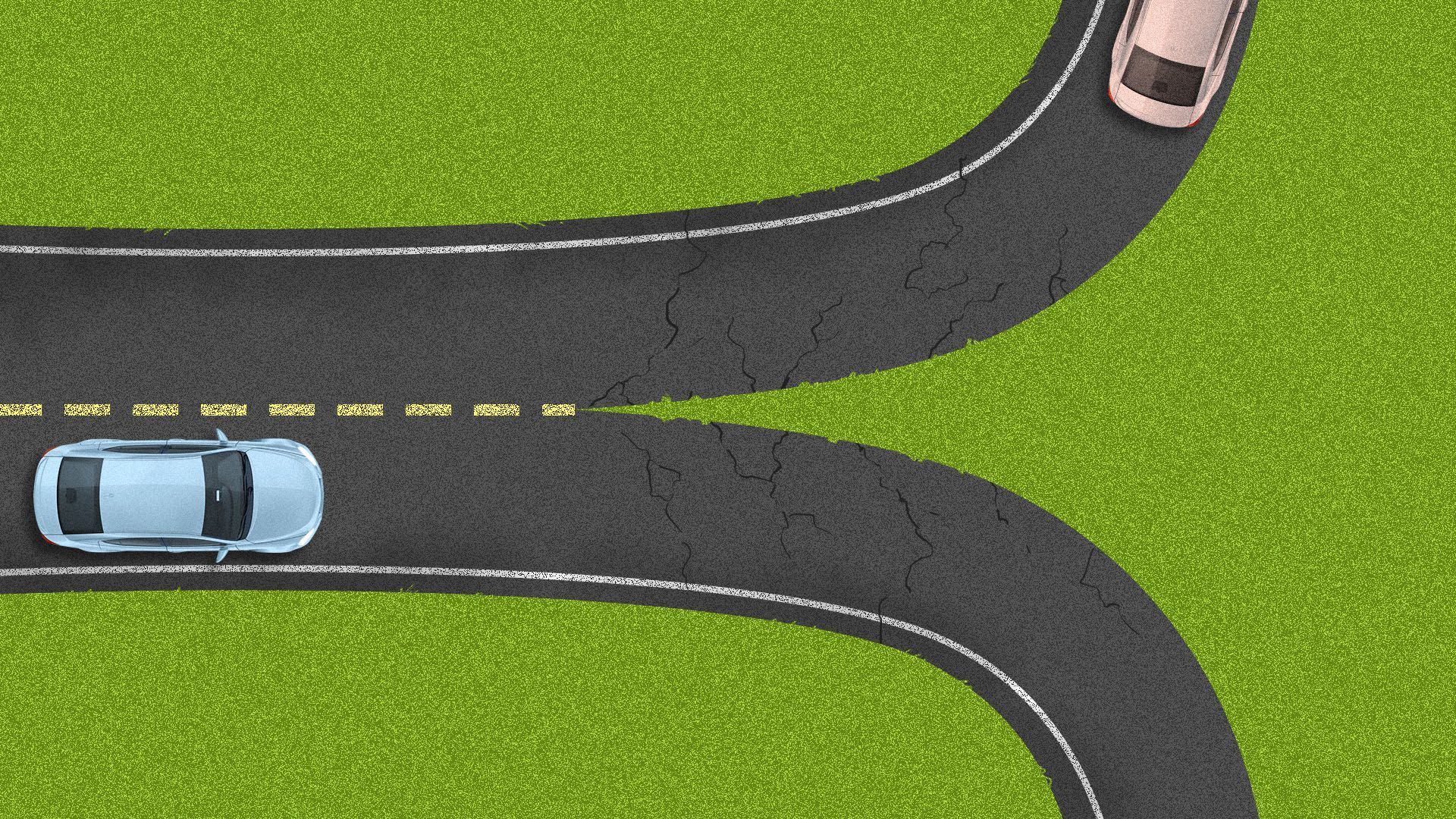 The road that's both bane and lifeblood of Austin could soon get a makeover — despite objections from many quarters of the city.
The big picture: Texas Department of Transportation officials have said that expanding I-35 is necessary to accommodate the region's booming population, improve emergency response times and ease traffic congestion.
Yes, but: Some traffic experts say expanding the highway will add more vehicles to Austin's roads.
In the background: The legacy of U.S. interstates as brutal walls of segregation and new arguments about whether an overhaul of I-35 could pull the city together or drive it farther apart.
Catch up quick: TxDOT wants to widen and make other alterations to a 28-mile stretch from Pflugerville to just north of Buda.
Nonprofits have argued the project is "wasteful and harmful."
Ground has already broken for the southern branch, from Ben White to near the Hays County line.
Zoom in: The $4.5 billion eight-mile central piece of the project, the most costly and controversial, includes dismantling the existing I-35 upper decks north of Manor Road.
Adding two non-tolled high-occupancy lanes in each direction from U.S. 290 East to Ben White Boulevard, for a total of at least 15 lanes — though there are more when frontage roads are folded in.
Sinking lanes beneath ground level from East Oltorf Street to East Riverside Drive and from East Cesar Chavez Street to Airport Boulevard.
What they're saying: "Widening freeways worsens serious and fatal traffic crashes, air pollution, noise and carbon emissions, all of which disproportionately impact low-income communities and communities of color," Rethink35 executive director Adam Greenfield has said.
The other side: "I-35 has basically outlived its usefulness," Brad Wheelis, a spokesperson of TxDOT, told KVUE at forum last month. "It's not providing what drivers need, and so we need to upgrade the highway."
The Greater Austin Chamber of Commerce supports the project, calling for "bold and decisive action to transform this critical stretch of infrastructure into a roadway which will accommodate the rapid and immense growth we are experiencing in our great state."
Some city officials would like to cover the lanes with decks downtown to help stitch together the city — but that could cost as much as $800 million.
Between the lines: The Austin City Council voted 10-1 in February to demand changes to the central portion of the plan, ​​including east-west crossings for cars, bikes and pedestrians every quarter-mile of the project and incentives to reroute 18-wheelers to Texas 130.
Travis County commissioners made similar demands.
Reality check: The local governments have near zero political sway in TxDOT's decision-making — the agency's board is appointed by Gov. Greg Abbott — and, citing studies, the state agency has already said diverting truck traffic would do little to affect congestion.
Some city officials would like to cover the lanes with decks from about Cesar Chavez to Eighth Street to reconnect downtown with East Austin and blunt the effects of the highway's role as historic racial and ethnic dividing line — but the city has to find as much as $800 million to pay for it.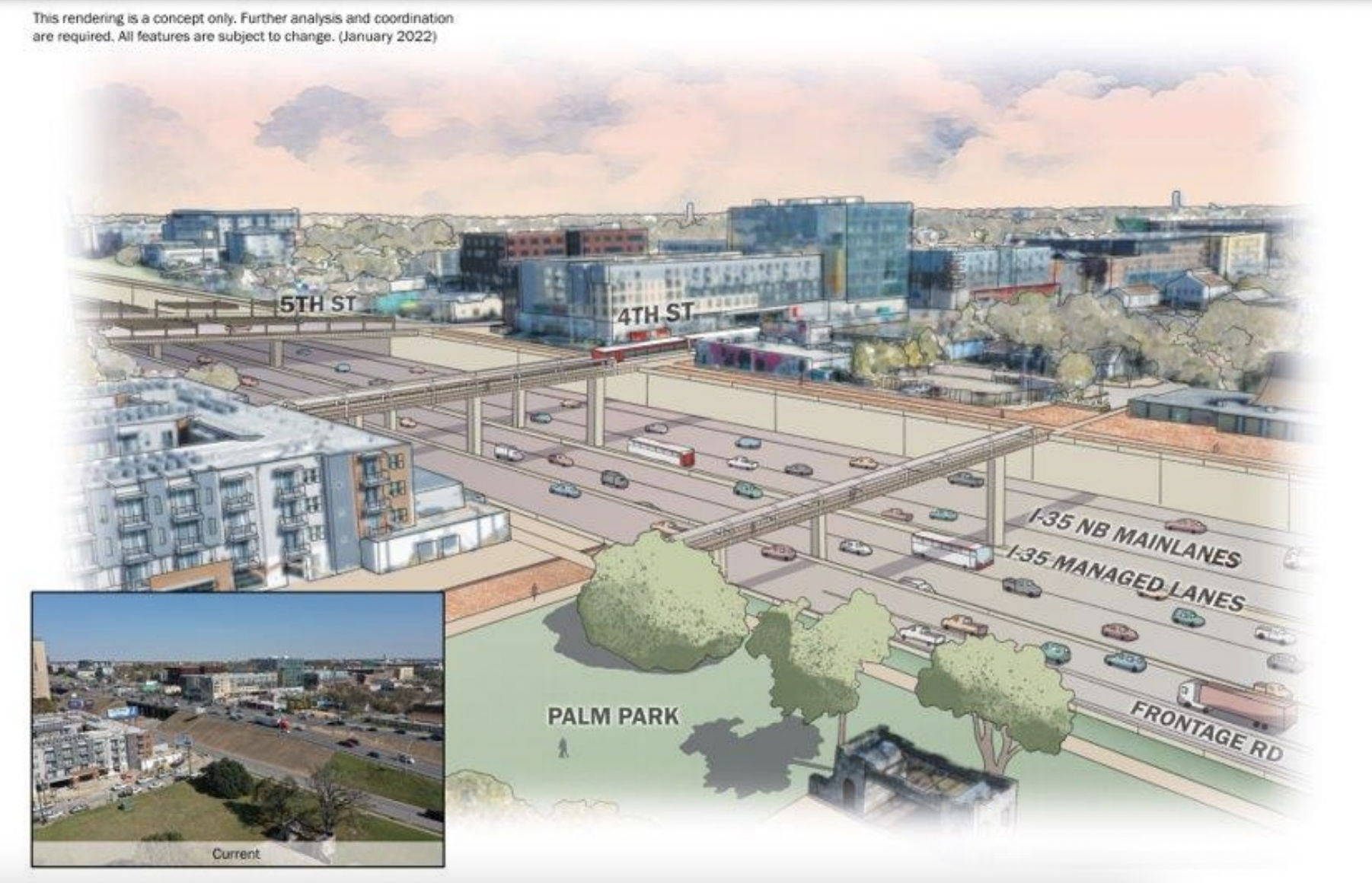 Of note: The nay Austin City Council vote was cast by Austin Mayor Kirk Watson, who championed money for the highway overhaul as a state senator — and whose narrow mayoral election win was powered, in part, by suburban Austin voters.
"TxDOT has been a good partner and I'm hopeful that we'll be able to strengthen our relationship," Watson wrote on a City Council message board last month. "I feel particularly strong about this since we will want the state and TxDOT to be a willing partner as we move forward with Project Connect" — the major Austin public transit expansion project — "which needs TxDOT's involvement in various right of way issues."
What's next: TxDOT officials plan to start construction in mid-2024 and expect to complete the project in 2033.
Greenfield tells Axios his group hopes to slow down the project — or force TxDOT to withdraw it — through legal action and swaying of public opinion.
The bottom line: The late Molly Ivins used to give this piece of advice to newcomers: The key to happiness in Austin is never, ever drive on I-35.
More Austin stories
No stories could be found
Get a free daily digest of the most important news in your backyard with Axios Austin.