Good morning and happy Tuesday. This is the fourth edition of Axios Media Trends. Send tips and ideas to sara@axios.com.
1. Survival week: Media v big tech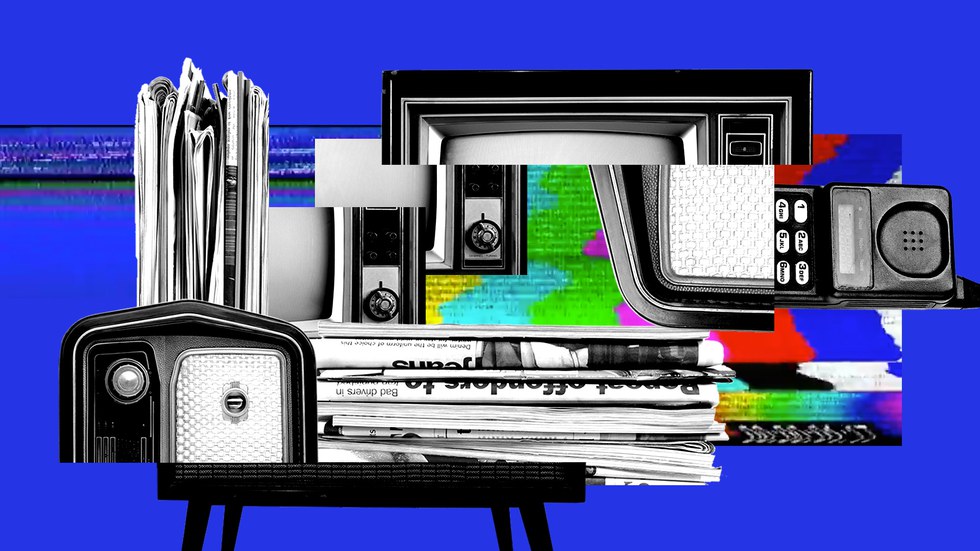 Rebecca Zisser / Axios
Media companies are in the crosshairs of three major tech policy fights taking place right now — net neutrality, privacy, and antitrust. (More on each below.)
Why it matters: The outcome of these battles could have an enormous effect on the content consumers can access through their broadband providers, how legacy media companies will be able to survive against tech/telecom giants, and how they all sell digital ads.
Current state of play: We're seeing a phase of unbundling and re-bundling in the media industry to accommodate sinking cable viewership and an increase in digital video consumption.
Telecom companies are making big investments in streaming channels and content companies to survive. (Verizon bought Yahoo/AOL, AT&T is trying to merge with Time Warner, Comcast owns NBC Universal, etc.)
Digital media companies are betting their future on being allowed to sell user data to advertisers and are investing in digital video to increase engagement.
The Trump effect: If you think the Trump Administration doesn't influence these outcomes, you're wrong. The FCC under Trump has advocated for more laissez-faire policies that reduce restrictions on media distributors. In addition, there have been more more media and entertainment deals in the first quarter under the Trump Administration than in the last two years of the Obama Administration. Investors tell Axios they are optimistic this administration will allow many deals to proceed based on the current regulatory environment.
Base reminder: Trump was vehemently against the proposed AT&T/Time Warner merger on the campaign trail, but now many expect antitrust enforcers at the DOJ to let the deal to go through because the companies don't directly compete.
2. The three big battles
Net Neutrality: Digital media companies are urging the FCC to reconsider its proposal to roll back Obama-era rules about how traffic is treated on the web. Their position is generally echoed by the tech giants, who used to rely on these rules when they were smaller players, so they support them now for optics, not need. It's the internet service providers, like AT&T and Comcast, who say these rules go too far and want more flexibility to come up with new services and packages.
Privacy (from Axios' David McCabe): States are trying to figure how out to regulate consumer privacy in the digital ad space, but the battlefield to watch is Sacramento, where lawmakers are vetting a bill today that would require internet service providers like Verizon and Comcast to get permission from customers before sharing their data with marketers. As the lines between media, tech and telecom companies blur, Internet providers and the web companies that use their pipes have a rare alliance in opposing the bill because they all have a stake in the fight: Telcos are buying media companies and web companies, in some cases, working on their own connectivity initiatives.
Antitrust: Last week a newspaper trade group that represents over 2,000 newspapers in the U.S. (like NYT, WaPo), asked Congress for an antitrust safe harbor against Google and Facebook. Local media companies are pushing back, saying they view the tech industry "as partners, not adversaries." This demonstrates a growing rift between who benefit in the short-term from the resources tech companies give news companies while monetizing their content, and those who don't.
​3. Most people can spot fake stories, but not fake images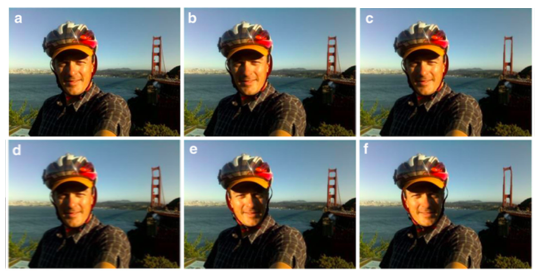 Original photo: Vin Cox, CC BY-SA 3.0 license. Photos b–f are derivatives of the original and licensed under CC BY-SA 4.0
People think they can spot fake images. They can't. So the fake news battlefield is about to shift from text to images.

From Axios Science editor Alison Snyder: People can detect a fake image of a real-world scene only 60% of the time, and even then can only tell what is wrong with the image 45% of the time, according to research published in the open access journal Cognitive Research: Principles and Implications.
Those findings are very different from those from a Pew study earlier this year, which found that an overwhelming majority of online users (84%) say they're confident in their ability to spot a fake news story.
Why it matters: As people get smarter about what fake news look like, fake news perpetrators are adapting their techniques from creating false news stories to manipulating real ones. This is often done with doctored headlines, images, videos and sound.
Visuals: A Stanford University study shows how new technologies can alter facial expressions in real time to change the context of someone's reactions. Here's an example that a technologist did on George W. Bush's facial expressions during an interview last year — pretty crazy. The Economist recently profiled ways that people with little training or experience can doctor videos in a similar fashion.
Audio: Axios' Ina Fried reported earlier this year that Canadian startup Lyrebird is touting technology that can mimic any voice from just 1 minute of recorded audio.
Headlines: A conservative group backing a Virginia gubernatorial candidate altered the headline of a local newspaper to misrepresent the truth about an opposing candidate's position, causing the Facebook post to go viral.
Our thought bubble: If big internet platforms are having a tough time regulating fake news stories on their platform, imagine the chaos of trying to monitor doctored videos and photos …
4. Retro alert: The ad spenders ditching digital for TV … and radio!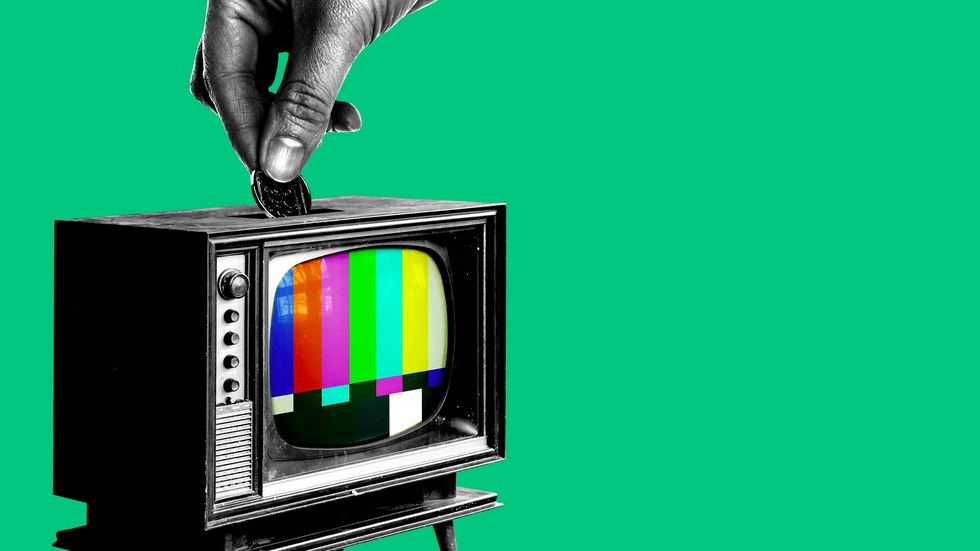 Lazaro Gamio / Axios
Some of the world's biggest advertising spenders are fed up with the digital supply chain and are yanking digital dollars from ad campaigns to put them towards TV.
Sound backwards? Not if you ask marketing execs who say they're fed up with losing millions of dollars a year to ad tech vendors, digital ad fraud and transparency problems.
Marc Pritchard, Chief Brand Officer of Procter & Gamble — the world's largest ad spender — tells Axios that some of his biggest brands, like Tide laundry detergent, have seen better performance results in market tests on TV than digital.
"The major issues in digital is that the supply chain still has way too many touch points in it and it lacks transparency," says Pritchard.
In January, Pritchard threatened to boycott spending with the digital ad behemoths (Google, Facebook, major ad networks etc.) unless they worked to make the system more transparent. He now says the ecosystem is about 40% of the way there, largely thanks to the pressure major advertisers (P&G, Unilever, etc.) are putting on the system.
Pritchard says radio and out of home (billboard) marketing have also been showing increasingly positive results.
The majority dollars don't even make it to publishers: Citing industry studies, Prichard says that only 40% of dollars reach publishers after payouts to ad tech vendors, and up to another 25% of dollars could be wasted on ad fraud and problems with ad viewability (ads not loading right or ads that aren't actually viewed by humans).
See it for yourself: The Interactive Advertising Bureau created a programmatic fee calculator for marketers to calculate how much money they lose in the automated digital ad supply chain. Check it out.
5. New media fad: Short, abstract names
Time Inc. is reportedly seeking a name refresh for the company, after a few unsuccessful bids for a sale, the Wall Street Journal reports. "Life" is reportedly being tossed around, as a throwback to the retired photojournalism magazine. That reminds us of the new name given to the Yahoo/AOL merged company, Oath, which media mogul Ken Lever (an Axios investor) calls "spectacular," but that has been the brunt of many industry jokes. A new social content company aimed around adventure and travel content, called Roam, officially launches today.
Sound smart: It's hard as hell this far into the digital world to find names companies can own, protect and secure URLs. So this process ends up eating up substantial time and mindshare for companies big and small.
6. Gen Z: the biggest, most diverse TV audience in America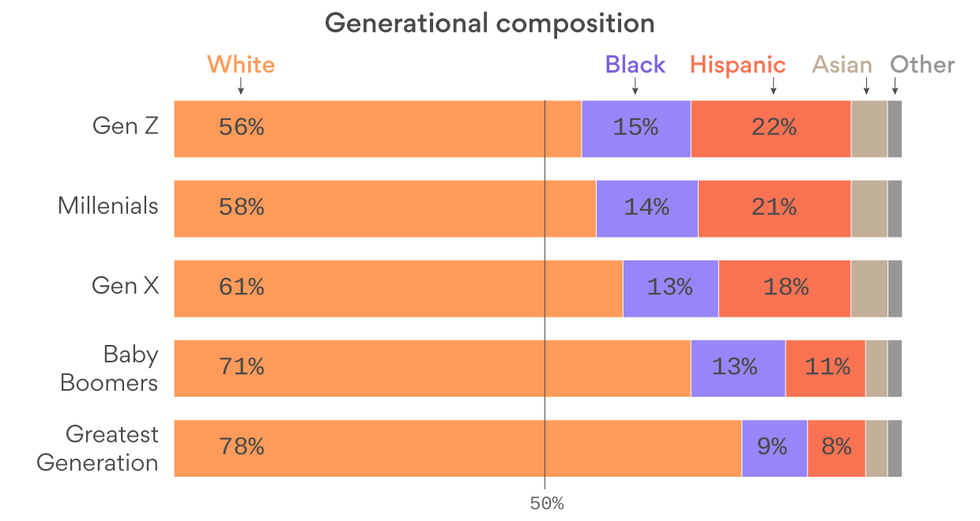 Data: Nielsen; Chart: Chris Canipe / Axios
Generation Z (kids born from 1996-2010) accounts for 26% of all people in U.S. TV homes, the largest generation of individuals today, according to Nielsen's latest total audience report. Combined, Millennials and Gen Z (people ages 17-34) make up nearly half of TV audiences.
Generation Z is the most diverse TV generation, boasting the largest percentage of Hispanics and Blacks of all generations at 22% and 15% respectively. By comparison, the Greatest Generation (71 years-old+), is 8% Hispanic and 9% non-Hispanic Black.
Why it matters: Millennials and Generation Z are watching nearly half of all TV content, but their financial situations cause them to digest it differently. Per Nielsen, both generations display similar tastes for emerging technologies like multimedia devices (Apple TV, Google Chromecast, etc.), but Gen Z is accessing non-linear TV on more expensive devices, like smart-enabled TV's and video game consoles, because they are benefiting from living in larger households with their parents.
Attention advertisers: To give you a sense of just how different marketing to Gen Z is from their millennial predecessors, here is a sample of the top influencers and brands Gen Z says they can't live without, via Adweek. (Spoiler alert: You probably haven't heard of many of them.)
1 fun thing: Streamers vie for the Iron Throne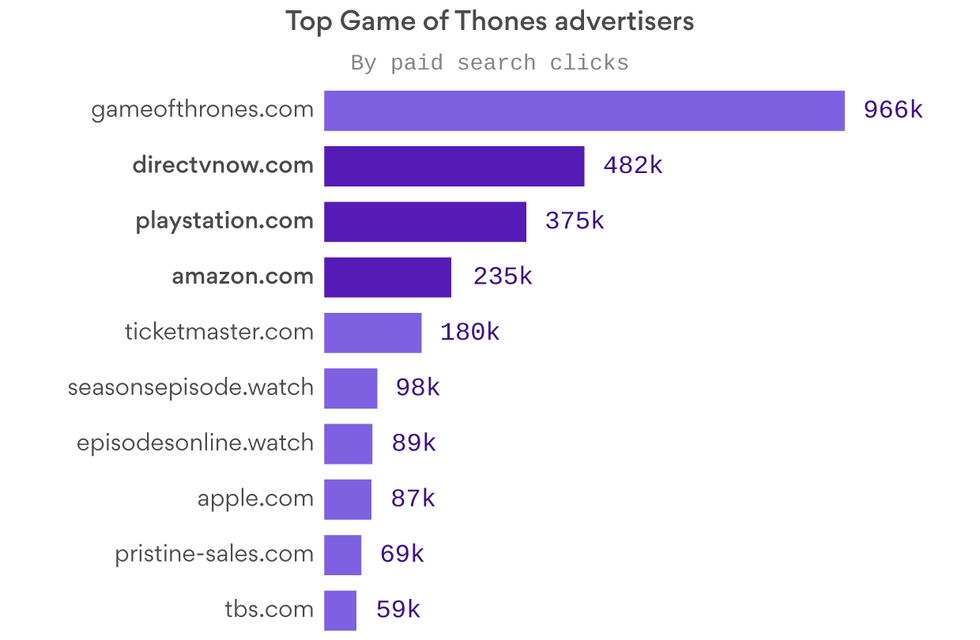 Data: Kantar Media; Chart: Chris Canipe / Axios
For the record, I don't watch Game of Thrones (too much blood), but people think it's a big deal, so here are the most-clicked paid search advertisers for the show in the U.S., based on keyword data from AdGooroo, a Kantar company. Notice that AT&T's DIRECTV NOW, Sony's Playstation Vue, and Amazon (promoting its Amazon Channel service), all received noticeably high click shares.
HBO milestone, per Variety: "The Game of Thrones Season 7 premiere broke ratings records on HBO Sunday night. The episode drew 16.1 million total viewers, including $10.1 million who watched on the linear channel and the rest coming from DVR and streaming."