Axios Media Trends
July 04, 2017
Happy Fourth of July. This is the second edition of Axios Media Trends. Send tips and ideas to [email protected].
One big trend: A media wake-up call
Forget President Trump's twitter terrorism against big media companies. The real and urgent web-world threats that could truly bring down a New York Times or CNN are the escalating cyberattacks targeting media and the companies they rely on.
Last week, WPP, the global ad agency, and its subsidiary agencies were forced to shut down after a ransomware attack made their systems completely inoperable.
The day after the attack, Fastly, a content distribution network that acts as a backup for several mainstream media sites, like Reddit, The New York Times and Axios, went down due to an unrelated technical malfunction, leaving client websites vulnerable as a global ransomware attack was in motion.
In April, Google and Facebook, the two biggest tech giants, announced that they were the subject of a phishing scam worth more than $100 million. And they have way better tech and security than conventional media companies.
Last October, a DDOS (bot-based) attack shut down half of the internet, including major media companies, like the Guardian, CNN and Twitter.
Why it matters: The entire digital ecosystem is far more vulnerable to cyberattacks — and far more ill-prepared to respond — than we realize.
"A large part of this too comes from the fact that media companies are not at all prepared for these threats and the impact isn't always obvious until it's too late," says Asaf Cidon, vice president of cybersecurity firm Barracuda networks.
Even more pressing: As media organizations become more centralized through consolidation, security experts and safeguards get moved up the chain from the local level to far-flung city headquarters, leaving local outlets more vulnerable.
Be smart: Bone up on phishing attacks (a common and effective cyber-scam used to gain access to sensitive data through harmless click-here emails). Google sent journalists precautionary warnings of state-sponsored phishing attacks earlier this year.
The Future is live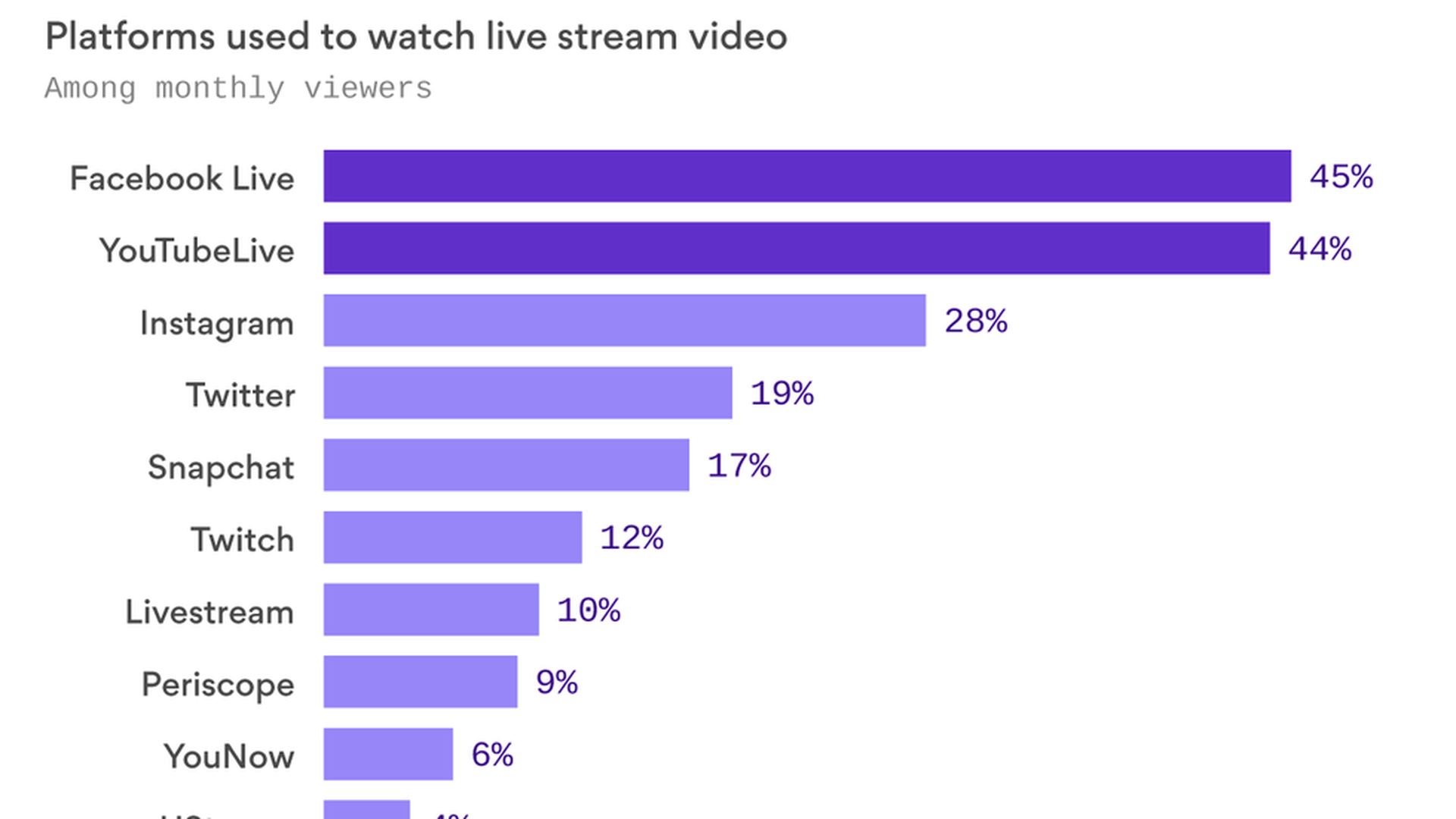 Live boom: Facebook launched its live platform last year and now says 1 in 5 videos on its platform are live and daily time spent watching Facebook Live broadcasts has grown by more than 4x.
Why it matters: The video duopoly of Facebook and YouTube is killing it in the arms race for live-streaming dominance, which should have traditional TV companies worried. Nearly half of online users watch live-streaming every week and nearly a quarter say they watch live-streaming every day, per Magid's latest social broadcasting study.
Facebook also announced earlier this year it's finally matching YouTube in giving publishers a 55 percent cut of ad dollars to seed its real-time offerings.
Both platforms have launched a ton of live-streaming partnerships around sports in particular. Why? Look at the type of programming watched live versus on DVR, via comScore:
Sports: 90% - 10%
News: 90% - 10%
Comedy: 85% - 15%
Movies: 85% - 15%
Reality: 75% - 25%
Drama: 71% - 29%
​The skinny revolution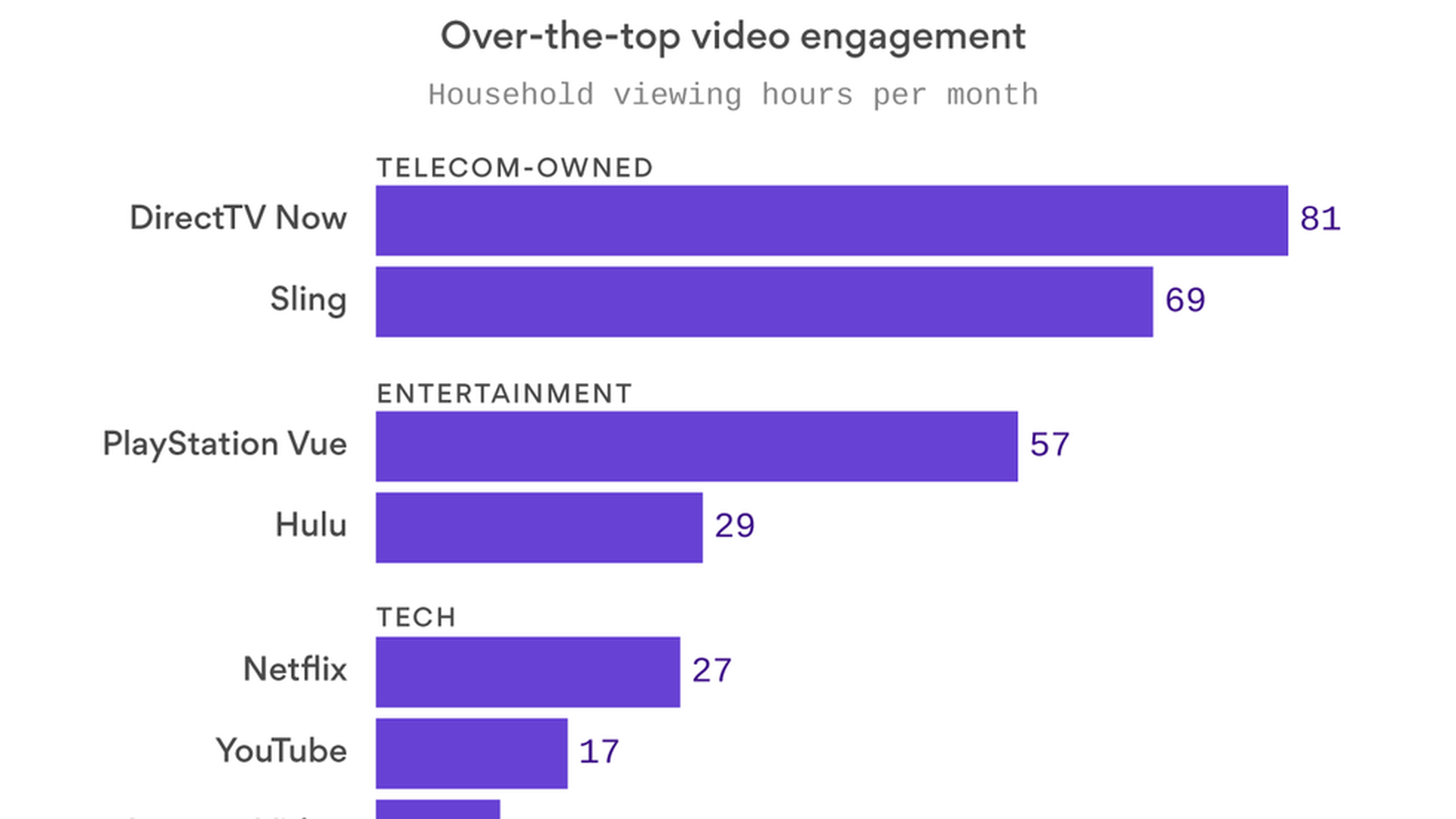 All five of the largest Pay-TV providers in the U.S. are now experimenting with skinny bundles — a TV streaming package with fewer channels for less money. (The average skinny bundle is roughly $40/month while the average cable package in America is around $103/month.)
What's new: Early success with AT&T's Direct TV NOW and Dish's Sling TV suggest that the market is responding well to skinny options from broadband carriers, forcing the other big providers to jump in and catch-up.
AT&T's Direct TV NOW offers more than 60 channels at its smallest package starting at $35/month, with high penetration into local news channels. The package excludes CBS which has its own streaming service. There are three higher-tier packages that go up to $70/month for over 120 channels.
Comcast has negotiated rights from the owners of cable companies to broadcast their video services outside of its regional territories. Although Comcast execs say they don't plan on launching an internet-based OTT service outside of its current service areas, the effort can be seen as a first step towards potentially building a skinny streaming service one day that could compete with the likes of it's pay-TV competitors. Earlier this year, Reuters reported that Comcast is rebranding its broadband-delivered service as Xfinity Instant TV.
Charter is testing a streaming network called Spectrum Stream that will be priced at $20 per month for local broadcast channels and 25 other cable channels, but will exclude sports in its basic package.
Dish's Sling TV was one of the first streaming options to enter the market, and is still one of the cheapest options, costing just $20 for 30+ channels and offers access to premium channels for a higher fee.
Verizon is reportedly securing rights from TV networks to stream their content online, to take on Sling TV, PS Vue, DirecTV Now and Hulu this summer. According to people familiar with the move, Verizon will sell a package with dozens of channels this summer that will be separate from FiOS.
CenturyLink also debuted a skinny package recently called the CenturyLink Stream, which offers 45+ channels for $45/month, plus an additional Latino add-on package.
Why it matters: These companies are getting whacked by digitalization and rapidly changing consumer habits and expectations. UBS telecom analyst John Hodulik predicts pay-TV will have its worst quarter ever, and could lose 1 million subscribers.
​A big bet on sports
Look for streaming services to leverage sports — especially live must-see events — to charge consumers more for the overall amount they spend on TV viewing (remember the live vs DVR stats above).
Charter's bundle will reportedly exclude sports channels, like ESPN, but will offer them as a premium for an additional $12.
NBC announced last week it will stream Premier League soccer games through a standalone package.
Viacom Inc., AMC Networks Inc., and Discovery Communications Inc. are discussing plans with pay-TV distributors to make entertainment-only bundles for consumers who don't watch sports TV.
Streamers are betting consumers will pay up AND sports execs are betting their future on the trend.
New England Patriots owner Robert Kraft: "There has been a dramatic shift … This year we're with Amazon and for us the future is OTT" streaming services, Kraft said in an interview with WPP's Martin Sorrell.
Amazon, which is proving to be a disrupter in the digital advertising space, is planning to sell $2.8 million ad packages as a part of its Thursday night NFL streaming package.
The irony: Selling sports packages separately could cause overall video viewing fees to go UP for ESPN-dependent households.
The news blog is dead
The Wall Street Journal announced Monday its plans to shut down eight blogs, saying tools for storytelling have changed.
Our thought bubble: A lot of blogs were created at a time when newsrooms couldn't push alerts and stories out as quickly, and the blog format gave them a quick way to post breaking news. Tech has caught up with the times. As NYT editor Patrick Laforge said in an interview with Nieman Lab when the City Room blog was shut down in 2015, "the problem with a news blog is, eventually, you have to ask why it exists aside from the main news report."
The media measurement mess
How many people watch a given TV show? How many watched the same show online? Truth is, if you go by the standard industry ways for answering this, nobody actually knows.
That's right: The multi-billion dollar media industry relies on constantly-evolving, but sometimes antiquated measurement tools to tell ad buyers who is actually watching their shows across the exploding number of platforms. So billions of dollars change hands based on metrics everyone knows aren't precise.
The state of measurement: Currently, two companies are considered industry standard for audience measurement: Nielsen and comScore.
Nielsen has long been the tool for measuring conventional TV audiences. (Nielsen still uses diary entries -- yes, completed diary entries by a small sample of viewers at home -- to measure TV consumption in most smaller markets in the U.S.).
comScore has long been the main digital measurement tool. It uses a mix of panels and specific tracking software to measure web site visitors, but digital measurement still isn't perfect.
"Since the beginning of internet, advertisers have been paying for ads as they were served, but viewability has been a problem. Just because an ad hits the screen, it doesn't mean (it's) visible," says Jane Clarke, CEO and Managing Director of the Coalition for Innovative Media Measurement (CIMM)
In a multi-screen world, you need better versions of both tools and that simply doesn't exist.
Why it matters: Some companies are fed up with the status quo and going rogue. NBCUniversal announced earlier this year it would sell $1 billion in annual ad inventory using data-based targeting and guarantees on non-Nielsen metrics. Earlier this month Sinclair Broadcasting Group, the largest local television conglomerate, announced it would use comScore exclusively for local TV ratings, instead of Nielsen. (comScore acquired video measuring company Rentrak for over $700 million last year to be able to land multi-platform deals like this.)
​1 fun thing: Why Chinese media loves Ivanka Trump
Some awesome reporting out of Refinery 29: Chinese media loves Ivanka Trump because outlets think her face embodies the perfect symmetry celebrated in Chinese beauty culture. The side by side of Ivanka next to one of China's most famous actresses is incredible. You be the judge.