Pockets of price deflation might be around the corner — just ask Walmart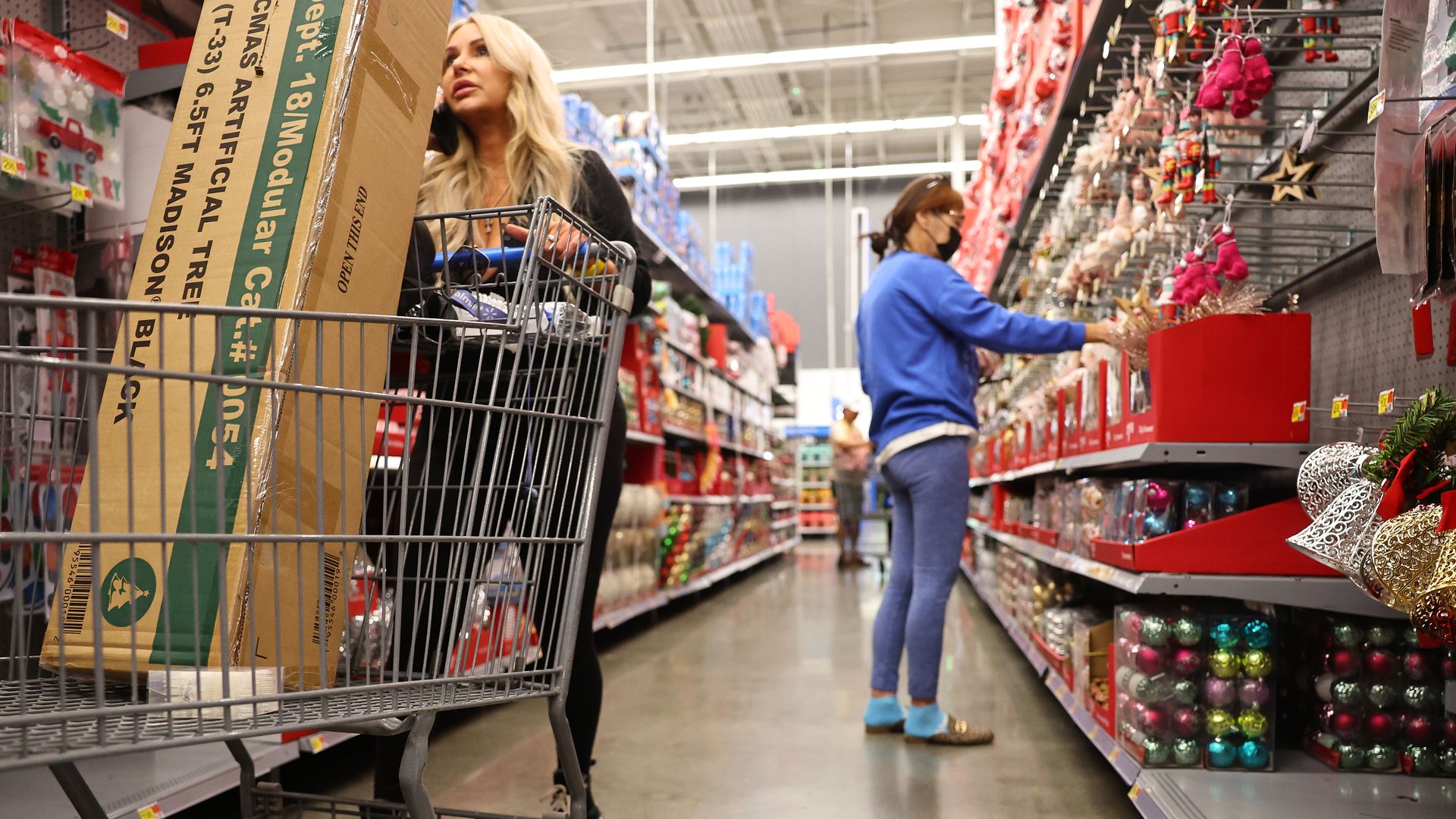 Over the last year, inflation has come way down — but prices are still rising, just less quickly than they once were. There is a new hint that some prices are now on track to fall outright.
Why it matters: To economists, lower-but-still-positive inflation rates — disinflation — counts as a policy win. But many ordinary Americans would rather see more outright relief — falling prices, or deflation. They may be about to get it, at least for certain items.
Sustained, widespread deflation would be troubling. Historically, it tends to be associated with falling wages, debt problems and recession.
There's little reason to think that is happening here. And a bit of a drop in prices for some widely purchased goods might work wonders for Americans' economic sentiment.
What they're saying: "In the U.S., we may be managing through a period of deflation in the months to come," Walmart Inc. CEO Doug McMillon told analysts Thursday. "While that would put more unit pressure on us, we welcome it because it's better for our customers."
McMillon said that "pricing levels in many food categories continue to be a concern," including beef prices, which he said remain high. But he predicted some food products will see deflation down the line.
Of note: The American Farm Bureau said in its annual tally that the average price of a Thanksgiving dinner meal with turkey and sides is down 4.5% from 2022's record high.
The intrigue: For general merchandise — all items excluding groceries — Walmart is rolling back pricing, "which will help our customers during this holiday season," McMillon said.
For instance, the Furby plush toy is down $10 to $49, executives at Walmart said. The Barbie Malibu House now sells for $69, down from $89.
"We've been in a pretty steep inflationary environment the last couple of years, so, it's good to see some of these prices come back in line," said John Furner, the CEO of Walmart U.S.
"We may see dry grocery and consumables start to deflate in the coming weeks and months," he said.
Yes, but: The range of goods and services that feed into overall inflation is much wider than the products sold at Walmart, incorporating prices as varied as apartment rents, health insurance, school tuition and airfare.
The bottom line: If the pattern the Walmart executives described holds true across the retail industry — a big if — it could help reverse the terrible ratings Americans give the economy in public opinion polling.
Go deeper