George Santos' surreal saga finally comes crashing down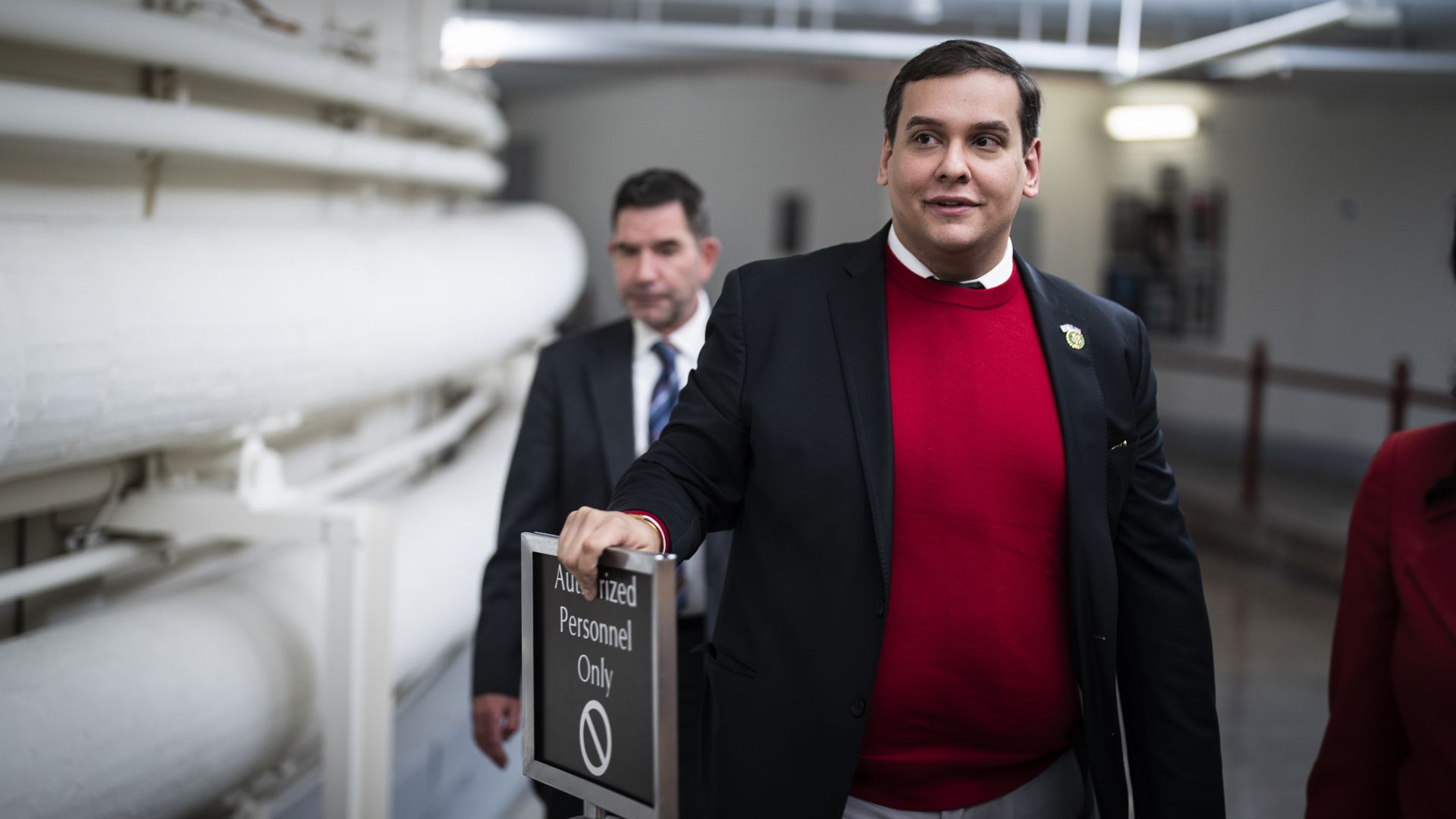 The extraordinary tale of Rep. George Santos (R-N.Y.), one of the most prolific fabulists of the modern political era, is set to end in dramatic but predictable fashion following the release of a scathing ethics report today.
Why it matters: Santos — who responded to the report by announcing he would not seek re-election — could become just the sixth person in U.S. history to be expelled from the House of Representatives unless he chooses to preemptively resign.
The ongoing House Ethics Committee probe was cited by both Republicans and Democrats in two previous failed attempts to expel Santos, but that barrier has now been lifted.
Rep. Michael Guest (R-Miss.), the chair of the Ethics Committee, plans to file a privileged resolution on Friday to expel Santos: "He's gone," predicted one House Republican.
Driving the news: The 56-page Ethics report determined that substantial evidence of misconduct by Santos — who already faces 23 federal criminal charges — shows that he "cannot be trusted."
"Santos sought to fraudulently exploit every aspect of his House candidacy for his own personal financial profit," the usually circumspect Ethics Committee declared. "He blatantly stole from his campaign."
"He sustained all of this through a constant series of lies to his constituents, donors, and staff about his background and experience."
What they're saying: Santos, who did not cooperate with the investigation, condemned the Ethics report on X as a "disgusting politicized smear" and called for states "TO RISE UP AND COMMENCE AN ARTICLE V CONSTITUTIONAL CONVENTION!" — though it was unclear what exactly he meant by that.
Zoom in: The list of personal expenses that Santos allegedly paid for with campaign funds borders on cartoonish:
Hotels, resorts and spas in Atlantic City, Las Vegas and the Hamptons.
$20,000 in rent.
Over $4,000 at Hermes and $6,000 at Ferragamo stores.
Purchases at Sephora and OnlyFans.
Botox.
Between the lines: The Santos saga has been a gift to late-night comedians and online memesters, but his expulsion would have significant real-world implications for a GOP conference already struggling to pass legislation.
"Why would we want to expel a guy ... [when] we've got a three-seat, four-seat majority? What are we doing?" Rep. Troy Nehls (R-Texas) told Axios, suggesting he would hold off voting for expulsion unless Santos is convicted.
New York Democrats — who are routinely reminded that Santos' victory in their state helped Republicans clinch the majority last year — are eager to reclaim his Long Island swing seat and redeem that embarrassing defeat.
What to watch: The last expulsion resolution, which requires a two-thirds majority, failed 179-213. Dozens of lawmakers already have announced they will flip their vote to favor expulsion — and momentum is still building.
The bottom line: Asked by CNN's Jake Tapper about the most "offensive" thing Santos did, Rep. Dave Joyce (R-Ohio) responded bluntly: "Running."
Go deeper