Hollywood strikes are a taste of AI labor battles to come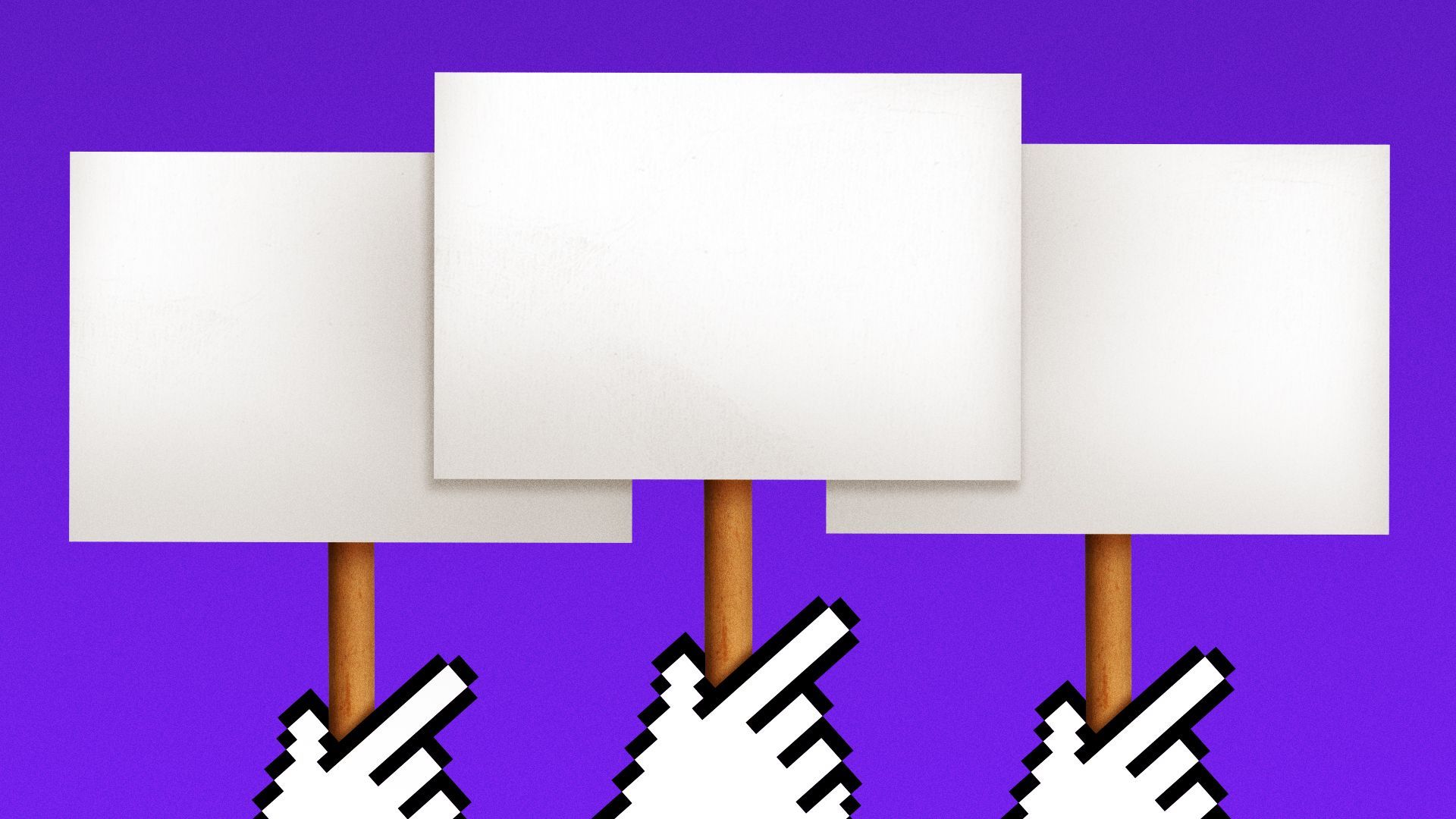 The groundbreaking AI provisions in the Hollywood actors' union contract are a sign of the big changes coming across all kinds of jobs, thanks to the fast rise of AI technologies.
Why it matters: The AI issue is urgent in the entertainment industry, which has created digital replicas of actors. But with the tech moving so fast, all of us will likely face disruptions soon enough, economists said at a Brookings panel this week.
That could mean AI is on the agenda in more union contract negotiations — or unions use the threat it poses to organize new workforces.
For nonunionized workers, big changes are coming, too — particularly among white-collar folks — and experts urged policymakers and employers to pay attention.
"We need to be prepared for a range of scenarios for how AI will continue to affect labor in the coming years and decades," says Anton Korinek, an economist at the University of Virginia and nonresident fellow at Brookings.
Zoom in: The 118-day Hollywood actors' strike took longer to resolve than the writers' strike — not because of a fight over pay or even streaming — but because of the union's demands around AI.
"[W]e held firm and that's why we were on strike for so long," says Duncan Crabtree-Ireland, national executive director and chief negotiator of SAG-AFTRA, which represents actors.
"[O]ur members are some of the first people to really deeply feel the effects of generative AI," he adds, noting that some have had their images manipulated in deepfake pornography.
AI wasn't something they could punt to a contract a few years down the line, since Hollywood's eager to use digital replicas, he says.
Crabtree points to Carrie Fisher's posthumous return in "Star Wars: The Rise of Skywalker," and Paul Walker's, in "Furious 7."
The new contract, which still needs to be officially ratified by SAG-AFTRA members, contains specific provisions around consent and compensation for digital "replicas" used in films and TV shows.
The big picture: If you'd asked any economist three years ago what jobs are most exposed to automation, they would have said blue-collar work, says Korinek.
But the fast adoption of generative AI has meant the most disruption in the white-collar space.
For example: "There are jobs that are already almost fully replaced, like translators. Copy editors are getting there," he says. Software engineering is changing fast.
"Even economists like myself see that a growing number of the things we do in our daily work are suddenly being automated," Korinek adds.
Jobs that require writing are also threatened (author's note: erm, gulp). A paper released last month found a 14% decrease in the number of listings for freelance jobs associated with writing — including electronic engineers, accounting research and web development — after the introduction of ChatGPT.
"Every white-collar worker will be affected to some extent," Korinek says.
The intrigue: It's hard to predict if AI will replace these jobs or just augment them, changing the way people work.
The bottom line: Hollywood actors — they're just like us — only they got here first.
Go deeper