House offices locked down as lawmakers are evacuated from DNC protest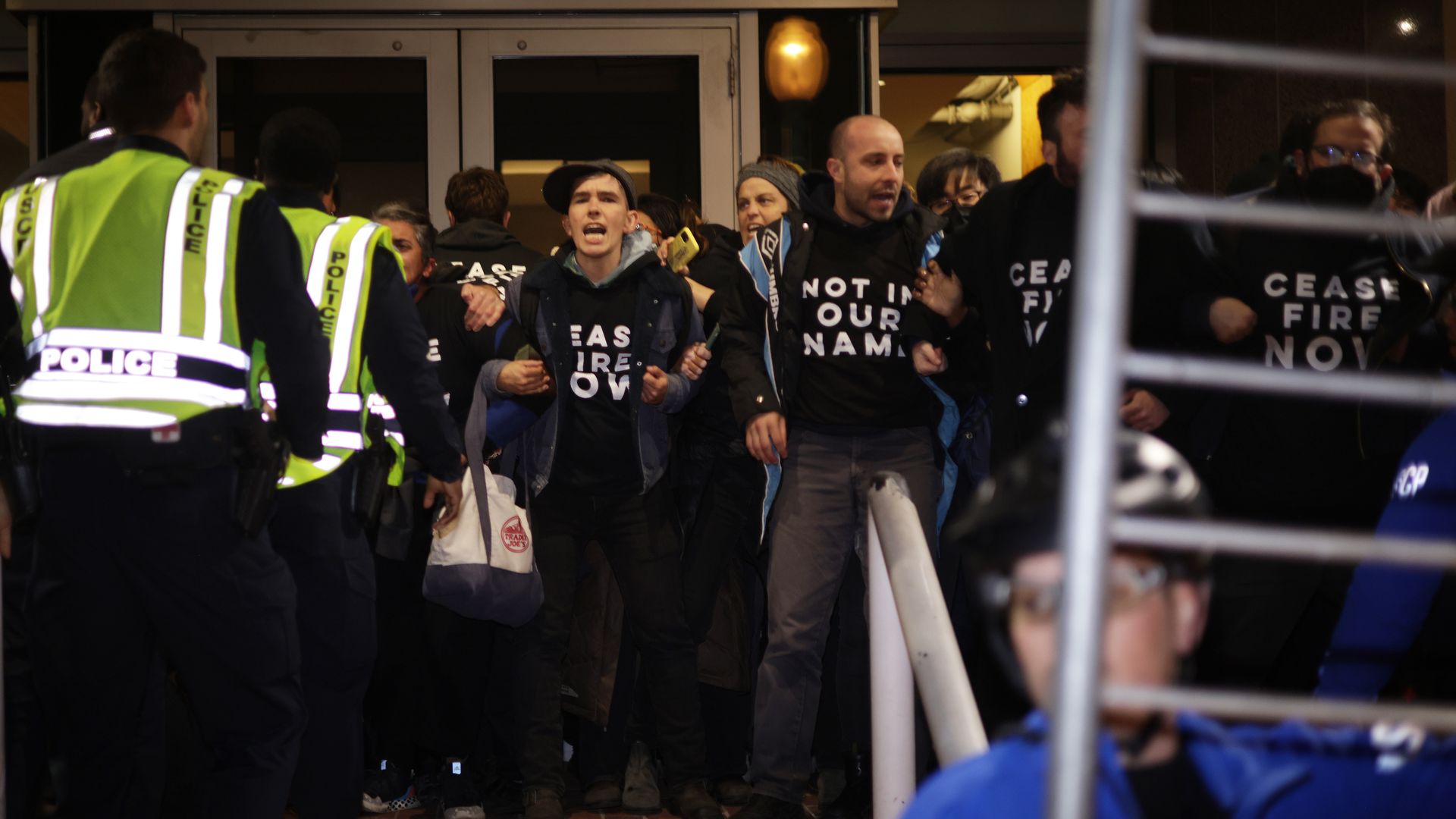 Lawmakers were evacuated from the Democratic National Committee headquarters and House office buildings locked down on Wednesday after law enforcement clashed with protesters pressing for a ceasefire in the Israel-Hamas war.
Why it matters: The incident, which resulted in arrests, marks the latest in a series of large demonstrations on Capitol Hill over the Middle East conflict that have been putting Capitol security on edge.
The DNC was hosting a Democratic Congressional Campaign Committee candidate event at the time, with multiple Democratic leaders present including Minority Leader Hakeem Jeffries (D-N.Y.), two House Democrats told Axios.
What they're saying: The Capitol Police said in a statement that six officers were treated for injuries "ranging from minor cuts to being pepper sprayed to being punched."
One protester was arrested for an assault on an officer, they said.
The other side: IfNotNow, which led the protest along with other left-wing and pro-Palestinian groups, said in a statement Thursday morning that over 90 protesters were injured in the clashes.
The group said protesters were pepper sprayed, pulled by the hair, hit with police bikes, choked, shoved against walls and pushed down stairs.
IfNotNow national spokesperson Eva Borgwardt told Axios late Wednesday the violence was "one-sided" by police.
"The goal was just to block the door [to the DNC building] in non-violent civil disobedience," Borgwardt said, adding that demonstrators' refusal to comply with orders from law enforcement prompted "the most brutal police response I have ever seen."
The big picture: The Capitol Police told congressional staff in an alert Wednesday night that they were "working to keep back approximately 150 people who are illegally and violently protesting."
All members were evacuated from the area, per the police.
A subsequent alert warned staffers that entering and exiting the nearby House office buildings was prohibited due to "significant demonstration activity."
House offices were reopened a short time later after police said the protest had "dissipated."
What we're hearing: One House Democrat who was present at the DNC told Axios it "scared me more than January 6," recounting that they were about to leave and return to the Capitol when police told them not to exit.
"Someone sent out word for people to come [back] and police said it's not safe," the lawmaker said. "Police were wearing gas masks ... this was not peaceful."
The lawmaker said that they and all their colleagues were evacuated safely.
Rep. Brad Sherman (D-Calif.) said he was also present, posting on X: "Thankful to the police officers who stopped them and for helping me and my colleagues get out safely."
Between the lines: "To the protestors: PLEASE don't do something irresponsible," Rep. Sean Casten (D-Ill.), who was also at the DNC at the time of the protest, said in a post on X.
Casten said that blocking a building filled with members of Congress and guarded by Capitol Police "is putting you and other innocent people at risk," because officers "did not know the protestors' intent[.]"
"They knew only that Members of Congress were inside, could not leave and that protestors would not let police through," he said. "Forcing police to guess intent is irresponsible and dangerous."
Editor's note: This article has been updated with new details throughout.
Go deeper