Why a watermelon symbolizes Palestinian solidarity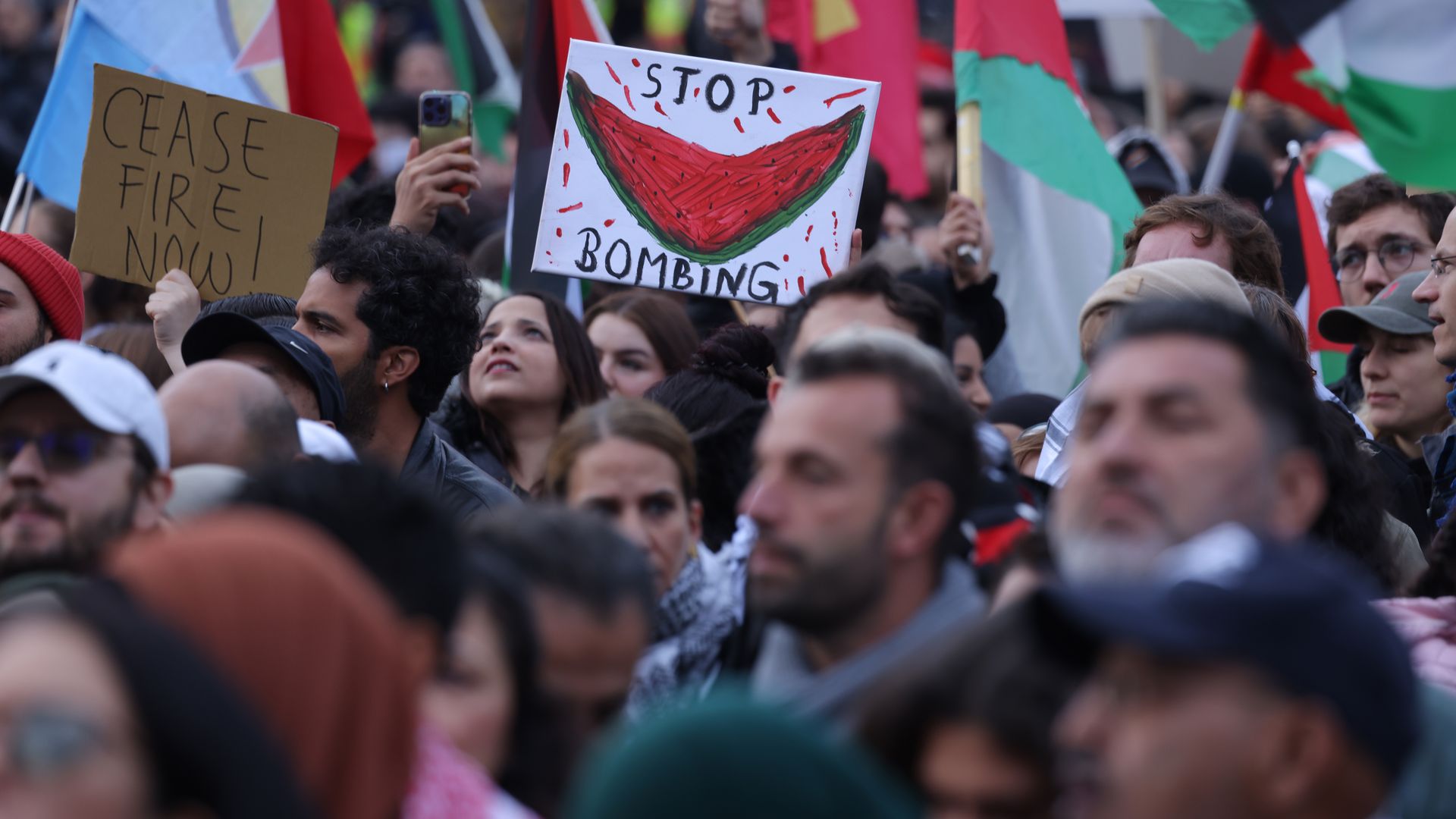 The watermelon — a long-time symbol of Palestinian solidarity and resistance — has reemerged online, at protests and as part of artwork worldwide to support Palestinians as the war in Gaza intensifies.
Why it matters: The red, green, black and white fruit — which matches the colors on the Palestinian flag — has symbolized unity for over half a century. It's now accompanying calls for a ceasefire in Gaza and for greater Palestinian rights.
More than 11,200 Palestinians have been killed in Israel's bombardment and ground operation in Gaza since the war began following the Oct. 7 Hamas attack on Israel, per the Ministry of Health in Hamas-run Gaza.
Catch up quick: The symbol garnered further attention on TikTok, where people have recently posted using a watermelon video filter to support Palestinian causes.
A TikTok creator had made that now-viral tracing filter depicting a watermelon through the app's Effect Creator Rewards, which allows creators to monetize the effects they make.
The creator pledged to donate the proceeds from the filter's monetization to charities providing aid in Gaza.
Background: The history of the watermelon as a symbol of Palestinian solidarity dates back to the Six-Day War in 1967, when Israel captured Gaza and the West Bank, according to TIME.
At the time, the Israeli government banned any displays of the Palestinian flag in the occupied territory.
Palestinians used the watermelon — revealing the same colors as the flag when sliced open — to get around the ban.
Israel lifted the ban on the flag in 1993 via the Oslo Accords.
But the watermelon has remained a prominent symbol of Palestinian solidarity.
The symbol resurfaced on social media during the 2021 war in Gaza.
The fruit itself is also part of Palestinian cuisine and culture, and the watermelon has grown for centuries in the Middle East.
Zoom out: The use of the watermelon emoji on social media also represents a form of "algospeak," defined as "online, coded euphemisms" used to get around content filters, per TechCrunch.
Pro-Palestinian users have opted for the watermelon emoji to circumvent what they believe are forms of content restriction.
Meta faced controversy last month over accusations that the company shadow-banned Palestinian content on Instagram, according to Mashable.
Following users' reports of shadow banning, Andy Stone, Meta's communications director, said concerns about visibility were the result of a "bug," per an October post on X.
Go deeper