The Guardian sees record U.S. reader revenue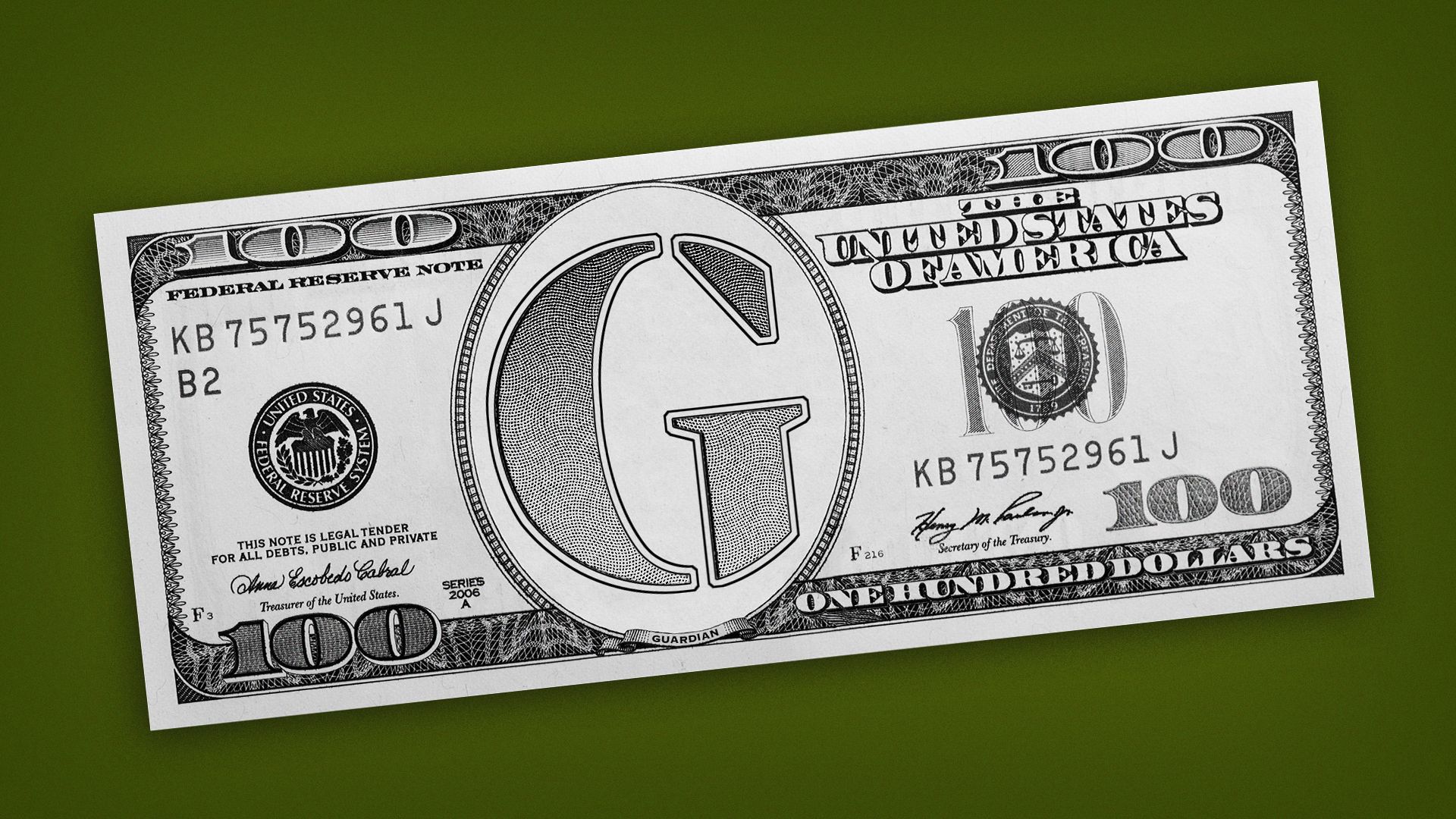 The Guardian expects to make $33 million in digital reader revenue in the U.S. for its fiscal 2023/2024 year — a new record. That money will make up roughly 57% of its total U.S. business, executives told Axios, helping to offset a slowdown in the ad market.
Why it matters: Investments in U.S. products and headcount are paying off for the British newspaper. U.S. reader revenue will account for roughly one-third of all digital reader revenue globally this year.
Of note, The Guardian's fiscal year ends on March 31.
Catch up quick: The Guardian launched digitally in the U.S. more than a decade ago, but investments in the U.S. market began to ramp up after the pandemic, when it became clear that U.S. audiences were sticking around, even after the unprecedented news cycle of 2020 subsided.
Last year, The Guardian hired two Americans to oversee its U.S. operation.
Former Time Inc. executive Steve Sachs was named managing director of the Guardian U.S. in October 2022. Betsy Reed, former editor of The Intercept, was named editor of Guardian U.S. in July 2022.
Driving the news: Under their leadership, The Guardian has invested in a slew of new U.S.-centric products, including newsletters about soccer, Donald Trump's legal battles and wellness.
Newsletters from columnists Margaret Sullivan and Robert Reich will launch later this month.
Reed also announced a new U.S. investigations unit last month that will focus on U.S. corporate and government misconduct, attacks on human rights, and other urgent issues.
By the numbers: In the past year, the outlet has grown its U.S. headcount by 35% to 159 staffers — 107 in editorial and the rest in commercial and philanthropy roles.
It expects U.S. revenue to increase 11% year over year, thanks in large part to growth in digital reader revenue, which is voluntary reader donations.
In total, U.S. revenue is expected to make up a little less than 20% of The Guardian's total revenue, which is notable given there's no print product in the U.S.
The company expects to hit a record 250,000 monthly recurring supporters in the U.S. this month.
Be smart: Reader revenue growth will offset a slight dip in ad growth this year (+4%) compared to last (+8%).
Advertising revenue makes up about 40% of The Guardian's U.S. revenue mix, which is a much smaller portion of its business in the U.S. compared to its business overall. (More than 50% of The Guardian's overall reader revenue now comes from outside the U.K.)
Reader revenue surpassed advertising in 2020 as The Guardian's largest source of revenue in the U.S. Amid ad market volatility, dependence on reader revenue has become critical toward building a sustainable U.S. business, Sachs said.
What they're saying: "We're not immune from ad market trends that have affected so many of our peers in the news business. But what sets The Guardian apart is that small contributions from our readers make up the majority of our revenue," Sachs said.
"We are funded by readers, fueled by our readers — and that makes us a rare breed in media."
Between the lines: The Guardian U.S. does make a small amount of money annually from larger philanthropic groups and high-net-worth individuals.
In the coming year, it plans to ramp up that part of its business, targeting supporters who have already given more than $250.
The big picture: U.K.-based publications have been ramping up investments in the U.S. market where the ad market and total addressable market for subscribers and donations are bigger.
Go deeper