Scoop: Inside Biden's delay on Indo-Pacific trade deal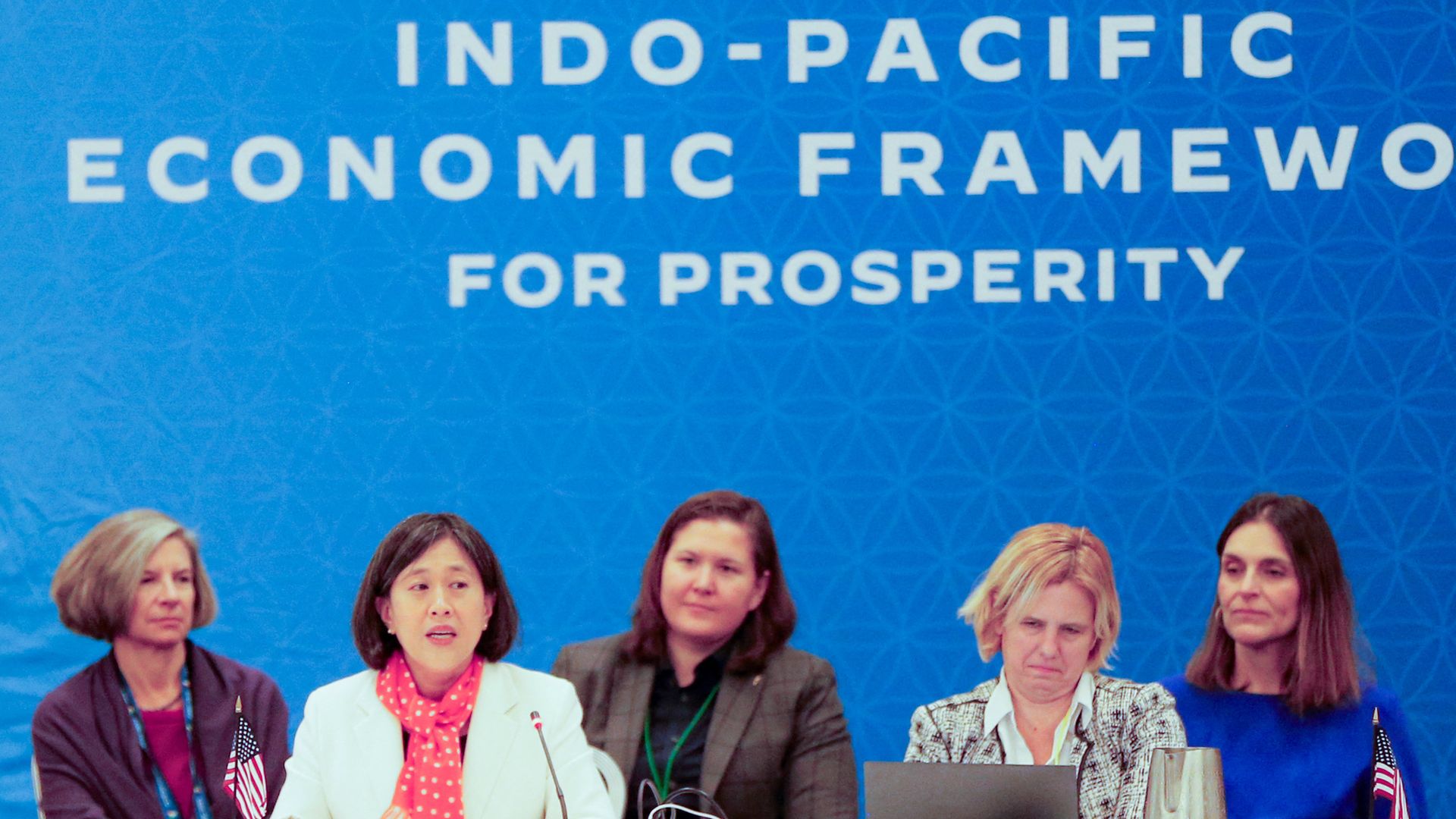 The White House sent an urgent message last week to trade negotiators in San Francisco who were racing to reach an agreement on part of President Biden's trade plan with 13 Pacific Rim nations: Slow down.
Why it matters: The new order has thrown into question the president's commitment to a key section of his signature trade effort, the Indo-Pacific Economic Framework for Prosperity (IPEF), according to three people familiar with the issue.
Biden unveiled the IPEF as a new approach to trade — not a traditional deal to lower tariffs and boost market access for all countries, but a deal to use common standards on everything from clean energy to digital transactions. The goal is to counter China's influence in the region.
Yes, but: Biden's trade plan is getting fresh pushback from other Democrats, who see it as a potential liability in the 2024 elections.
Many Democrats, including National Security Adviser Jake Sullivan, are still scarred by how Donald Trump rode his opposition to former President Obama's signature trade deal — the Trans Pacific Partnership — to win the White House in 2016.
Immediately after he took office, Trump — who called the TPP harmful to American workers and industry — withdrew from the partnership.
Driving the news: Last week, Sen. Sherrod Brown (D-Ohio), who's among the most vulnerable Democratic senators seeking re-election in 2024, called Sullivan to voice deep concerns with Biden's plans to announce major progress on the IPEF at the Asia-Pacific Economic Cooperation (APEC) summit this week, according to two U.S. officials.
Senate Majority Leader Chuck Schumer (D-N.Y) also reached out to the White House to warn the administration about the potentially dicey politics of such a trade deal less than a year before the election.
"I've made it very clear that the trade portion of the Indo-Pacific Economic Framework is unacceptable," Brown said in a statement.
"And I'm glad to hear the administration has decided not to move forward on an agreement that lacks enforceable labor standards," Brown added, referring to a section of the proposed arrangement known as "Pillar I," which focuses on trade.
What we're hearing: After the private Democratic pressure, the White House ordered negotiators in San Francisco to essentially slow-walk conversations over the trade section of the framework.
That directive left negotiators stunned — and confused — over what they were supposed to do.
Just two weeks ago, U.S. Trade Representative Katherine Tai was promising major news at the APEC summit. "We are looking to announce a number of deliverables across the pillars of IPEF, which we will be very excited to share with everyone," she said on CNBC.
On Sunday, U.S. negotiators indicated to their counterparts at APEC that a preliminary agreement on parts of Pillar I — which includes sections on digital trade, labor protections and the environment — would not be achieved.
What they're saying: The White House is insisting that the negotiations haven't been derailed.
"Throughout the IPEF negotiations, we have focused on promoting workers' rights and raising standards," said a spokesperson for the National Security Council. "We are on track to achieve meaningful progress and lay the foundation for a new framework for regional economic cooperation."
A spokesperson for Tai declined to comment.
Zoom out: The Biden administration has made it a priority to deepen economic and military ties with countries in the Indo-Pacific as a way to counter Chinese influence across the region.
In May, Biden announced that 13 countries were joining IPEF and that Tai would lead the U.S. team in negotiating the trade section of the proposal.
The other three pillars of IPEF would be deals on supply chains, clean energy and anti-corruption standards.
They are being negotiated by the Commerce Department; Biden officials expect to announce progress on all three at APEC.
Go deeper