GOP leadership looks to help Mike Johnson settle in as House speaker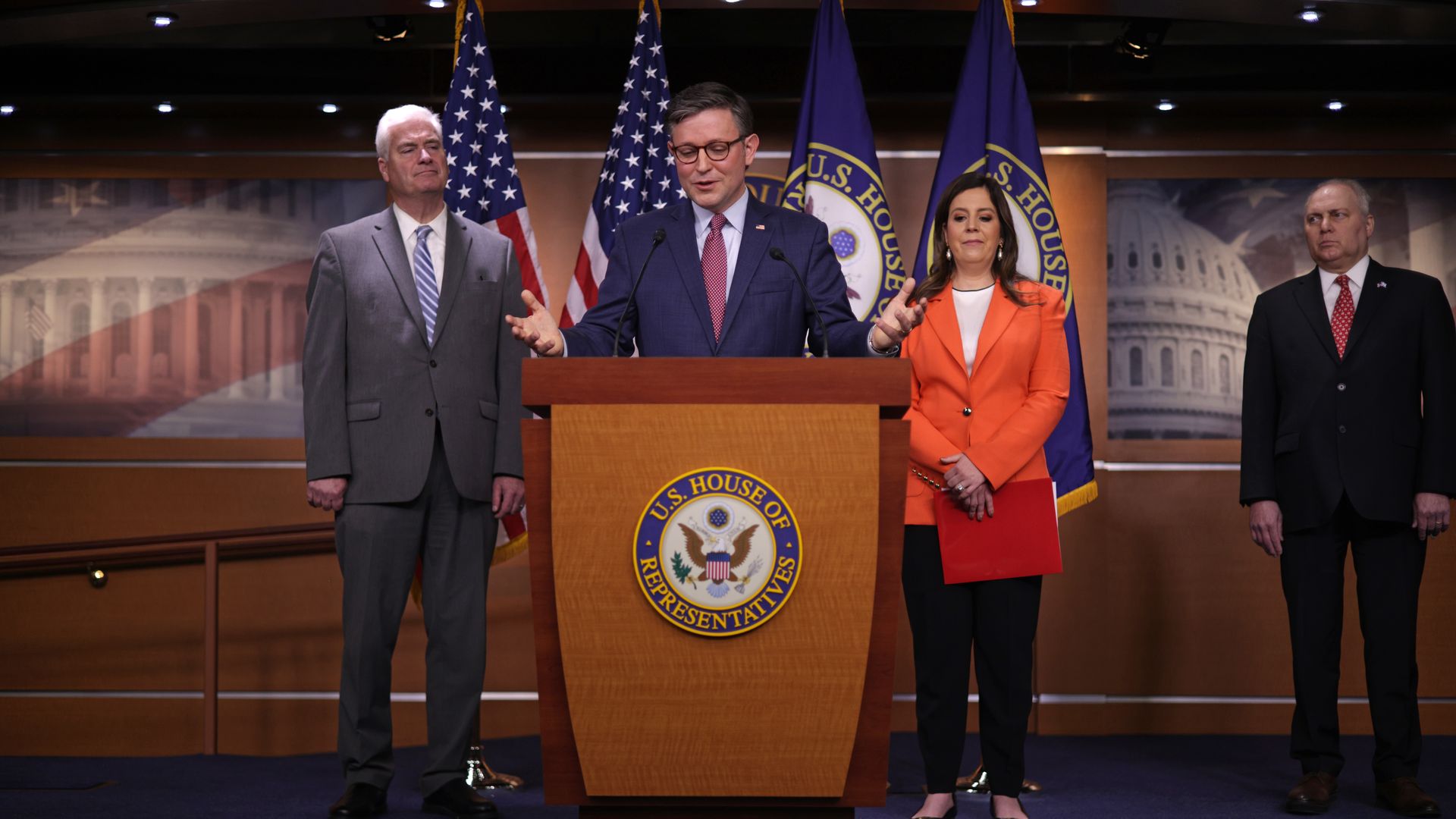 Members of House Republican leadership and their staff have been working to assist Speaker Mike Johnson (R-La.) in getting adjusted to his new role after being thrust into his new leadership position following the ouster of former Speaker Kevin McCarthy.
Why it matters: Senior sources told Axios that with McCarthy's "shadow cabinet" no longer in the picture, they feel it could provide them with the opportunity to unify.
Zoom in: House Majority Leader Steve Scalise (R-La.), House Majority Whip Tom Emmer (R-Minn.) and House Republican Conference Chair Elise Stefanik (R-N.Y.) have all taken strides in assisting Johnson's operation get up and running.
Stefanik lent members of her communications team to aid Johnson's staff amid the influx of media attention he received after getting the gavel, multiple senior GOP sources told Axios.
"Obviously, taking over as speaker, it' s a more senior position, but there are unique challenges that come to that," Stefanik told Axios. "So my chief has been able to work with Mike's chief, but Mike has hit it out of the park," she said.
Scalise and Johnson recently spoke at the Republican Jewish Coalition summit in Las Vegas, where the majority leader was able to connect Johnson with new donors, one leadership source told Axios.
The intrigue: Senior members said they have appreciated the way Johnson and his team have reached out and been open to advice in addition to keeping them in the loop on who they are tapping for key positions.
"Maybe this could be a more transparent administration where you have people with defined roles you have Emmer actually whipping you have Elise dealing with messaging and Steve controlling a floor," one lawmaker told Axios, noting it's likely too early to say how the new dynamic with play out.
The big picture: In a statement to Axios, Johnson said "nothing could have prepared us for the whirlwind" of taking over the speakership mid-Congress, "but fortunately the House Republican Leadership is a top-notch operation that has dedicated time, staff, and countless resources to assist in our transition."
"Leader Scalise, Whip Emmer, and Chair Stefanik have been trusted friends and advisors throughout this process, and we are already working like a well-oiled machine to deliver results for the American people," he added.
What's next: Johnson unveiled the House GOP plan to avert a shutdown on Saturday, including a pair of stopgap funding bills that would avoid a standoff ahead of Christmas.
Without a stopgap, the government will shut down this weekend.
Go deeper