Democratic super PAC commits $25M to state-level voter registration surge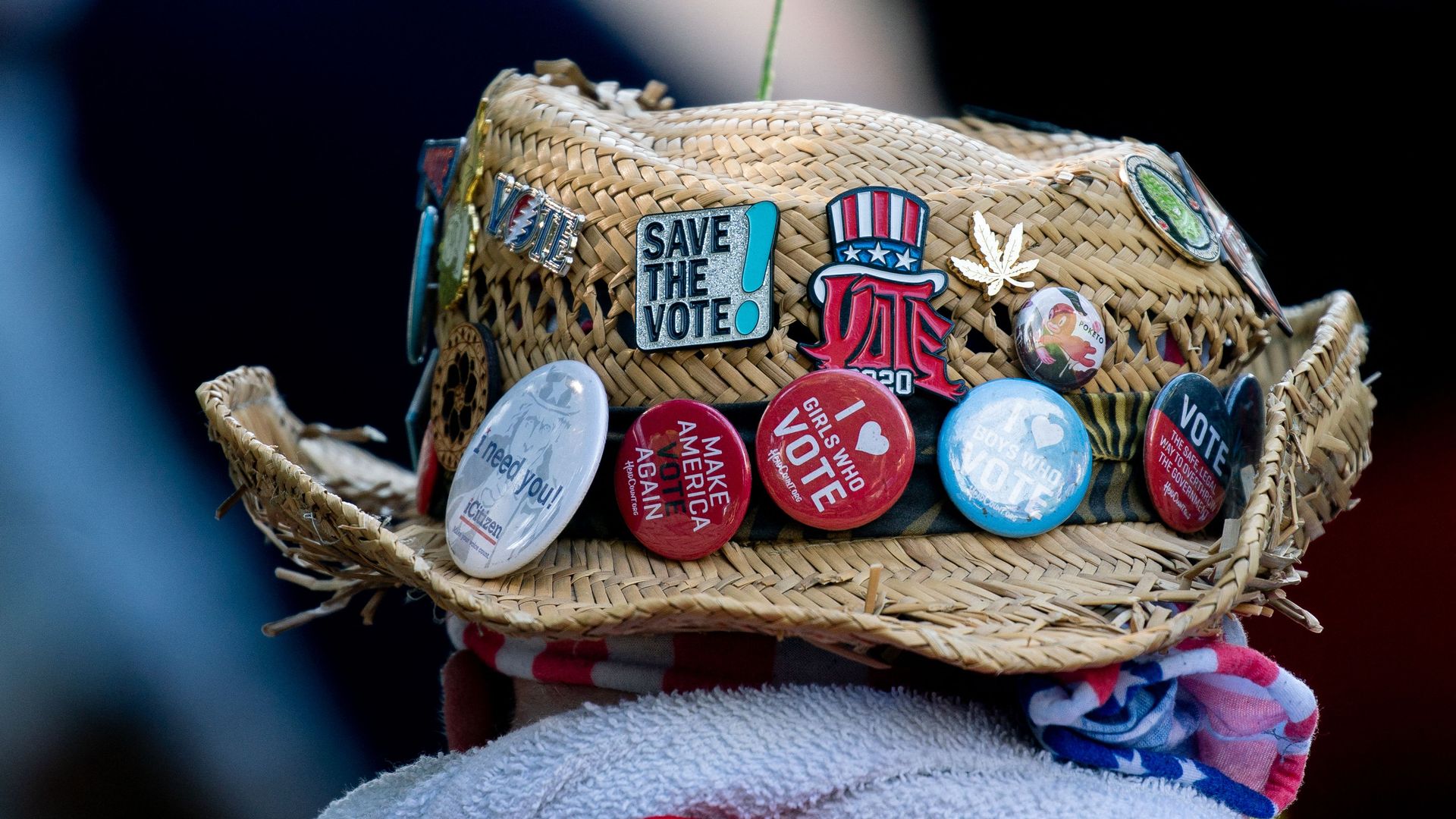 A Democratic super PAC is pouring $25 million into voter registration efforts in key state legislative races ahead of 2024, according to a Monday announcement.
Why it matters: Democrats made historic gains during the 2022 midterm elections in state legislatures following huge investments to reverse Republicans' long-dominance in down-ballot races.
Driving the news: Forward Majority super PAC is launching the Battleground Voter Project, which plans to target state legislative battlegrounds across Arizona, Georgia, Michigan, North Carolina, Pennsylvania and Texas.
The super PAC has identified about two million likely Democratic and unregistered voters in legislative battlegrounds in these states who are not usually targeted in voter outreach, the group said.
"American democracy is in a fight for every single inch, with the most important elections decided by razor thin margins," Forward Majority founder and co-CEO Vicky Hausman said in a statement.
"Nowhere is that more true than in state legislatures - and Democrats have been leaving votes on the table."
Zoom in: State legislatures drew national focus in 2022 due to their broad power to influence legislation on abortion and voting rights.
Forward Majority, which focuses on targeted voter registration efforts and campaign programs, spent millions ahead of 2022 in races across state chambers in Pennsylvania, Michigan and Arizona.
The States Project and the National Democratic Redistricting Committee also poured millions into state races.
State of play: Republicans have controlled more state legislative seats than Democrats for years, in part because the GOP made a huge push to win state legislative races ahead of the 2010 redistricting cycle and then used their control to draw favorable maps.
The Republican Party has historically had a fundraising edge over Democrats in state legislative races.
Between the lines: Democrats saw some success in state legislative races during the 2023 off-year election cycle, with the biggest victory in Virginia where the party gained total control of the Virginia General Assembly.
Virginia's legislative races drew national attention and huge fundraising totals, led by Gov. Glenn Youngkin, who campaigned on a 15-week abortion ban and other conservative priorities.
What to watch: The project by the Forward Majority, which launched in 2017, seeks to register at least 200,000 voters in 2024 in the most competitive state legislative districts.
The super PAC says that its investment in state races could also lead to gains for Democrats in down-ballot races and the presidential contest.
"This will impact critical elections not just next November - but also through 2030, when there is an opportunity to shift how power is distributed in America through the redistricting process," Hausman said.
Go deeper