The short shelf life of immersive attractions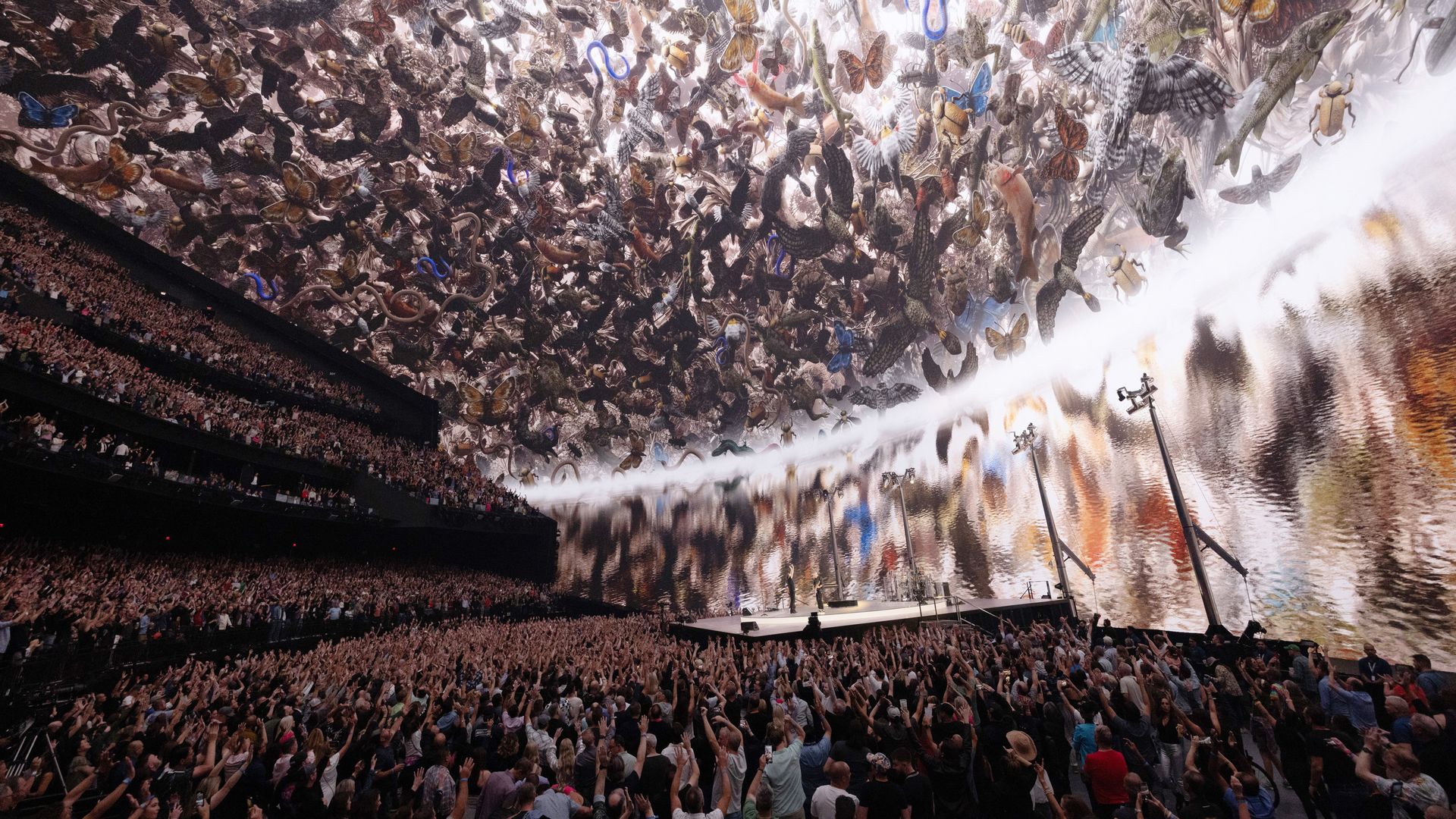 The opening of the Sphere in Las Vegas coincides with the closing of "Sleep No More" in New York. Both are expensive and innovative ticketed experiences aimed largely at tourists and designed to elicit a "wow" factor. (See also: Abba Voyage in London.)
Why it matters: These attractions tend to lean heavily on novelty, and their shelf life can be very short — the 2021 flurry of immersive Van Gogh shows already seems to have petered out.
The big picture: There is a long history of using cutting-edge technology to awe the general public. Carolina Miranda's excellent Sphere review in the LAT traces its ancestry back past the IBM Pavilion at the 1964 World's Fair in New York to the Circarama with which Disneyland opened in 1955. All now seem quaint and a little bit janky — much as Abba Voyage will in a few years' time.
Between the lines: As David Littlejohn wrote in his WSJ review of "Peter Pan," another high-tech immersive show, "any potential for moving relationships is pretty well lost amid the mind-boggling spectacle."
Where it stands: Billions of dollars are being invested in physical and virtual spaces designed to inspire and transport individual and collective souls. The Las Vegas Sphere alone cost $2.3 billion; a proposed second sphere, in the same area of London as the $175 million Abba show, will likely cost at least $1 billion if it ever receives planning permission.
Those up-front costs result in eye-popping ticket prices. Going to see a 50-minute movie at the Sphere, for instance, which is carrying more than $1 billion in long-term debt, can cost as much as $250.
Experience design generally hasn't kept up with technology. "A lot of these shows are vapid in that they don't have a visceral connection to their customer; there's no emotive way to connect with them," Lionel Ohayon, the founder of Icrave, which designed the Sphere's interiors, tells Axios. "From an entertainment point of view, it's not something people have solved yet."
"People are just trying to cash in on it," he adds, "and there's a lot of them, and they're mostly bad."
Zoom out: Many technologies, from the opera houses of the 19th century through the theme parks of the 20th and the high-tech nightclubs of the 21st, have proved their staying power in terms of being able to attract crowds of people willing to pay good money for a transporting collective experience.
In each case, the art of storytelling has had to be reinvented for the new medium. Drops, whether they occur on roller coasters or in techno music, are a key narrative technique that require just the right amount of buildup.
When a technology is too new, or scarce, or expensive, it becomes inaccessible to most creators and tends to become bombastic and unpleasantly overwhelming.
The bottom line: "The most effective way to sustain neurologic immersion is story structure," says Paul Zak, a Claremont professor who has studied the effect of immersive experiences on the brain.
All too often, that's an afterthought.
Go deeper