Why Silicon Valley's not sweating AI "mass extinction" for startups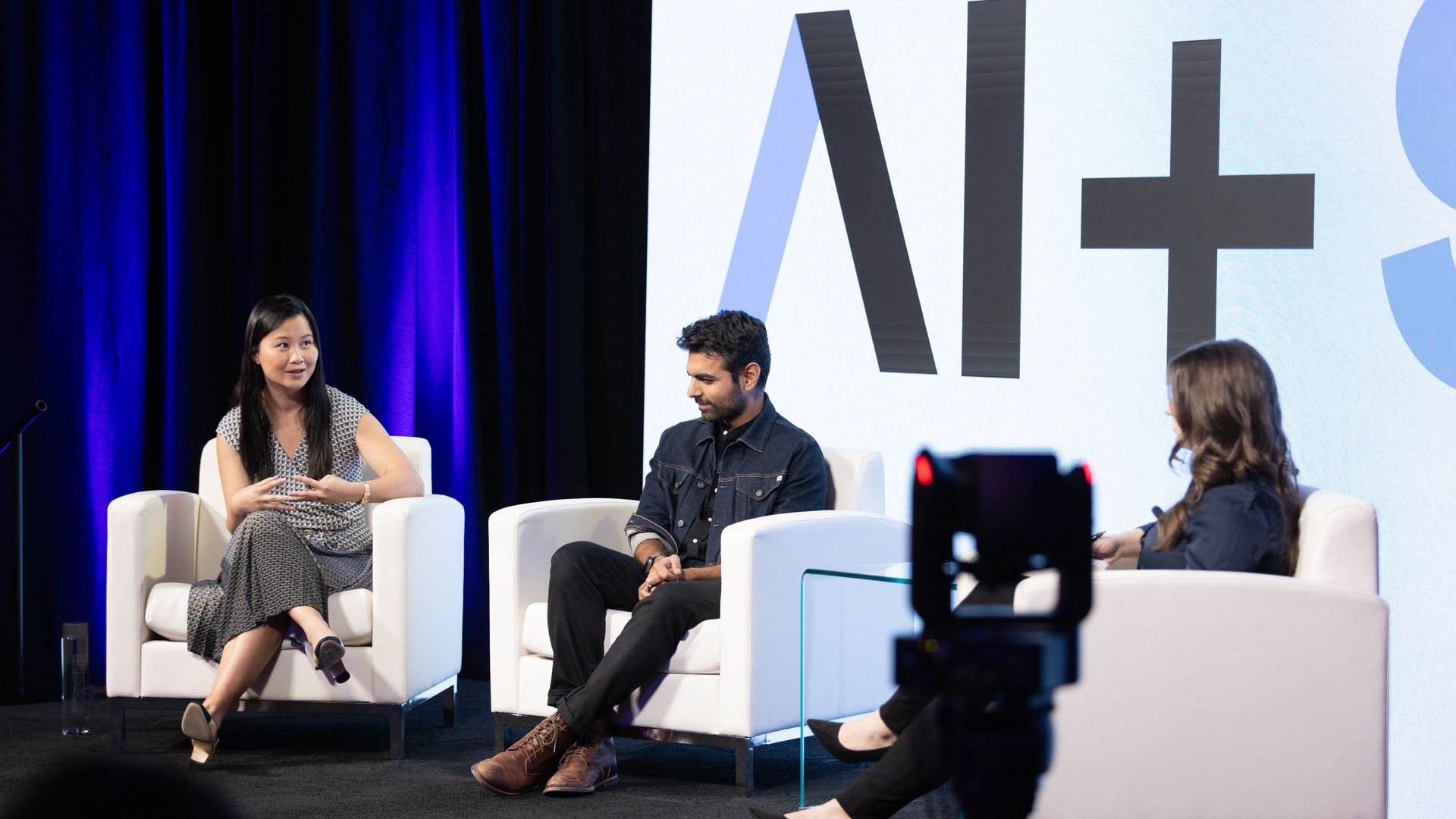 OpenAI's developer conference this week was dubbed by some a "startup mass extinction event" because of the slew of new features announced. But investors at Sequoia Capital and Andreessen Horowitz aren't so concerned, they said at Axios' AI+ Summit this week.
Why it matters: Whether a startup's product can be a standalone business — or just a feature of a big company's product — is as much of a key question for entrepreneurs and VCs in AI as it's been for prior tech waves.
What they're saying: "A lot of the application layer companies that we've backed, many of which are built on OpenAI, they're actually solving problems that are incredibly hard to solve," said Sequoia Capital partner Sonya Huang.
"If you're building something in the OpenAI strike zone and only exists because of a deficiency in OpenAI today, we try not to back that," she added.
She also compared companies like OpenAI to what Amazon Web Services did for internet startups.
The bigger picture: In addition to the vast amount of applications of AI technology that we've yet to see, Andreessen Horowitz general partner Anjney Midha cautioned that its rapid evolution means that new infrastructure companies can still very much emerge.
That means today's seeming incumbents may not remain in the lead.
Huang sees it slightly differently. She sees the AI model and infrastructure categories as more set, while applications are still a "blue ocean" space with much more we've yet to see from startups.
Between the lines: Both firms are definitely investing internationally when it comes to AI, they said.
There's a huge cluster of AI talent in the Bay Area, but "Silicon Valley is a state of mind," Midha said. Hotbeds are emerging elsewhere.
Notably, there's no China-based investments for Andreessen Horowitz, and Huang said her firm is "abiding by the rule of law" and focused on the U.S. and Europe these days.
Meanwhile: While there are ongoing concerns about copyrights impacting the use of data in AI systems, Huang pointed to OpenAI's announcement that it will defend customers accused of infringement as an optimistic sign.
"That means OpenAI believes enough that it is not actually infringing on copyright to put its money where its mouth is," she said. She also predicted more and more companies developing such AI products will offer similar protections.
Midha added that while it does impact his firm's approach to investing in companies, it's very much on a case-by-case basis, given how differently it plays out from industry to industry.
The intrigue: Both declined to comment when asked if their firms have invested in Elon Musk's new AI startup, xAI, which unveiled its first product last weekend, a chatbot named Grok.
Their firms invested in Musk's takeover of X (formerly Twitter) last year.
At a roundtable discussion with a number of VCs who invest in AI, Axios asked how they're navigating the current landscape. Many responded with what they're not investing in:
"Incremental infrastructure improvements that Microsoft will launch tomorrow, or OpenAI will launch the next day." — Grace Isford, Lux Capital
"Any region that Google or Microsoft will want in the next four years." — James Currier, NFX

Currier added that his firm is passing on startups that already have several direct competitors building the same product, as well as those whose main differentiator is unique data sets.

"There's a lot of things that are basically libraries." — Tim Tully, Menlo Ventures
"Low value labor replacement." — Lee Edwards, Root Ventures

Edwards added that founders with a technical background are a must for AI right now.

"Lack of availability of GPUs — we think it's short term, it's not venture scale, it's not seven to 10 years [problem], maybe for the next two–three years." — Kanu Gulati, Khosla Ventures
The bottom line: Some areas may have more investment opportunities than others, but "investors just don't know," A16z's Midha says.
Go deeper