Maryland picked for FBI's new HQ, ending years-long search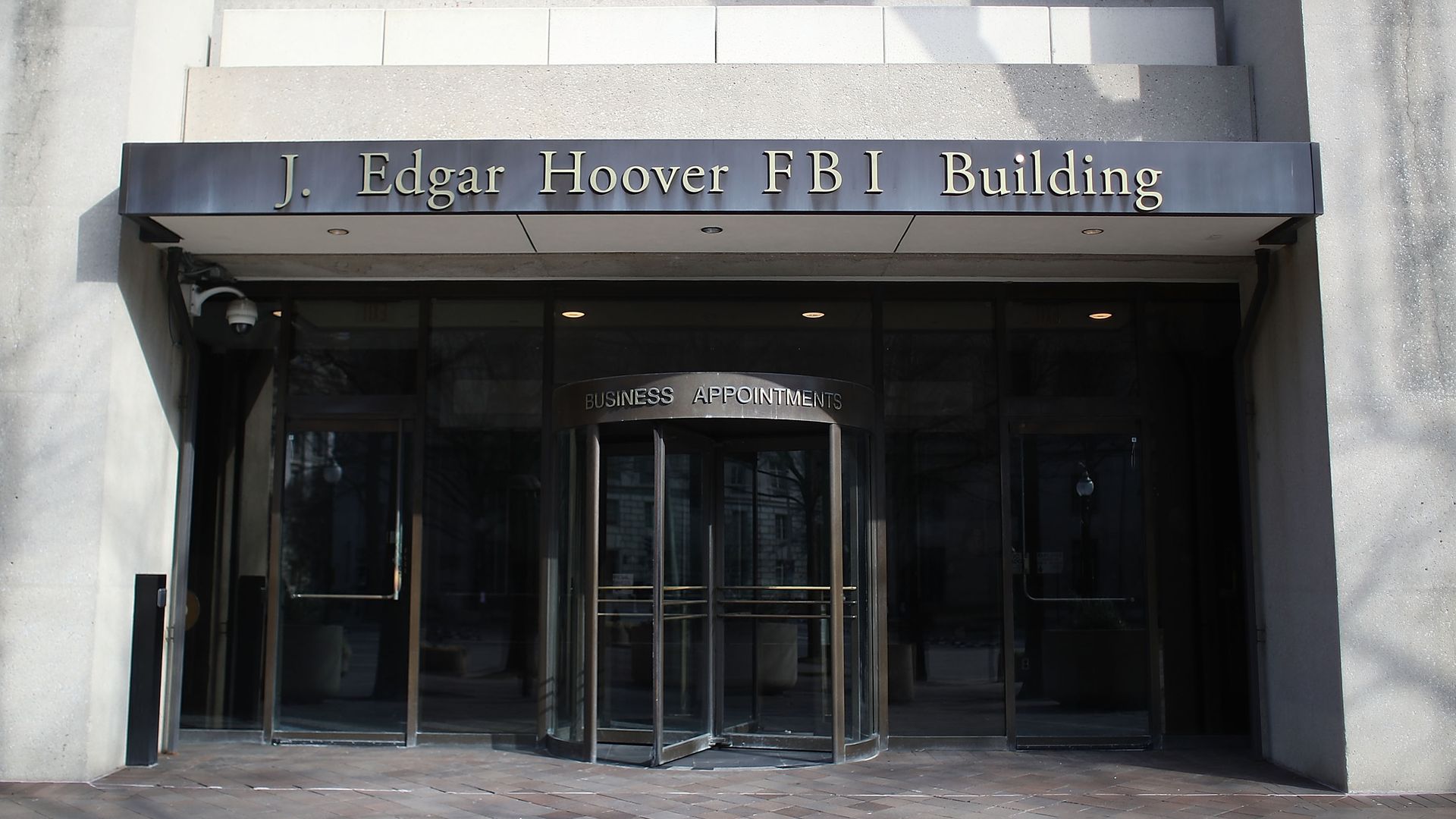 The FBI is moving its headquarters from Washington, D.C., to Greenbelt, Maryland, the General Services Administration said Wednesday.
Why it matters: The announcement follows a years-long search to move away from the crumbling J. Edgar Hoover FBI Building in which Greenbelt was a finalist alongside Landover, Md., and Springfield, Virginia.
The process was paused in 2018 and marred by accusations from Democrats that then-President Trump intervened to prevent the FBI from moving out of Pennsylvania Avenue due to the threat of another hotel opening near his own one, which he later sold, per Axios D.C.'s Cuneyt Dil.
Driving the news: A General Services Administration spokesperson said in an emailed statement late Wednesday: "GSA determined Greenbelt to be the best site because it was the lowest cost to taxpayers, provided the greatest transportation access to FBI employees and visitors, and gave the government the most certainty on project delivery schedule.
"It also provided the highest potential to advance sustainability and equity."
General Services Administration administrator Robin Carnahan added that the GSA "looks forward to building the FBI a state-of-the-art headquarters campus in Greenbelt to advance their critical mission for years to come."
What we're watching: No developer has been selected to build the new headquarters — which will take years to construct and which requires funding from Congress, per the Washington Post, which first reported the news.
The plan for the HQ at Greenbelt, some 13 miles from D.C., "could still face internal hurdles and zoning or funding issues," the New York Times notes.
What they're saying: Maryland Gov. Wes Moore in a joint statement with Rep. Steny Hoyer (D-Md.) and other officials from the state called the decision to build the new HQ on an empty, 61-acre plot outside the Greenbelt Metro station "a historic moment" for the FBI and the nation.
"For decades, the dilapidated J. Edgar Hoover Building has failed to meet the FBI's operational needs, which has undermined our national security," per the statement.
"Team Maryland has worked tirelessly to deliver this result together. ... We look forward to building a strong, productive partnership with the Bureau and its staff."
Of note: If the Springfield site had been chosen, it would have put the FBI within the intel footprint in Northern Virginia, including an FBI Academy.
Rep. Gerry Connolly (D-Va.), who represents Springfield in his district, accused the GSA in a post to X on Wednesday evening of "shamelessly" caving to political pressure, "putting blatant politics over the merits and amending the weighting of long-established criteria to make this decision all but predictable."
Go deeper: Trump's obsession with the "terrible" FBI building
Go deeper