Jewish Democrats rally around Biden over Israel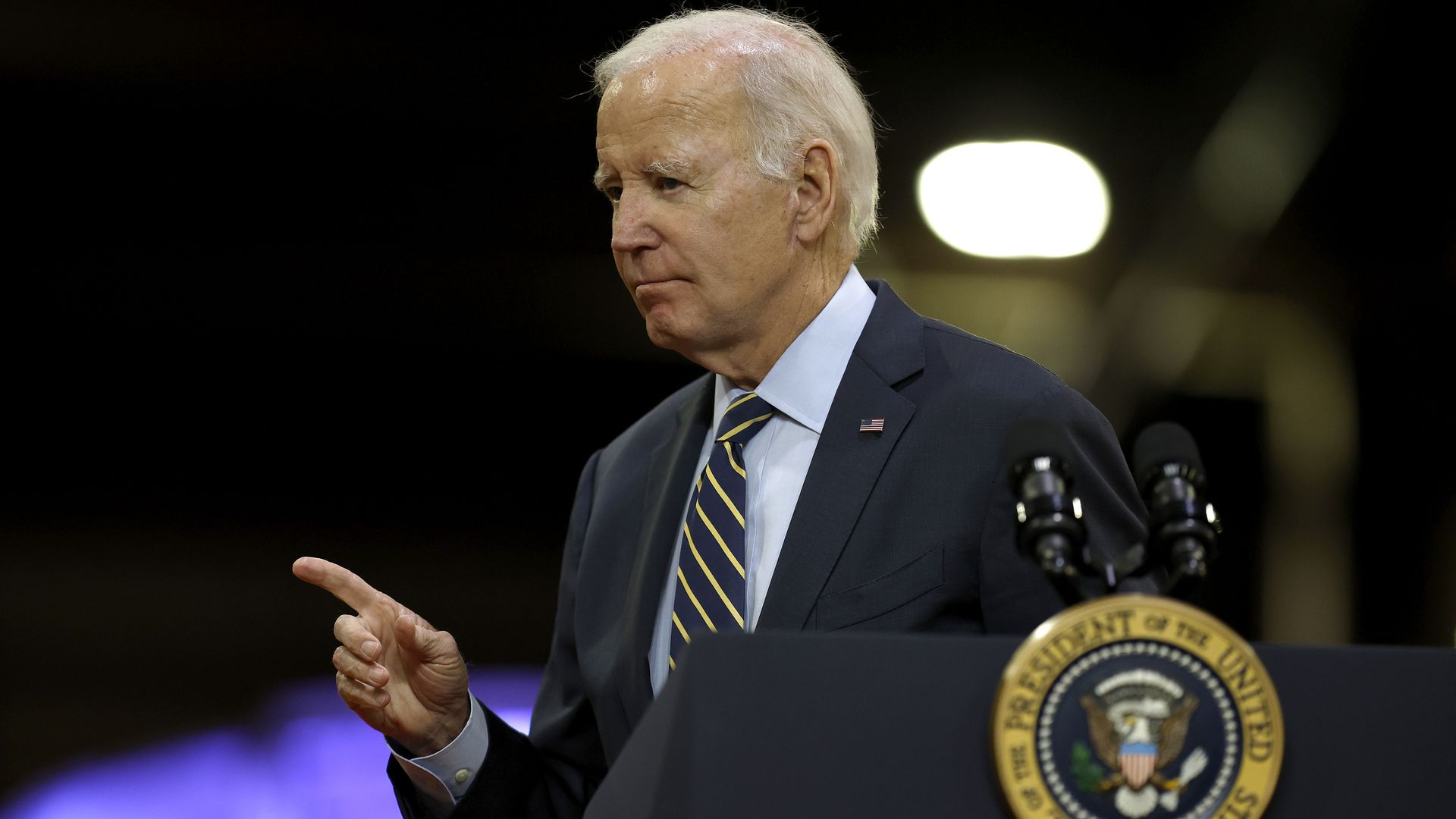 Jewish Democrats on Capitol Hill and in the Biden administration are rallying around the president for his support of Israel, amid protests and criticism from the party's left wing.
Why it matters: The protests have highlighted divisions among Democrats but also have prompted an outpouring of support for the president from Jewish politicians and leaders across the country.
Zoom in: Biden administration officials — including several who are Jewish — told Axios that the president's solidarity with Israel since the Oct. 7 terror attacks by Hamas has been among their proudest moments in the administration.
Former White House chief of staff Ron Klain, who is Jewish, told Axios that "most Americans recognize that Hamas' attack on 10/7 was a brutal terror attack that killed innocent Israeli children and dozens of Americans."
He added: "When the president stands tough against terror, most Americans stand with the president."
The same officials are angry with some of the rhetoric among progressives — including a State Department employee who accused the president of helping Israel commit "genocide" against Palestinians as it retaliates against Hamas in Gaza.
What they're saying: Three Biden administration officials told Axios they were rattled by protesters affixing "Zionism is Terrorism" stickers on the White House gates last weekend amidst blood-colored handprints — and the muted response afterward from Democrats outside the administration.
One administration official told Axios: "Members of the extreme left are the same people who claim to call out dog whistles, and in this case they are now tone-deaf to anti-semitism unless they see a swastika."
Another administration official, who is Jewish, told Axios: "The willingness by some individuals to excuse rape, killing babies, kidnapping children — there seems to be no line when Jews are the victim."
A few administration officials who are Jewish told Axios they have felt apprehension in loudly backing the president even amongst their peers, given some of the rhetoric from the left-wing of the party.
Between the lines: Some of these officials also applauded Biden for speaking with clearer conviction on the war than former President Barack Obama.
They pointed to remarks Obama made last weekend to a crowd of former staffers in which he was circumspect in analyzing the conflict and events that preceded it, saying, "Nobody's hands are clean."
On Oct. 9, Obama had condemned Hamas for "brazen terrorist attacks," and since then he has released lengthy, nuanced statements on the war.
One administration official, who is Jewish, told Axios: "President Biden has moral clarity at a time when there's a lack of moral clarity in America and around the world. He is not going to be swayed by the loudest voices on social media."
What they're saying: Jon Adrabi, a longtime Democratic fundraiser who recently attended the Biden finance team's retreat in Chicago, told Axios that Biden "has been unequivocal — equally in his support for Jewish lives and against terror. I am proud that he is our president in this difficult time."
White House spokesperson Andrew Bates told Axios: "Fighting against the poison of hate, including antisemitism, and standing up for Israel's sovereign right to defend itself have always been core values for President Biden. And they always will be."
An administration official also noted that senior staffers have held listening sessions with communities affected by the conflict including Jewish, Muslim, and Arab-American staff.
Ron Lauder, the president of the World Jewish Congress and a Republican megadonor, also has repeatedly praised Biden the last month.
Rep. Jake Auchinloss, a Jewish Democrat from Massachusetts, dismissed the criticism of Biden by some Democratic staffers on Capitol Hill and on the president's own team.
"The 2024 presidential election will not be decided by anonymous staffers in Washington, D.C. — it's going to be decided in swing states by voters who perceive an increasingly dangerous world, and welcome the strength and moral clarity that Joe Biden brings to it."
Go deeper