Scoop: GOP proposal to expel Palestinians faces Dem backlash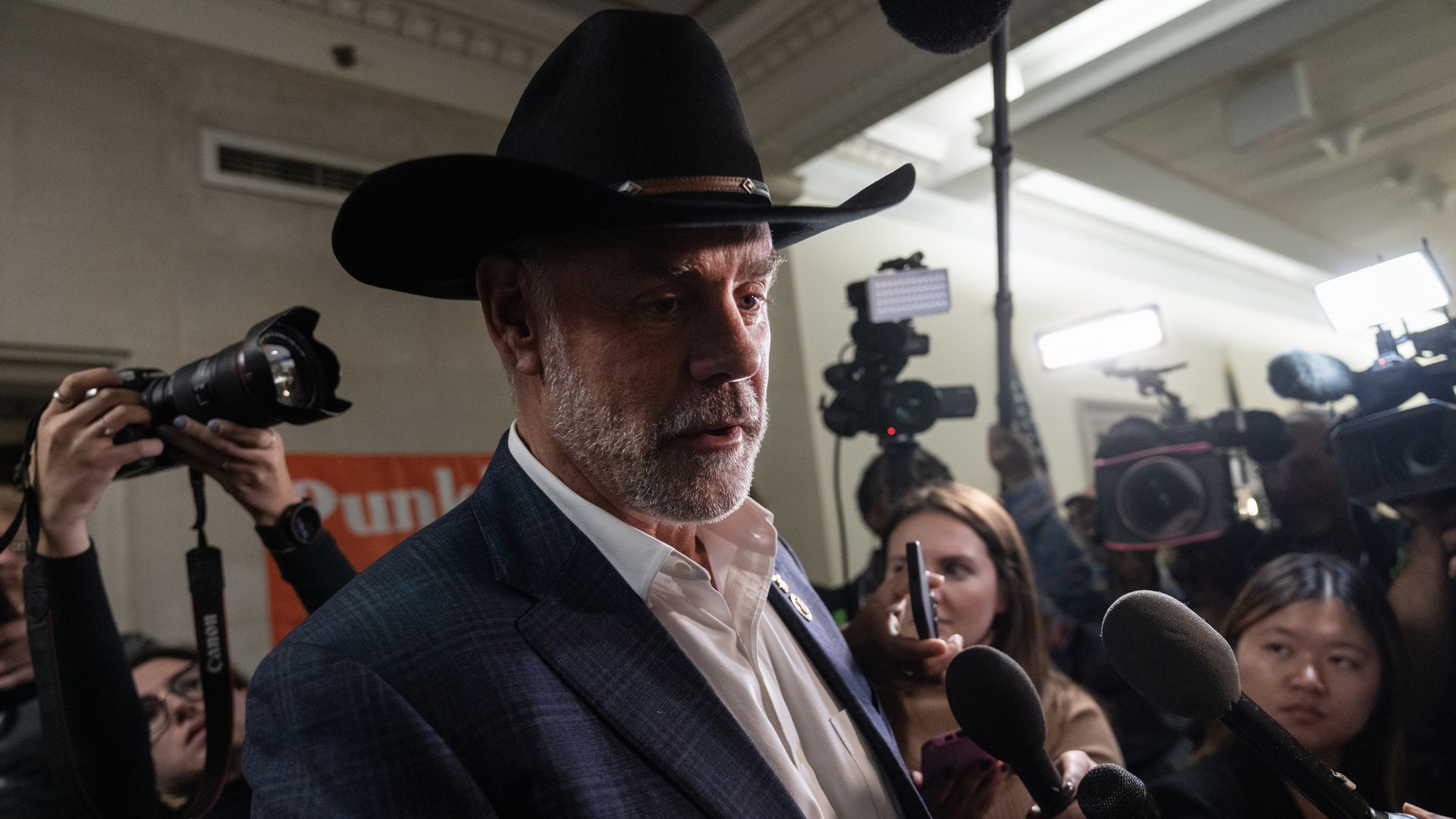 A moderate, pro-Israel Jewish Democrat is preparing a measure to condemn Rep. Ryan Zinke (R-Mont.) for introducing legislation to expel Palestinians from the U.S.
Why it matters: The bill generated significant controversy after it was introduced last week, with Congress' three Muslim members condemning it as "fascism and pure bigotry."
What we're hearing: Rep. Greg Landsman (D-Ohio) told Axios he is drafting a measure condemning Zinke's bill, comparing it to the anti-Israel rhetoric from Rep. Rashida Tlaib (D-Mich.) that prompted the House to censure her on Tuesday.
"There is some rhetoric that is just dangerous and will lead to violence. Whether it's a Republican saying it or a Democrat saying it, you have to push back," Landsman said. "It's going to get more people hurt."
Landsman was one of 22 Democrats who voted with Republicans to censure Tlaib.
Landsman said he will circulate the resolution to both lawmakers parties in hopes of getting bipartisan support: "I believe the vast majority of Republicans and Democrats would support that."
Details: Zinke's bill would require the Department of Homeland Security to implement a pause on issuing visas and granting refugee status or asylum to anyone carrying a Palestinian Authority passport.
It would also revoke visas, refugee status and asylum granted to Palestinians after September of this year.
It was introduced with 10 Republican co-sponsors including right-wing Reps. Marjorie Taylor Greene (R-Ga.) and Andy Biggs (R-Ariz.).
The other side: "I would find it hard to condemn the lack of screening or vetting from Hamas central," said Zinke, a former Trump administration Interior secretary, referring to the Palestinian territories. "I wish him good luck."
"When it comes to Hamas, it's a terrorist organization, and those who abed and support a terrorist organization are ... in fact, terrorists," Zinke said.
Reality check: Unlike resolutions to expel or censure members of Congress, the resolution would not be "privileged" and therefore Landsman would not be able to force a floor vote on it.
He framed it as a challenge to Republicans to hold their own accountable: "I believe that condemning Zinke and this effort to remove Palestinians from the United States would be overwhelmingly supported."
Go deeper