Congress' Israel tensions come to a head as Tlaib faces censure vote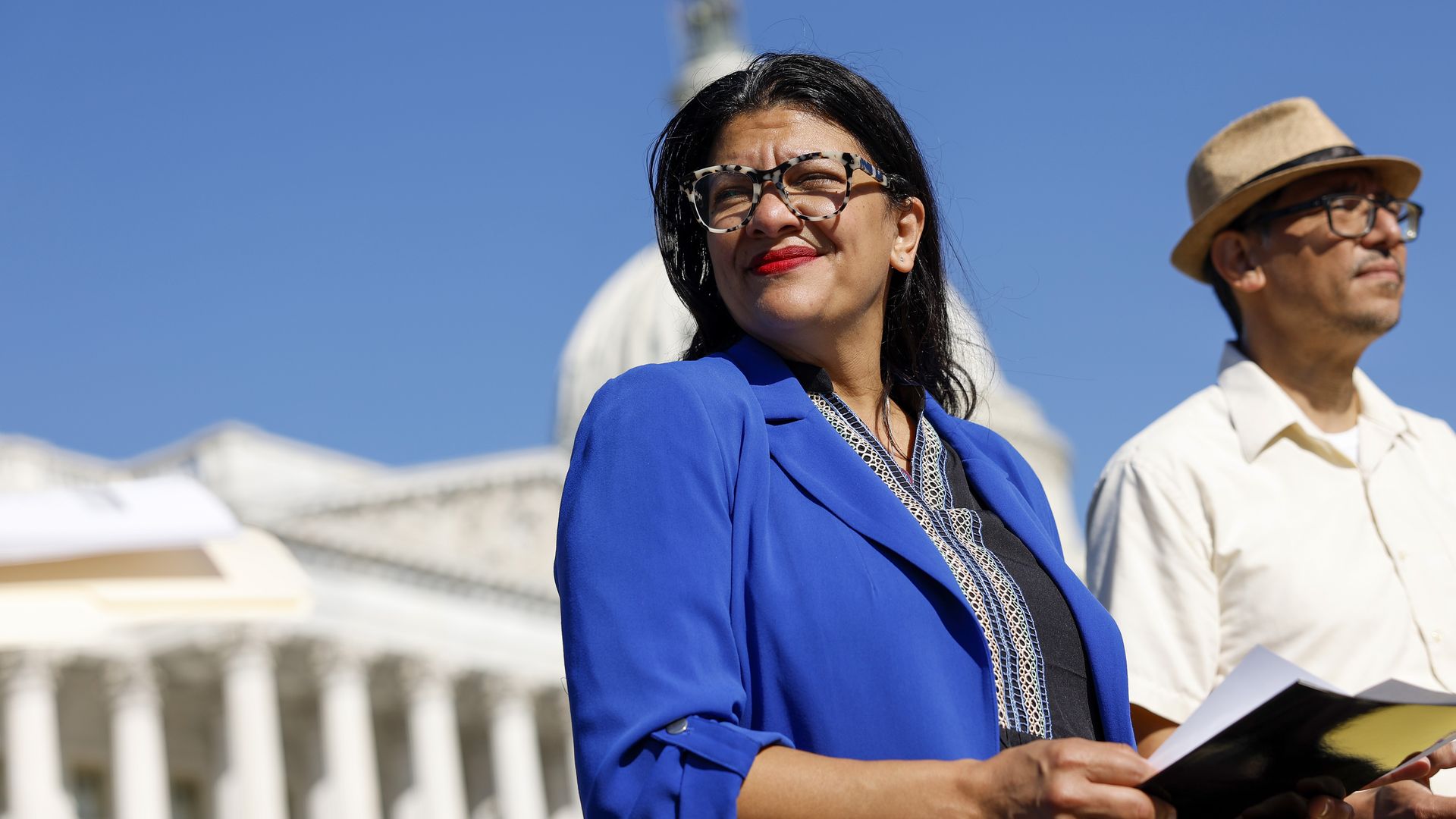 Weeks of partisan discord in Congress over the Israel-Hamas war may culminate in a vote on Wednesday to censure Palestinian American Rep. Rashida Tlaib (D-Mich.).
Why it matters: Tlaib has sparked backlash from both parties as one of Congress' most outspoken critics of Israel, with her latest statement defending the pro-Palestinian slogan, "From the river to the sea," triggering a new round of Democratic infighting.
What they're saying: "Echoing slogans that are widely understood as calling for the complete destruction of Israel — such as from the River to the Sea — does not advance progress toward a two-state solution," House Minority Leader Hakeem Jeffries (D-N.Y.) said in a statement Tuesday marking one month since the Oct. 7 Hamas terrorist attack.
Driving the news: The House voted 208-213 on Tuesday to defeat a Democratic maneuver to kill Rep. Rich McCormick's (R-Ga.) resolution censuring Tlaib.
A half dozen Republicans voted with Democrats to block the measure: Reps. Ken Buck (Colo.), John Duarte (Calif.), Mike Garcia (Calif.), Thomas Massie (Ky.), Tom McClintock (Calif.) and Ryan Zinke (Mont.).
Just one Democrat, pro-Israel Rep. Brad Schneider (D-Ill.), voted against killing the measure.
11 lawmakers were absent, including eight Democrats — whose presence may have changed the outcome of the vote.
Details: The resolution accuses Tlaib of "promoting false narratives" regarding the Oct. 7 attack and "calling for the destruction of Israel," citing:
Her statement on the Oct. 7 attack, saying: "The path to that future must include lifting the blockade, ending the occupation, and dismantling the apartheid system that creates the suffocating, dehumanizing conditions that can lead to resistance."
Her social media post last month blaming Israel for a hospital explosion in Gaza that the U.S. determined was likely caused by a faulty Palestinian rocket.
Her defense of "from the river to the sea," a slogan that Palestinian advocates say is a call for equality but which Israel sympathizers say is a call for the violent destruction of the Jewish homeland.
Zoom in: The vote on Tuesday was followed by a heated floor debate that saw simmering anger unleashed in a public display.
"She takes the death threats that you all send — that they send her way," Rep. Cori Bush (D-Mo.) said of Tlaib in an emotional speech in which she repeatedly tried to speak over the presiding officer gaveling her down.
Tlaib, in her own floor speech, said she "will not be silenced" and — holding up a photo of her grandmother as she held back tears — declared: "I can't believe I have to say this, but Palestinian people are not disposable."
State of play: The measure appears on track to pass, with Garcia and Reps. Jared Moskowitz (D-Fla.) and Ritchie Torres (D-N.Y.) — who voted to block it on Tuesday — telling Axios they plan to vote for final passage.
Zinke and several pro-Israel Democrats who voted to kill the measure said they are undecided or declined to weigh in on their plans for Wednesday. "I'm going to spend a lot of time agonizing [over it]," Rep. Kathy Manning (D-N.C.) told Axios.
A House Democrat told Axios that several additional moderate Democrats plan to vote to censure Tlaib.
Reps. Nancy Pelosi (D-Calif.), Frederica Wilson (D-Fla.), Earl Blumenauer (D-Ore.) and Bill Keating (D-Mass.), who were absent Tuesday, will be at the vote on Wednesday, their offices said — but so will Reps. Jim Banks (R-Ind.) and Daniel Webster (R-Fla.).
The intrigue: Several Republicans who voted to table the resolution expressed frustration at spending time on punishing lawmakers for controversial statements rather than focusing on issues like the looming government funding deadline.
"We need to be doing our work ... We don't need House censure for idiotic statements," Duarte told Axios. "It's a waste of time."
Garcia noted that Congress has "got appropriations bills, we've got to avoid a government shutdown, we're trying to actually get funding to Israel."
"We have a lot of very important things to do here and we've already had this discussion," he said.
Go deeper