Mike Johnson's 10-day shutdown test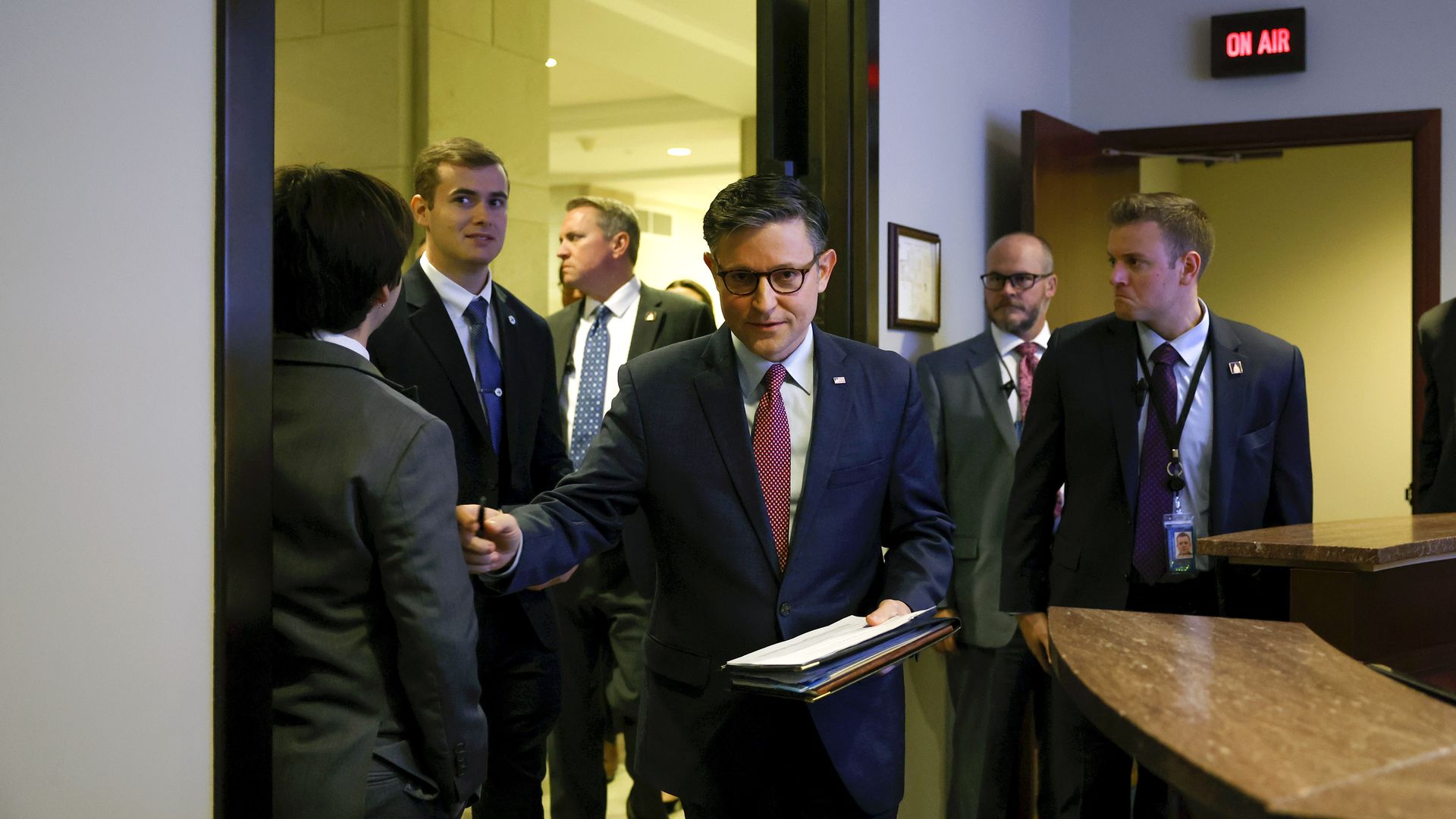 Fresh off their agonizing October speaker vacancy, House Republicans are playing a new game of chicken that could spell the end of Speaker Mike Johnson's (R-La.) brief honeymoon.
Why it matters: The House GOP has just 10 days to decide whether to risk a government shutdown, with one member telling Axios it can't be an option with "the world on fire."
Driving the news: Johnson laid out multiple options to his members during a closed-door meeting on Tuesday, including:
A two-step "laddered" approach;
A stopgap that would run through mid-January with "certain stipulations,"
Getting "jammed" by the Senate.
What they're saying: "'I'm not going to show you all the cards right now. We have some very constructive and I think very positive discussions going on," Johnson told reporters.
"I think it should be palatable to our colleagues in the Senate because they understand we've got to get the job done."
Zoom in: The current government stopgap funding expires on Nov. 17.
Former House Speaker Kevin McCarthy (R-Calif.) was ousted over his decision to rely on Democratic votes to avert a government shutdown, but just over a month later, the House is back in the same position.
Johnson is expected to be granted more leeway by hardliners, but conservatives are still demanding that the next stopgap be paired with deep spending cuts — putting them on a collision course with the Senate and White House.
Between the lines: Johnson's untested "laddered" stopgap would fund certain parts of the government through mid-December — and others through mid-January — while Congress finishes work on its appropriations bills.
Reality check: "The problem is I don't know how you shut down part of the government and not the other part of the government — you've got to keep all this stuff in sync," one senior GOP lawmaker told Axios.
Another Republican member said the Senate hasn't been consulted enough: "If you just do [a laddered CR] hypothetically without ever asking Mitch McConnell or Chuck Schumer ... I just think it's like we're arguing with ourselves."
Other GOP lawmakers worry that holiday deadlines could lead to the House getting jammed with a sweeping omnibus spending bill — an apocalyptic scenario for most conservatives.
One member floated "punting" the next funding deadline until April to give the House time to finish its appropriations bills and engage with the Senate on the bipartisan compromise that will ultimately be necessary.
If no progress is made, the member noted, the debt ceiling deal passed by Congress in June would impose automatic 1% budget cuts across the board.
What's next: House GOP leadership is aiming to come to a consensus and bring a bill to the floor next week.
Senate appropriators are mulling a stopgap that would last through the week of Dec. 11.
Go deeper