What to know about Venezuelan opposition leader María Corina Machado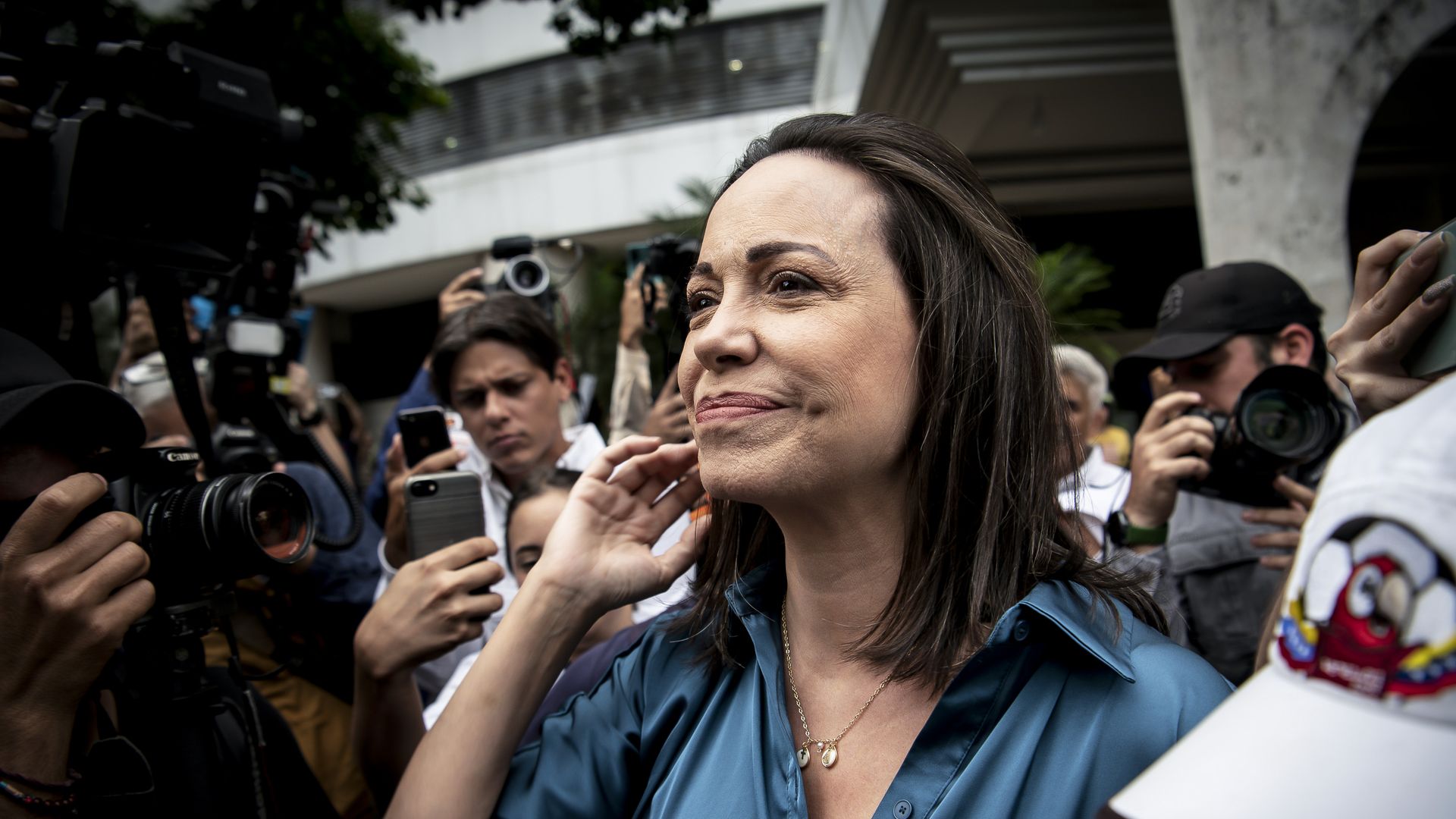 María Corina Machado, the elected leader of the Venezuelan opposition who is trying to unseat President Nicolás Maduro, has a long history of rattling the ruling party despite legal consequences.
State of play: Machado, a 56-year-old industrial engineer, is supposed to square off with Maduro in elections next year, but his government last week suspended the results of the primary despite an agreement this month to hold free elections, leaving her candidacy in question.
Machado won the Plataforma Unitaria's presidential primary on Oct. 22.
What to know: Machado, a centrist who favors capitalism, became a public figure in 2002, when she formed an NGO to promote greater voter participation.
She was elected to Congress in 2010.
As a lawmaker, she was publicly critical of former President Hugo Chávez, who was in office from 1999 to 2013.
She's also been critical of his successor, Maduro, especially as inflation started skyrocketing and medicine and food shortages became more acute.
In February 2014, Machado was among the loudest voices calling for mass anti-government protests, saying it would lead to the toppling of "Chavismo," the term used to describe the ruling party and government apparatus that's been in place since Chávez came to power.
Her calls for protests got her expelled from Congress and charged criminally for allegedly instigating unrest.
Machado avoided prison but has been banned since 2014 from going abroad or traveling by plane, meaning she can't visit her three adult children who live outside of Venezuela.
Machado was also barred from running for public office. For several years, she boycotted elections over concerns they were undemocratic.
Shortly after Machado confirmed in June that she was running for president, a state comptroller allied with Maduro extended her ban on running for office until 2030.
Context: The ruling United Socialist Party of Venezuela (PSUV), formerly known as the Fifth Republic Movement (MVR), has been in power since 1999.
PSUV leaders allege without evidence that the opposition's primary elections were fraudulent, which the opposition denies.
Maduro and the PSUV are largely seen by the U.S. and international humanitarian groups as corrupt, undemocratic and responsible for the massive economic and goods crisis that has led to millions of Venezuelans to flee the country over the past few years.
What they're saying: "She's always said the first step to solve the crisis in Venezuela is to get Chavismo out, and has kept being vocal with that message," says Mariano de Alba, a senior advocacy advisor for Latin America at the nonprofit Crisis Group.
That's why ruling party officials have long had animosity toward her, de Alba tells Axios Latino.
"And among the opposition, she's popular because of that outspokenness and because she presents herself as different from others in the cluster of parties," he adds.
For example, she did not fully endorse or participate in the parallel "interim government" Juan Guaidó led from 2019 until the end of January.
Between the lines: Machado is one of the few women leaders in the opposition.
When speaking to voters, she sometimes emphasizes her role as a mother looking for a better future and who, like many Venezuelans, is geographically separated from her family.
What to watch: It's unclear what comes next for Machado's candidacy, but she has amassed a lot of support from Venezuelans at home and abroad and has vowed to fight the ban on holding office.
That ban is a pending issue in ongoing negotiations in Barbados between the opposition and Maduro's regime.
De Alba says Machado could end up leveraging her popularity to name someone else to run in her place if the ban isn't overturned.
Subscribe to Axios Latino to get vital news about Latinos and Latin America, delivered to your inbox on Tuesdays and Thursdays.
Go deeper