Venezuelan opposition in limbo after dropping Guaidó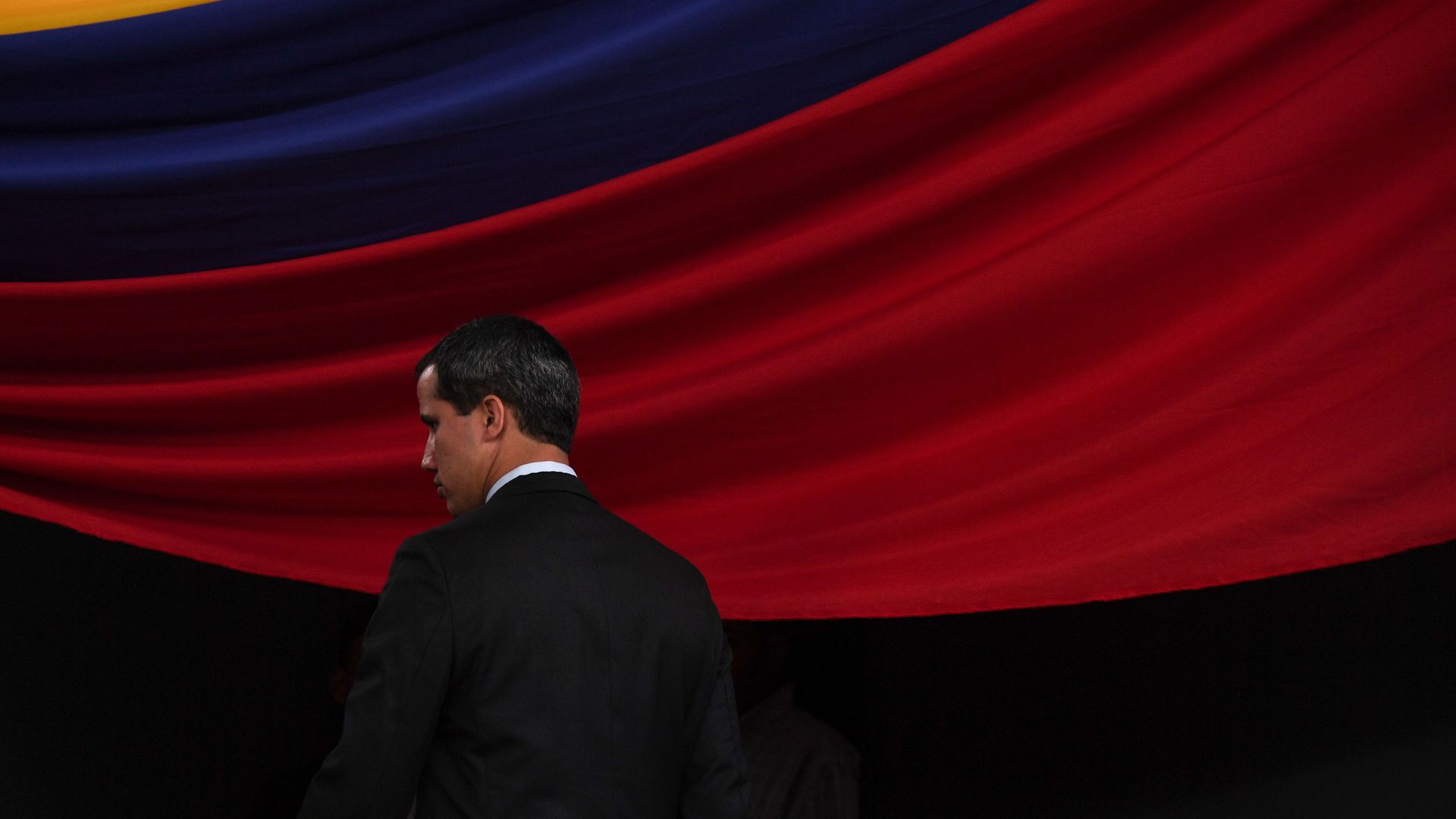 Four years after dozens of countries backed Juan Guaidó as Venezuela's legitimate president, the Venezuelan opposition has dissolved his "interim government," replaced him as National Assembly leader, and entered a new era of uncertainty.
Why it matters: Guaidó never truly held the levers of power in Caracas, and his support with the public and within the fractured opposition had been slipping for years. But U.S. policy and, crucially, the opposition's claim to billions in Venezuelan assets overseas, were still based around the premise of Guaidó's legitimacy.
Flashback: Guaidó's audacious attempt to topple Nicolás Maduro, enthusiastically backed by the Trump administration, once captured the attention of the world and the hopes of millions of Venezuelans.
Over time it gave way to frustration and opposition infighting. Several governments in Latin America and Europe dropped their recognition of Guaidó, though not the U.S.
Even after Guaidó lost public confidence and the support of most major opposition factions, he was seemingly immovable because international recognition and control of some government assets were tied to his "interim presidency," said Phil Gunson, an International Crisis Group analyst in Caracas.
Finally, though, opposition lawmakers decided to "chop off the afflicted limb" and accept the "painful" consequences, Gunson told Axios. It remains to be seen whether the move will have any bearing on court cases regarding Venezuelan assets — gold reserves held in the U.K., control of oil refiner Citgo — which hinge on the claim that Maduro is illegitimate.
What they're saying: Freddy Guevara, a prominent opposition politician and Guaidó ally, called the decision to dissolve the interim government "political suicide." He told Axios it would weaken the opposition's international standing and its relationship with the U.S., and potentially allow Maduro to regain billions in assets.
"I think we just shot ourselves in the foot," Guevara said. "I think we are weakened now, and I think this is one of those things we see in politics where one side that is more worried about solving its internal issues forgets about the real problem at hand."
"We now see that the members of the Maduro regime are celebrating," he added, noting that it's a bad sign if "you're in the middle of a confrontation and your opponent is happy."
The other side: The three main rival opposition parties in the assembly said in a statement that the step was necessary to "build a more solid and realistic coalition in the democratic struggle."
Opposition parties are expected to hold primaries this spring ahead of a possible presidential election in 2024. They are unlikely to coalesce around a single opposition leader before then.
The U.S. is following the lead of the opposition-run National Assembly and will no longer recognize Guiadó — or anyone else for the time being — as Venezuela's legitimate president, a senior U.S. State Department official confirmed to Axios Wednesday.
The U.S. continues to recognize the assembly, which was elected in 2015, as Venezuela's "only remaining democratically elected institution," the official said.
The assembly — which convenes over Zoom because many of its members are in exile — voted 72-29 on Friday to pull the plug on the "interim presidency." On Thursday, it selected new leaders to replace Guaidó and create a five-person commission to manage Venezuela's overseas assets.
What to watch: Opposition representatives have recently taken part in dialogue with Maduro's government with the encouragement of the Biden administration, which is dangling sanctions relief in exchange for steps toward restoring democracy.
Maduro said this week that he is "totally ready to take steps towards a process of normalization" with the U.S.
But the strongman has thus far "shown no willingness at any point to grant the kinds of concessions that might lead to free and fair elections," Gunson said
Go deeper