Many Puerto Ricans see historic parallels with Palestinians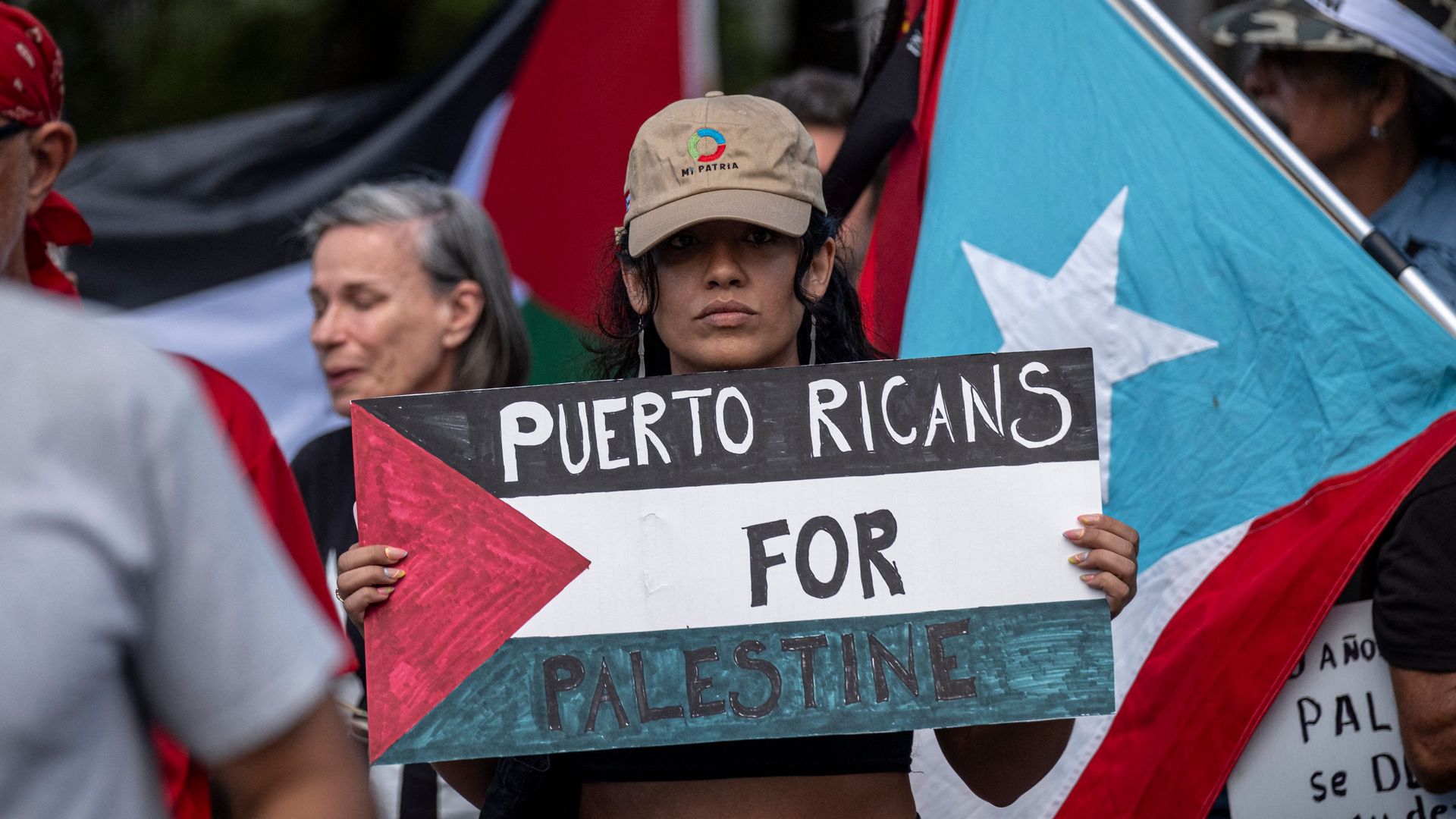 Many of the Puerto Ricans organizing or marching in support of Palestinians and calling on Israel to stop military action in Gaza are doing it because of what they see as a familiar fight against "colonialism."
Why it matters: The support illustrates the strong feelings many Puerto Ricans have about the island's status as a U.S. territory, sources tell Axios. Some Puerto Ricans have long fought for independence from the U.S.
Details: Hundreds of Puerto Ricans on and off the island have organized and demonstrated in support of Palestinians since the war began after the Oct. 7 Hamas terrorist attack in Israel.
During a vigil for Palestinians at Puerto Rico's Capitol on Saturday, protesters replaced the U.S. flag with a Palestinian one.
Puerto Rican flags have been seen during recent pro-Palestinian marches in Washington D.C. and New York.
Yes, but: There are Puerto Ricans who are throwing their full support behind Israel.
Rep. Ritchie Torres (D-N.Y.), who is of Puerto Rican descent, is a vocal supporter of Israel and calls himself a Zionist.
"Israel has every right to do to Hamas what the United States did to ISIS and al Qaeda," Torres told Politico last month.
What they're saying: A supporter of the Palestinians, the New York-raised Puerto Rican painter and photographer Danielle DeJesus, tells Axios, "We are colonized people and they are colonized people."
"Many of our revolutionaries have been murdered fighting for the liberation of Puerto Rico from the U.S," says DeJesus.
Yanira Arias, a San Juan-based volunteer with the community group Jornada: Se Acabaron Las Promesas, says that, like Palestinians in Israel-occupied territories, Puerto Ricans "are also trying to continue to fight to be recognized as a nation and to protect their land."
"Since the establishment of the United States over Puerto Rico, there's been an ongoing process of Puerto Ricans having their resources and land being taken away from them," Arias tells Axios.
Background: Despite being U.S. citizens, Puerto Ricans on the island don't have access to federal programs like the Supplemental Nutrition Assistance Program (SNAP), have no voting representation in Congress and aren't eligible to vote for president.
Many Puerto Ricans say they are treated as second-class citizens and want to determine their own status, whether it be independence or to become a U.S. state.
But the U.S. government has historically repressed — at times violently — pro-independence movements, including by conducting decades-long surveillance on people involved in independence efforts.
What to watch: Democrats in both chambers on Wednesday plan to re-introduce legislation that would allow Puerto Ricans on the island to vote on whether to become independent, a U.S. state or a sovereign nation in free association with the U.S. — but the bill is unlikely to pass in the Republican-held House.
Flashback: This isn't the first time Puerto Ricans and Palestinians have rallied for each other.
During the Palestinian uprisings in the early 2000s known as the Second intifada, artists created pro-Palestinian chalk murals outside of New York's famed Nuyorican Poets Cafe.
In 2001, The Palestine Right to Return Coalition marched during the National Puerto Rican Day Parade in Manhattan. In 2017, Palestinians waved Pan-Arab flags in solidarity at the annual parade.
Earlier this year, Brooklyn College's Students for Justice in Palestine and the Puerto Rican Alliance hosted a panel about the interconnected struggles shared with Palestine and Puerto Rico.
Subscribe to Axios Latino to get vital news about Latinos and Latin America, delivered to your inbox on Tuesdays and Thursdays.
Go deeper