Captain found guilty in deadliest maritime disaster in recent U.S. history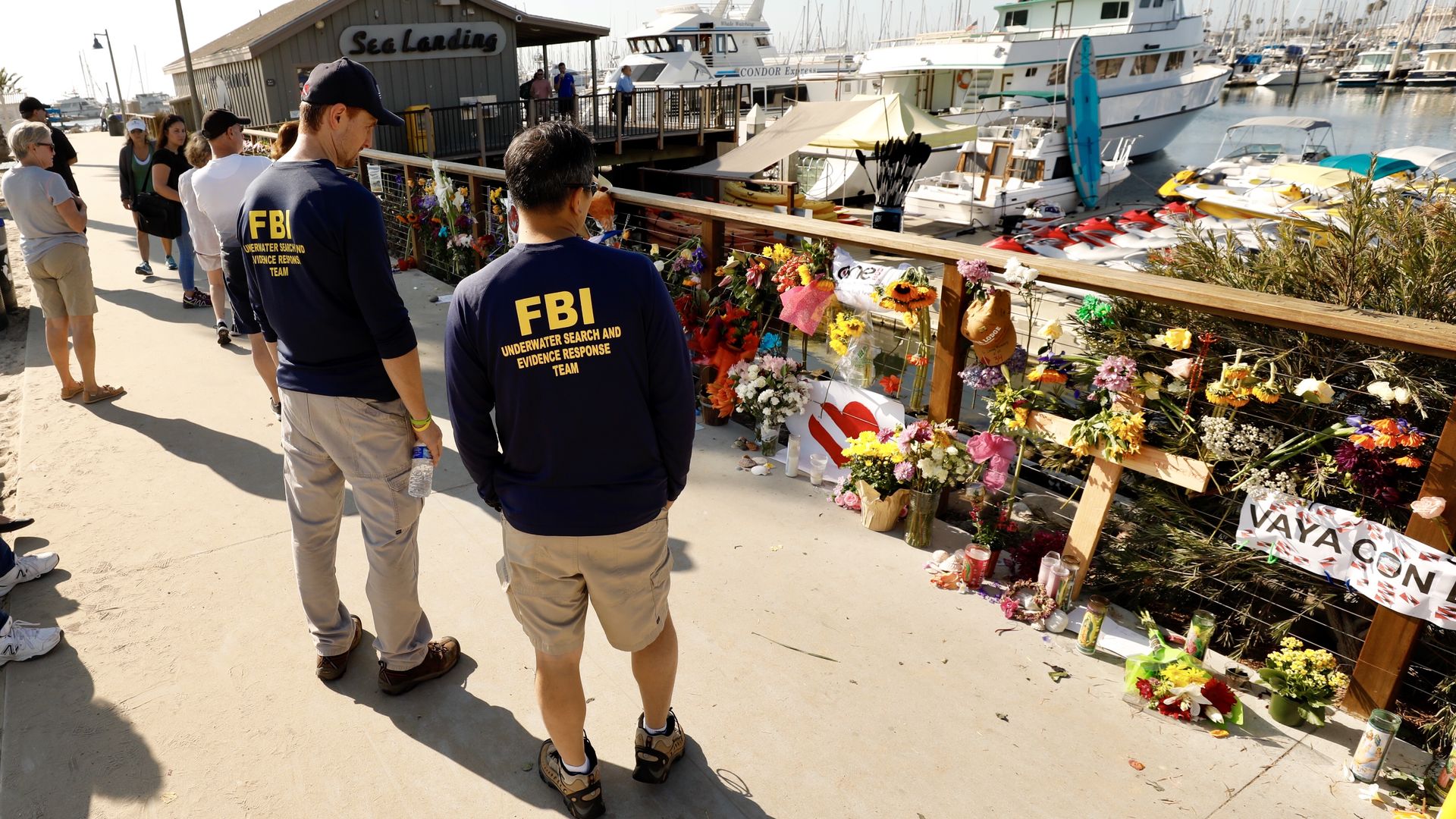 A scuba dive boat captain charged over a 2019 fire aboard a vessel that killed 34 people in Southern California was found guilty of one count of misconduct or neglect of ship officer on Monday.
The big picture: Jerry Nehl Boylan, 69, of Santa Barbara, faces up to 10 years in prison after being convicted in the deadliest maritime disaster in recent U.S. history of the federal offense, commonly called "seaman's manslaughter," per a statement from the U.S. attorney's office in Los Angeles on Monday.
The Conception was carrying 33 passengers and six crew members when it caught fire and sank near Santa Cruz Island on Labor Day in 2019.
Boylan was "the first crewmember to abandon ship even though 33 passengers and one crewmember were still alive and trapped below deck" in the 75-foot vessel's bunkroom "and in need of assistance to escape," the U.S. attorney's office noted.
Zoom in: The jury in Los Angeles found Boylan failed in his responsibilities in several other ways. Per the attorney's office, these include:
"Failing to perform any lifesaving or firefighting activities whatsoever at the time of the fire, even though he was uninjured," and also not using the boat's public address system to warn passengers and crewmembers about the fire; and
Failing to conduct sufficient fire drills, crew emergency training and night watches or roving patrol.
Of note: The National Transportation Safety Board determined in 2020 that Boylan was at fault for the fire, though no precise cause has been determined.
The Los Angeles Times reports that prosecutors argued that Boylan had "'rolled the dice with his passengers' lives" on Sept. 2, 2019.
Boylan's attorneys blamed boat owner Glen Fritzler, per the L.A. Times. Boylan was the only person charged in the case.
What they're saying: "This ship captain's unpardonable cowardice led to the deaths of 34 lives on Labor Day 2019," said U.S. Attorney Martin Estrada in a statement.
Donald Alway, the assistant director in charge of the FBI's Los Angeles Field Office, added that Boylan's "failure to carry out his duties as Captain of the Conception led to the catastrophic loss of 34 victims who suffered a horrifying death and perished needlessly in the end."
This tragedy should "be a lesson to anyone who commands a boat with vulnerable passengers that proper training, diligence and life saving measures — when called for — are necessary to safeguard those left in one's charge," Alway added.
Zoom out: The tragedy was California's worst maritime disaster since 1865 and the most fatal in the U.S. since 1989.
Go deeper