Texas Rangers win World Series, beating Arizona Diamondbacks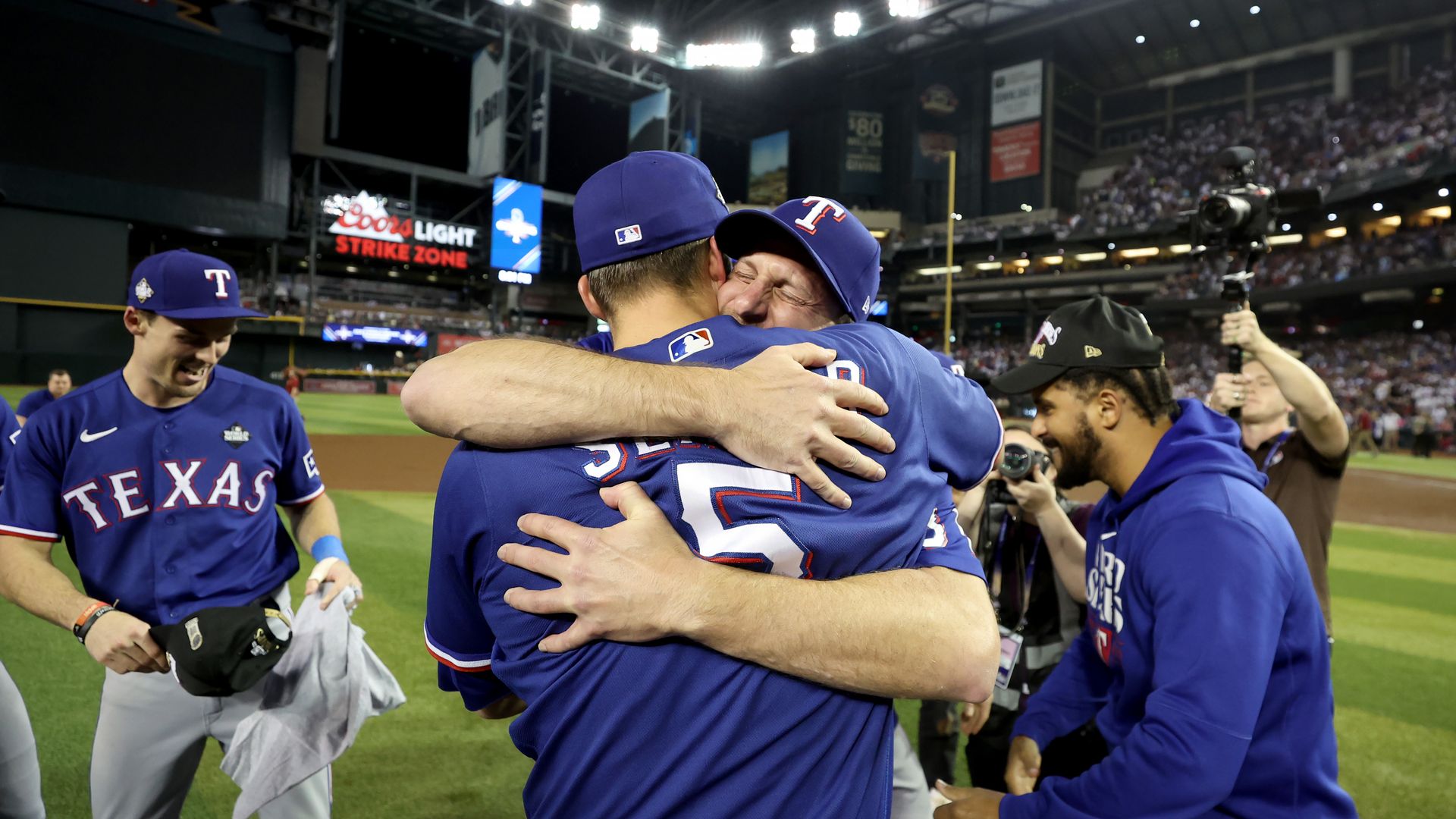 The Texas Rangers are finally world champions. They won 5-0 in Game 5 of the best-of-seven World Series against the Arizona Diamondbacks.
Driving the news: The Rangers are the first team to win a World Series game after going hitless for six innings.
They also stayed perfect on the road in the postseason, becoming the first team to win 11 straight away playoff games.
State of play: Both the Rangers and the Diamondbacks squeaked into the postseason and weren't expected to make it to the World Series.
The Rangers were abysmal in 2021 and spent $561.2 million in free agency, mostly on shortstop Corey Seager and second baseman Marcus Semien. But they still ended last season with a 68-94 record.
Then they lured manager Bruce Bochy from retirement in the hopes of getting a ring.
The intrigue: The Rangers won their first title on the road in Game 5 on Nov. 1 under Bochy's management.
On Nov. 1, 2010, the San Francisco Giants won their first World Series since moving from New York on the road in Game 5 against the Texas Rangers under Bochy's management.
What happened: The game stayed scoreless through six innings in very different ways. Only Nathaniel Lowe reached base — on a walk — for the Rangers during the first six innings.
The Diamondbacks had nine runners in scoring positions, but pitcher Nathan Eovaldi managed to get out of a bind every time.
Then: Designated hitter Mitch Garver drove in one run in the seventh. But the Rangers didn't add any runs until the ninth when they drove in four.
Of note: Seager was named the World Series MVP. It's his second such honor. His first was for the 2020 title with the Los Angeles Dodgers.
The bottom line: This is a historic, beautiful moment for every Rangers fan who has waited years and decades.
Go deeper: The Texas Rangers' World Series history
Editor's note: This article has been updated with more details from the game and with further context.
Go deeper