Biden impeachment push reaches crescendo under Speaker Johnson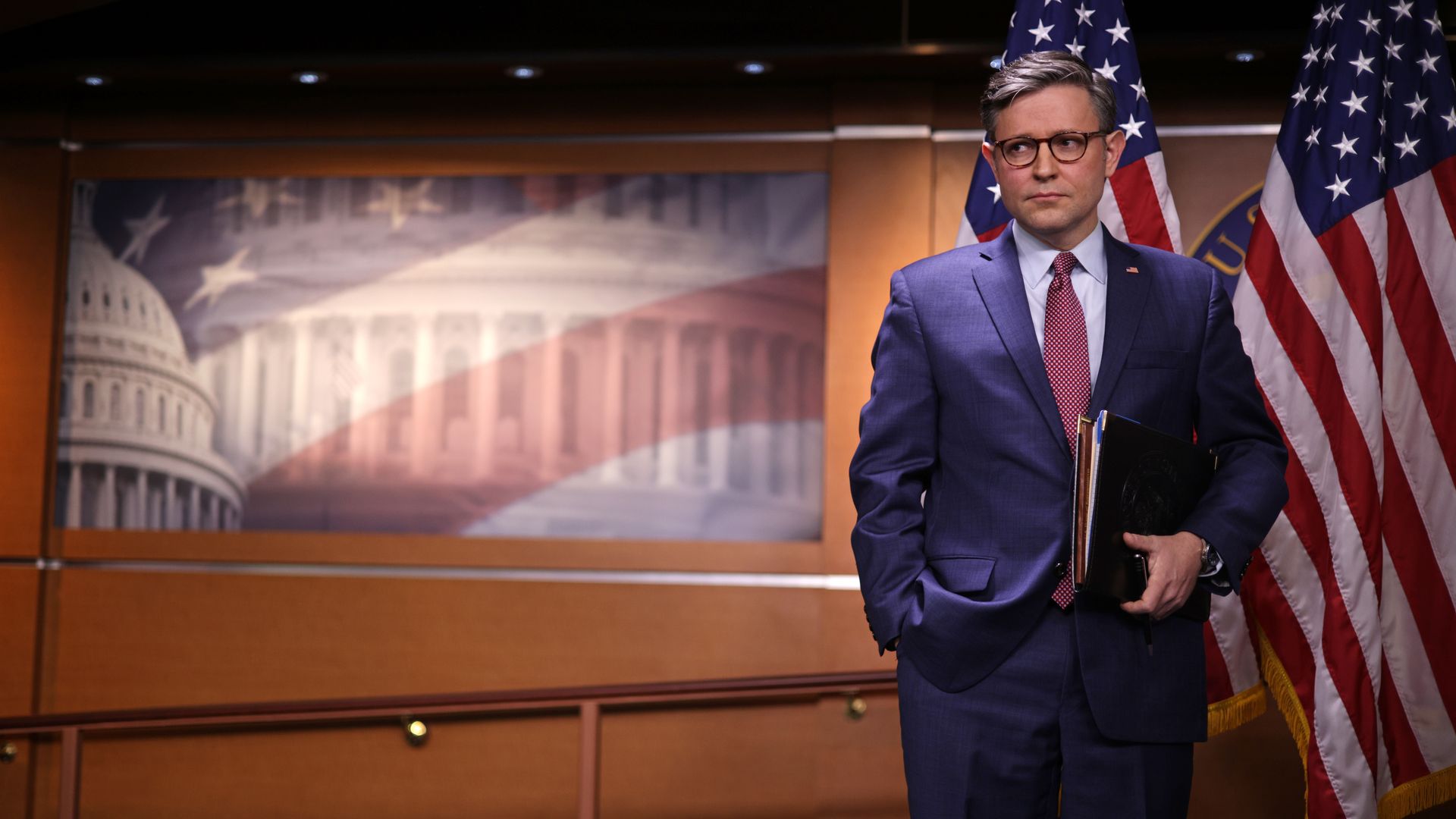 House Republicans — fresh off a chaotic speaker's race that fractured the conference — have signaled that a decision is imminent on another question with massive political consequences: the impeachment of President Biden.
Why it matters: House Speaker Mike Johnson (R-La.), a constitutional lawyer who served on the defense team for former President Trump's two impeachments, has inherited a Biden inquiry that so far has failed to provide direct evidence the president committed any wrongdoing.
Facing a skeptical public, a looming government shutdown deadline and war in the Middle East, some House Republicans are openly acknowledging that impeachment poses the risk of significant political blowback.
But intense lobbying by the GOP base, repeated claims of bombshell evidence by investigators, and Johnson's own MAGA-aligned outlook may ultimately leave vulnerable Republicans without an escape hatch.
Driving the news: Johnson revealed Thursday that Republicans will "very soon" decide whether to impeach Biden over his family's foreign business dealings, while stressing that their grave constitutional authority "cannot be wielded for political purposes."
House Oversight Chair James Comer (R-Ky.), who has repeatedly exaggerated and distorted his investigation's findings, said this week that "we're trying to wrap it up as soon as possible."
GOP investigators are considering issuing a subpoena for Hunter Biden, another sign the inquiry is nearing a conclusion, The Messenger reported Thursday.
Between the lines: Unilaterally launching an impeachment inquiry in September was one of former Speaker Kevin McCarthy's (R-Calif.) last major acts before he was ousted by the hardline rebels he had hoped to placate.
At that point, it did not appear Republicans had a majority in the House to open an inquiry — let alone to impeach Biden.
By opting not to hold a House vote, McCarthy protected vulnerable Republicans in swing districts from being forced to go on the record on the politically charged issue.
The threat of an embarrassing defeat will be magnified if Republicans plow ahead with articles of impeachment, a move that the GOP's own witnesses in the first impeachment hearing said was not yet justified.
What they're saying: "I don't think anyone wants to move forward with impeachment unless they've got a smoking gun or at least some evidence," Rep. Mike Garcia (R-Calif.), who represents a swing district, told Politico.
"We have so much work we need to get done including these appropriations bills," Rep. Jen Kiggans (R-Va.), another vulnerable member, told CNN. "Let's focus on that first."
The bottom line: Fox News' Sean Hannity asked a packed audience of dozens of House Republicans last night to raise their hand if they believe the inquiry will end in impeachment. The entire room obliged.
Go deeper