Scoop: Wounded Palestinians treated in Egypt may return to Gaza after war, Israel says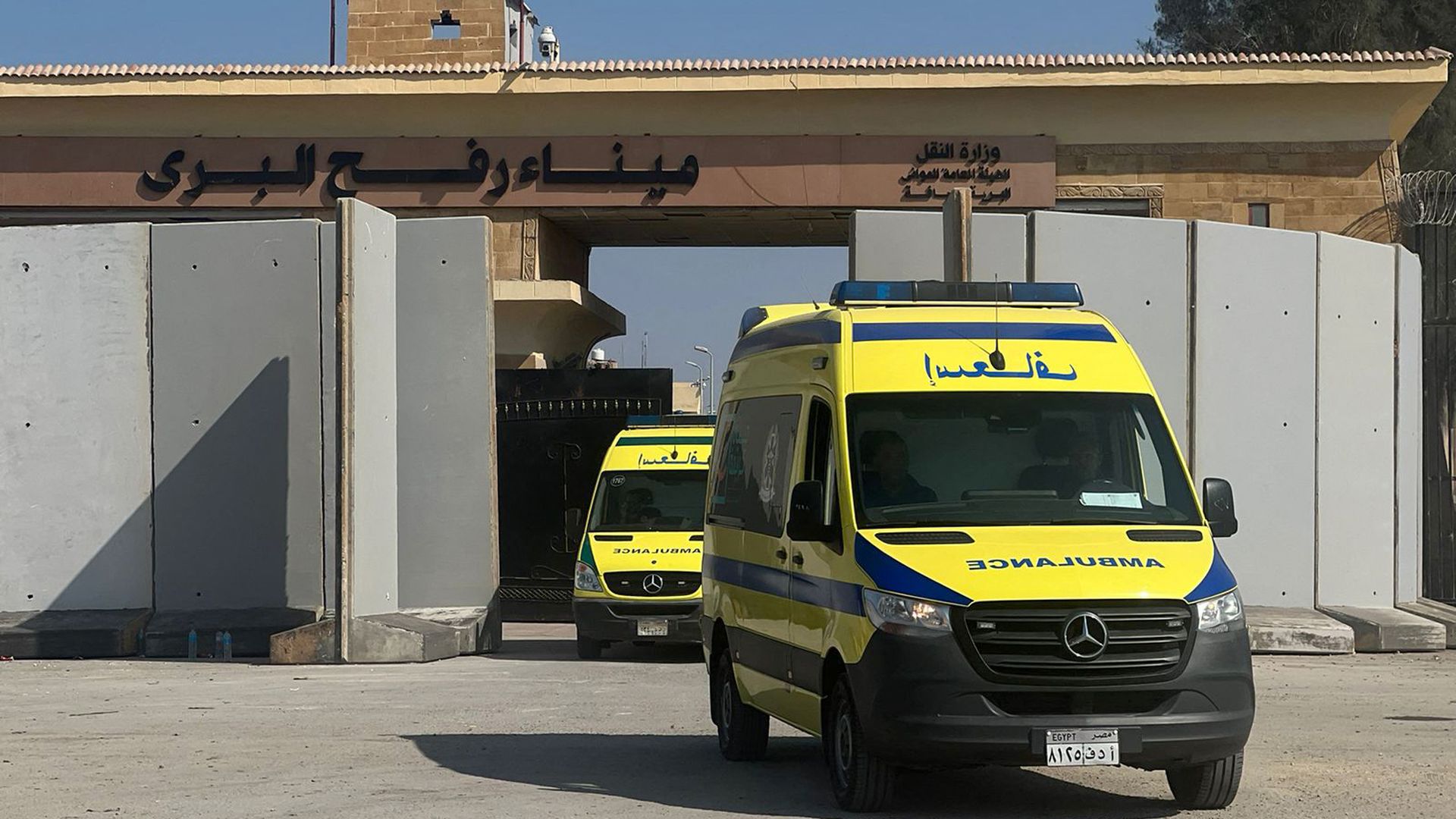 Israel has told the U.S, Egypt, the U.K. and other countries that any Palestinian who leaves Gaza for medical treatment will be allowed to return after the Israel-Hamas war, according to two Israeli officials and a Western diplomat.
Why it matters: Israel's commitment was needed to get Egypt, the U.S. and other nations on board with a plan to begin evacuating wounded Palestinians to hospitals in Egypt for treatment while the fighting continues in Gaza, Israeli officials said.
Driving the news: Under the new agreement, 80 or so wounded Palestinians were evacuated from the Gaza Strip to hospitals in Egypt on Wednesday.
It was the first time any Palestinians had left Gaza since Hamas ignited the war by attacking Israel on Oct. 7.
Zoom in: It's unclear how many wounded Palestinians could be evacuated under the deal; those who were moved Wednesday represent a tiny fraction of the thousands of people the Palestinian Ministry of Health has reported wounded.
Between the lines: Egypt, Jordan and the Palestinian Authority were suspicious that Israel wanted to deport Palestinians from Gaza to Egypt — and not allow them to return after the war.
Egyptian President Abdel Fattah al-Sisi and Jordan's King Abdullah raised this concern with President Biden in recent days.
Biden told both leaders he would not allow Israel to carry out such a plan, the White House said.
Israeli Prime Minister Benjamin Netanyahu and other senior Israeli officials told the other nations they also have no such plan, the Israeli and Western officials said.
The officials stressed that Israel told its allies it's willing to guarantee that any Palestinian who leaves Gaza for medical treatment on a temporary basis will be allowed to return after the war.
"Prime Minister Netanyahu doesn't want to deport wounded Palestinians from Gaza," one of the Israeli officials said.
Zoom out: Israeli officials hope the evacuations will encourage Israel's allies around the world to continue backing the its ground operation against Hamas.
State of play: Israel is weighing other options to give medical treatment to Palestinians.
One option is to use a French military ship that would operate as a floating hospital near the Gaza coast. French President Emmanuel Macron spoke about this publicly during and after his recent visit to Israel.
Italy and Greece also have such ships and would consider sending them to Gaza as part of such an initiative.
Israeli officials said they also are discussing the possibility of sending wounded Palestinian women and children for medical treatment in several other European countries that they declined to identify.
What they're saying: A spokesperson for the White House National Security Council stressed that the U.S. does not support any permanent displacement of Palestinians from their homes in Gaza.
"If a Palestinian needs urgent medical assistance outside of Gaza, we would fully expect that he/she would be able to return home," the spokesperson said.
The British and French embassies in Israel declined to comment. Egyptian officials didn't respond to questions about the evacuation deal.
Go deeper