White House: Saudi Arabia is still interested in pursuing mega-deal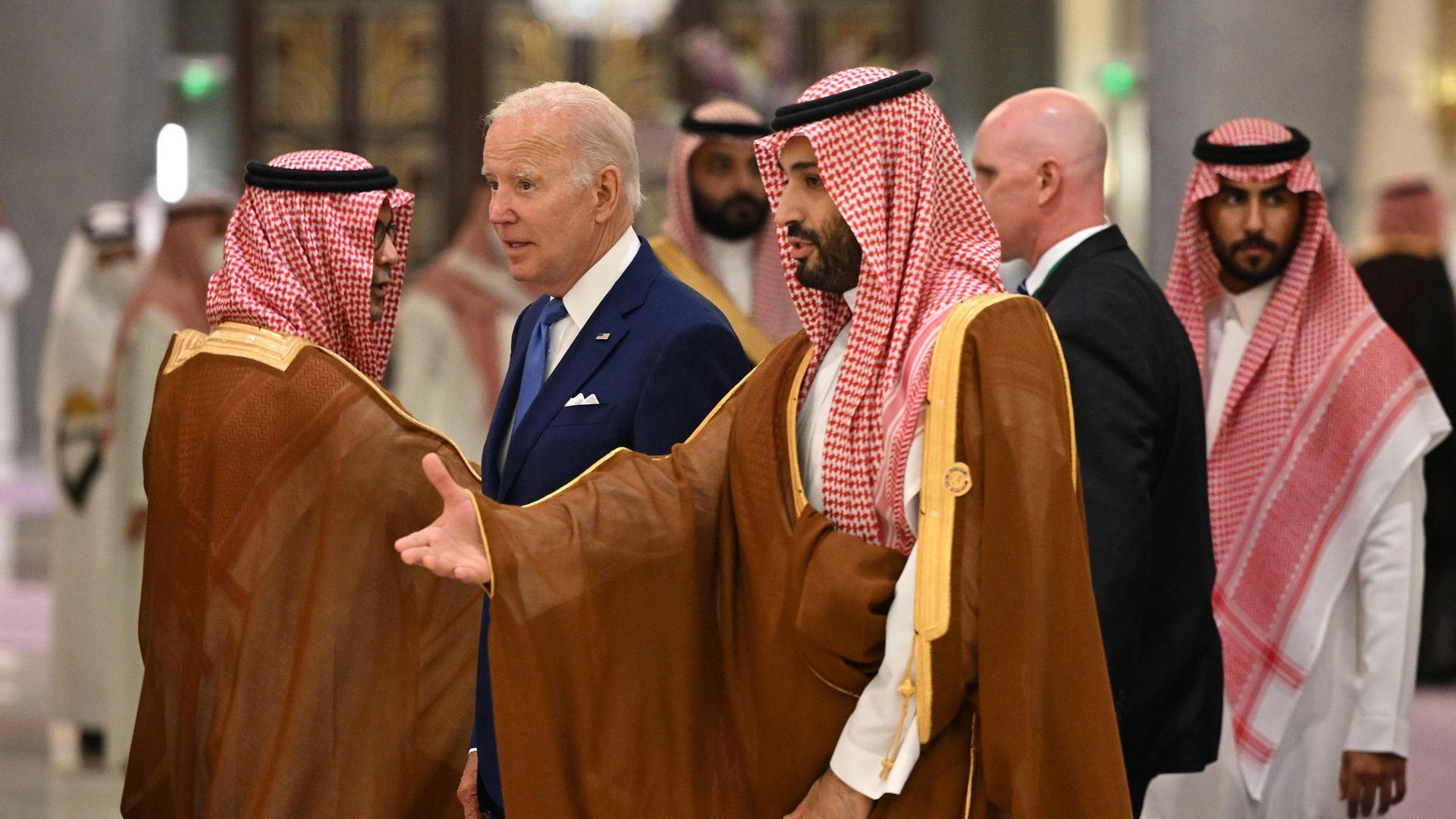 Saudi Arabia assured the Biden administration that the kingdom is still interested in pursuing an agreement that would normalize relations with Israel after the war in Gaza ends, White House National Security Council spokesperson John Kirby told reporters Tuesday.
Why it matters: Before the Israel-Hamas war began, Biden had been pushing for a mega-deal with Saudi Arabia that included a historic peace agreement between the kingdom and Israel.
Saudi Arabia hasn't condemned the Oct. 7 terrorist attack by Hamas. Since the Gaza war started, Saudi officials have been critical of Israeli military operations in Gaza.
Driving the news: Saudi Defense Minister Khalid bin Salman (KBS) is visiting Washington this week for talks with senior Biden administration officials amid the fighting in Gaza.
On Monday, he met with White House national security adviser Jake Sullivan. They discussed the war in Gaza and affirmed the urgent need to increase humanitarian assistance for the people of Gaza, the White House said.
"They further emphasized the importance of working towards a sustainable peace between Israelis and Palestinians, building on the work that was already underway between Saudi Arabia and the United States over recent months," the White House added.
KBS said in a tweet that he stressed to Sullivan the need for an immediate ceasefire in Gaza, protection of civilians, allowing humanitarian aid and resuming the peace process.
What they're saying: "Without getting into specifics — we came away from those discussions confident that we have a path to get back towards normalization and that there is an interest on the Saudi side to pursue that," Kirby said.
He stressed that the war in Gaza makes it harder to make progress right now but said "we are still committed to it and it is clear to us that the Saudis are still committed to it."
The Saudi Embassy in Washington didn't immediately respond to questions about Kirby's comments.
Behind the scenes: A bipartisan congressional delegation headed by Sen. Lindsey Graham (R-S.C.) visited Saudi Arabia 10 days ago and met with the Saudi Crown Prince Mohammed bin Salman (MBS).
A source briefed on the talks in Saudi Arabia said the message the senators heard from Saudi officials was that they are still interested in trying to get a normalization agreement with Israel.
Background: Biden last week spoke to MBS and both "affirmed the importance of working towards a sustainable peace between Israelis and Palestinians as soon as the crisis subsides," per the White House.
After the call Biden said he had "no proof" but his "instinct" tells him Hamas may have attacked Israel when it did to disrupt the progress being made on an Israel-Saudi deal.
Go deeper