Israeli government looks to shutter local Al Jazeera bureau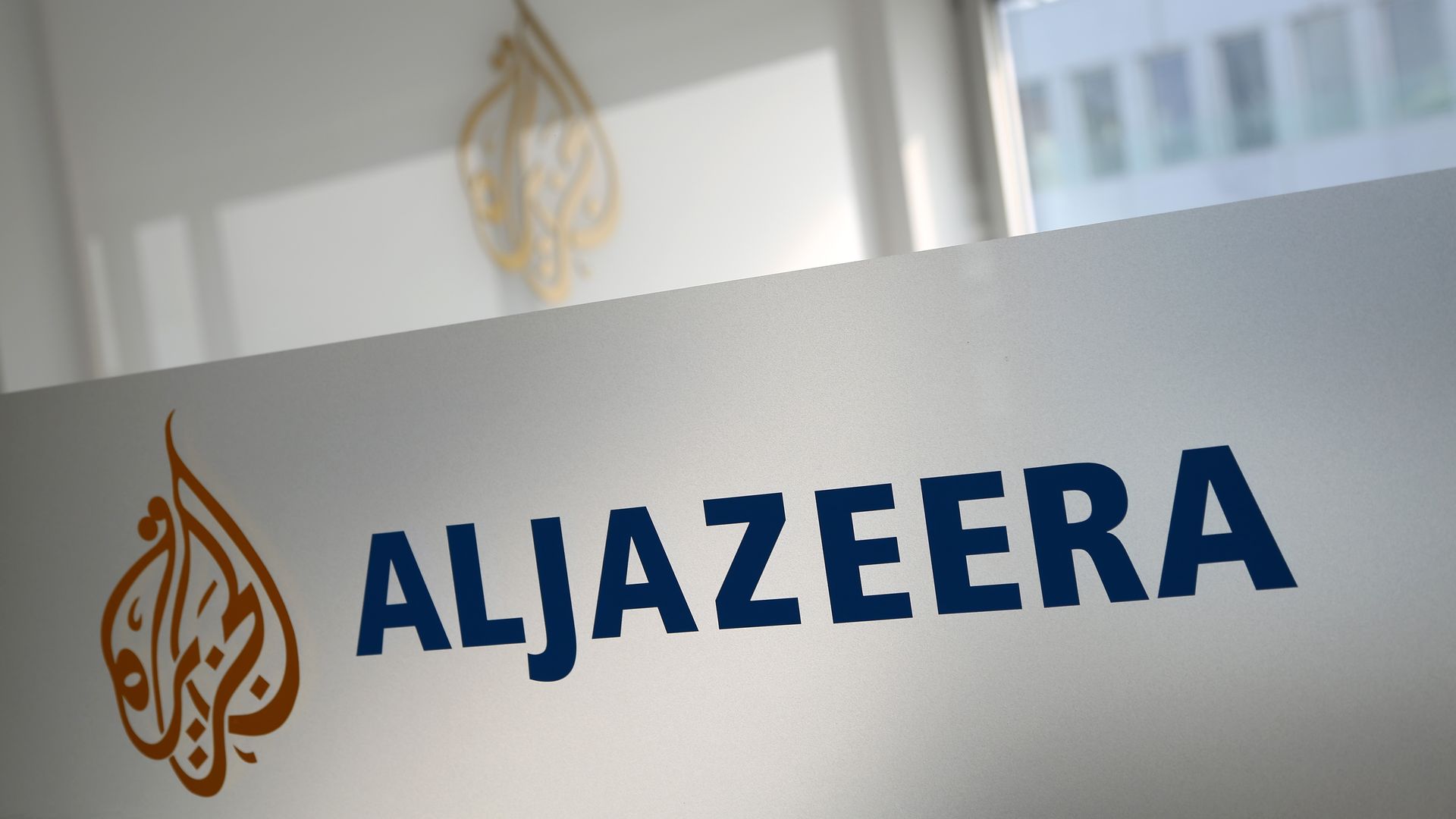 Israel's communications minister is seeking to temporarily shut down Al Jazeera's local bureau through new emergency regulations, drawing sharp criticism from press freedom groups.
Why it matters: Media analysts warn the Israeli government, which was already trying to clamp down on the independent media before the war, may not stop with Al Jazeera.
"We are deeply concerned by Israeli officials' threats to censor media coverage of the ongoing Israel-Gaza conflict, using vague accusations of harming national morale," the Committee to Protect Journalism's (CPJ) Middle East and North Africa program coordinator Sherif Mansour said last week.
"CPJ urges Israel not to ban Al-Jazeera and to allow journalists to do their jobs. A plurality of media voices is essential in order to hold power to account, especially in times of war," Mansour added.
In an editorial, Israeli's self-described liberal media publication Haaretz said the newly-proposed regulations are "going overboard" and "undemocratic."
Where it stands: Netanyahu's government signed off on regulations that would allow Communications Minister Shlomo Karhi to temporarily shut down foreign broadcasters, per the Times of Israel.
Karhi is required to have approval from the security cabinet and orders "must be based on legal opinions by the security establishment that the outlet is indeed harming national security," they report.
A district court must also rule on the order, which would be valid for 30 days, but could be extended for additional 30-day periods.
The Israeli Knesset is slated to discuss the shutdown of Al Jazeera in Israel on Wednesday, Haaretz reports.
Yes, but: Israel's Shin Bet intelligence agency earlier indicated it is difficult to prove the network is a threat to Israel's security, according to Ynetnews.
Israeli national security adviser Tzachi Hanegbi on Tuesday hinted that Israel isn't going to take any immediate steps against Al-Jazeera.
"It is obvious that we can't accept a media outlet that incites against our soldiers. This is why the Prime Minister asked to do some legal work that could allow putting limitations on Al Jazeera," he said in a press conference.
"But the law says we need to prove that their broadcast contains incitement that creates an immediate threat," Hanegbi added.
Details: Karhi accused Al Jazeera, which is funded by the government of Qatar, of being "a propaganda mouthpiece."
"It is unconscionable that Hamas spokespeople's message goes through this station," he said, per Reuters.
Al Jazeera did not respond to a request for comment.
Catch up quick: Even before the current conflict, the Israeli government under Prime Minister Benjamin Netanyahu was looking to rein in the media as a part of its judicial overhaul.
New media regulations proposed by Netanyahu's government would see the creation of a government-controlled media regulator that press experts said would make the press vulnerable to political meddling.
Prominent Israeli broadcasters began raising the alarm about the new regulations over the summer.
Zoom out: More than 30 journalists have been killed so far in the Israel-Hamas war, mostly during Israeli strikes in Gaza, according to CPJ.
The immediate family of one Al Jazeera correspondent was killed in an Israeli strike on Gaza.
An Al Jazeera correspondent in the Gaza Strip said on-air Monday that she received a call to her house with someone claiming to be part of the Israeli Defense Forces warning her to leave her home amid escalated attacks from Israel in Gaza.
Flashback: Al Jazeera has been targeted by U.S. regulators for its Qatari funding.
The U.S. Justice Department in 2020 ordered Al Jazeera's digital platform called AJ+ to register as a foreign agent.
So far, AJ+ has yet to register. Senators have pushed the DOJ to ensure it actually happens.
Al Jazeera has pushed back on the order, arguing it appears it was done to appease Emirati interests in an ongoing effort to strengthen the UAE's ties to Israel.
Editor's note: This story has been updated with comments made by Israeli national security adviser Tzachi Hanegbi on Tuesday.
Go deeper