Mike Johnson's 3 biggest challenges as House speaker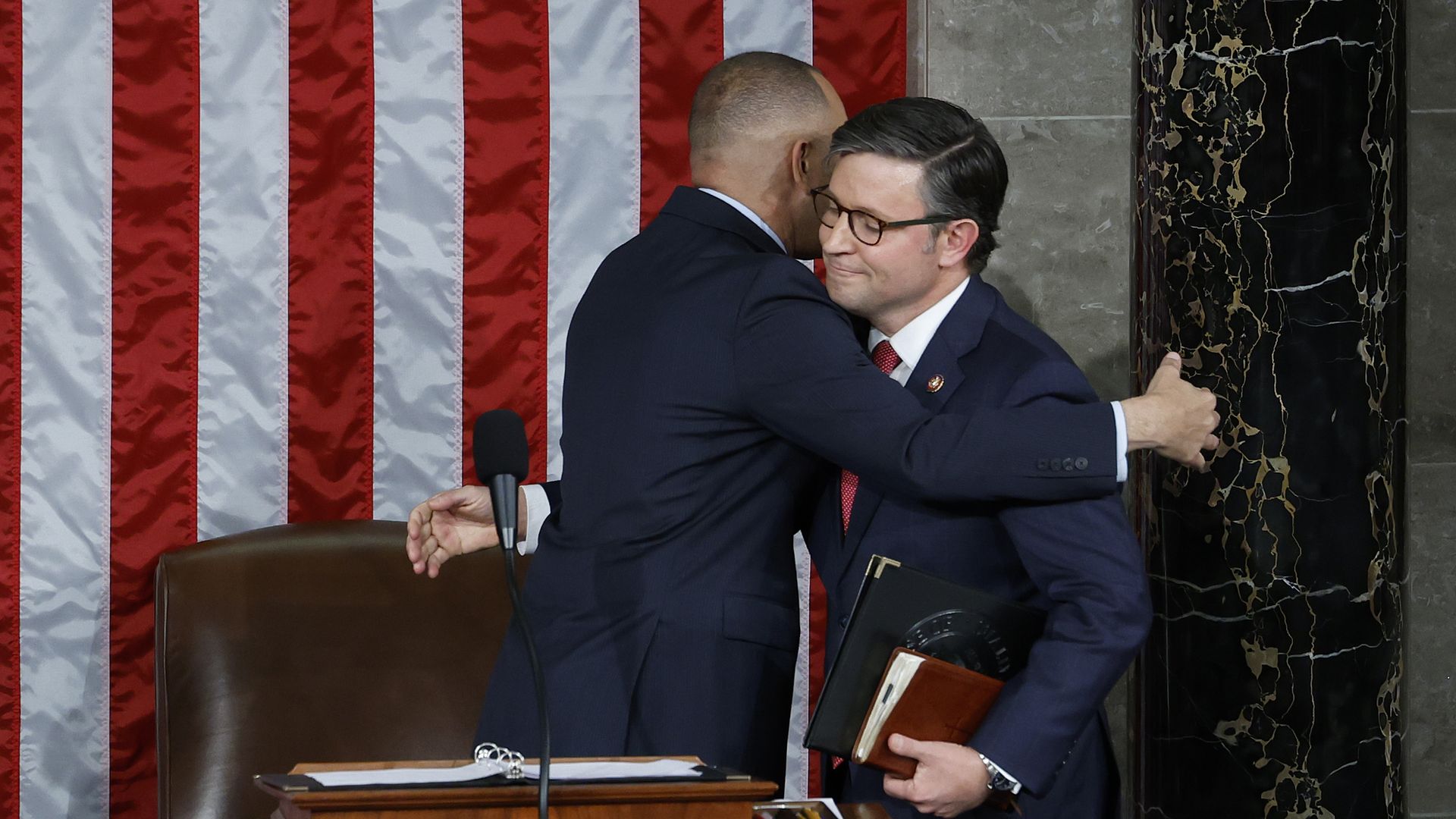 22 days of GOP infighting has left Congress with 22 days to fund the government — giving new House Speaker Mike Johnson (R-La.) a narrow runway to manage the sequel to September's shutdown standoff.
Why it matters: That's far from the only challenge inherited by Johnson, a relatively obscure lawmaker who on Wednesday was elevated from the 211th most senior member of the House to second-in-line for the presidency.
1. Relationships: The wounds from former House Speaker Kevin McCarthy's (R-Calif.) ouster and the ensuing GOP civil war will not heal overnight, even as Republicans rallied around Johnson in Wednesday's election.
Johnson, who has never chaired a committee and has a relatively small staff, will face a significant learning curve when it comes to member management.
That's not to mention the relationships he'll be forced to build from scratch with both the Senate and the White House: Most senators could not pick Johnson out of a lineup, Politico reports, and his votes against the debt ceiling bill and short-term government funding have not earned him a reputation for bipartisan deal-making.
2. Fundraising: McCarthy was a prolific fundraiser — a key attribute for any speaker whose goals include retaining and expanding their House majority.
Johnson is relatively unknown among Republican lobbyists and has only raised about $540,000 in 2023 so far.
Some MAGA activists see that as an asset — insisting Johnson is not beholden to special interests — but money will play an important role as Washington shifts into campaign mode over the next year.
3. Legislating: Even if Republicans manage to stay united through the government funding process, Johnson's support for deep spending cuts — and opposition to sending aid to Ukraine — will set the stage for a tense standoff when it comes time for bipartisan negotiations.
Biden has already submitted a $106 billion request to Congress linking aid to Israel, Ukraine and Taiwan with funding for border security — likely a complete non-starter in the House.
The White House is also expected to ask for an additional $56 billion for domestic priorities, including $23 billion for disaster relief and $16 billion for child-care funding.
Between the lines: Brendan Buck, a former aide to Speakers John Boehner (R-Ohio) and Paul Ryan (R-Wis.), predicted Rep. Steve Scalise (R-La.) will become one of the most powerful majority leaders in decades as a result of Johnson's inexperience.
Go deeper