Biden steps up calls for end to West Bank violence against Palestinians after warning Netanyahu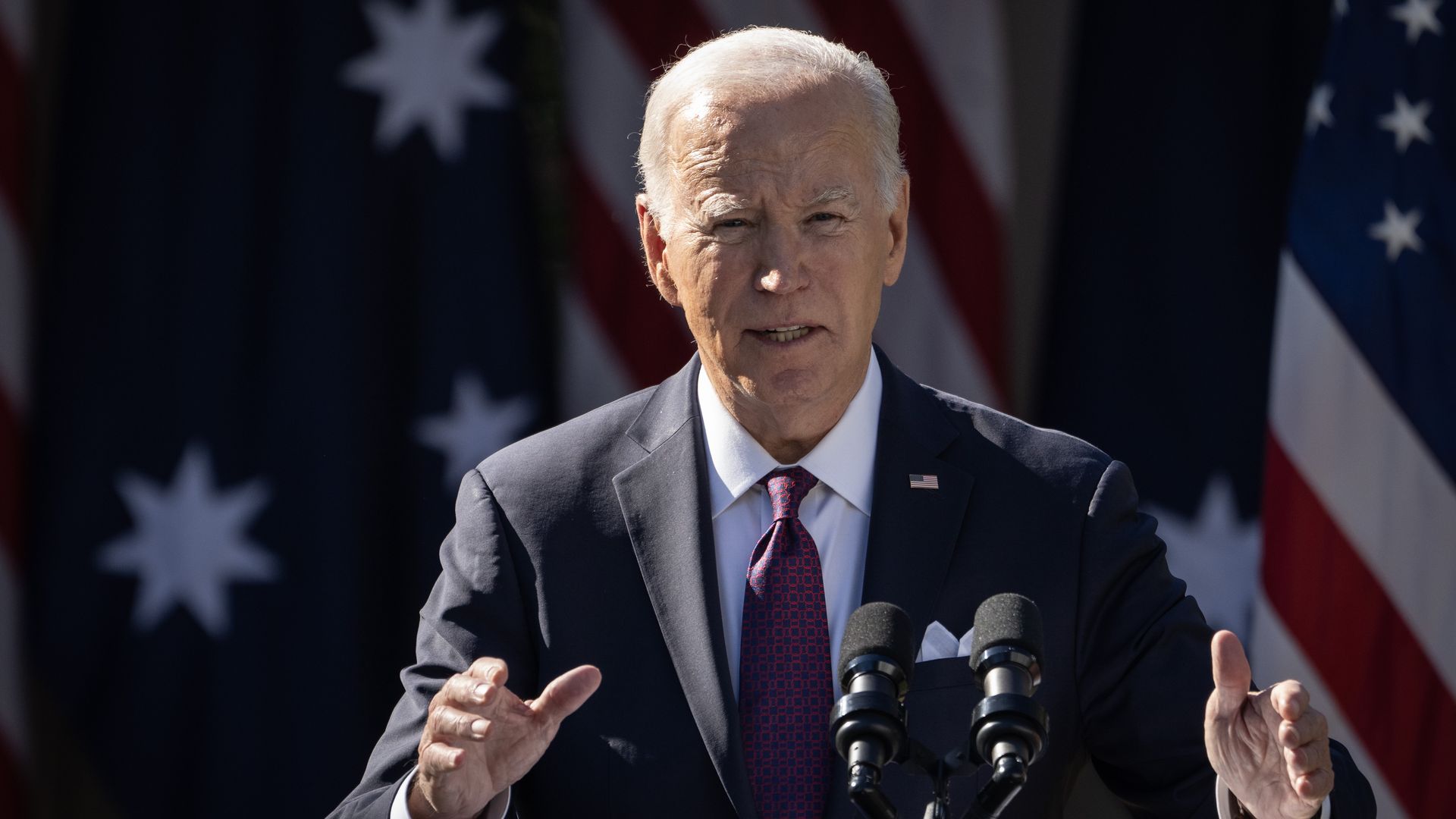 President Biden said Wednesday he is alarmed by reports of "extremist settlers" attacking Palestinians in the occupied West Bank — attacks he said are "pouring gasoline on the fire" as U.S. and Israeli officials try to contain the war between Israel and Hamas.
Why it matters: Biden's remarks at the White House follow his private warnings to Israeli Prime Minister Benjamin Netanyahu that the growing tension in the West Bank could escalate the already complicated war in Gaza, two U.S. officials briefed on the issue told Axios.
Behind the scenes: The U.S. officials said that in phone calls with Netanyahu, Biden has expressed concern about settler violence and the growing number of Palestinians who have been killed by Israeli forces and settlers in the West Bank since Hamas' Oct. 7 attack on Israel ignited the war.
More than 100 Palestinians have been killed there since the war began, according to the Palestinian Ministry of Health.
Many of the Palestinians were armed militants, but others were civilians. At least five of the civilians were killed in attacks by Israeli settlers, the Israeli Ministry of Defense reports.
Biden told Netanyahu that Israel needs to calm the situation in the West Bank and prevent settler violence against Palestinians — or else risk an explosion of violence there that would make the current crisis even worse, the officials said.
The White House and the Israeli prime minister's office declined to discuss the conversations between Biden and Netanyahu.
There are roughly 3 million Palestinians and 450,000 Israeli settlers in the West Bank, which has been occupied by Israel since the Six-Day War in 1967.
Between the lines: The attacks in the West Bank have gotten relatively little attention as Israel continues to hit Gaza with airstrikes in retaliation for Hamas' Oct. 7 attack, which killed 1,400 people in Israel.
In recent days, Biden has increasingly expressed alarm about the deaths of innocent Palestinian civilians while continuing to show strong support for Israel — a pragmatic approach that reflects some of the political tension the war is creating within Biden's Democratic Party.
What they're saying: During a White House news conference with Australian Prime Minister Anthony Albanese, Biden said Israeli settlers settlers in the West Bank are attacking Palestinians in places where they're entitled to be.
"It has to stop now," Biden said, "and they have to be held accountable."
What's next: Assistant Secretary of State for Near Eastern Affairs Barbara Leaf traveled to the Middle East on Wednesday to meet with regional leaders and push efforts to prevent the conflict from spreading, the State Department said.
The department said Leaf will discuss humanitarian solutions to try to protect civilians in Gaza.
Leaf will start her trip in the United Arab Emirates, then go to talk with officials in Qatar, Oman, Egypt, Jordan and Israel.
Go deeper